What is a Marketing Analytics Dashboard? Top 5 Software for 2023
Reading Time: 5 minutes
In this age of data-driven decision-making, businesses are consistently trying to stay ahead of the competition. The increasing complexity and diversity of market data makes it imperative for businesses to use marketing analytics dashboards.
This information age has also brought marketers a ton of challenges due to the increasing complexity and diversity of market data. Often in various industries, marketing departments are also not aligned with the goals of the organization. Therefore, to measure the effectiveness of your marketing campaigns, you would need to depend on the insights gained through data analysis.
A marketing analytics dashboard is a proper tool for the marketers to get a comprehensive and clear perspective on the metrics and KPIs required to analyze the current marketing situation. It provides a visual representation of an organization's marketing data and helps in taking proper decisions based on the data analysis.
What is a Marketing Analytics Dashboard? Key Benefits!
A reporting tool that displays a company's real-time data, KPIs, metrics, and analytics that are used in gaining insights through visual representation. A Marketing Analytics Dashboard offers organizations a complete picture of what works best across all of their marketing channels, such as website traffic, social media interaction, email campaigns, and more, in one location.
Therefore, your digital marketing team receives thorough visibility of all the marketing efforts, which further helps them in continuous monitoring of the performance. This level of transparency helps you modify the campaigns based on informed decisions.
The following are the main advantages of employing a marketing analytics dashboard:
Better decision-making: By having access to real-time data, marketers may decide on their marketing plans with more knowledge.
Improved ROI tracking: It helps in tracking the ROI of every marketing initiative, which helps in modifying any initiatives or strategies.
Enhanced Collaboration- Collaboration is improved since insights and data are shared in real-time by teams using the dashboard.
Customized reporting: It makes it simpler for marketers to track their progress towards particular objectives by displaying the metrics that are most important.
Enhanced efficiency: By displaying multiple data points from numerous sources on one platform, the dashboard helps marketers save time.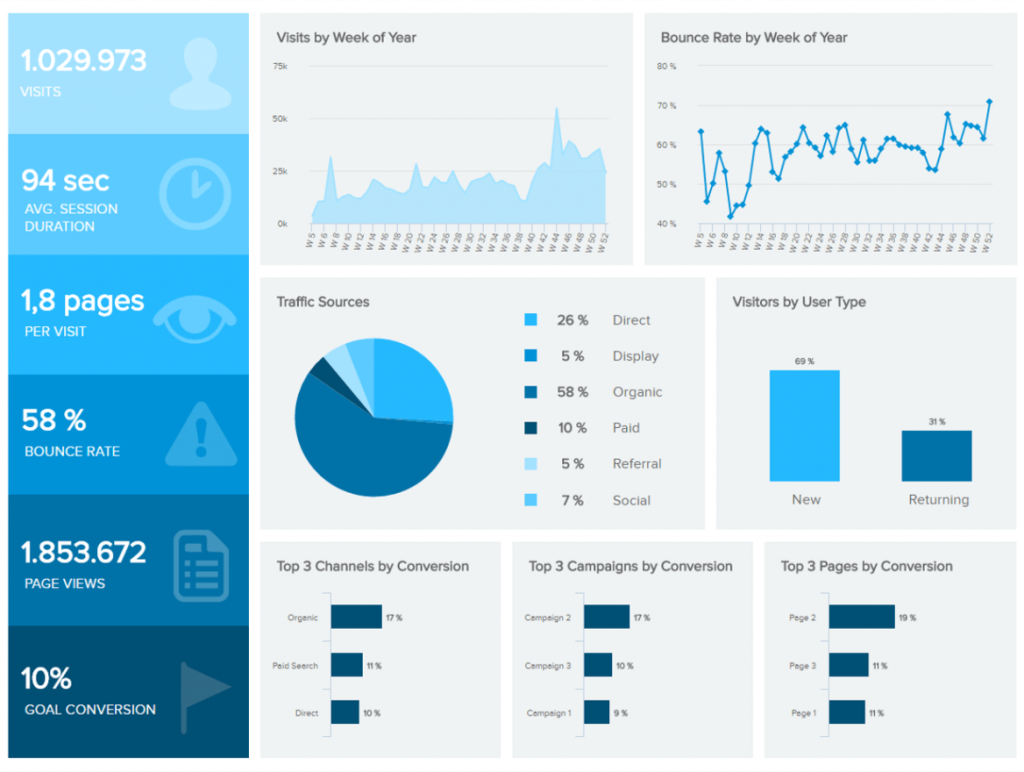 Key Metrics to Include in a Marketing Analytics Dashboard
The best way to analyze the performance of any marketing initiative is through metrics. A marketing analytics dashboard helps in evaluating and monitoring the effectiveness of the campaign through key indicators. We suggest you divide the indicators into four groups to decode your marketing data.
Traffic
Your website will have visitors, and traffic metrics will help you understand the persona of the visitors visiting your website along with the source they are coming from. The reporting may vary, but in general, you can expect traffic from the following sources: organic, social, referral, offline source, direct traffic, and paid search. Some crucial traffic indicators that assist organizations in understanding how engaged visitors are with their content include bounce rate and time spent on the site.
Engagement
Engagement is another key indicator that helps you understand the success of your marketing initiatives. It includes metrics such as clicks, views, downloads, shares, comments, and likes. Especially in social media, the foremost goal is to convert your customers into loyal followers, and the success of that effort is measured through the interactions of followers with your campaigns.
Conversion
Ascertain the success of your campaign by measuring the conversion metrics. Under this, you will get to monitor the conversion rate, cost per conversion, and revenue per conversion. Also, you can check out the higher conversion rate and determine what led to success.
Lifetime value of a customer
Take a look at the customer metrics. Metrics like customer acquisition cost (CAC), customer lifetime value (CLV), churn rate, and repeat purchase rate should be monitored to measure the value of the customer in your business. This also helps you in determining the path to maximize your customers' repeat purchases.
Top 5 Marketing Analytics Dashboard Software
Now let's look at five well-liked marketing analytics dashboard technologies that are must-haves for your organizations.
With the help of the powerful tool Salespanel, businesses can identify, track, and qualify the leads. Salespanel offers you a number of features that help both marketing and sales teams get a grip on all visitors, leads, and customers. You can simply use your data to qualify and nurture leads at every step of your buyer's journey. You can also streamline the sales process with SalesPanel's integrations with other marketing tools such as email automation platforms and CRM systems.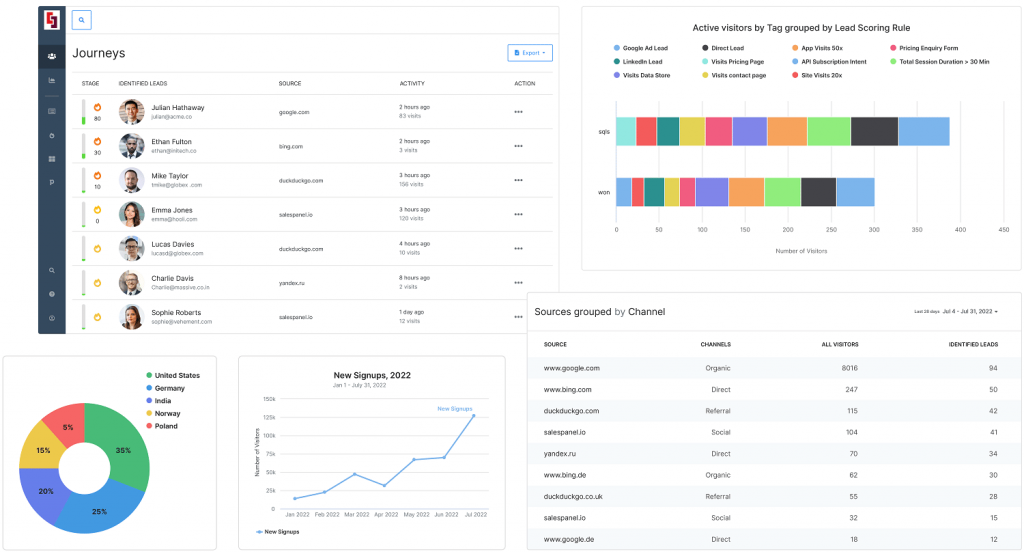 The most extensively utilized marketing analytics dashboard solution present in the market today is Google Analytics. This free tool helps you make smarter decisions by analyzing all business data in one place. You can leverage the data to gain insights on user behavior, website traffic, and conversion rates. Customization is available for free, as one solution doesn't fit all businesses.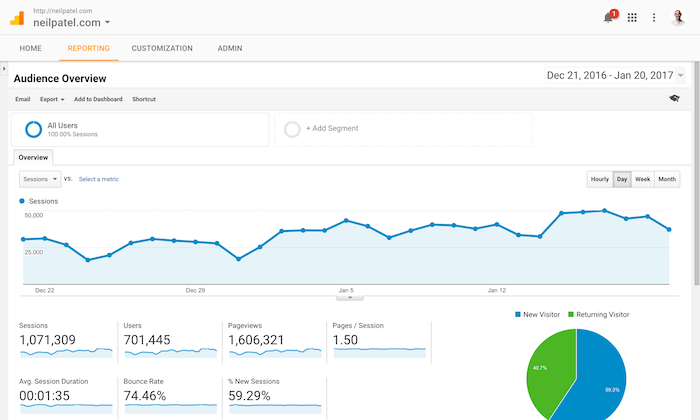 Hubspot's dashboard offers quick access to multiple data points that are useful for email marketing, social media marketing, content production and management, among other things. You can get a customized dashboard that produces comprehensive analytics reports that can be used by different team members to track progress towards the goal. It also integrates data from other sources, such as Salesforce, WordPress, and Google Analytics.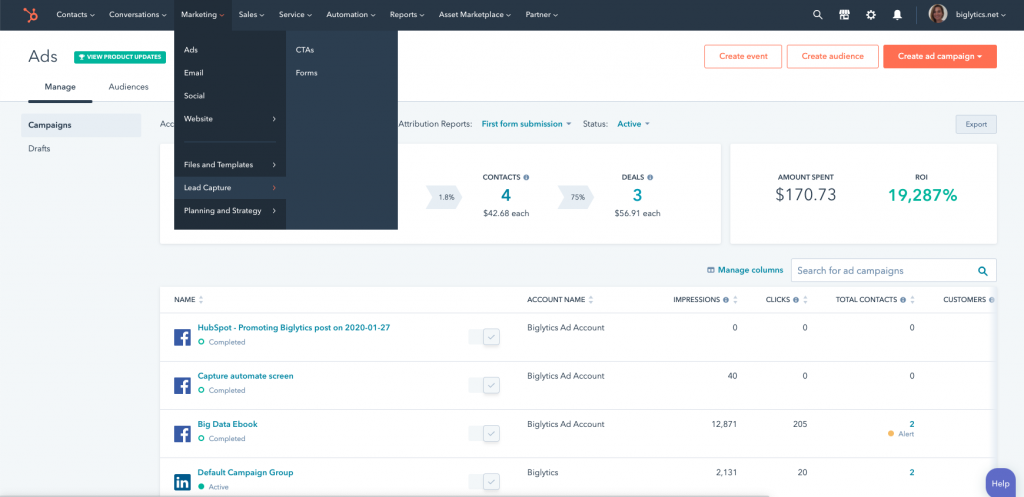 Another well-known tool that offers comprehensive data on user activity on websites or mobile applications is Adobe Analytics. It offers actionable insights that provide predictive modeling that can assist firms in foreseeing upcoming changes in consumer behavior. It enables advertisers to follow customer journeys through many media, including social media and email advertising.
Mixpanel monitors user interaction on both mobile and web platforms. It offers a modern dashboard that helps gather information (such as clicks or swipes) and uncover hidden trends. You can get a detailed insight on the segment of various conversion rates. Even non-technical people can easily generate custom reports using Mixpanel's user-friendly interface based on particular company needs.
Conclusion
A marketing dashboard is absolutely necessary for today's marketing team to strategize a successful marketing campaign. Be it tracking customer engagement or conversion, you can ascertain the success of the marketing performance by using different marketing analytics dashboards. Now, make wise judgments regarding the digital marketing strategy and maximize your ROI from every campaign by leveraging these five potent dashboards.
Sell more, understand your customers' journey for free!
Sales and Marketing teams spend millions of dollars to bring visitors to your website. But do you track your customer's journey? Do you know who buys and why?
Around 8% of your website traffic will sign up on your lead forms. What happens to the other 92% of your traffic? Can you identify your visiting accounts? Can you engage and retarget your qualified visitors even if they are not identified?