7 Marketing Analytics Software for Privacy-Focused Businesses
Reading Time: 8 minutes
In today's competitive landscape, the importance of marketing analytics is widely recognized and embraced. The reason is simple, the modern way of operation is heavily dependent on digital commerce and the more you understand the better you can engage, is the mantra. Every successful campaign or product in the market today is backed by a substantial market analysis of the customers and competitors. If businesses are determined to stay ahead of the game, they can employ marketing analytics tools as a must have to survive and build a culture of campaign evaluation & performance enhancement.
A thorough assessment of the user and their behaviour is the best way may help you to make wise business decisions. In the face of diverse market data, it becomes imperative to streamline information on your target customer base, their buying patterns, and their interaction trends. This is where marketing analytics software can come to your rescue.
According to a report by Yahoo Finance, the global digital marketing software market size is expected to reach USD 182.21 billion by 2023, registering a CAGR of 18.2% from 2021 to 2028. Marketing analytics software contains tools and processes allowing businesses to measure their marketing performance in an attempt to maximize conversions and sales. You must use these tools across various touchpoints, such as email marketing, digital advertisements, social media, and web analytics, to aggregate data points.
In this article, we will take a closer look at marketing analytics software and its key features, benefits, and top options available in the market. Whether you're a small business owner or a marketing professional looking to enhance your skills, this article will provide you with a comprehensive overview of how marketing analytics software can help you achieve your goals.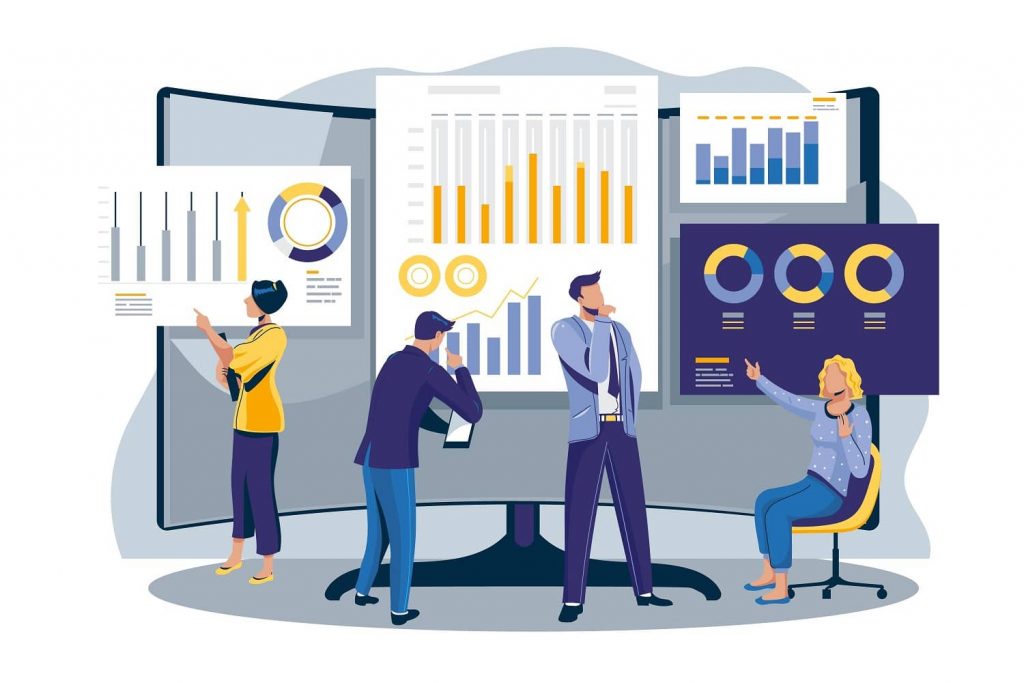 What is Marketing Analytics & Why is it Essential?
Marketing analytics is a process that involves collecting, organizing, and analyzing data related to marketing efforts. The primary objective of marketing analytics is to improve the effectiveness of marketing campaigns and maximize return on investment (ROI).
Marketing analytics underpins today's data-driven decision-making. To make informed decisions, it is crucial to have a deep understanding of your users. Gaining insights into demographics, ongoing user behavior trends, and patterns of customer interactions can lead to faster and higher ROI on every marketing initiative.
In addition to analyzing campaign performance, marketing analytics helps in evaluating appropriate pricing strategies, assessing the viability of new products, and optimizing existing products. While advertising analytics focuses on ad performance to guide marketers' actions, sales analysis reveals data on conversions and how to adapt them to meet evolving customer needs.
How Can Marketing Analytics Software Benefit Your Business?
Earlier, gauging the success or failure of marketing efforts was challenging, but this is no longer the case. Marketing analytics software streamlines marketing campaign management, enabling businesses of all sizes to achieve their goals and marketing objectives. Here are some benefits of marketing analytics software that make it essential for your enterprise:
Track KPIs that matter: Marketing analytics software aids businesses in tracking key performance indicators (KPIs), such as website traffic, conversion rates, click-through rates, and sales. Businesses can analyze this data to determine which marketing campaigns yielded the best results and adjust their strategies accordingly.
Understand customer behavior in depth: According to a study by Salesforce 2021, 84% marketers believe changing customer expectations dictate digital strategies. Marketing analytics tools provide businesses with a 360-degree insight into customer behavior and buying patterns. They understand and rationalize where the customer is coming from, which products or services interest them the most, and their interaction with the brand. Businesses can leverage this information to create targeted and personalized marketing campaigns that resonate with the customers and improve customer retention. They can also use this tool to analyze customer feedback and identify areas for improvement.
Be mindful of ROI: Marketing analytics software allows businesses to track their marketing spend and determine the return on investment (ROI) for each campaign/ad and assets deployed. This analysis proves useful to adjust marketing budgets and allocate resources more effectively.
Building High Impact Funnel: In today's cut-throat market, businesses that optimize marketing analytics software have a significant advantage over those that don't. Instead of taking shots in the dark, weigh this data to make informed choices about pricing, marketing, and product development and adapt to the changing market conditions. As the software automates collecting and analyzing data, it saves businesses ample time and resources to shift their focus on operations and improve overall efficiency.
7 Best Marketing Analytics Software for 2023

In this guide, find the 7 leading marketing analytics software options with their features to boost your marketing activities:
Salespanel is a B2B analytics solution that connects customer journey tracking with first-party data from your website. Unlike traditional analytics, Salespanel provides analytical data that actually connects with your customers, making it ideal for businesses looking to score leads, automate workflows, or personalize their marketing and sell better. Additionally, Salespanel offers GDPR-compliant tracking and avoids the problems associated with Google Analytics by not using data at rest for other purposes, avoiding the use of third-party cookies and being based outside of the USA. Overall, Salespanel is a promising alternative to Google Analytics 4 for B2B businesses looking to understand behavior and intent.
For more information on the Salespanel analytics solution, click here.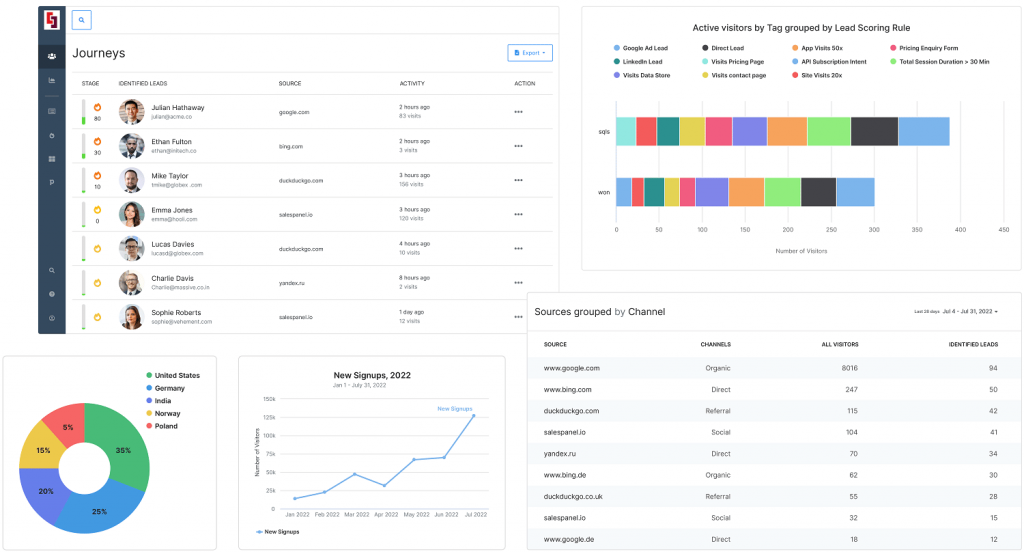 Google Analytics, a widely-used and highly-regarded marketing analytics software, is a free tool that enables businesses to track and analyze website traffic, user behavior, and other key metrics related to their online presence. With the introduction of Google Analytics 4, the platform has become even more powerful and feature-rich.
In addition to its existing features such as customizable dashboards, advanced reporting options, real-time data tracking, and seamless integration with other Google tools like Google Ads and Google Search Console, Google Analytics 4 offers a host of new capabilities. These include more sophisticated cohort-based report creation, enabling deeper insights into user behavior and trends.
One of the mainstays of Google Analytics is its ability to monitor the source of website traffic, providing valuable information on the most visited pages of a site and the duration of user visits. The launch of Google Analytics 4 brings new opportunities for businesses to make data-driven decisions and optimize their online presence for maximum impact.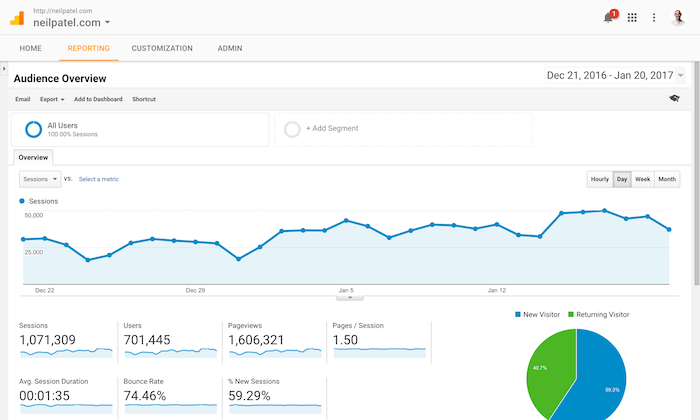 Adobe Analytics provides advanced analytical capabilities to businesses worldwide. It is a paid tool that also allows integration with other Adobe Marketing Cloud tools, like Adobe Campaign and Adobe Experience Manager. Adobe Analytics aids in analyzing data from any digital point in the customer journey. The platform works across emerging digital channels and brings all data under one roof.
HubSpot is an excellent choice for businesses looking for an all-in-one marketing, sales, and service platform. Connect your data, teams, and customers on one CRM platform. The HubSpot State of Marketing Report, 2021, states that roughly 62% of marketers use a built-in marketing or CRM software for marketing reporting.
Grow traffic, convert visitors, run complete inbound marketing campaigns at scale, and give your customers a personalized and secure experience with HubSpot. It also offers A/B tests to develop successful lead generation strategies, a ready-to-use marketing funnel, scheduling, contact database, mobile marketing, and much more. It attracts the attention of leads through blogs, SEO, and ad tracking, and converts prospective customers through email marketing, account-based marketing, and more. This can be an ideal choice for businesses as the platform provides video tutorials, online documentation, and in-person training options for dedicated marketing teams to upscale.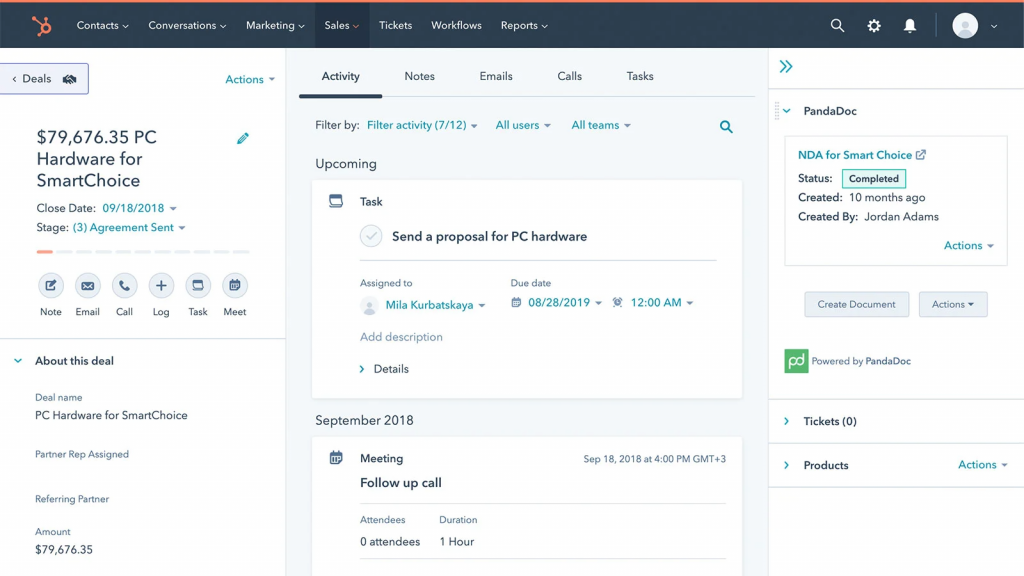 Convert, engage, and retain customers with a productive analytics software like Mixpanel. The tool helps users integrate all data and produces data reports based on the data analysis. The report formats range from insights and funnel reports to retention reports. The software provides information on how users interact with a business's digital products. Track specific events or actions such as signups, page views, clicks, and purchases. Instead of writing structured query language (SQL), create data pipelines, group analytics, and retroactive funnels, and analyze conversion rates on the fly.
Kissmetrics is another renowned marketing analytics software that can help derive actual user behavior. Other features include funnel analysis, cohort analysis, and A/B testing. Through its funnel analysis, the tool navigates a user's full customer journey across devices, ties data to a real person, and discovers drop-off points for every flow on your site. Delve deep into detailed customer activity reports to see the most viewed and purchased products, identify popular site searches, discover trending categories and products, and see sales and revenue filtered into device type, traffic source, and campaign. Kissmetrics provides actionable insights that can help businesses generate revenue and boost conversions.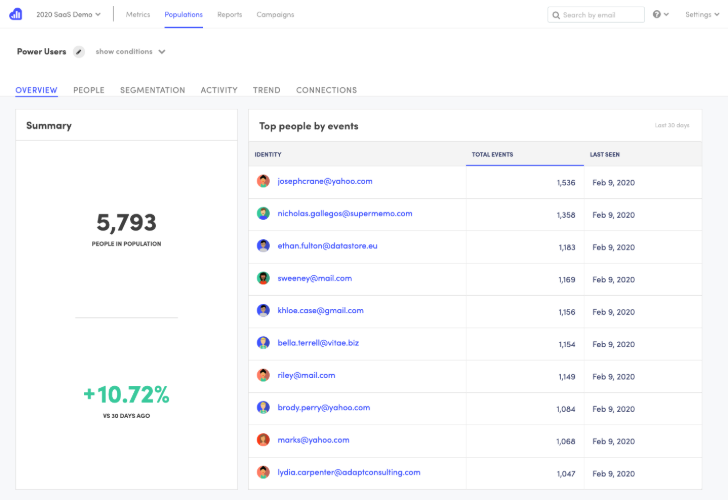 Despite a perfectly-designed webpage, business web pages may still face visitor defection. Therefore, user testing is essential to increase conversions. Crazy Egg is a popular marketing analytics software that allows businesses to gauge user behavior on their websites. Some of its primary features include heatmaps, scroll maps, click reports, and A/B testing. While heatmaps display which areas of the webpage are most frequently clicked or tapped, scroll maps show how far down the page visitors scroll. Click reports provide detailed information on each click, and A/B testing allows different variations of their website to see which one performs the best.

Crazy Egg's user-friendly interface and affordable pricing make it one of the most viable marketing analytics software. Start collecting data and running user tests without any prior technical experience.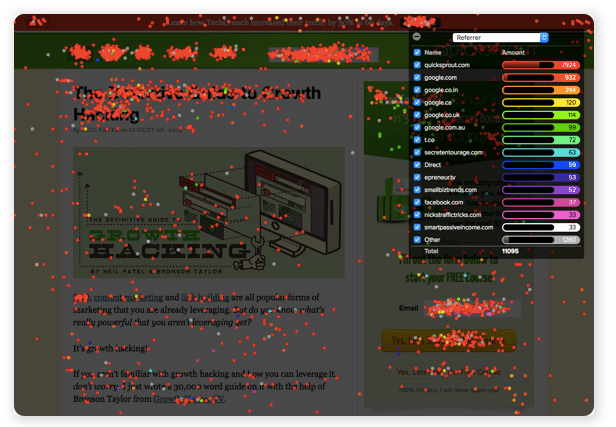 Key Factors To Consider When Selecting Marketing Analytics Software
Investing in the right marketing analytics software is critical to the success of your business. Here are some key factors to consider when selecting marketing analytics software:
Business needs: First and foremost, it is vital to evaluate your business needs and objectives. Be it website analytics, customer behavior, or the need to track social media metrics, list out your requirements to explore potential software options.
Features and functions of software: Assess the features and functionality of each software option. Prioritize software that provides real-time data tracking, customizable reporting, data visualization, A/B testing, web analytics, customer segmentation, and other features essential for your business.
Integration: Consider how the marketing analytics software will integrate with your existing systems, like CRM and marketing automation platforms, and data sources to minimize manual data entry while ensuring accurate and up-to-date information.
Cost: Factor in your budget before zeroing down on software. Also, consider any ongoing maintenance or support fee. Look for a software option that fits within your budget and provides good value for money.
Despite the many advantages of marketing analytics, some challenges include navigating through vast amounts of data and information, correlating data from multiple sources, an inaccurate sample size of customers becomes a time-consuming process to observe trends over a prolonged period.
Nevertheless, these marketing analytics tips and tricks can be a starting point in helping your business climb the ladder of strong product or service building. Employ marketing analytics software to gain a better understanding of the customer mindset and market trends.

If you want to implement Salespanel as your business' marketing analytics software, talk to us!
Sell more, understand your customers' journey for free!
Sales and Marketing teams spend millions of dollars to bring visitors to your website. But do you track your customer's journey? Do you know who buys and why?
Around 8% of your website traffic will sign up on your lead forms. What happens to the other 92% of your traffic? Can you identify your visiting accounts? Can you engage and retarget your qualified visitors even if they are not identified?