What Are Custom Fields In Pipedrive CRM?
Pipedrive is a leading CRM platform designed to assist businesses in managing their sales processes and improving customer relationships. It has an easy-to-use interface and comes with sales pipeline visualization and customizable features that allow teams to manage leads, deals, and communication, ultimately improving sales productivity and effectiveness.
Amongst its robust suite of features, one lesser-known but incredibly powerful attribute is custom fields. These give salespeople more granular insights and actionable data about their leads and sales opportunities. Each admin user in Pipedrive has the ability to create new data fields, allowing them to gather the information that is most important for their organization.
In this blog, we will discuss custom data fields in the Pipedrive CRM, their benefits, and how to create and view them, and segment leads and opportunities based on the information collected.
Let's get started!
What are Custom Fields in Pipedrive CRM?
While Pipedrive already provides default fields to handle the data-gathering requirements for your leads, opportunities, projects, and products, you can also create specific fields per your unique business needs. These are known as custom fields.
Custom fields lend a personalized approach to documenting, organizing, and filtering your data based on every individual need. The number of custom fields you can create depends on your specific Pipedrive subscription plan. For instance, formulas and pipeline-specific data fields are only available to Professional and Enterprise plan users.
Types of Custom Fields in Pipedrive
You can add various forms of information to your leads, deals, projects, or products using the sixteen distinct types of custom fields, as given below: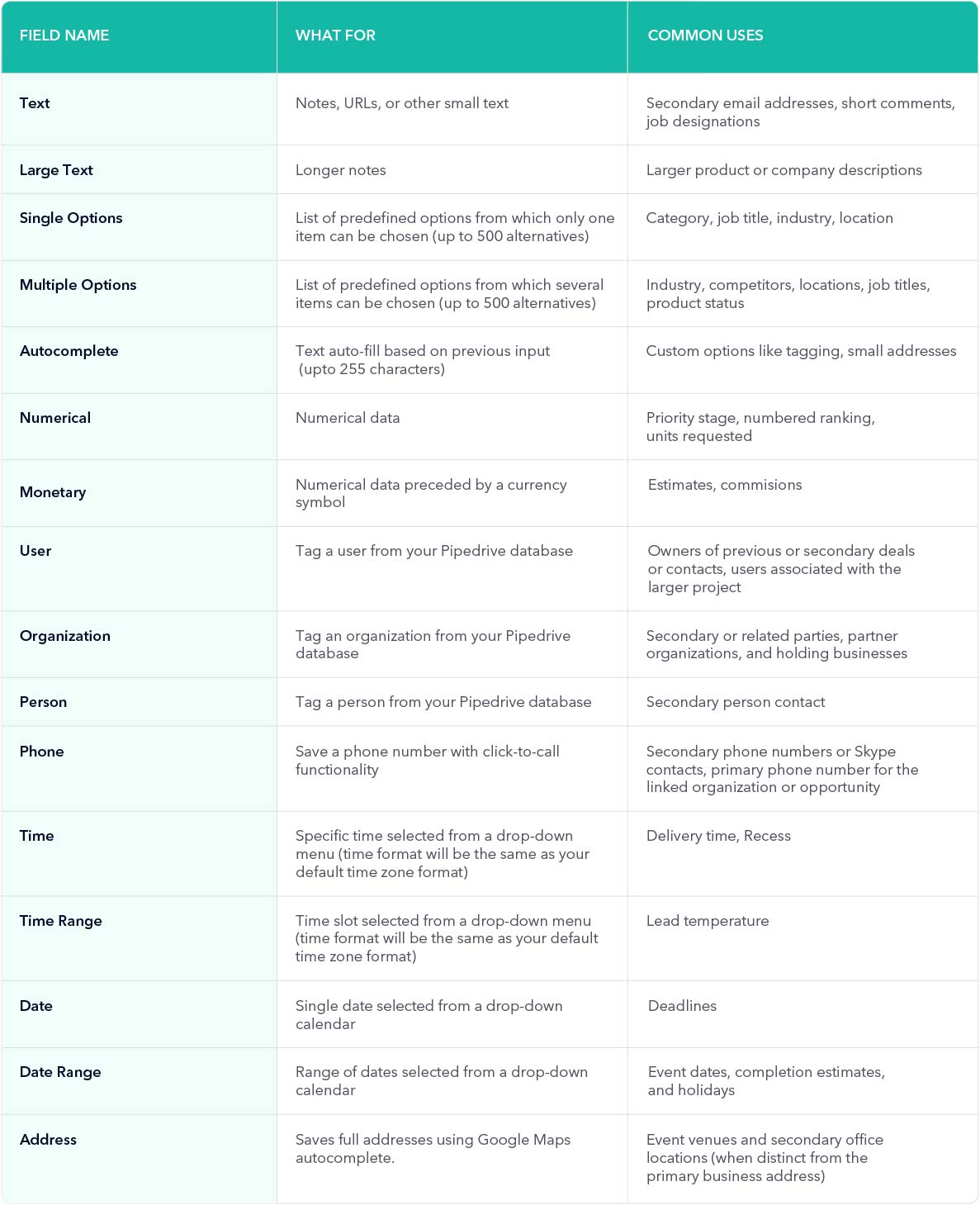 Key Benefits of Custom Fields
Here are some key benefits of using custom fields in the Pipedrive CRM to gather sales data:
Customized Data Collection: Custom fields allow you to collect specialized information that is in line with your unique business needs. You can design fields that correspond to your industry, products, and unique customer characteristics, ensuring that your CRM system captures relevant data.
Strategic Tracking: Custom fields enable you to track certain metrics and attributes that are important to your sales process. This allows you to monitor and analyze data that has a direct impact on your decision-making, resulting in more informed business decisions.
Enhanced Segmentation: Custom fields allow for more comprehensive segmentation of your contacts and deals. Data can be classified and filtered depending on a variety of parameters, allowing for precision targeting and customized communication with distinct customer categories.
Improved Reporting: You may build more informative and accurate reports by capturing specialized data through custom fields. This helps with performance evaluation, finding patterns, and making data-driven enhancements to your sales methods.
Consistent Data Entry: Custom fields can impose standardized data entry formats, which helps reduce errors and ensure that information is entered uniformly across your workforce. This results in clearer and more trustworthy data.
Better Qualified Leads: Customised data fields allow you to construct lead scoring systems that reflect the individual characteristics of a high-quality lead. This helps in lead prioritization, focusing sales efforts on those leads or opportunities most likely to convert, and increasing conversion rates.
Streamlined Workflows: Workflows are streamlined when you use custom fields to establish automation triggers based on specified criteria. When certain conditions are met, this automation can save time by initiating operations, sending messages, or changing records automatically.
In the following section, we will discuss how you can create custom fields in Pipedrive, view the data, and segment customers based on the collected information.
How Do You Create Custom Fields in Pipedrive?
You may add a custom field by going to Settings > Company > Data Fields and clicking on the Add Custom Field button. The field can be added under Lead, Person, Organization, Project or Product categories.
Next, you must name the field and select the type of field you want to create in the popup that displays. Pipedrive has a number of custom field types that may be readily customized based on the information you require for your data.
When you create a new custom field, you can choose where it can be shown on Pipedrive. Here are the designated areas:
Pinned in the Detail view: Whether or not a value is entered, the custom field always displays in the item's detail view.
Appears in the add view: The custom field is always shown in the "Add new" dialogue for that item.
Appears in the project detail view: Whether or not a value is entered, the custom field always displays in the project's detail view.
Pipeline (only for lead custom fields): You can clear the deal detail view by hiding selected fields from specific pipelines.
You can also add custom fields in the detail view of an item by navigating to Details > Customise Fields > +Add a New Field.
Viewing Custom Fields and Segmenting Users Based on Custom Field Data
You can view custom field values in the following places on Pipedrive:
1. In the detail view:
You can find any custom fields under the Details section.
2. In the list view:
Select the custom field in the Choose Columns section by clicking on the gear icon to the right of the table. Click on Save to display the custom field column in the list view.
3. In the Add New Dialog box:
Mark Yes for the Show in Add New Dialog option, and view the custom field in the Add New" model.
4. In the Import function:
When you import a spreadsheet into Pipedrive, you can map custom fields to columns in the spreadsheet. Custom fields can also be added straight from the mapping page.
When it comes to audience segmentation, Pipedrive provides a no-code filtering tool. You can categorize your contacts into sub-groups, based on custom field data, such as deals, leads, projects, and products. If those options are not specifically tailored to your needs, you can also filter contacts based on other custom fields you have already created in Pipedrive.
Here are four best practices to keep in mind when you are segmenting users based on custom field data:
Use labels to segment leads and customers;
Collect data and create Ideal Customer Profiles (ICPs) for prospects
Create up-sell and cross-sell deals for existing customers; and,
Assess expansion potential for corporate organizations.
Use Salespanel to Capture Marketing Data and Automatically Add Them As Custom Fields
Your sales team using Pipedrive can reap a lot of benefits by integrating their CRM with a marketing intelligence tool, like Salespanel. In real-time, the Salespanel integration for Pipedrive syncs key lead variables such as lead score, quality grade, lead source, acquisition medium, website and email activity, and vital lead information.
With all of this information synchronized as custom fields in Pipedrive, CRM users can generate a highly customized list view of qualifying contacts.
Salespanel delivers lead activities on your website, including when their most recent activity occurred, the temperature of the lead, the source of the lead, the lead's score, their tags, UTM parameters, and custom activities. Your sales personnel can use the information to understand lead intent without leaving their CRM.
Installing the Salespanel Integration for Pippedrive
To get started, go to the Salespanel app listing on the Pipedrive marketplace while logged in and click on Install Now. If you follow the steps correctly, the real-time sync will begin as soon as Salespanel is activated. Once you've activated the integration, Pipedrive will take you back to the Salespanel integration settings page. Navigate to the Pipedrive sync settings page to configure how Salespanel will sync lead data with Pipedrive. Contact us to see a demo.
After installing successfully, you can access the sync settings using the sidebar navigation.
This is what the Pipedrive sync settings page looks like —
You can create a Pipedrive contact, if it does not already exist.
When Salespanel syncs data to Pipedrive, it first checks to see if the contact exists. If the contact already exists, it will be updated. If the contact does not exist, it will establish a new one before proceeding with the sync.
Assign the owner of the default contact.
When you sync data to Pipedrive, you can choose which Pipedrive user owns the synced contacts. On the Settings > Company > Manage users tab, you may add or remove users from your Pipedrive team.
You can sync lead activity data to Pipedrive contact feed
You can sync the lead's activities on your website with Pipedrive CRM. Salespanel syncs lead activity as a "Pipedrive activity" by default.
Choose how you want to sync your lead's activities to Pipedrive
You have the option to choose whether to sync a lead's activities as a "Pipedrive activity" or a "Pipedrive note" on the platform.
You also have additional fields available to sync with your contact on Pipedrive, as illustrated below:
For more information, check out this article.
Conclusion
Custom fields in Pipedrive are extremely useful in bringing useful insights to your CRM. They can be extremely valuable to tailor the CRM experience to suit your organization's requirements as well as bring outside data to the platform. A tool like Salespanel, for example, can capture marketing data and automatically input them into the custom fields in Pipedrive. More use cases can be also be derived from this feature.
Sell more, understand your customers' journey for free!
Sales and Marketing teams spend millions of dollars to bring visitors to your website. But do you track your customer's journey? Do you know who buys and why?
Around 8% of your website traffic will sign up on your lead forms. What happens to the other 92% of your traffic? Can you identify your visiting accounts? Can you engage and retarget your qualified visitors even if they are not identified?