ZoomInfo Pricing And Top Alternatives
Zoominfo is a powerful B2B prospecting tool with a huge customer contact database beneficial for SMBs and Enterprises. The company offers three products — SalesOS (for accelerating your sales cycle), MarketingOS (to help with market research and ROI enhancement), and TalentOS (for finding and hiring top-notch talent faster).
While the solutions from ZoomInfo are easy to comprehend, understanding the cost associated with the tool can be complex as requirements tend to differ from business to business. Plus, ZoomInfo does not publicly share this information on their website. In this blog, we are looking at Zoominfo's pricing model and also highlight some alternatives that you might also want to check out. Let's get started!
What is Zoominfo?
Zoominfo is a B2B data supplier with one of the largest contact and company intelligence datasets, containing over 2.3 million contacts, for sales, marketing, and recruitment.
Through a real-time understanding of current traffic and analytics, the platform enables teams to identify relevant accounts. It also helps in contact searches, list building, and campaign management. You can subscribe to their tailored plans for Sales, Marketing, and Recruiting separately, depending on your unique business needs.
In short, Zoominfo is a multi-platform operating system that powers your go-to-market (GTM) strategy across multiple customer channels with real-time data insights and enables revenue teams to deliver business growth for scalability.
Zoominfo Products — An Overview
Zoominfo's main offerings are geared toward sales teams; however, Zoominfo has products for marketing, recruitment, and revenue operations teams as well.
1. SalesOS
This product is built for sales teams. The main feature to focus on is the company and contact search here. It can be leveraged for ABM, cold emails, and cold-calling prospects. SalesOS also provides another tool for sales teams to target 'hot' prospects, their intent data.
SalesOS also comes with additional features, such as the Engage add-on, allowing you to identify and reach out to buyers at scale. You also have the intuitive Chorus add-on, which leverages AI to analyze patterns, provide real-time feedback, and direct dialogues with prospects. On top of that, the product also has a live chatbot for utilizing conversational intelligence to convert leads.
2. MarketingOS
As marketing teams frequently need to compile lists for SDRs and account-based marketing is a component of their strategy, the company and contact search feature is a good fit for them.
There is also the display search feature that you can use to create ads tailored on intent data for social media platforms like Facebook and LinkedIn. With MarketingOS, you get access to additional functions like website chat, form enrichment, and visitor monitoring, which are helpful for marketing because they let them know when target accounts visit website and give them a chance to tailor visitor experiences.
3. TalentOS
TalentOS provides crucial data to recruiters to reach out to potential candidates for job openings. The product has several intelligence filters to help you pick candidates who a right fit for your business. Plus, the diversity features help recruiters support inclusive hiring initiatives.
BONUS: While Zoominfo does not offer a specific RevOps focused plan, the software can be of great utility for revenue teams. ZoomInfo provides data services, webhooks, and APIs to support operations teams that boost efficiency and increase revenue generation.
While Zoominfo is popular for all the right reasons, there is one problem — it does not offer transparent pricing on its website. However, we have acquired some information on how you can calculate Zoominfo's pricing for your business needs, which we will share in the next section.
How Can You Calculate Zoominfo's Pricing?
ZoomInfo has many things on offer, and its cost might vary significantly based on your usage. While it is a fantastic approach to customize pricing for companies of different sizes, you might need help comprehending the subscription costs for your business. A few crucial variables heavily influence costs for using ZoomInfo's tools and capabilities. They consist of the features and functionalities you use, the number of licenses you require, and the number of credits you can afford.
The cost of ZoomInfo credits varies according to the level of information you need. Basic credits provide the usual firmographic and demographic information, whereas more substantial credits encompass more specific information, such as departmental budgets and technographics.
With ZoomInfo not publicly revealing its pricing data, we had to dive deep into information on the web, and here's what we found —
In 2022, a Reddit user who shared that he was an employee at ZoomInfo said that the general pricing for all products starts at $15,000 per year for three seats and provides 500 credits. Zero add-ons accompany this and can be considered the starting price point for the first tier, i.e., the Professional plan. You can expect the pricing for the higher tiers — Advanced and Elite to be significantly higher. However, readers have shared that both plans come with 10,000 credits each.
Zoominfo Products and Pricing Comparison
We could only acquire data on the three pricing tiers offered by Zoominfo for the SalesOS product. However, popular opinion suggests that they translate similarly to the MarketingOS and TalentOS products as well.
Now that that's out of the way let's check out how the three pricing tiers for the SalesOS product compare to each other.
1. Professional Plan
This is the most basic plan for the SalesOS product and is a good entry-level option for ZoomInfo's core capabilities. With this plan, you can access the customer database, direct dialing capabilities, customized prospect lists and notifications, improved filtering options, and other basic features.
While ZoomInfo's basic plan has a strong selection of tools and capabilities, the cost can be high. The platform's Professional package (without any add-ons) starts at slightly under $14,995 per year. If your business is a small startup, ZoomInfo may be too expensive.
Zoominfo offers a free trial, though, which means you can test the platform risk-free before investing in it.
2. Advanced Plan
The Advanced plan includes all of the capabilities of the Professional plan, along with additional improved data elements and insights for quicker results.
You will get access to geographical data, organizational charts, tech adoption insights, information about purchasing intent, information about website visitors, and even better filtering possibilities.
The Advanced plan starts at $24,995 per year.
3. Elite Plan
The top-tier Elite plan includes all of ZoomInfo's greatest features. The Elite package offers real-time buying intent signals, automation for typical sales tasks, contact tracking, AI-generated target customer profiles, and everything the Professional and Advanced plans offer.
For organizations seeking a thorough overview of potential clients, the Elite plan can be highly suitable. It is best for companies prepared to launch an aggressive lead-generating campaign. The Elite plan starts at $34,995 per year.
Despite its robust capabilities, there are some drawbacks to investing in a Zoominfo product. In this next section, we will be exploring Zoominfo's limitations.
Zoominfo Limitations
While Zoominfo provides a massive B2B contact and company information database, it is not without its shortcomings. Here are some limitations of the Zoominfo software:
1. Limited Credit System
For cross-functional teams, the credit limits of ZoomInfo may pose some difficulties, primarily in high-growth companies.
You receive 5,000 credits after spending $15,000 a year on the Professional plan. Advanced and Elite plans provide 10,000 credits and you would need to spend more money to get additional credits. This can make Zoominfo an expensive addition to your tech stack, given the lower data limits and restricted credits.
2. Data Quality Issues
Zoominfo is based in the US, offering extensive data coverage for companies operating out of North America.
However, Zoominfo does not provide as much granular data as you may desire when it comes to businesses outside the territory. In fact, you may face instances of outdated or incorrect information, which can negatively impact the efforts of your sales and marketing departments.
3. Credit Model Doesn't Account for Scalability
For scaling organizations or large enterprises looking for massive lead volume, Zoominfo's credit model can be a bane.
For instance, a business may want to pursue leads in a new market, but if it has used all of its financial resources to keep up its present pipeline, it risks missing out on prospective business prospects. Businesses with aggressive growth objectives or those operating in fiercely competitive markets may find this difficult.
4. Limits on Data Export
Based on your subscription, Zoominfo can limit how much data you can export simultaneously.
This can make it difficult for companies to conduct and benefit from comprehensive market research. Integrating Zoominfo with your CRM may also pose additional problems and require technical expertise. Combined, you may not be able to access a complete overview of your audience, which may cause problems expanding into new markets or launching new products.
For these reasons, many companies look for ZoomInfo alternatives. In this next section, we will highlight top Zoominfo alternatives and list their prices compared to Zoominfo.
Top Zoominfo Alternatives and Their Pricing Compared
We have listed the top Zoominfo alternatives below. But before we dive into detailed descriptions, you should take a look at this chart illustrated below, where we have compared their pricing plans: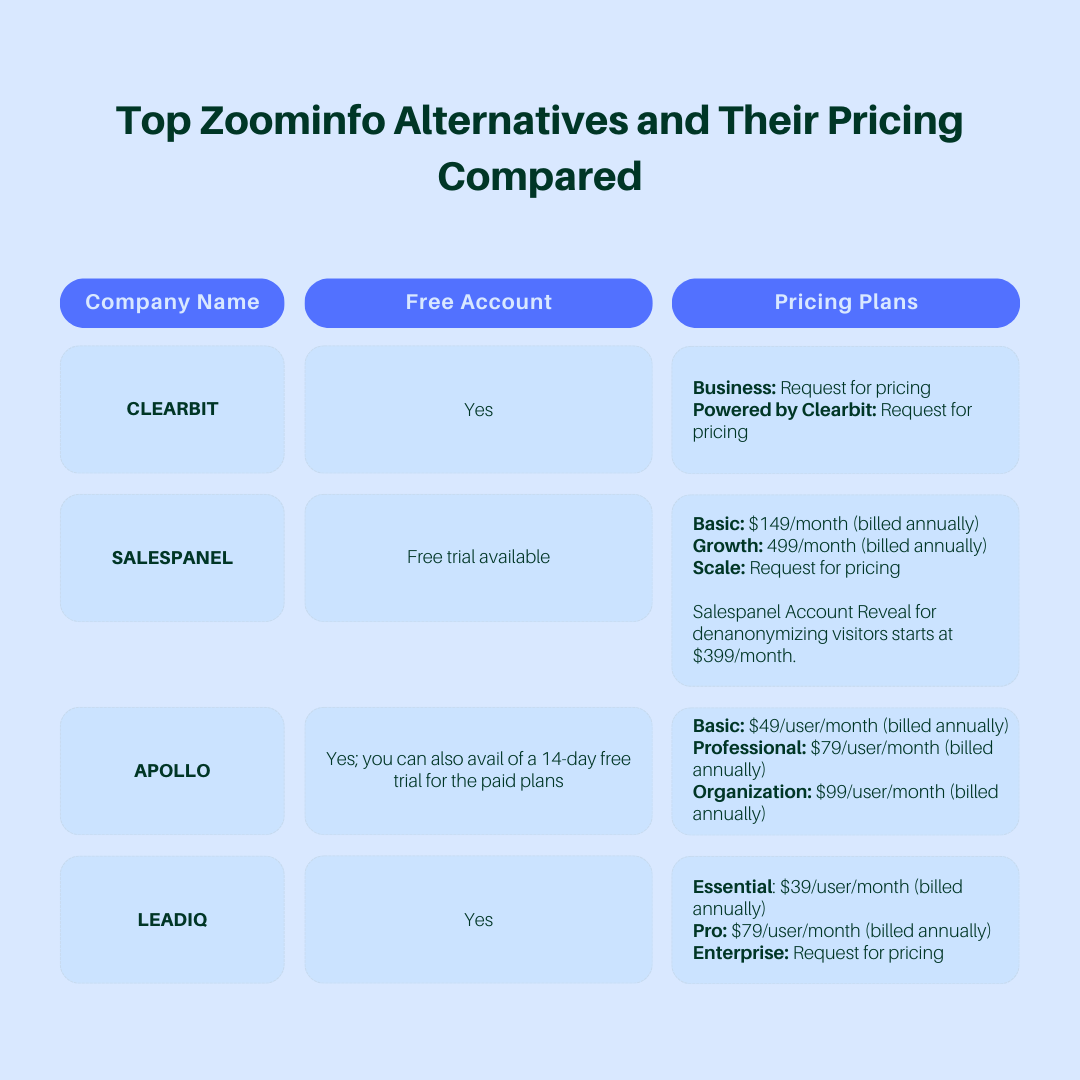 Let's take a look:
Clearbit is a B2B marketing intelligence and data activation platform that gathers public data from the web using the power of AI-driven LLMs. It converts unstructured information into precise, standardized datasets that feed into your GTM strategy to enrich your records, reveal buying intent, and connect with your ideal customers.
You can use Clearbit to optimize your website for the ultimate user experience.
This tool de-anonymizes company and account data, uncovering attributes such as geographical location, website traffic, employee count, technologies used, job titles and roles, designations, seniority, salaries, and more. It even updates when your qualified visitors change job roles or companies. Knowing this information allows you to target your desired audience more effectively.
Besides this, you also get the Clearbit Prospector feature, which can help you source accounts and leads for your business. Moreover, companies can use this software to sync account and lead data with their CRM for valuable insights and informed decision-making.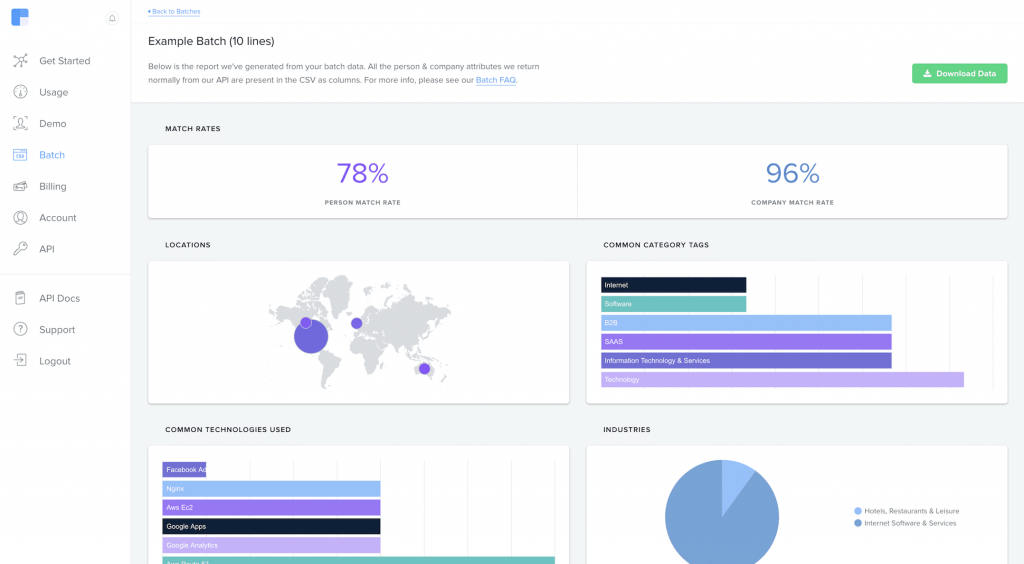 Salespanel is a B2B visitor intelligence and data-driven marketing software that identifies companies visiting your website with reverse DNS and helps you qualify accounts based on intent data so that you can reach out to them with targeted content and nurture them for conversion. The underlying DNS information works in real-time, without the need for visitors to sign up to your website.
Once the company is recognized, you can delve into firmographic details like company size, geographic location, industry, valuation, etc. Using this data, it is possible to identify and rank businesses that best fit your ideal client profile. The software provides industry-standard matching rates at a whopping 67%, which is 30% higher than its closest alternative.
Salespanel also offers reliable, real-time monitoring of behavioral data. You can determine the behavioral intent of visitors on your website by gathering data from options like referrer source, page visit length, scroll and stop points, campaign identification, etc. Implementing this information can help you segregate your audience for nurturing and site personalization. It can also aid you in creating retargeting ads to engage them in high-engagement platforms like social media sites, which in turn, can lower your customer acquisition costs.
Salespanel only tracks data from first-party websites, immediately attributing it to your customers. This ensures that the data you collect is reliable and comes directly from the customers. Furthermore, accounts that are qualified as per your ideal customer profile (ICP) criteria are automatically added to your CRM and thus, your sales pipeline. Your sales team can then either call them or use the contact information to reach out to them via emails or DMs to get in touch with decision-makers in the company. Additionally, you can also construct and implement a workflow that notifies a sales rep whenever a target account assigned to them logs into your website. It is, therefore, perfect for B2B companies that wish to automate processes, personalize their marketing, or score prospects to close more sales.
Apollo provides a B2B contact database with over 220 million datasets for sales intelligence and also comes with tools to interact with these prospects. This software helps sellers and marketers find additional customers in the market, connect with contacts, and develop a contemporary go-to-market (GTM) plan.
Teams may successfully increase outbound activity and sequences by utilizing Apollo's Engagement Suite. Last but not least, Apollo's Intelligence Engine helps qualify and accelerate the user's GTM strategies. Besides automatically extracting contact information from publicly available databases, Apollo also allows customers to submit data to supplement that which already exists and then sell their services after incorporating this updated data.
Apollo allows customers to test out its features by creating an instant free account, which comes with 50 email credits.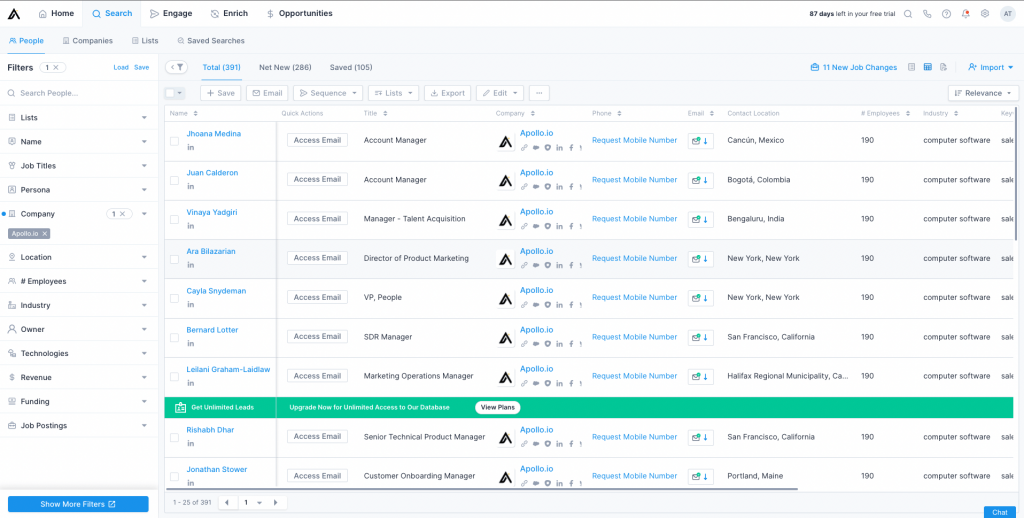 LeadIQ is a smart prospect list-building tool for B2B businesses, which works best for LinkedIn cold outreach campaigns. It offers a free Chrome extension and is the quickest way for sales teams and recruiters to create web-based lists of verified contact information and sync it with a spreadsheet on Google Sheets, or even Salesforce.
LeadIQ can gather B2B data from public and private sources, including social media platforms, search engines, and job boards. With this platform, users can —
Find contact information: Source, collect, and sync accurate contact data to a CRM and an engagement tool to enable successful targeted outreach;
Track sales triggers: Get a unified picture of the personnel changes for target accounts, such as job role and designation modifications, making it easier to organize timely and effective outreach
Personalize outreach messages: Create customized sales emails with verified information and improved Salesforce data
You can also add new records while maintaining the precision of the Salesforce data to boost pipeline growth and speed up lead generation.
Final Thoughts
While ZoomInfo is a strong and versatile product with a lot to offer sales, marketing, and even talent and operations teams, there are many alternatives that are equally effective and far less expensive. ZoomInfo is a well-known software, but that doesn't mean every company can find it well-suited to their needs.
If you are looking for a tool that can help you identify companies visiting your website, share employee details from individual accounts, and enable you to extract and utilize firmographic and behavioral data to prioritize high-value visitors on your website for sales and marketing development, you should definitely check out Salespanel.
Using Salespanel, you can implement the insights you gather from the data mentioned above, tweak the website experience for qualified visitors, direct them into your sales pipeline by adding the accounts to your CRM, and retarget specific audience segments with tailored ads on Google and social media platforms, such as Facebook, LinkedIn, and Twitter. Try out Salespanel with their 14-day free trial today!
Sell more, understand your customers' journey for free!
Sales and Marketing teams spend millions of dollars to bring visitors to your website. But do you track your customer's journey? Do you know who buys and why?
Around 8% of your website traffic will sign up on your lead forms. What happens to the other 92% of your traffic? Can you identify your visiting accounts? Can you engage and retarget your qualified visitors even if they are not identified?