Google Analytics vs Adobe Analytics: Which Analytics Tool Is Better?
Reading Time: 5 minutes
For any business selling its products online, a website is an integral part of its customer experience. A great website not only provides product information to help customers make the right choice, but it also drives users to buy your products. So, any business owner needs to gain insights into how their customers are interacting with their website and optimize it for better conversion. To gain these insights, businesses use website analytics.
Website analytics tools collect, analyze, measure, and report data to help you understand users' behavior. Two website analytics tools that can do this for you are Google Analytics and Adobe Analytics. But which one is better for your business?
In this article, we will compare these two and understand which tool is the best for you. We will also talk about a third alternative, Salespanel.
What is Google Analytics?
Google Analytics is a no-cost and user-friendly web analytics tool by Google itself. It provides features like Data tracking, real-time reporting, audience segmentation, conversion tracking and much more. It is one of the most popular website analytics tools with 28 million users as it's free to use. Google is sunsetting Universal Analytics in favor of GA4 which would be the default version of the product going forward.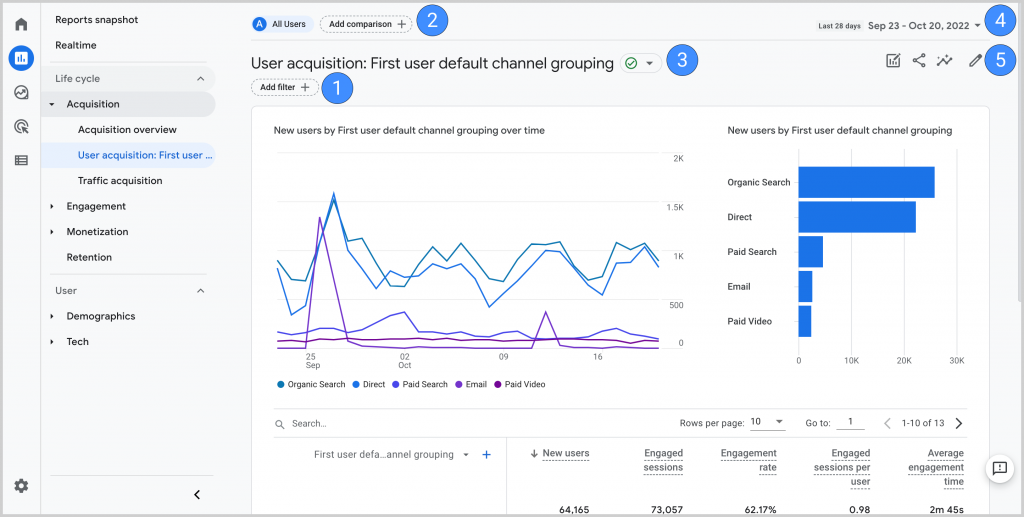 What is Adobe Analytics?
Adobe Analytics is another website analytics tool used widely for getting advanced insights into website traffic and customer behavior. It has similar features to google analytics but it can integrate with Adobe Marketing Cloud tools for better insights. This tool is ideal for bigger businesses and can help you improve your conversions and online presence.
Key Differences: Google Analytics vs Adobe Analytics
Pricing
Google Analytics and Adobe Analytics differ significantly in their pricing. Google Analytics provides a lot of free features for its users, but Adobe Analytics is a paid tool. Google also offers paid Analytics 360 with more features, which remains less expensive than Adobe Analytics. Pricing for Adobe Analytics varies depending on the level of support and service you opt for.
Integration with Other Tools
Google Analytics integrates with Google marketing tools like Google Ads and Search Console. It helps in using the data collected by the analytics tools for better marketing strategies and optimizing the existing ones. On the other hand, Adobe Analytics only offers integration with Adobe Marketing Cloud which includes Adobe Campaign and Adobe Target.
User Interface and Navigation
The tool you are using must be easier to navigate so that even a new employee in your company can get familiar with it. Google Analytics keeps this in mind and has a user-friendly interface for easier analysis of data. Adobe Analytics has a more complex user interface so a new employee will require more training to analyze data effectively.
Segmentation and Personalization
Segmentation is an important feature of any website analytics tool. By segmenting the right audience, a personalized experience can be tailored for website visitors. You can segment the audience on various criteria like demographics, behavior, and purchasing pattern for more targeted marketing. Adobe Analytics provides advanced segmentation features for better personalization compared to Google Analytics.
Real-Time Reporting
Adobe Analytics does better real-time reporting than Google Analytics. Real-time data analysis is crucial for identifying trends and optimizing marketing efforts. Adobe provides faster, more advanced visualization of real-time data and lets you retain it for a lifetime. Google Analytics only allows retention for 24 months only.
Disadvantages with Google Analytics and Adobe Analytics
Google Analytics
While Google Analytics has a user-friendly interface and is free to use, it has some drawbacks. The tool cannot be customized precisely due to its limited options. This can be a problem for businesses that want to segment their audience with precision and analyze specific user behaviors.
Also, Google Analytics relies on data sampling for managing large amounts of data which may lead to inaccurate data analysis – as a small amount of data is taken as a sample from a large pool of data. It is a big disadvantage for businesses that require complex datasets. Google Analytics doesn't even allow businesses to own their data. All the data is owned by Google which means businesses are limited by the platform's terms and conditions.
Adobe Analytics
Major problems with Adobe are its pricing and complexity. As the tool is complex, it requires expertise to use it, or a higher cost training if an expert is not available. Not only that, you can't use Adobe without paying a premium price. Both these factors are a big disadvantage for small businesses with less expertise and resources.
Adobe Analytics is also not an ideal tool for marketing. It offers integration with Adobe Marketing Cloud tools but has limited integration with other marketing tools. It can become a major roadblock in managing marketing campaigns effectively.
Salespanel as an Analytics Alternative for B2B
For B2B businesses, Salespanel can be a better alternative to Google Analytics and Adobe Analytics. Unlike traditional analytics tools that provide holistic data, Salespanel provides you with analytical data that connects with customers. As the data is more customer-centric, you can find better leads, automate workflows and personalize the customer experience. The product doesn't utilize third-party cookies, collects only first-party data, and is GDPR-compliant. It is also not limited by the CLOUD act as it is not based in the USA.
All this makes Salespanel an ideal solution for your B2B business. You will be able to gain analytical data and track customer journeys better than Google Analytics and Adobe Analytics. It will help you customize your marketing campaigns and website to personalize according to each user.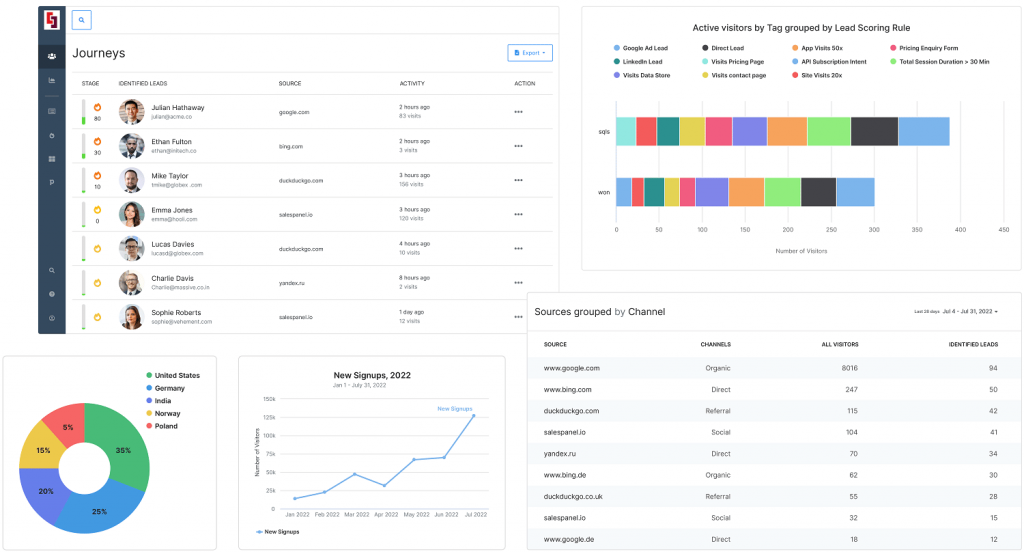 Conclusion
Ultimately, the right tools for your business depend on your needs and budget. If you want an easy-to-use tool for free, Google Analytics will be the right for you. If you work with complex data and want advanced segmentation, Adobe Analytics is the right choice for you. You also have to make sure that your chosen tool has the right integration support. Google Analytics exclusively integrates with Google tools, and Adobe offers less integration but integrates well with Adobe Marketing Cloud tools.
If you are a B2B business, you can check out Salespanel for analytical data instead of holistic data. It will provide you with advanced customer journey tracking, account-based marketing, and sales intelligence capabilities. Choosing the right tool will help you make an informed decision and optimize your online presence for better marketing strategies and ultimately more sales.
Sell more, understand your customers' journey for free!
Sales and Marketing teams spend millions of dollars to bring visitors to your website. But do you track your customer's journey? Do you know who buys and why?
Around 8% of your website traffic will sign up on your lead forms. What happens to the other 92% of your traffic? Can you identify your visiting accounts? Can you engage and retarget your qualified visitors even if they are not identified?