Top 26 Lead Generation Companies of 2023
Updated on 28th August, 2023.
High-quality leads are critical to every successful business, but finding and converting them can be challenging.
According to a HubSpot report, lead generation is the topmost priority for modern marketers. But, 60% of marketers report that their customer acquisition cost (CAC) has increased over the last three years.
Here's the thing – marketers and sales reps shouldn't be spending most of their time finding and tracking leads. Instead, they should utilize their time to optimize the RevOps process, nurture active leads, and develop new conversion strategies.
This is where the appropriate lead generation companies and solutions can help. With so many alternatives available, it can be tough to identify the best fit for your firm. To help you make the right choice, we have identified the top 26 lead generation agencies to helpaid you in driving revenue through high-quality leads.
But before we begin, it's critical to the difference between how lead generation firms and software can help you. By the end of this article, you'll have a thorough grasp of the different options and should be able to identify the best lead generation agencies and products for your business.
Lead Generation Software, Services, and Agencies – What You Need to Know
Are you looking to outsource all tasks related to lead generation, including lead qualification and appointment scheduling? Then a lead generation agency would be the right fit.
Lead generation companies leverage various techniques, including content marketing, telemarketing, pay-per-click (PPC) advertising, and email marketing.
Lead generation companies offer a wide array of services, such as:
Sales research
Lead engagement
Account-based management
Appointment setting
CRM migration
On the other hand, a lead generation software automates various steps in the process of identifying and nurturing qualified leads.
Think of it as an all-in-one platform that helps you find, nurture, and convert leads using various strategies. It takes some of the load off your marketers' and sales reps' shoulders and boosts their productivity.
What should you choose? Do you need both lead generation software and agencies?
The choice between a lead generation agency and software depends on what your business needs. And, more often than not, a software application is something that you will always need to automate repetitive operations.
If you've got a team of skilled sales reps and managers, you could consider providing them with suitable tools. It'll help automate routine tasks, such as lead identification and follow-up. This, in turn, will give your sales team more time to forge lasting customer relationships, reduce churn, and boost customer retention.
But if you have a small team and want to outsource lead generation activities or need help getting initial traction, lead generation companies can help.
If you choose a lead generation agency, you might also need a lead generation software and have both work for you. Talk to your team members and carefully assess their needs before making the decision between a lead generation agency and software.
Benefits of Partnering with a Lead Generation Company
Streamline Internal Operations
Working with an agency has the additional advantage of them not being overloaded with your company's ongoing activities. Thus, their top priority can always be to help your business get outcomes instead; this is how they bring value and prove their worth.
While a lead generation company focused on generating new leads for your business, you may concentrate on other objectives and priorities.
Get Help With Optimization
Businesses may increase their overall conversion rates and produce more leads by routinely optimizing their lead-generating activities. This entails improving lead generation forms, tracking performance, adjusting content and offers for specific target markets, and coordinating sales and marketing operations.
Your lead generation efforts can continuously develop and be successful if you partner with a lead generation business that offers ongoing support and optimization.
Save Your Team's Time
Research indicates that most B2B sales reps make 35+ calls per day. This is tedious, to say the least, and prevents your sales team from focusing on other business development activities.
Outsourcing your lead generation to an agency can help you save this time and even money. Your staff can be relieved of the responsibility of making introductory calls and instead focus on strategizing, relationship-building, and actually closing the qualified deals. The agency can also help your business construct a new contact base for them or use the pre-built database they already have to generate more leads.
Target High-Value Leads with a Personalized Strategy
Lead generation strategies that are one size fits all are rarely effective. Since every company has different demands and objectives, it is crucial for lead generation companies to develop tactics that are specifically suited to their needs.
A lead-generation company may create a plan that targets the right audience and improves the lead-generating process by evaluating your organization's unique needs and goals. This tailored strategy guarantees that your marketing initiatives are more successful and produce the outcomes you want.
Shorten the Sales Cycle
When you have a lead flow in place, it is simple to identify leads that are sales-qualified. It means that it is easy to spot when customers show signs that they are prepared to be approached by a salesperson.
Think about how you behave when you are prepared to make a purchase in a store: you inquire, gather details, and then look for a salesperson to help you make the actual purchase.
This also applies to internet buyers. It is simple to assess where your prospects are in the buyer journey and engage with leads who are ready to buy instead of taking care of the whole process starting with lead generation.
How to Choose the Best Lead Generation Company for Your Business?
Lead Generation is extremely important for a business. It's the key to a successful marketing plan and sales execution. That's why you must choose a lead generation company that perfectly syncs with your business and marketing needs. Here are ten things you should consider when choosing the best lead generation company for your organization:
Relevance of Data: Leads provided by a lead generation company must be relevant to your business requirements and target audience. Check whether the leads provided fit your ideal customer profile, have the necessary budget and decision-making power, and are interested in your product and service. A good lead gen company proactively works with you to understand your target audience and provide filtered & segmented leads.
Comprehensive Data Coverage: While considering a lead generation company, confirm whether they provide extensive data coverage for your target market and industry. A good lead gen company provides contact data on decision-makers, influencers, and other industry contacts from diverse industries and locations.
Tracking Sales triggers is crucial: You got to reach out to prospects at the right time to increase your chances of success. For this to happen, verify whether the lead generation company actively tracks sales triggers such as job changes, new funding, product launches, etc.
Data Source and Quality: Make sure that the company you hire to find leads does so in a legitimate way. The quality of the leads sourced directly impacts your lead generation efforts. You can enquire about the source leads and how often they update their databases. Generally, a lead generation company has a wide range of data sources, for example, social media platforms, lead databases, and other publicly available information.
CRM Integration: Lead generation companies must be able to integrate with your CRM system, like Salesforce, Zoho, Hubspot, etc. This will help to quickly manage and track your leads without manually entering data. Additionally, the lead gen company should also be able to integrate with your existing sales and marketing tools.
Compliance with Data Protection Rules: Before choosing a lead generation company, verify whether they comply with all applicable data protection rules, such as GDPR, CCPA, LGPD, etc. Having a transparent privacy policy, acquiring consent before collecting personal information, and the option to opt out of receiving communications are some characteristics of a data-compliant lead gen company.
Keeping Ownership of the Leads Generated: Some lead generation companies might retain the ownership of leads, making it hard for you to use them as you want. A good lead generation company always has transparent rules about who owns the leads and how ownership can be transferred. To build a long-term sales pipeline, go for a solution that doesn't have an expiration date.
The Flexibility of Services: You must consider the flexibility of the services offered by the lead generation companies in terms of the capacity to adjust the number of leads offered, update target demographics, or try other techniques to produce leads. Your requirements may change in the future, so choose a company who can offer who can adhere to your go-to-market strategy and can adapt to your changing business needs.
The Right Pricing: To ensure the right price for the right solution, evaluate the services/features' cost-effectiveness and calculate the cost per lead. A reputable lead generation company is always transparent about its pricing structure and offers customized pricing plans to meet your unique business needs.
Compliance with Local Legislation: Hefty fines are levied for violating data compliance regulations or failing to take good care of contacts. To avoid this, verify whether the lead generation company has registered with international and national regulators and that consent criteria are met.
Top 26 Lead Generation Companies of 2023
It's time for us to take you through the best lead generation companies that deserve your consideration. We've compiled a list of the best agencies and software services that'll come in handy for your business.
The list isn't ranked, and you should identify your business goals and needs before deciding to work with any of these companies.
Without further ado, let's get started.
Category: Agency
You know a lead generation agency deserves your attention when its clientele features renowned brands, including Uber, Microsoft, Google, and Yamaha.
CIENCE Technologies offers more than just lead generation services. They provide robust inbound and outbound SDR solutions. What I particularly like is that they've curated targeted lead databases for various industries, including education, financial services, and biotechnology firms.
You even get a proprietary sales enablement platform to monitor the status of various leads.
Category: Software
Salespanel is a comprehensive lead generation, visitor intelligence, and marketing enablement software. From generating leads to qualifying them based on behavioral and firmographic data, the software streamlines various tasks. It creates an automated process that enables marketers to share crucial data with sales teams efficiently.
For lead generation, Salespanel doesn't merely scrape cold leads from databases. Instead, it identifies B2B accounts that are already visiting your website. Traditional web forms might convert only around 5% of your visitors into leads, leaving the rest as wasted marketing dollars. Salespanel, however, can identify up to 67% of your B2B visitors with industry-leading match rates and accuracy, effectively doubling your pipeline of MQLs. The tool assists your sales team in prioritizing and scoring the most promising sales leads, based on account information and real-time buyer intent data.
This method allows you to instantly generate more qualified leads—and revenue—without incurring additional marketing expenses or relying on third-party lead generation agencies. Rather than wasting your sales resources on leads who are not in the buying phase or unfamiliar with your brand, you can identify qualified leads right from your own website who have demonstrated buying intent. It's a clear win-win situation.
Salespanel also helps your team adopt a personalized approach to guide leads throughout the buying journey. Thanks to its real-time processing capabilities, intensive qualifying operations are executed swiftly, allowing website triggers, notifications, pop-ups, and similar actions to appear promptly. You can even alert your sales reps about highly qualified prospects, enabling them to reach out as soon as a lead expresses interest.
Sales reps receive freshly qualified leads directly in their CRM, equipped with data-driven insights to help turn these leads into customers. Salespanel empowers your team to implement a personalized strategy, effectively guiding leads through their buying journey.
Category: Agency
Are you looking for lead generation companies that provide a dedicated management team for your business? Do you want them to work with you and outline a personalized multi-channel lead generation strategy based on your preferences?
Wouldn't it be great if your lead generation agency also offered integrations with industry-standard CRM software, including HubSpot and Salesforce?
Is your answer to any of the above questions a thunderous "yes"? Then LeadGeneration.com is the right fit for your needs.
What I prefer about the company is that they build custom lead generation campaigns instead of providing you with run-of-the-mill lead lists. The agency uses a combination of PPC advertising, content distribution, and search engine optimization to provide you with relevant and qualified leads.
Category: Software
Do you need a powerful B2B lead generation platform that lets you leverage LinkedIn's professional community of more than 700 million members? Then it's high time you get your hands on LinkedIn Sales Navigator.
The feature-rich platform offers advanced search functionalities to help search professionals identify relevant leads. It also provides targeted lead recommendations based on your search history, saved leads, and preferences.
You can monitor prospects in real-time and stay abreast of the latest developments in their company. The platform even integrated with leading CRM solutions, including HubSpot, Drift, Outreach, and G2.
Category: Agency
If you're looking for top-rated lead generation companies that'll handle all your top-of-the-funnel needs, your search ends with Belkins.
This lead generation agency provides a wide array of services, including lead research, personalized outreach, and email deliverability optimization. However, Belkins is best known for its extensive appointment scheduling services.
Apart from finalizing appointments with qualified leads, they equip sales reps with useful information to ace every meeting.
Category: Agency
If your company belongs to the software and tech industry, Martal Group is the right lead generation agency. I prefer Martal Group because they've curated two targeted lead databases comprising 100 million qualified B2B leads.
Also, they assign a dedicated management team to develop custom lead generation campaigns based on a client's challenges, goals, and preferences. The team even monitors real-time intent data to identify leads who are actively searching for your products/services.
7. SalesPro Leads
Category: Agency
Are you tired of receiving low-quality prospects from sub-par lead generation companies? Wouldn't it be great if you could find an agency that has decades of experience in B2B lead generation and appointment setting?
Then SalesPro Leads has got the perfect array of lead generation services for your business. They're one of the most established names in the domain of lead generation companies.
SalesPro Leads specializes in developing and implementing tailor-made lead generations campaigns for businesses in the following industries:
IT and software
Marketing and advertising
Telecommunication
Healthcare
Category: Software
Unlike other lead generation companies, Intercom provides you with a Conversational Relationship Platform to manage your interactions with existing and potential customers. It's a great tool for engaging website visitors and converting them into leads. You can use Intercom's live chat and other tools to generate leads from your website.
You can even nurture leads using personalized messages, targeted product tours, and email marketing campaigns.
Category: Software
RocketReach has built a verified database of 450 million professionals from 17 million companies across the globe.
That means you can use the platform to connect with key decision-makers in your target companies. Also, they offer personalized outreach services and a wide array of CRM integrations.
Category: Agency
Pearl Lemon Leads offers all the services you'd expect from industry-standard lead generation companies.
What sets them apart is their team of skilled copywriters, as well as marketing and sales professionals. From drafting personalized emails to scheduling meetings with qualified leads – they're equipped to handle all your needs.
Category: Agency
SalesRoads is one of those lead generation companies that assist you at every stage of the sales funnel. Also, they offer a 28-day promise for clients who aren't satisfied with their lead generation services.
You can cancel the service anytime within the first 28 days and they'll return your unused funds.
12. LeadsForce
Category: Software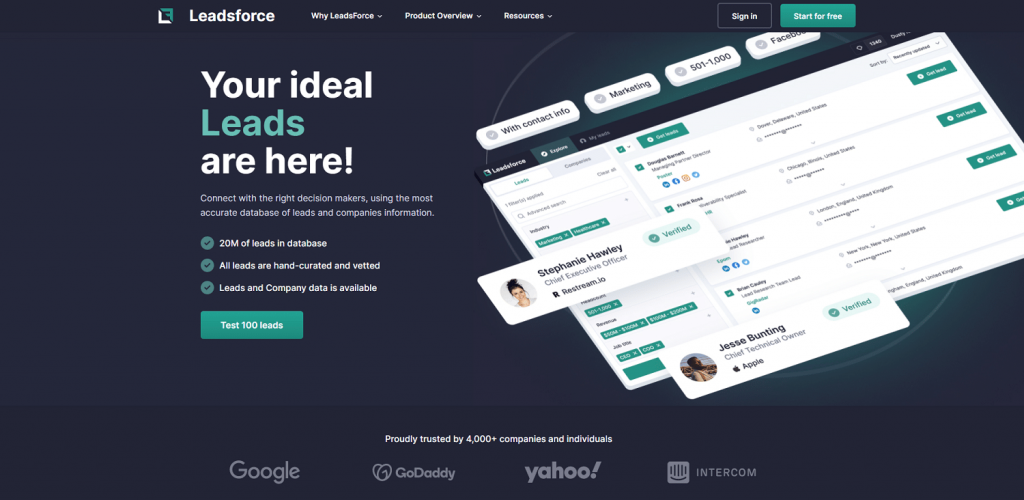 Are you looking for high-quality leads that could be tailored directly to your ICP but it will take you less than 10 minutes to obtain them? Then LeadsForce is the product you seek!
This lead software allows for a quick and sharp search of leads that are always being hand-vetted beforehand. Advanced search allows for an easy ICP matching that allows obtaining a better and faster result. And on top of that, LeadsForce is a customer-centric service that actually cares about their customer getting the best results and the most impressive ROI.
13. Ziff Davis Performance Marketing
Category: Agency
Ziff Davis Performance Marketing is the outcome of the merger of Salesify and Demandshore. It's a leading omnichannel B2B demand generation company that uses a tech-driven and data-driven approach to provide you with high-quality leads.
Category: Agency
LeadGenius is one of those lead generation companies that harness the potential of human intelligence and automation. They offer powerful CRM integrations and even help you implement top-performing email marketing campaigns.
Category: Agency
N3, part of Accenture, is a global outsourced Inside Sales and Customer Success firm with expertise in across a variety of industries including technology, industrial, telecom and life sciences sales. What I like about N3 is that they help tech and software companies leverage sales opportunities by monitoring conversations about their brand/products.
16. CandorWorks
Category: Agency
CandorWorks enables B2B technology companies to increase global reach and engagement. It is one of those rare lead generation companies that replace invalid leads, thus offering you the biggest bang for your buck.
17. Launch Leads
Category: Agency
Launch Lead is a lead generation and appointment setting service based in Utah. What sets Launch Leads apart from other lead generation companies is that they provide trade show marketing and dead lead revival services.
Category: Software
ZoomInfo is an advanced subscription-based lead generation service. They provide you with accurate, updated, and verified B2B intelligence data gathered from various sources, including news articles, job listings, etc.
Category: Software
LeadCrunch is a demand generation software for B2B businesses. The reason LeadCrunch caught my attention is that they promise a 99.5% lead accuracy and acceptance rate. Also, the platform provides you with targeted high-quality leads based on your existing clientele.
Category: Software
SalesLoft is an advanced sales engagement platform that helps you score, nurture, and convert leads. It integrates with commonly used CRM software and helps your sales reps track customer interactions.
Category: Agency
Unlike other lead generation companies, Intelligent Demand leverages permission-based lead generation. Also, they provide excellent demand generation and account-based marketing solutions.
Category: Software
DiscoverOrg is a cloud-based verified B2B lead database that provides you with crucial firmographic and psychographic data. It claims to provide one of the most accurate contact and data providers on the market.
A product we mentioned earlier, Zoom Info, has been acquired by DiscoverOrg and you now get their combined power. Founded in 2007, it is one of the oldest data providers in the digital market.
Category: Agency
Upcall helps you engage and convert leads. I prefer Upcall over other lead generation companies because of their top-notch lead nurturing and upselling services.
Category: Software
Powered by Google Analytics, Leadberry is a website analytics tool that helps you analyze website traffic and leverage suitable sales opportunities.
Category: Agency
Overdrive Interactive is one of the most trusted lead generation companies that cater to businesses in the tech, healthcare, and finance sectors. They provide end-to-end lead generation and nurturing solutions, including content marketing, media planning, and web development.
Category: Software
Lusha is a B2B contact data provider and is used by over 250,000 sales representatives, recruitment managers, and marketers across the globe. Lusha has plans for everyone, from small business to enterprises. Even the biggest company in the world, Apple, Google, and Microsoft, are customers of Lusha.
Use Lead Generation Companies to Skyrocket Conversion and Revenue
The best lead generation companies become an extension of your sales team and propel your company to greater heights. Make sure you choose an agency that specializes in generating leads for companies in your industry. By doing so, you will benefit from their experience and knowledge of your market, resulting in higher-quality leads and a higher return on investment.
But what if you're not quite ready to hand over all your lead generation duties to an outside company? The appropriate lead generation software can help with that. You can generate leads more effectively than ever before with the aid of automation tools.
FAQs
Q1: What are the best/top 5 lead generation tools?
Ans: Salespanel, LinkedIn Sales Navigator, Leadsforce, Rocketreach
Q2: What are the best/top 5 lead generation agencies?
Ans: Cience, Belkins, Martal, SalesPro Leads, PearlLemon Leads
Q3: What is B2B lead generation?
Ans: B2B lead generation is the process of identifying ideal potential customers for your product or service and enticing them to buy. To pique the interest of this target audience and guide prospects into the sales funnel, sales and marketing teams employ various lead generation strategies. Lead generation is a crucial first step because future success depends on generating interest from the appropriate sources.
Q4: What is the process of B2B lead generation?
Ans: The following steps are involved in the B2B lead generation process:
Identifying the target market
Creating compelling and relevant content and promoting it through various channels
Forms or landing pages used to capture leads
Qualifying leads based on interest and purchase readiness
Nurturing leads through targeted communication and follow-up
Transferring qualified leads to the sales team for further action.
Q5: What are the types of lead generation?
Ans: The types of B2B lead generation include:
Content marketing
Email marketing
Social media marketing
Search engine optimization (SEO)
Pay-per-click (PPC) advertising
Events and trade shows
Referral marketing
Account-based marketing (ABM)
Direct mail marketing.
Q6: How to attract sales leads?
Ans: To generate sales leads, you can:
Create high-quality and relevant content
Optimize your website for search engines
Use social media to promote your brand and content.
In exchange for contact information, provide valuable resources such as eBooks or whitepapers.
Attend industry events and network with potential leads.
Utilize referral marketing by rewarding current customers for referring new leads.
Implement account-based marketing strategies to target specific companies and decision-makers.
Sell more, understand your customers' journey for free!
Sales and Marketing teams spend millions of dollars to bring visitors to your website. But do you track your customer's journey? Do you know who buys and why?
Around 8% of your website traffic will sign up on your lead forms. What happens to the other 92% of your traffic? Can you identify your visiting accounts? Can you engage and retarget your qualified visitors even if they are not identified?