What are Lead Magnets? Effective Ideas and Tracking for B2B Marketers
There is no point in getting traffic to your website if the visitors aren't converting. Having a solid offering and robust business model may not always convert your visitors into prospective buyers. You need more than that. How many times has it happened that the users visit your website multiple times and still don't take any necessary actions? Why is there uncertainty? What is refraining them from taking the next big step? B2B sales takes time and as such the first target is to actually capture a lead and get their contact information.
As a B2B marketer, you can provide them a supremely valuable experience right from the start. While your primary goal is to provide value to your customers, what that value is will differ from business to business. However, the way visitors derive value from a website before converting always remains consistent. This is why you need a lead magnet.
All marketers have come or will come across this term at some point. Creating lead magnets is an effective technique to get a prospective customer's contact information. The goal is to provide value to your leads and have them give out their contact information in return.
Let's delve into the topic, discussing everything- what a lead magnet is, its importance, types, and how to create one. Additionally, we will explore some lead magnet examples for a better understanding.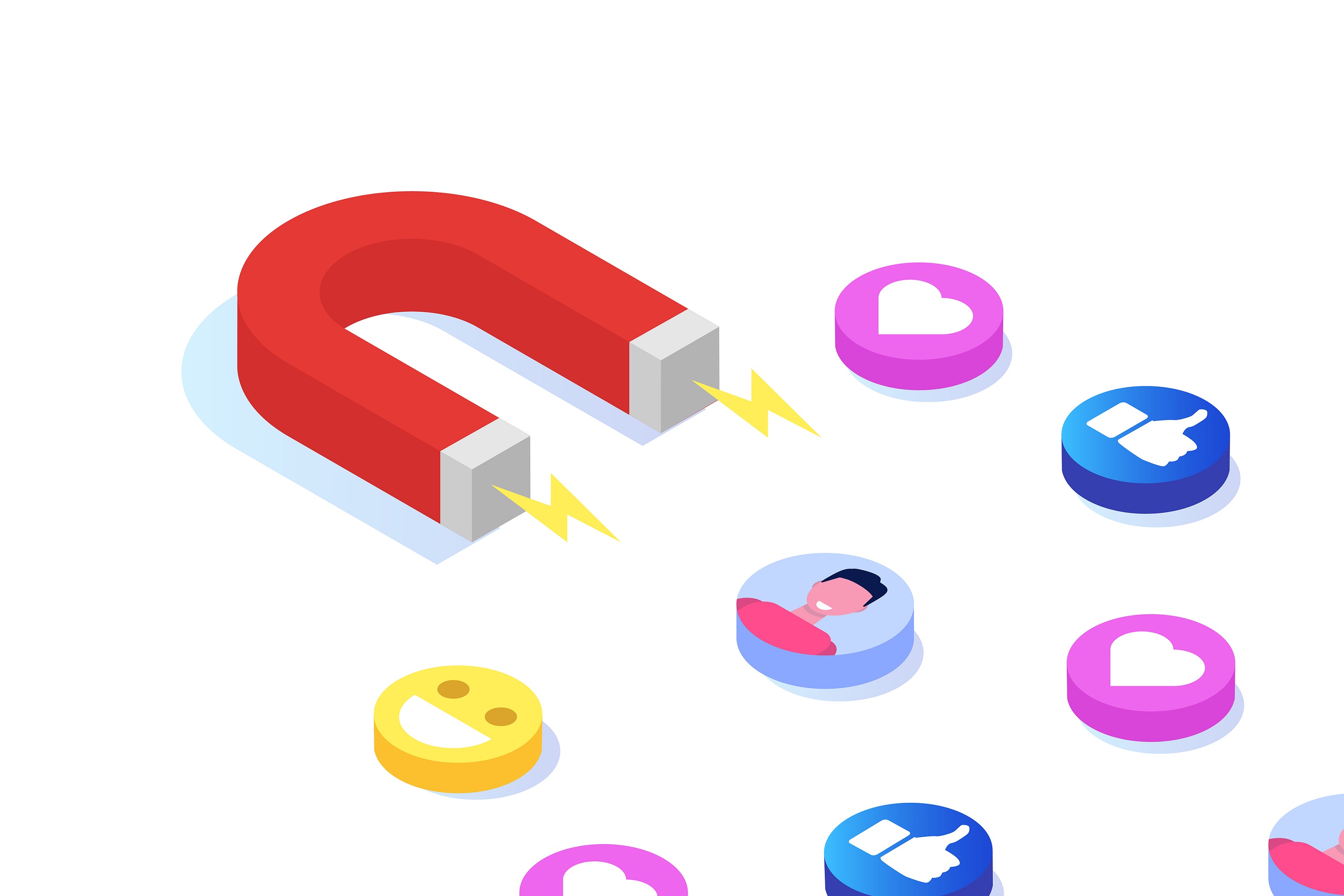 What is a lead magnet?
A lead magnet, also referred to as an opt-in bribe, is a marketing asset that B2B marketers offer as a value to a prospective customer in exchange for their contact information. Basically, it is a concrete deliverable perceived as an incentive by a prospect and is highly useful in lead generation because lead magnets can be used for increasing conversion rates.
Prospects are becoming more vigilant about the products and services that are offered to them. Simply put, customers don't want to receive unspecified content at unspecified times.
This is where lead magnets save the situation. With a lead magnet, you can send valuable information to the prospect regarding the business you have to offer or you can share information that you expertise in. This way, the customer gets what they want, and you get to add and retain a customer.
It is completely free of cost and full of value for the customer.
When it comes to the B2B marketplace, where the buying process is quite long because there are multiple touch points, lead magnets provide educational value. And this makes sense because B2B purchases are significantly higher in value, and the buyers have a keen interest in generating a healthy ROI.
So, the lead magnets should be packed with value for the targeted customer base. A value-packed lead magnet for B2B customers fulfill the following criteria:
It has the information they need. It should contain enough value to have them give out their contact information.
It is highly scannable, meaning it contains graphics, images, and headlines, which completely avoids the feel of a textbook
It must exhibit your expertise, showing your skills and knowledge in the products or services you offer
It should be instantly accessible without any marketing gimmicks
It must address a real problem because, without that, the B2B customer won't bother buying that product or service. In short, the lead magnet should highlight the real problem faced by the customer and show how your solution fits best for their problem. While it is not compulsory, you should do it to make sure that the lead apart from getting the information they need also gets to know what problems you can solve for them.
This should give you an idea about what exactly you have to offer to draw the attention of B2B customers towards your company. When creating lead magnets, it is important to understand your customers and their business model and provide them with a solution that works best. It would be best if you began with an end in mind (what is this campaign for?).
Why are lead magnets important, and why should you have them?
In B2B marketing, we have goals such as establishing credibility, increasing brand engagement, developing trust and building brand awareness. However, these entities are difficult to measure. Apart from these, there are some tangible objectives like driving traffic, generating leads, increasing overall website traffic, building an email list, and helping potential leads to convert into sales.
All these are achieved with the help of lead magnets. Above all, these actions are measurable because people have to either sign up or download something in order to access the content awaiting them.
Lead magnets are important because they build a slow and steady relationship with the customer starting from exposure to awareness, likability, and finally trust. It gives the B2B customers a chance to determine whether they want more of your services. And if you offer premium services with higher price tags, you will need something more to convince them before they can open their wallets. This is where lead magnets prove to be handy.
Lead magnets help you in lead generation: Lead magnets promote prospects to give out their email address or other contact information in exchange for something (eBooks, Whitepages, webinars, etc.).
Connecting with the targeted customer base and delivering valuable content can be a struggle. Lead magnets help you build and grow your list and turn qualified leads into customers.
Lead magnets help build trust and authority: B2B customers simply don't know you. So, why would they spend money on your business? By providing free yet valuable information, you are accomplishing a few things like building relationships, trust, and proving that you know what you are doing and help them achieve their goals with your solutions. You can show that businesses can trust you as an authority by offering massive value for free.
How important is the tracking of lead magnets for B2B businesses?
If you are not tracking your lead magnets, you will never know which ones are converting, which ones need improvement, and which ones are completely useless. This means that you could be throwing your money away while thinking that you are benefitting from it.
You would also not know which leads came from which lead magnet and what leads do on your website both before and after they provide their information. It is as important as tracking any form. For example, if a lead was captured while they downloaded an Enterprise case study related to a use case in a particular industry, you would know what they are after.
And, you would possibly use different types of lead magnets to target specific audience groups. It is a known fact that two different customers won't be charmed by the same marketing tactic. So, you need to put different lead magnet ideas like e-books, email marketing, etc., to grab the prospects' attention.
Since you will be sending out different content at once, you would love to know which ones are attracting more prospects. For example, suppose you sent out two different lead magnets to the B2B customers – an Ultimate Guide and a Mini E-Book. You realized that your overall lead magnet is converting at 5%, and the most successful is not the Ultimate Guide. This tells you that you are actually wasting money on creating content related to ultimate guides. Instead, if you put more resources into creating e-books, you will garner more attention.
Salespanel helps you capture and track leads from lead magnets and track them in real-time. This helps you effectively track all lead magnets and analyze high performing and low performing lead magnets. You can also understand the intent of the leads based on how they interact with your lead magnets.
Types of lead magnets
There are several different types of lead magnets you can create. They all have multiple touch points. Based on your niche and service/product, you can make use of the following types of lead magnets:
Educational Lead Magnets
Entertaining Lead Magnets
Bottom of Funnel Lead Magnets
Community-Building Lead Magnets
Each type serves a different purpose. The most popular type that many B2B marketers prefer is the educational lead magnets. They offer educational value to the prospects, which is something a B2B decision is always in the hunt for. It can come in the form of a free consultation, eBooks, webinars, and more.
Lead magnet ideas and examples
Before you ask how to create a lead magnet, let's have a look at some of the most popular lead magnet examples and ideas using which you can easily create robust content.
Please note that each lead magnet you create should contain a conversion path that will help in converting visitors into leads. They include:
Call to Action (CTA) – a button that encourages visitors to access the content
Landing Page – a web page where all the information is provided
Thank You Page – a web page where visitors can download the content
Kickback Email – a follow-up message thanking the visitor and encouraging them to contact if they have any queries
Here are some ideas:
eBooks / Guides
By far the most commonly used lead magnet. It can contain a guide or an essential read. If you have to look for examples, look no further than Hubspot. They have listed plenty of resources on a lot of topics and you can download them for free by providing your contact info.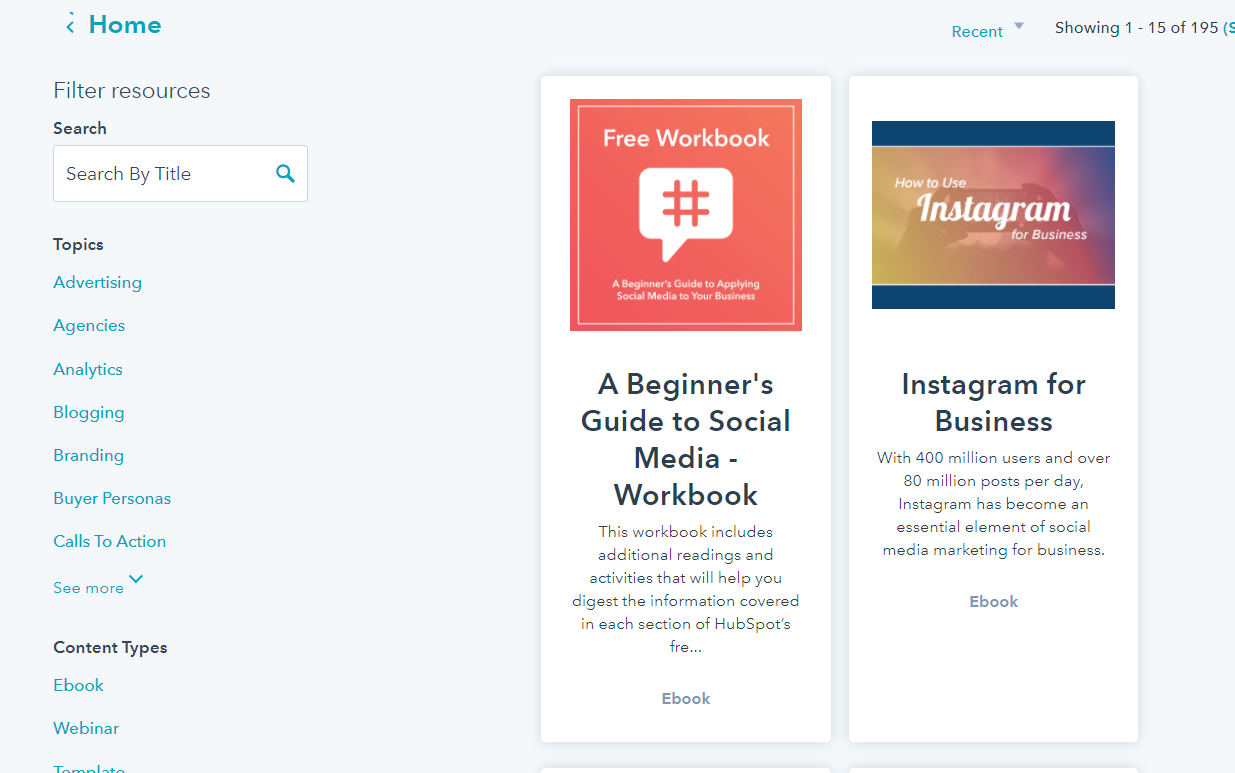 Webinars
Webinars are also a common way to generate leads and also share knowledge with customers. While webinars can be hosted and conducted by members of your company to share information, they perform particularly well for lead magnets if you invite industry experts as guests. This needs some effort but people are more likely to give you their email address this way.
To look for inspiration, you can check out VWO's Webinars with Industry Experts section.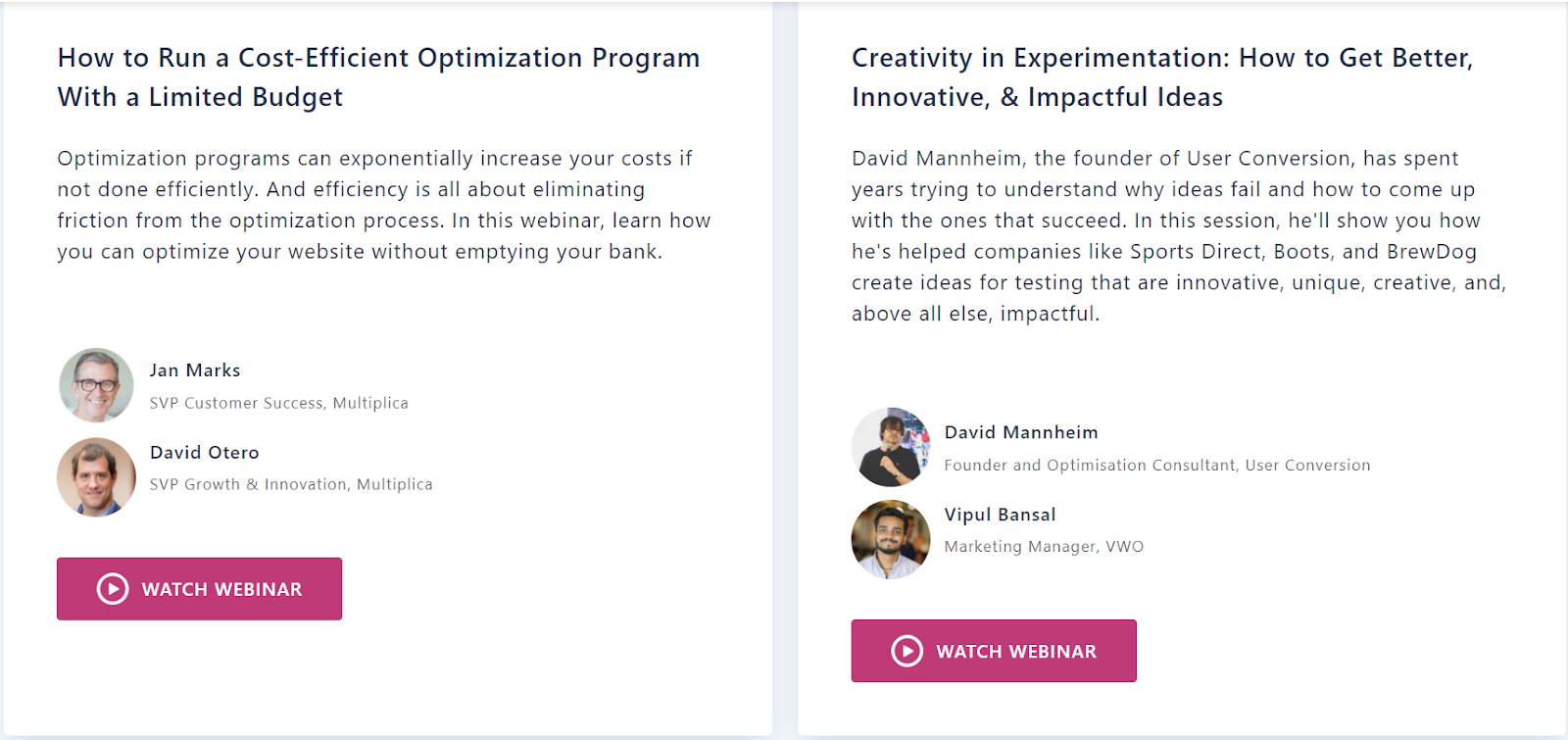 Podcasts
The concept of using Podcasts as a lead magnet is very similar to that of using Webinars. You invite industry experts to audio interviews and they share information about the state of the art or solving problems. If there was a podcast with Steve Jobs that was important for you but you needed to provide your email to listen to it, would you hesitate?
Podcasts are also hosted on platforms like Apple podcasts, Google podcasts, Spotify, etc. to reach a wider audience.
Reports
If you had crucial reports that are relevant to your readers, they would be more than happy to give you their emails for it. While this might take a significant amount of R&D, reports are highly valuable as they can not only get you leads but also recognition from industry peers and quality backlinks. Many sites would cite your report which would further increase the traffic to your lead magnet. If you have a decent R&D budget and customer base, reports are the way to go.
Here's one from Hubspot: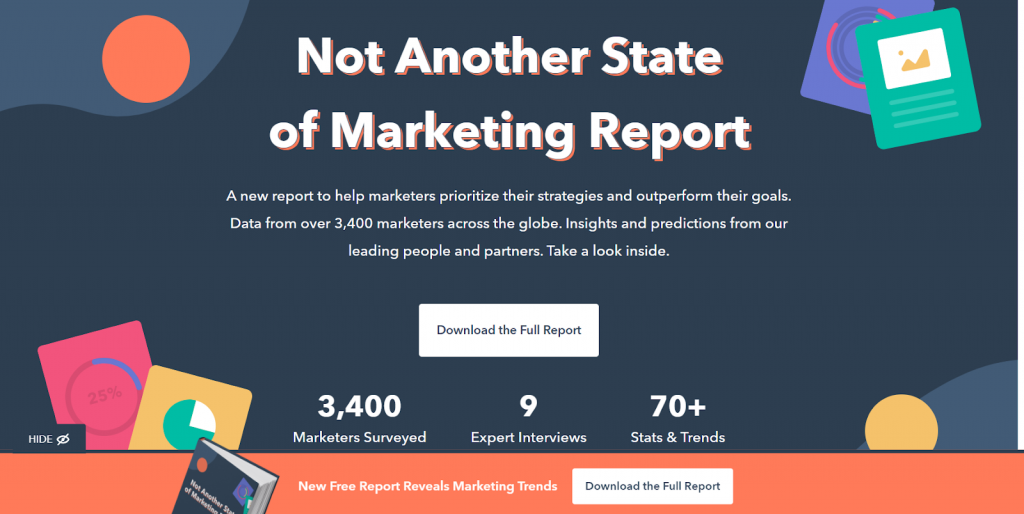 What NOT to do
While creating your lead magnets, DO NOT make this mistake and take your leads for granted. By this, we mean do not clickbait them or over-promise and underdeliver or give out something that is not that useful and mediocre. Lead magnets should contain information that deserves to be gated.
If you converted a regular article that could easily fit in your blog into a PDF and gate it with a lead magnet, that would be bad. While you would get their emails, it would deter them away from keeping in touch with you.
Final Words
Lead magnets are a valuable tool in digital marketing. If done right, it can help you achieve new marketing goals and bring a huge inflow of relevant leads. If you already have quality blog content, you can use it to generate leads. All you have to do is use the content and implement lead magnets to get the prospects into your contact database. While the creation of highly valuable lead magnets can need R&D, the results obtained from it are tremendous and can help you engage customers and generate leads for years to come.
Sell more, understand your customers' journey for free!
Sales and Marketing teams spend millions of dollars to bring visitors to your website. But do you track your customer's journey? Do you know who buys and why?
Around 8% of your website traffic will sign up on your lead forms. What happens to the other 92% of your traffic? Can you identify your visiting accounts? Can you engage and retarget your qualified visitors even if they are not identified?