How To Retain Savvy Online B2B Customers In 2023
Keeping your current customers loyal is always going to be an important part of running and growing a successful business. But, you need to remain innovative to maintain your position and keep up with some of the technological advancements that many customers now expect.
We take a look at some of the best ways in which you can retain online B2B customers in 2023.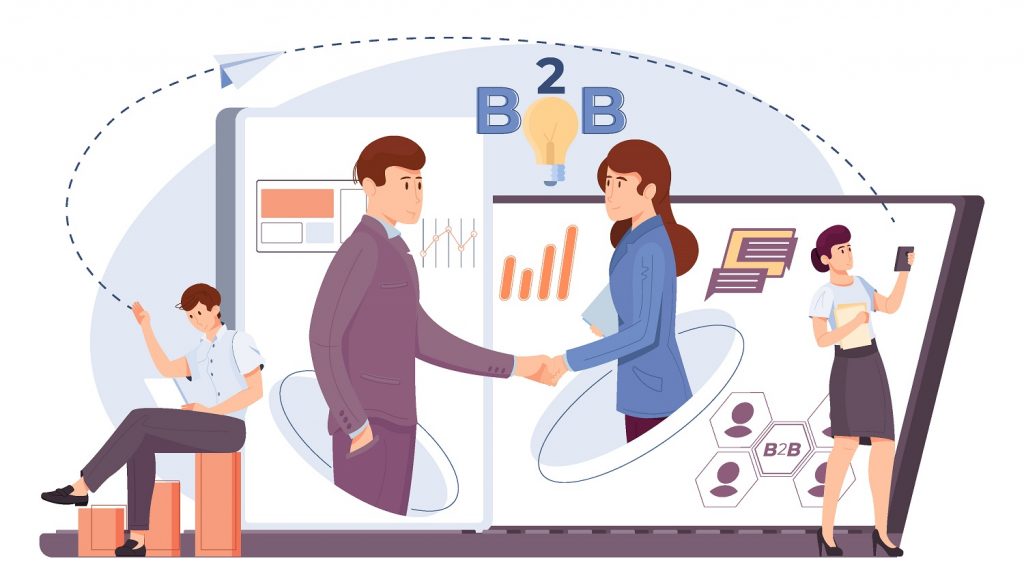 Understanding your customers
With so much going on over the past few years, your B2B customers have probably experienced a lot of upheaval and change. This means that their requirements and priorities will have shifted, so it's essential that you have a good understanding of what they need from your business. Spend some time conducting research into your customers to find out what they value.
Try reaching out to some of your customers individually to get an insight into what their main concerns are. Or send out a customer survey that asks questions about how their business is operating now, what they require from your product or service, and what they're going to be focusing on in the future. Use a tool like Typeform to create a quick and simple survey that collects everything you need and makes it easy to review the results.
Getting some real insights from your customers will help you to improve your offering and the experience you provide them with. Website user data is great for understanding whos visiting your site and which pages they're looking at. Plus it will make them feel more valued and reassure customers that your business is still prioritizing and supporting them even during difficult times. The feedback you get might also spark ideas for long-term updates and developments that help you to attract new customers and retain existing customers beyond 2023.
Cohesive customer service
Outstanding customer service is going to be another important factor for retaining online B2B customers in 2023. Any issues with your product or service need to be dealt with efficiently, professionally and cohesively.
It's a good idea to offer a range of contact methods such as email, social platforms, and live chat so that it's easy for your customers to get in touch. This will ensure that they're able to reach you in a way that's convenient for them.
It's important that you manage your customer service communications effectively though, especially when they're coming from various channels. Consider using a shared inbox tool
that gathers all your messages in one place. You can also use template replies to save time with common questions, or set up a chatbot that provides responses and can direct customers to relevant help guides.
Customer service should be one of your main priorities in 2023 as it's key to keeping your customers happy and can be an important way of standing out from the competition.
Use content marketing to provide value
Providing more value to your B2B customers is key to boosting retention, and content marketing can be a good way to do that. You know the topics they're interested in, and the issues or problems they are looking to solve that aren't exclusively related to your product or service — so provide them with relevant content that will help them.
You can produce a range of content including:
Industry updates and news to help your customers stay informed
Long-form guides and articles that help with problems they face in their role or industry
Tips and advice that will help them to get added value from the product or service that you're selling them
Case studies that demonstrate how other businesses are using what you offer
Thought leadership content such as podcasts, YouTube videos, or opinion pieces that establish your brand as an expert.
Share and promote your content across all channels including social media and your email list so that it reaches your customers. And try asking them for ideas for future content that would be useful to them. By creating content that's highly relevant and tailored to your customers you're going to build up a stronger connection with them and boost loyalty.
Tailor your email marketing
You need to make sure you get your email marketing just right to engage your B2B customers. Grabbing their attention in a busy inbox is essential. You need to focus on making sure that what you send is tailored to them, sent at the right time, and has a great subject line.
This is where CRM with email automation comes in. CRM can help you to manage contacts and their interactions, while email automation can be used to create personalized emails with tailored content, triggered automatically depending on their interest and behavior. This means that the right message gets sent at the right time – helping you stay top of mind with your prospects.
Review your current email marketing strategy and consider key things like what time you send them, the number of emails you're sending, the goal behind each email, and the engagement you get from them. Once you've fixed any obvious mistakes with your emails, these are a few ways in which you can improve your email strategy:
Segment your email lists: This is the best way to ensure your customers are receiving the right marketing messages. You can segment lists in a number of ways such as stage of the customer journey, the buyer persona, or industry.

Test the best time to send emails: If you don't have a conclusive answer to when your customers are most likely to engage with your email then divide up your lists and send them out at different times. You can use an email marketing tool like MailChimp with A/B testing features to make finding the right time, format, and layout easier.

Give customers more control over emails: Rather than just asking customers to opt-in or out of your marketing emails, allow them to select the kind of emails or the number that they want to receive. That way if they're feeling bombarded or the content's not entirely relevant they might not unsubscribe completely.
Email is one of the best opportunities to directly reach your customers, so it's important that you are constantly reviewing and improving your strategy to increase retention.
Overall, it's going to be important to stay connected with your B2B customers and to offer them the best possible experience with your business in 2023. Focus on ways in which you can add value, improve your service, and reach out to customers on a regular basis to keep them loyal.
Sell more, understand your customers' journey for free!
Sales and Marketing teams spend millions of dollars to bring visitors to your website. But do you track your customer's journey? Do you know who buys and why?
Around 8% of your website traffic will sign up on your lead forms. What happens to the other 92% of your traffic? Can you identify your visiting accounts? Can you engage and retarget your qualified visitors even if they are not identified?