Top 10 Website Analytics Tools. Do B2B businesses and B2C Businesses Need the Same Tools?
In data-driven marketing, website tracking and analytics take center stage. When it comes to analyzing your marketing and customer interactions, having access to the right data can make all the difference. It provides you with insight into how visitors engage with your website and how you can improve user experience, as well as boost conversion rates.
To achieve this, you have to use the right set of tools based on your requirements and business type. We will get to that in a moment.
Before heading to a more detailed breakdown of web analytics tools, we'll cover more about website analytics, and some of the most important metrics marketing teams should focus on.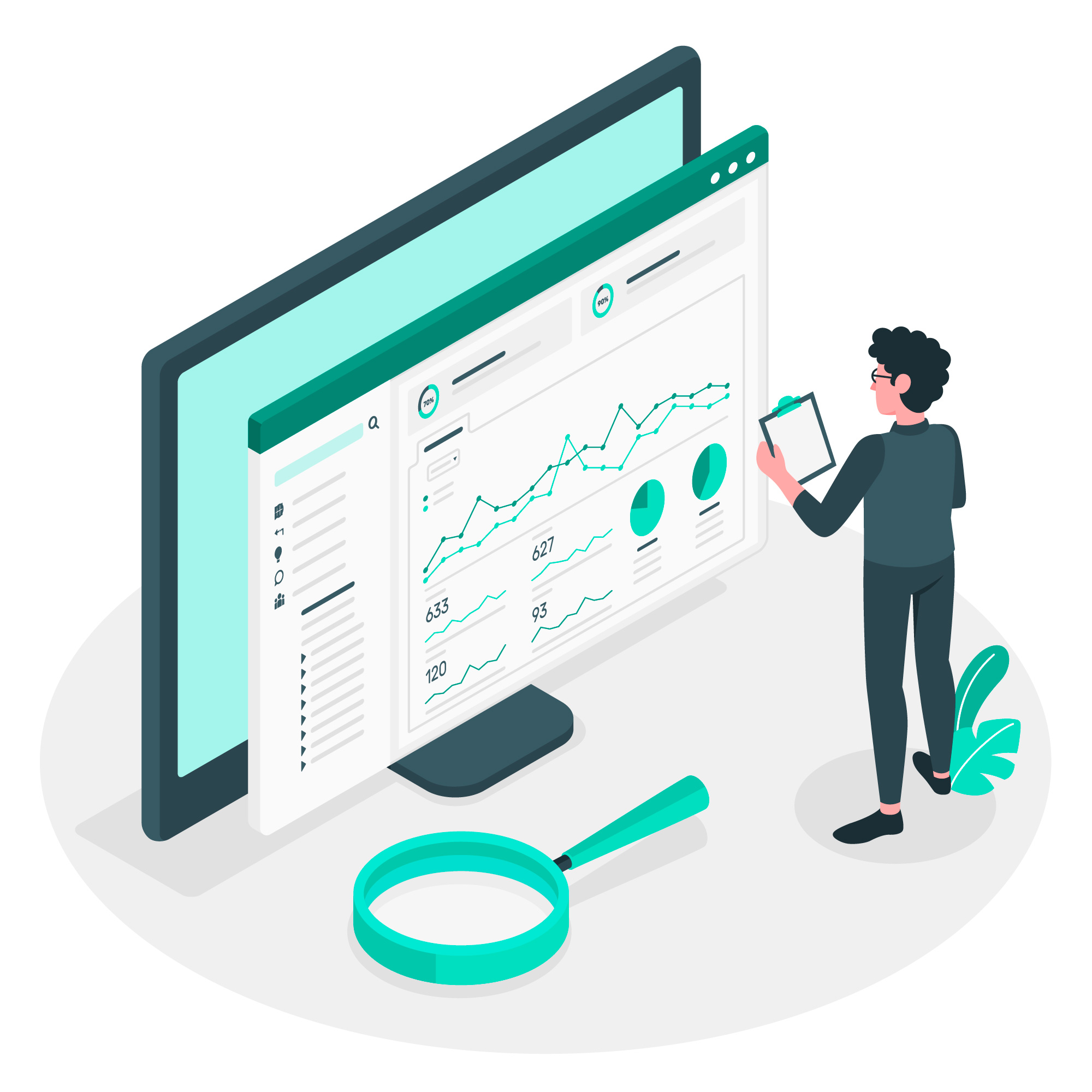 What is website analytics?
Website analytics refers to the data behind websites. The data can be both qualitative and quantitative and are generally derived with the use of website analytics tools. These tools can enable you to view and categorize data into various reports with different metrics.
The ultimate goal of website analytics is to help you understand activities and user behavior on your website, for example, your most popular web pages, how long visitors spend on every page, website traffic sources, the number of viewed web pages, and more.
With website analytics, you can make informed data decisions and know how to align your marketing strategy, website performance, and your customers' needs.
How do analytical requirements for B2C differ from B2B?
Though B2B and B2C have similar data analysis metrics such as traffic sources and the number of users on the site, there are still requirements that differ for B2B and B2C.
For instance, the consumer end purchasing typically involves one individual while the B2B consists of a group of people to make a buying decision. As a result, the individual purchases in B2C translate typically to a shorter sale cycle while B2B involves a longer one.
This difference in consumer behavior and sales cycle would require different analytics data and metrics to be tracked. B2B businesses also focus on each prospect or customer individually instead of looking at data as a whole, like B2C businesses do.
In B2C, the analytical data required would be focused on: the number of added items, product views, and purchases. In B2B, on the other hand, the focus is on individual data points, behavior, and correlation of marketing efforts to revenue.
We have discussed this in detail in our article: Google Analytics is not enough for B2B marketers.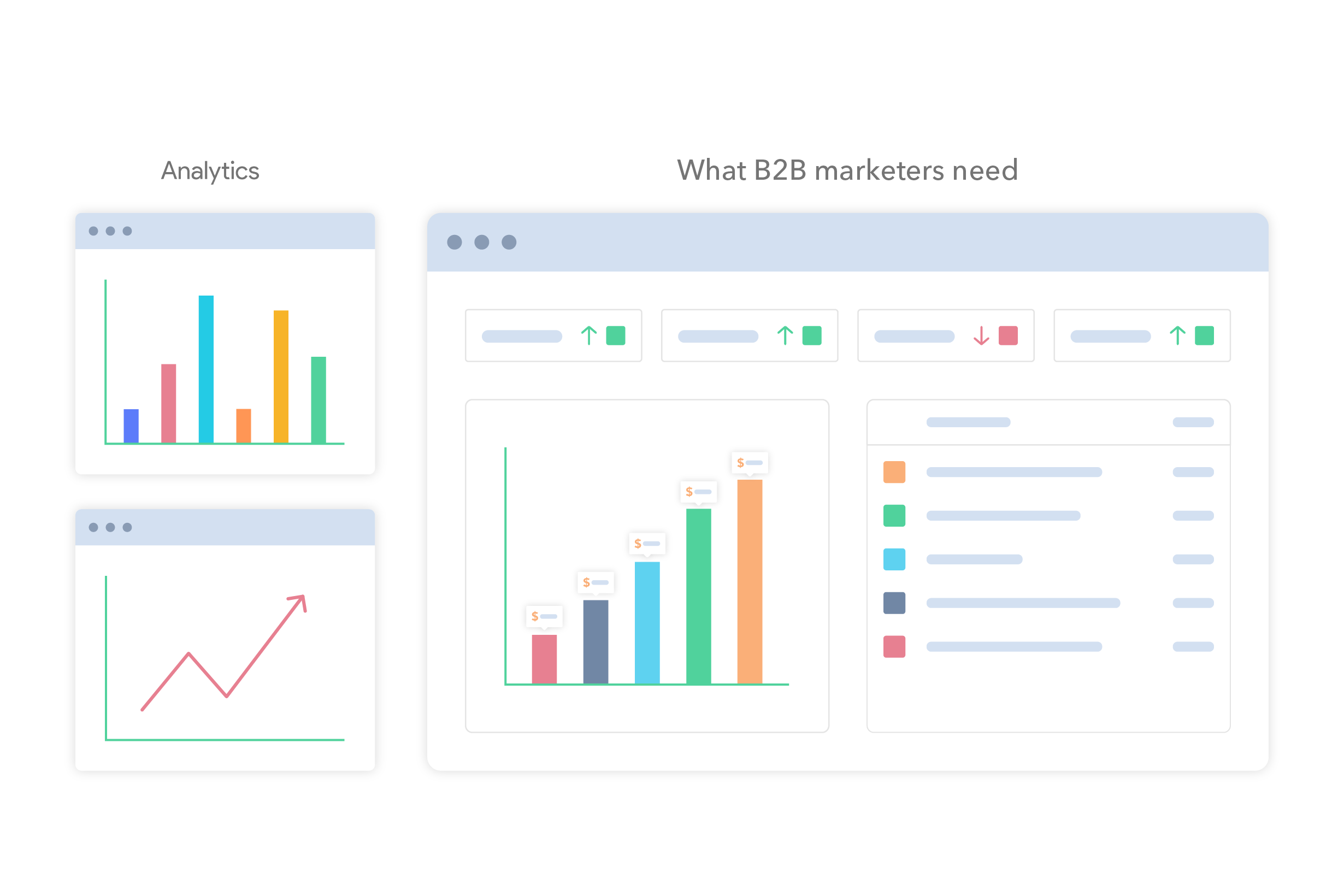 The analytics that sales and marketing need
Continuing where we left off, when it comes to B2B marketing, the analytical requirement goes on a deeper level because B2B leads tend to have a longer sales process. So surface-level metrics such as traffic sources and page views aren't going to cut it. B2B companies need website analytics that will help them uncover details about individual leads and companies.
All these boils down to obtaining the right data and metrics for B2B marketers to track. According to a study from Spiceworks, marketing professionals and B2B companies gave their valued marketing metrics feedback.
The most important metrics were:
Volume metrics- In terms of volume, you'd think of metrics such as the number of impressions, signups, and downloads. These metrics are essential on a statistical level. But marketers would need to go beyond statistics to uncover data on an individual customer level to gain insights that will truly make an impact.
Conversion metrics- In conversion metrics, what matters is the right source of data. As marketers get conversion data such as demo signups, content downloads, and signups, data sync with sales is necessary to obtain data on sales qualified leads and their buying journey. This process helps the lead generation process run more efficiently, and marketers can understand the ideal buyer journey even better.
Velocity metrics- Velocity metrics help you monitor the speed of each process or conversion. How long does it take for a visitor to sign up? How long does it take to perform a key action? How long does it take for them to become marketing qualified? How long does it take for them to become sales qualified? How long does the sales cycle last?
When B2B organizations and marketers focus on the right metrics, they'll have a better shot at identifying winning strategies, qualifying leads, and moving them further down the sales process.
10 website analytics tools for 2021
When it comes to website analytic tools, most businesses and marketers swear by Google Analytics. Though it offers valuable analytics data, there are still countless tools on the market that complement its function as well as surpass it.
Here are 10 website analytics tools to consider for your business. And, we will start with Google Analytics.
Google Analytics is the go-to analytics tool for all companies that analyze websites and campaign data. Over 30 million websites in the world use Google Analytics. It is used by both B2B and B2C companies. And, there is no reason not to. The data provided by Google is unmatched, and on a statistical level, it can show you what you need to know.
The fact that it sits deep in Google's ecosystem means that you can pretty easily get reliable data on your Google Ads and Google Search traffic. Google Analytics is free to us.
Salespanel provides B2B analytics for sales and marketing. What that essentially means that all data Salespanel provides is proactively actionable. It helps marketers optimize campaigns, qualify leads, and improve future campaigns. Salespanel helps marketing track user actions (website visits, button clicks, event triggers, page durations, email opens, etc.) and connect them to customer profiles.
For sales, it helps them stay connected to marketing events in real-time, understand each prospect's motivation and intent, identify prospects with high intent, and close more deals.
Salespanel's pricing and breakdown can be found here.
This website analytics tool is a more preferred option for businesses that require advanced website analytics. Adobe analytics works by providing data through a multi-channel system approach. In other words, you can collect data across various channels like search and marketing campaigns all in the same place. In this way, marketing teams can assess and make informed decisions based on adobe analytics data.
Some of the tasks you can accomplish with adobe analytics include:
Assessing real-time data
Evaluating customer journey
Integrating marketing and advertising strategies
Though the pricing plan isn't featured on the website, you can request a free demo.
Mixpanel is designed to help digital marketers and saas websites understand user engagement metrics. Its tracking software focuses on user behaviors such as interacting with features of a product/service, watching a product demo, and signing up for a service. With its limitless segmentation feature, users can:
Analyze the hidden patterns behind metrics.
Segment reports are based on any user action or cohort.
Dive deeper to uncover key engagement drivers.
Breakdown analysis based on events and user property.
With its real-time based analytics, users can gather insights into why visitors interact, convert, retain across various devices and learn ways to enhance the user experience.
Mixpanel also provides the additional benefit of creating a customized plan and pricing that suits your business needs. In this way, you don't have to pay for features that your business may not need.
Hotjar shows you how your visitors are interacting with your web-pages by recording their sessions.
It provides an in-depth analysis of how users engage with websites using interactive heatmaps, feedback polls, visitor recordings, and conversion funnel reports. You can watch these recordings later to find out how they are engaging with your content. Hotjar is used for optimizing user experience and A/B testing site changes.
Hotjar also works with google analytics to provide a bird's eye view of how visitors navigate individual web pages.
It offers a free trial and a pricing plan that's based on the number of website sessions. If your company owns multiple sites, a plan is selected for each site.
Although Crazy Egg has been in use for quite some time, it continues to remain popular.
Crazy Egg also focuses on conversion rate optimization and A/B testing that can help you to improve website performance and understand how users interact with your websites. Some features you'd find in Crazy Egg include:
User recordings
Heatmaps
User snapshots
It also provides integration options with WordPress, Joomla, and Shopify. Crazy Egg offers a 30-day free trial and a pricing plan that ranges from $24 to $249 per month.
AWStats is an open-source Web analytics reporting tool suitable for analyzing data. Due to its nature, the installation process may be too technical, but there are instructions to help with the setup process.
A powerful feature of AWStats is its log analyzer that can show you every form of data contained in your log. It presents the data within reports in a few statistical web pages. With the use of a partial information file, it can analyze large server log files in less time.
Its pricing is free since it's an open-source platform.
Clicktale is a SAAS tool that helps businesses visualize the digital footprint of their web visitors. You can gain insight into how users engage with certain web pages through the use of heatmaps, reports, and user session replays.
An additional benefit of Clicktale is that it can provide insight into customer feedback and your website survey inquiries. As a result, organizations can uncover hidden patterns behind customer behavior and interactions on websites.
Clicktale also takes its value further by offering deep integrations with over 50 Martech and experienced vendors. A pricing plan isn't featured on the website but can be provided upon request.
Kissmetrics specializes in tracking visitor behavior. With the use of advanced user-based data, you can leverage Kissmetrics in the following ways:
Segment users into groups that can be defined and tracked.
Automate email marketing campaigns.
Track user journeys across multiple devices.
Data like these can provide insights that will help improve engagement rate, customer engagement, and retention.
Similar to Clicktale, Kissmetrics also provides integration with social networks and platforms. A pricing plan isn't featured on the website though the team encourages a request from visitors.
This web analytic and conversion optimization tool helps organizations take a more in-depth look into user behavior, create a testing roadmap and conduct continuous A/B testing across the customer lifecycle.
It provides features such as session recordings, on-page surveys, and heatmaps.
With these features, organizations can:
Improve conversion rates.
Learn what limits their conversion rates.
Amplify the performance and reach of their A/B testing.
Create a channel of high-impact experimentation ideas.
Find loopholes in the visitor website experience.
Its pricing plan ranges from $99 to $169 per month, with the option to request a customized quote.
Final thoughts
Website analytics does not only provide you with insights into how users interact with your website, but it also helps you make data-backed decisions about your marketing strategy.
If website analytics isn't a part of your marketing strategy, you'd have difficulty understanding customers' buying behavior and how it impacts your conversion goals. Besides, your customers are the best source of data when it comes to understanding customer behavior. So, a website analytic tool that provides you with customer-rich data shouldn't be an afterthought.
With the stated benefits, it's clear that an investment in website analytics is worth it. You may need to use a combination of tools to get the results you want.
Sell more, understand your customers' journey for free!
Sales and Marketing teams spend millions of dollars to bring visitors to your website. But do you track your customer's journey? Do you know who buys and why?
Around 8% of your website traffic will sign up on your lead forms. What happens to the other 92% of your traffic? Can you identify your visiting accounts? Can you engage and retarget your qualified visitors even if they are not identified?