Guide to Website Visitor Tracking & Top 10 Privacy-Friendly Tools
Updated on 1st September, 2023
You may have several fantastic sales and marketing campaigns running across different digital platforms, but at the end of the day, your customers are created within your website. So, even if you're tracking metrics such as CTRs, ROIs, and demographic data from all the platforms you use to bring customers, failing to track how customers use your website means missing out on valuable information that could help you generate more revenue.
Website visitor tracking helps you do just that. It helps –
Marketing teams analyze campaigns, serve relevant content, and qualify leads.
Sales teams understand buyer intent and know when leads are ready to buy.
Product teams optimize the user experience and increase retention.
However, the art of website visitor tracking is not one-size-fits-all. Different aspects of tracking solve specific purposes, and you may need multiple products for optimal tracking. Additionally, B2B and B2C businesses have different requirements.
And, on top of all this, there is a significant shift happening with regulatory compliance and big data (Apple, Google, etc.) changing how businesses track customers. Third-party cookies are going away and various anti-tracking mechanisms are being implemented.
Therefore, before creating a website tracking framework, it is essential to address these concerns. And, we will discuss everything in detail in this article. For easier navigation, we have divided the article into specific sections, which you can access using the table of contents on the left side of your screen.
What is Website Visitor Tracking?
Website Visitor Tracking is the process of tracking the characteristics and behavioral patterns of visitors on your website. This includes collecting user information from the website and tracking activities like page views, events, and more. The data is often collected across multiple platforms and helps sales and marketing teams get key information about their prospects and customers and use the data to optimize website experience, understand buyer intent, analyze customer journeys, and more.
After years of stealthy data collection, Big Data has finally realized that they need to do better when it comes to privacy. And why shouldn't they? Literacy and concern over privacy have increased tremendously in the last 5 years. And on top of that, GDPR and other data regulations have everyone by the neck!
For over a decade, big data corporations and website owners alike have used third-party cookies across platforms for advertising and tracking purposes. However, growing privacy and data regulatory concerns have led to the retirement of third-party cookies. Apple's Safari has already blocked them, and Google plans to phase them out by 2024 for the Chrome browser (used by over 65% of users). Google is now pushing for webmasters to use its Privacy Sandbox and implement systems like FLOC and Fledge, which would essentially track user data while maintaining anonymity for the users. While this is a great move for B2C businesses and customers alike, it is a problem for B2B businesses that need the data for more than bulk advertising.
First-party cookies with proper consent acquisition can solve this problem while playing nicely with data regulations. However, Intelligent Tracking Prevention algorithms used in Firefox and Safari limit the cookie lifetime to 7 days. This requires businesses to implement server-side tracking to circumvent this problem. (More on that later!)
TL;DR: Website visitor tracking is in a turbulent state, and businesses must be prepared for the changes in the landscape. For B2B businesses, first-party server-side tracking is likely to become the future standard.
Is Website Visitor Tracking GDPR Compliant?
Everything we have talked about in the previous section culminates in or stems from this question: Is website tracking GDPR compliant? What about other data regulations across the globe? The short answer is that it depends on how you process user data and acquire consent.
The first job at hand is to educate your website visitors by providing clear privacy policy, terms of use, and cookie policy. Through these documents, your visitors should be able to learn how you track them and how you intend to use this data. The second job, perhaps the most important one, is to acquire consent, which can be done through consent forms or other methods of consent management. For EU visitors, in particular, users are required to opt-in before you begin tracking them. Visitors must also have an opportunity to opt-out whenever they want.
Aside from GDPR, you might also want to comply with other regulations, such as the ePrivacy Directive, LGPD, PIPEDA, etc. The USA does not have a GDPR-equivalent at a federal level. However, the California Consumer Privacy Act (CCPA) exists, and other states are following suit. Therefore, it would be in your best interest to follow good practices and disclose your data collection framework to your visitors.
Tracking for B2B vs B2C: The Data Requirements
Although the fundamentals of tracking and the generated data are similar for both B2B and B2C businesses, there are some differences in their requirements. B2C businesses typically process data in bulk due to a much higher volume of customers, while B2B businesses work with a smaller audience but with much higher ticket sizes. Consequently, while B2C businesses primarily use data for analytical and attribution purposes, B2B businesses need data for each individual account to enable sales and marketing operations.
To put things into perspective, B2C businesses need answers to questions like:
How many visitors are we getting daily and on which pages? How long do they stay on the website?
What pages are visitors spending the most time on, and what pages are they leaving quickly?
What are the demographics of our website visitors, including age, gender, location, and interests?
How many signed-up users purchased a product?
Which marketing campaigns and channels are bringing the most customers?
Which particular ad keywords or ad copies bring leads that purchase?
What are common behavioral traits among customers?
On the other hand, B2B businesses need answers to questions like:
Which companies are signing up through a particular campaign?
Are these leads qualified? Can we personalize the experience of qualified leads?
Can we have sales reps directly contact qualified leads when they are active?
Which individual visitors are showing buying intent through their actions?
Can I create a lookalike of visitors who have buyer intent?
Can I retarget a specific set of visitors?
How did a particular visitor engage with a video or a case study?
Can I track the entire customer journey of a lead and send the data to assigned sales reps?
To answer these questions, various data points need to be tracked, with the most important being behavioral data. Behavioral data is acquired through activity tracking and consists of data attributes such as page visits, button clicks, visit duration, content engagement, event engagement, and more. Apart from its analytical usage, this data is heavily used to gauge buying intent.
The next requirement is campaign data. Campaign and referrer information needs to be tracked for marketing attribution. Plus, it also helps sales reps know about the origin of the lead. By tracking the source of the visitor, such as a specific PPC keyword or ad campaign, businesses can understand lead interest and tailor their sales and marketing approach accordingly.
Both B2C and B2B businesses need to track both behavioral and campaign tracking datasets. However, for B2B businesses, there is an additional requirement to connect the customer journey with individual accounts. This is achieved through company identification, where a visitor's IP is matched with a database to identify the company they work for. In addition, acquisition channel tracking is used to connect individual leads with their customer journeys whenever they engage with live chat, newsletters, or fill out a form. While this can be a complex job, a good visitor tracking software should be able to do this!
Benefits of Using a Website Visitor Tracking Tool
Understanding Your Website Visitors
By using visitor tracking software, you can identify the browsing patterns of your ideal customers. This enables you to gain a better understanding of the buyer's journey, allowing you to direct and nurture those with high intent towards a sale.
For example, let's say a user visits your landing page to explore the products or services you offer. Within a couple of sessions, you'll know precisely what they're interested in. If you're tracking the source of their visit, you'll also gain valuable insights into what initially led them to your site.
Understanding website browsing patterns allows you to grasp the personalities and preferences of your target buyers. This information empowers you to craft marketing strategies best suited to attract and guide them toward making a purchase.
Improving Lead Generation
Visitor tracking tools can help you understand the types of buyers your products or services attract, enabling you to fine-tune your lead generation strategies. These tools often provide information that allows for a deeper understanding of your target market, which in turn results in targeted lead-generation techniques that resonate with those who fit your ideal customer persona (ICP).
Furthermore, tracking tools that also "de-anonymize" B2B visitors (like Salespanel's Account Reveal feature) enable you to identify accounts visiting your website, adding extra leads to your pipeline.
Personalizing Customer Experience (CX)
Knowing which areas of your website attract the most attention from your ideal buyers, or understanding the exact paths they take to become paying customers, can help you personalize their brand experience. This leads to higher customer satisfaction and retention. Identifying when target accounts visit your website also enables you to tailor their experiences based on your goals.
For example, if your visitor tracking tool indicates which users have a higher intent to buy (based on the time they spend on your web pages or their site activities), you can accelerate their journey towards conversion by connecting with them via email. You can offer product recommendations, suggest complementary items, and more. Alternatively, if a target account from your ABM (Account-Based Marketing) strategy visits your site, you can display content tailored to their industry to increase the chances of conversion.
A compelling customer experience often sets the best brands apart, granting them a sustainable competitive advantage. By personalizing your CX strategy, businesses can develop unique experiences for their customers, fostering enduring relationships. Ultimately, this can lead to higher customer retention and loyalty, thereby improving your marketing ROI.
Different Types of Visitor Tracking Software
We mentioned at the very beginning of this article that website visitor tracking is a wide spectrum of operations. While all operations stem from tracking visitors at the very core, the use cases differ significantly and are fulfilled by different types of tools. Depending on your requirements, you might need to use one or more types of products.
Visitor tracking tools can be grouped into these categories:
Website Analytics
Web analytics tools track visitor engagement on your website and provide you with key metrics and insights to track behavior, as well as the performance of your website. A web analytics software would track visits, pageviews, events, etc., and provide you with holistic data on your visitor cohorts. You will know things like how many people visited a particular page, what demographic and other characteristics these visitors have, and which specific website elements they have engaged with.
Our recommendations for website analytics tools are Google Analytics, Adobe Analytics, Salespanel, and Piwik.
Customer Journey Tracking
Customer journey tracking products track the behavior of your visitors throughout their entire buyer journey and help to track cross-platform activities more cohesively. For a B2C business, journey tracking can mean tracking interactions across a website and a mobile application. For a B2B business, journey tracking usually entails tracking across a website, web applications, and your data warehouse.
While B2C businesses use customer journey mapping for analytics and advertising use cases, B2B businesses need to map each journey to individual leads or accounts to better market and sell in the middle and end of the funnel.
Here are some key use cases:
Track entire journeys to understand how customers engage with your website throughout the buying cycle.
Track behavior to understand pain points and motivations, and improve the customer experience.
Display dynamic content and personalize the experience for qualified leads.
Send behavioral data to your sales reps to help them better understand their leads.
Our picks for behavioral tracking tools are Salespanel (for B2B), Google Analytics 360, and Mixpanel.
Heatmap and Session Recording
Although Heatmap recording and Session recording are distinct functions, tools that do one also do the other which is why we have grouped them together.
Heatmap tools help you create visual representations of where users click on a website, which enables you to learn which parts of your website visitors are clicking on. Interactions with buttons, links, and other elements can be tracked with this functionality.
Session recording tools record the session of your visitors, showing you exactly how individual visitors engage with your website. However, using this functionality can pose privacy risks and issues with GDPR and other regulations. Additionally, reviewing each session individually can be time-consuming. These recordings are helpful if you have a small volume of visitors or need to view sessions to diagnose user experience.
Our picks for heatmap and session recording tools are Hotjar, CrazyEgg, and Lucky Orange.
Top 10 Website Visitor Tracking Software for 2023
I think we have pretty much covered everything you need to know about website visitor tracking. Let's jump right into tools. Before you pick your weapon, it is important to be clear on what you want to accomplish, what you want to do for privacy and regulation compliance, and your target customer profile.
Salespanel, our proprietary product, is a solution designed specifically for B2B businesses that provides customer journey tracking, lead qualification, and marketing analytics. The core focus of the product is reliable website tracking, and all other solutions derived from it depend on this core component.
The product begins tracking website visitors from their first visit, capturing and logging information such as referrer/campaign/UTM/source data, and tracking all subsequent activities in real-time. The product can also monitor specific events such as button clicks, video views, and custom events that you set up. When the visitor is identified through webforms, live chat, or through newsletter interactions, Salespanel maps the individual customer with his/her/their customer journey. For visitors who do not sign-up, Salespanel tries to identify the companies they work for.
All acquired data is mapped in Single Customer Views for each record and can be used for lead qualification, marketing personalization, retargeting, custom website triggers, sales enablement, and of course, analytics. The product leverages visitor tracking to enable several sales and marketing operations for B2B companies.
Regarding compliance and future-proofing, Salespanel is GDPR-compliant and does not use third-party cookies. The product collects first-party data and does not monetize or utilize data at 'rest'. The tracking only kicks in when your cookie manager or consent mechanism gets the consent. Plus, the product works with setups where specific cookie settings are triggered for specific locations. For example, you can have an entirely dedicated cookie management system for the EU region.
Also, if you remember, we mentioned earlier that anti-tracking mechanisms are being gradually implemented which reduce a cookie's lifetime to 7 days. To circumvent this problem, Salespanel helps enterprise customers implement first-party server-side tracking within their architecture. Overall, the product is ready for the future of website tracking!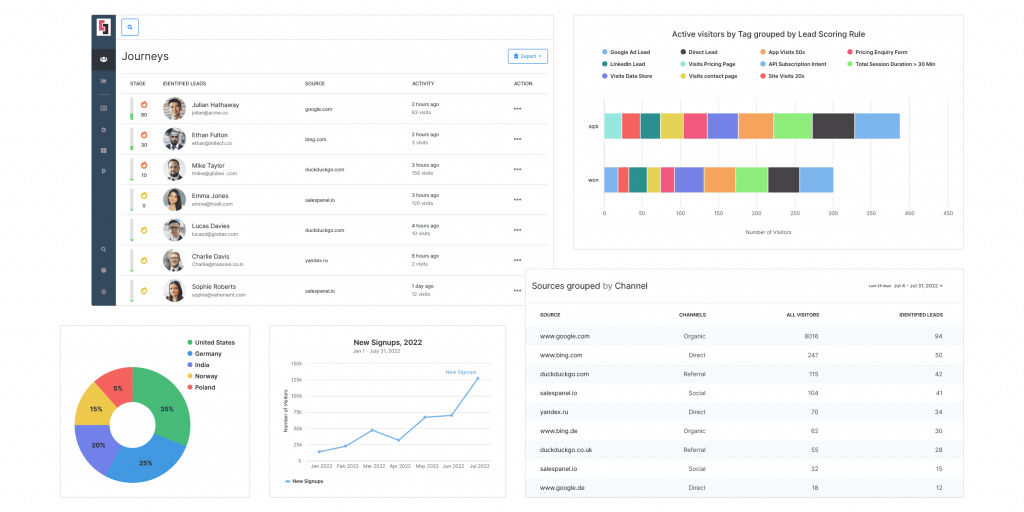 Google Analytics has shut down Universal Analytics (UA) in favor of Google Analytics 4, an event-tracking focused analytics solution. Google Analytics, in its UA form, was considered the gold standard for visitor tracking. However, GA4 is a necessary upgrade. The product tracks visitors across multiple platforms, including mobile applications and web browsers.
And, it has significantly improved on the privacy front. Instead of tracking users, it now tracks events and samples the data without breaking the anonymity of users. The product uses predictive analytics and machine learning to fill in the gaps and identify trends and patterns in user behavior. This plays better with data regulations than its predecessor, UA, which has been declared illegal in several EU nations like France and Italy.
The product is a user-favorite choice for analytics for both B2B and B2C businesses. As we mentioned earlier, B2C businesses need data as a whole, while B2B businesses need data on an individual level. However, even for B2B businesses, it is still necessary to have grouped data for statistics and performance monitoring.
With Google Analytics having over 30 million users worldwide, there is no reason not to use Google Analytics for your analytical needs. The data it provides is unmatched on a statistical level. However, there are still concerns regarding data compliance with GA4 and matters are complicated. Therefore, if compliance is your priority, caution needs to be exercised. We have covered this in another blog post.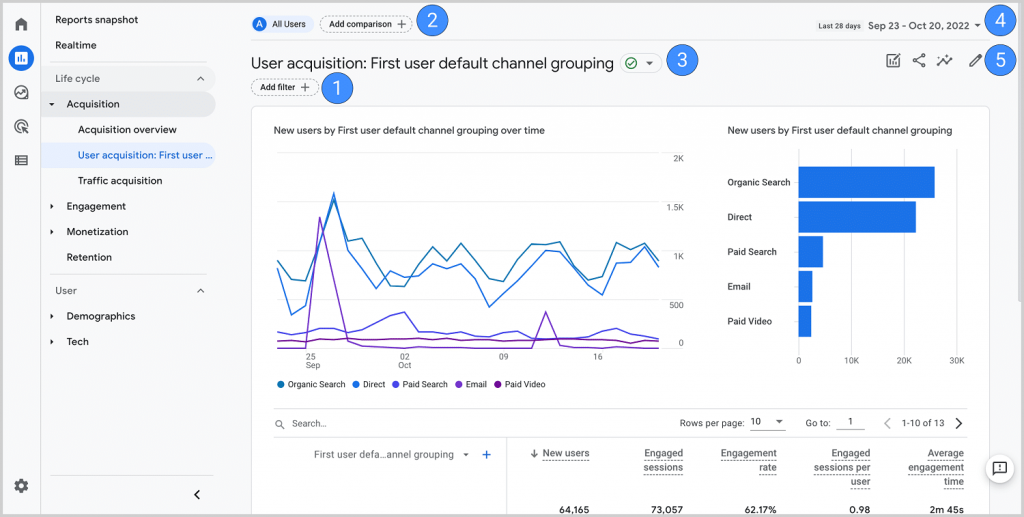 Outfunnel is all about connecting sales and marketing data. Their web tracking functionality is built to work in tandem with CRMs such as Pipedrive, Copper, and HubSpot CRM. You can use Outfunnel's web tracking to see a feed of your contacts and leads that visit your site and record these web visits in your CRM, along with key data about the web sessions.
With web visits logged in the CRM, your salespeople have the full context of what leads are interested in and can strike when the leads are warmest. You can also make use of Outfunnel's lead scoring, which takes into account web visits as well as other marketing engagements to calculate automated scores. This makes it easier for salespeople to decide which leads to prioritize.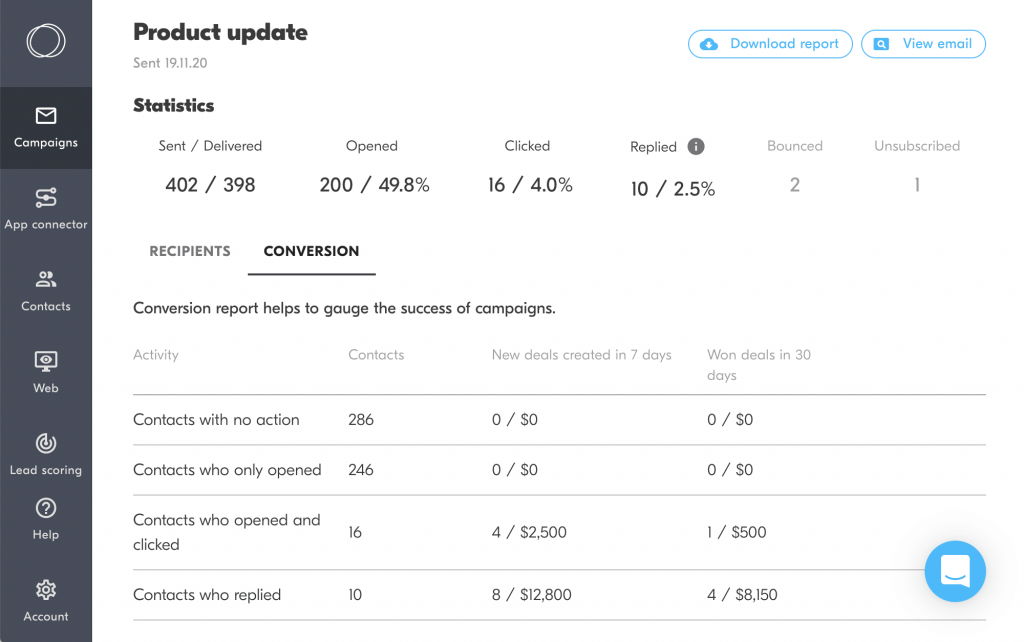 Mixpanel is a product analytics solution that combines your web, mobile, and application data and gives you unified user analytics. Essentially, while Google Analytics focuses on visitors, Mixpanel focuses on product users. And, Mixpanel's tracking system is event-based, much like Google Analytics 4.
While Mixpanel also helps you track behavior, its purpose is for marketing and product teams to analyze and understand how users are engaging with the website, and to improve customer experience and conversions.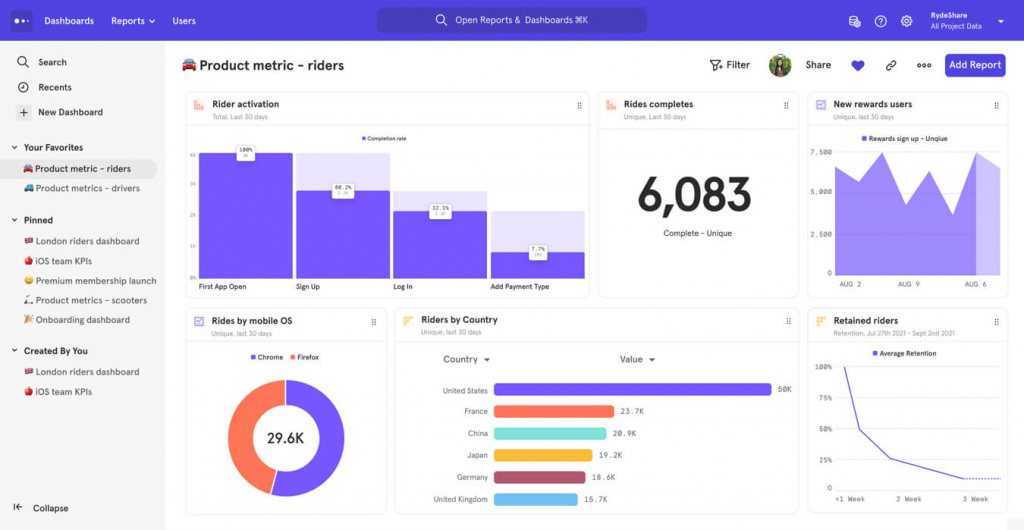 Hotjar is another website tracking tool that helps you analyze data to understand product engagement. Hotjar provides you with features like Heatmap and Session Recording, allowing you to understand where your visitors are clicking and how they are engaging with your website.
This is extremely helpful for analyzing funnel conversions and making UI updates. The product focuses on the user instead of data and helps you understand why and how users perform certain actions. Hotjar has a free plan for you to check out its various features.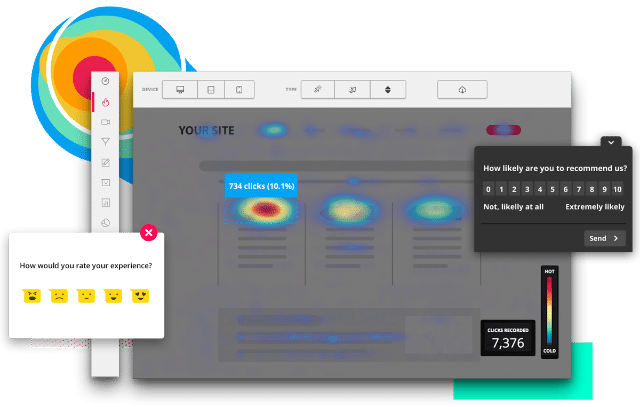 VWO is an enterprise A/B testing and conversion optimization tool. The goal of VWO is to help you increase your conversions, so it helps you optimize your landing pages, lead magnets, and conversion funnels and run tests to get the most conversions possible, thereby increasing the number of leads you capture.
VWO also provides various customer engagement features like surveys and push notifications that truly make it one of the best conversion improvement platforms in the world.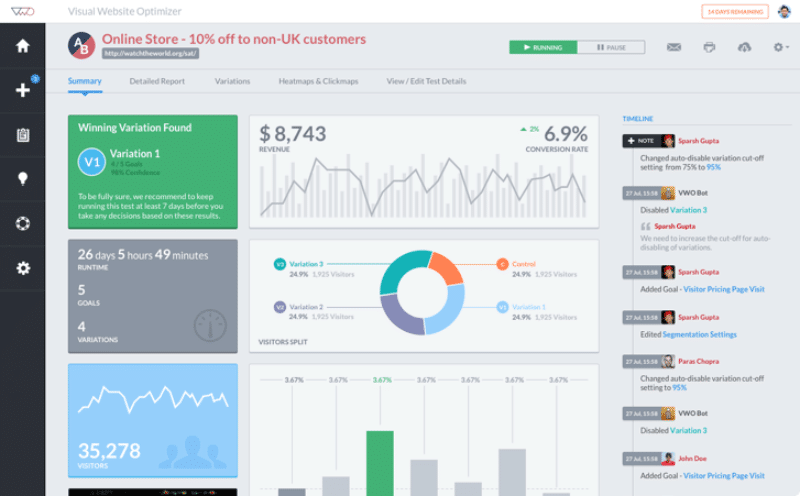 Kissmetrics provides advanced analytics features for SaaS and e-commerce businesses. The tracking tool helps businesses dive deeper into user behavior metrics on a greater level than analytics data like bounce rate or time-on-site would provide. This means that marketers can attribute data to a real person, get a detailed view of individual users across different devices, and identify weak spots in the customer's buying journey.
Kissmetrics's behavioral analytics feature also sheds more light on the most valuable product feature by tracking the key characteristics of each user. The product, much like Salespanel and GA4, is also future-ready As it focuses on event tracking. However, with it being located in the USA and bound by the CLOUD act, complications can arise in compliance with GDPR as the CLOUD act dictates companies to share data with the US authorities on demand.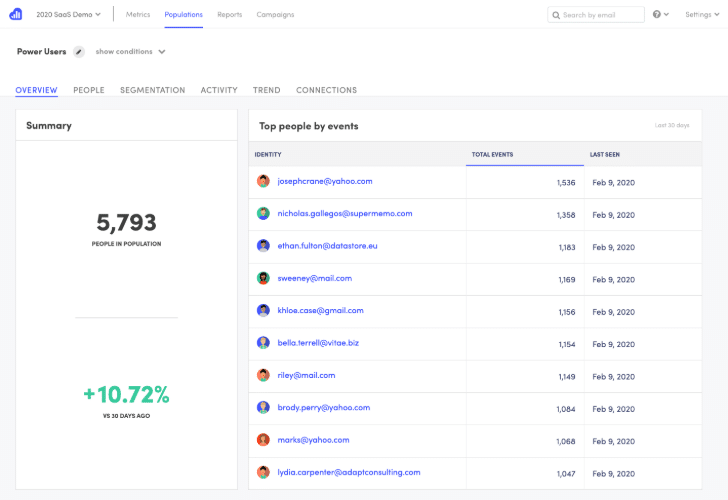 SimilarWeb provides robust digital intelligence tracking that provides insights into your industry, competitors, and customers. You can measure website traffic and key performance indicators such as engagement rates, traffic sources, and rankings. Also, its website rank feature enables you to spy on your competitors, know their category and how they rank globally.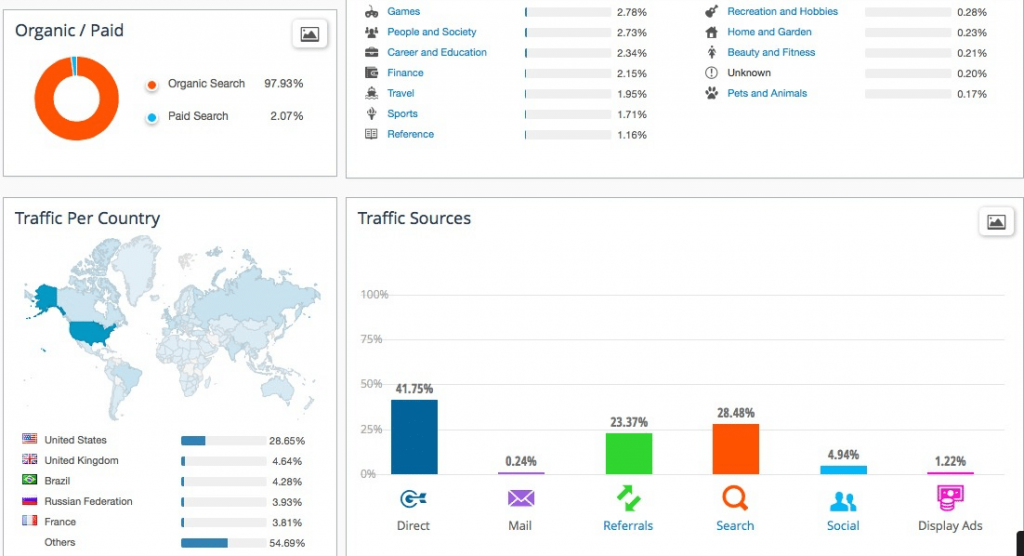 Plausible Analytics is a simple analytics product that's ideal for anyone looking for visitor tracking for web analytics without the use of cookies. The product's main advantage is its focus on privacy. It's an open-source tool that doesn't store cookies or use your data, and its servers are based in Europe. However, it collects IP addresses anonymously through 'IP hashes', which could potentially identify users when combined with other data points – something to keep in mind for GDPR compliance.
Since Plausible doesn't use cookies, it can't track returning users, which makes it less than ideal for customer journey tracking and analytics. Nonetheless, if you're searching for a privacy-friendly analytics solution, Plausible could be a great option for you.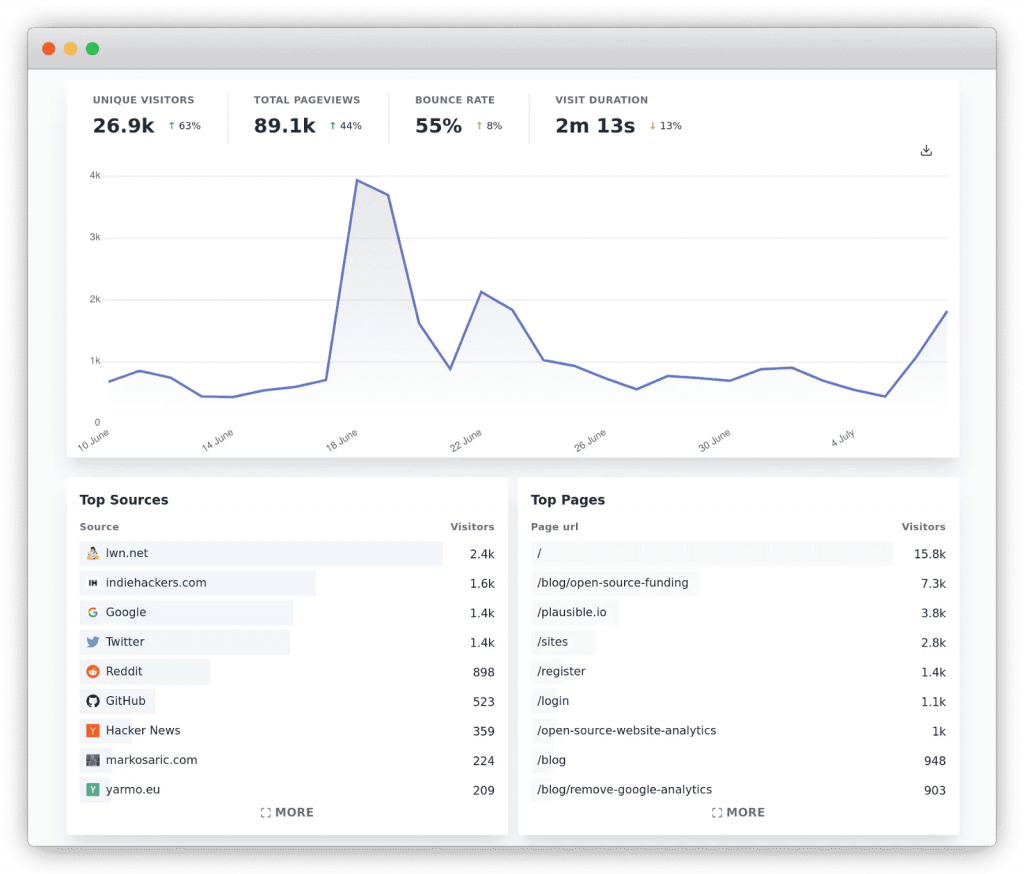 Clearbit is known for its data. The tool provides fresh and real-time customer data like industry classification, employee count, and even job change updates. This helps you get a bird's eye view of specific customers and figure out how to personalize marketing messages to these prospects. Clearbit has also launched its website tracking product that deanonymizes companies visiting your website and provides you with weekly reports.
Clearbit's paid plans can, however, be a bit pricey, with subscriptions starting at over $999 a month (as per reports). But, if you need the most accurate customer data (not talking about tracking data here), Clearbit is one of the best options. The company has also very recently launched a free plan that provides 7-day reports.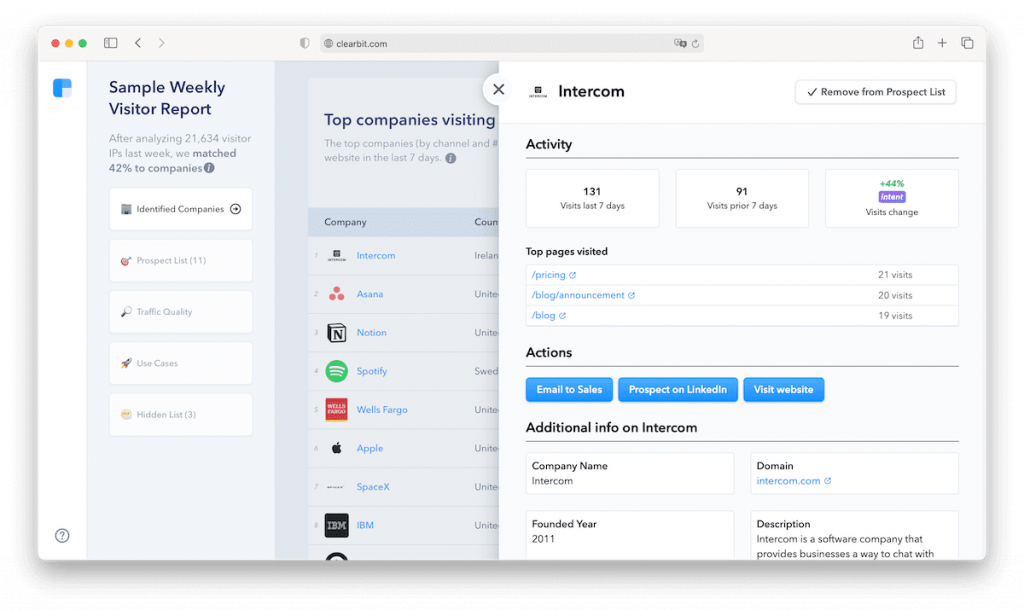 Final Thoughts
Website visitor tracking is critical for businesses that need to understand how visitors engage with their website to enable various sales, marketing, support, and UX functions. However, the practice is sailing in murky waters. With the ever-increasing focus on customer privacy and stringent regulatory crackdown, how businesses track users is on verge of a significant shift in the next few years. Businesses should focus on carefully implementing tracking setups and staying updated on how practices change over the course of time. It is important to track visitors but it is more important to play well with data regulations and browser updates.
Sell more, understand your customers' journey for free!
Sales and Marketing teams spend millions of dollars to bring visitors to your website. But do you track your customer's journey? Do you know who buys and why?
Around 8% of your website traffic will sign up on your lead forms. What happens to the other 92% of your traffic? Can you identify your visiting accounts? Can you engage and retarget your qualified visitors even if they are not identified?