B2B Sales Lead Generation: 18 Strategies for 2021
Lead generation is the process of acquiring prospects who are likely to find your product or service useful. The phrase "sales lead generation" is often used to describe generation of leads for sales with a focus on sales-centric strategies (like account-based marketing or outbound). But, the phrase is not limited to it. It is also used to refer to any type of lead, inbound or outbound, as long as the lead is generated for sales.
A lead – no matter where it is generated, is a few sure fire steps away from being your customer. It is no surprise that it is one of the most crucial and also difficult steps in the entire realm of marketing, as testified by marketers, especially in the B2B industry.
Once a person clicks into your website, or your social media pages or any of your digital marketing channels for that matter, it is inevitably important to monitor their behaviour and figure out everything that is likely to interest them. It is important to pursue them, offer them interesting content and forge a strong relationship with them above anything else.
In B2B, each deal is of high value. And, for outbound strategies, sales would generate the leads themselves. If marketing is generating the leads, they would try their best to capture leads, nurture them, qualify them and then pass on qualified leads to the sales team once they are deemed fit. Marketing's job is to ensure quality Marketing Qualified Leads (MQLs) that sales can approach are generated.
Before we get into our extensive list of 20 amazing latest B2B lead generation techniques that work, here's an insight into how you can take good quality leads from MQL to SQL (Sales Qualified Leads).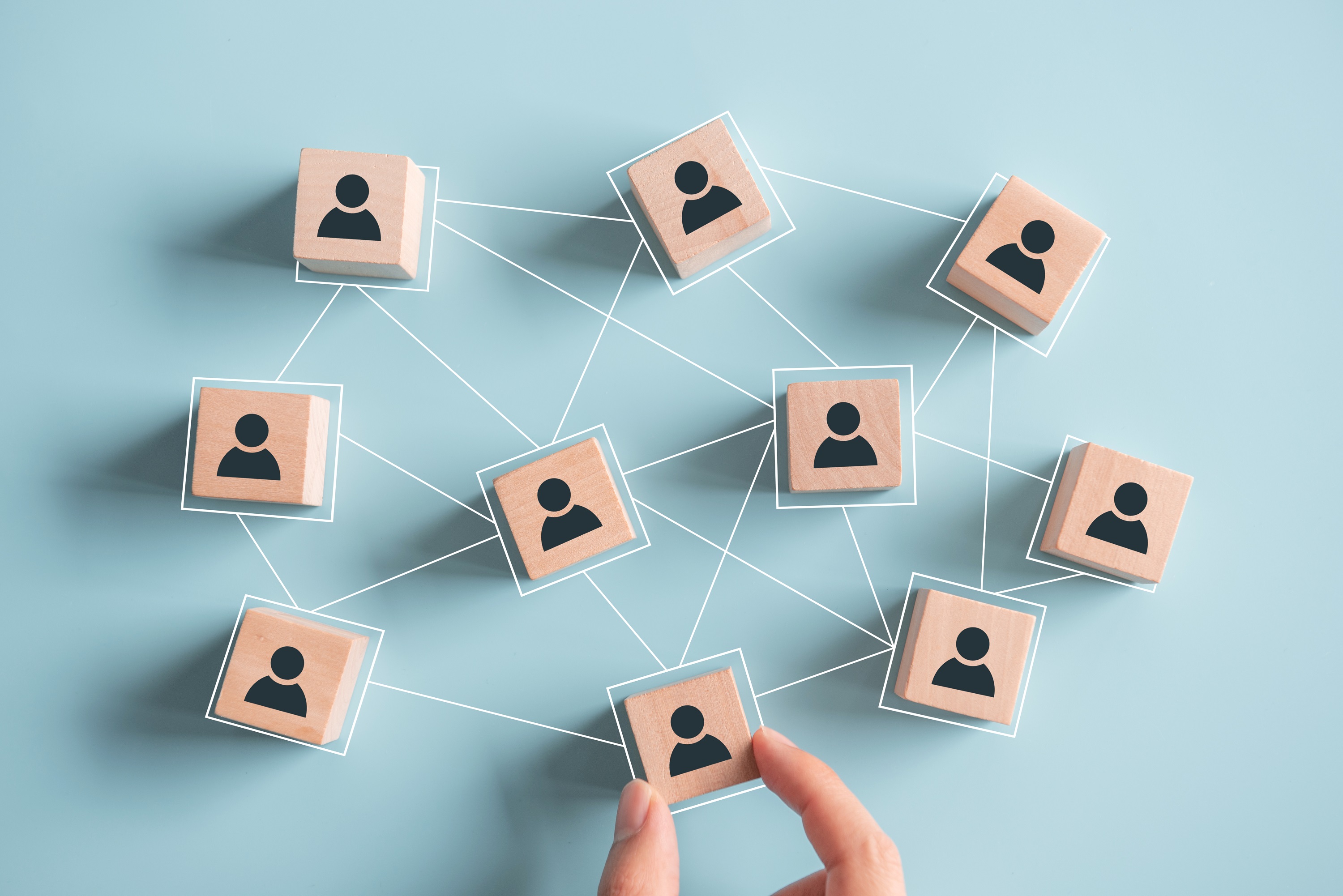 MQL to SQL Qualification Process
In the digital age, reaching qualified leads has become really easy. Even B2B businesses are able to easily generate leads in sheer numbers.
Needless to say, not all of them are going to be qualified.
In order to ensure better conversion rates, there is a need to qualify the leads as they come, and throughout their journey in the sales funnel. There is a need to optimise the leads being generated for quality, primarily based on their readiness to purchase.
For this, you need a thoroughly planned out lead qualification process.
With the help of data-driven technology (using Salespanel for example), you will be able to churn better quality leads, right at the generation stage. User analytics and due research, put together with email validation tools will reveal good quality leads that are worth pursuing.
Once you've successfully deemed a list of leads to be MQLs or a Marketing Qualified Leads, it is important to have a clear cut checklist, to filter out the higher quality ones that are likely to make a purchase right away.
With that, here are 20 amazing B2B lead generation strategies that you can use in 2021 to generate high quality leads that convert.
20 B2B Sales Lead Generation Strategies
Engage in more solid conversations
As mentioned earlier, the most far reaching goal of every business should be to establish long and strong relationships with customers. Sure, sales and conversions are important but, given that customers will only buy from companies they trust, you should ideally not be wasting any chance to reach out to them, engage in good solid conversations with them and get them to think about your brand. Hence, by all means, be ready to talk and have friendly dialogue with every qualified lead that shows up on any of your digital channels.
Outreach by warm calls
Cold calling is when you've gathered contact information of people you've never talked to before, of people who may have never heard of your company, and calling them up. Warm calling is when you talk to people who already know about your brand. They may have downloaded a resource on your website, or may have visited your social media pages a few times. Once again, the right conversations can make warm calls extremely effective.
Warm calling can be extremely simple. Engage with your prospect on social media and after that reach out to them over a call. Or, you can warm call a prospect who has provided his information to download a form of content (lead magnets).
Webinars
Conducting webinars are a great way to not only generate good quality leads but also establish credibility in your industry. You can organize webinars on different topics covering pressing concerns of customers in your industry. Make sure to gather expert level information on the subject and present it in an engaging way, with lots of useful information. The goal is to provide a value packed session, promising more value and benefits along the line.
Sales can also create pre-recorded videos that they can share with prospects using Loom or a similar software.
Customer referrals
Customer referrals are possible only through solid relationships with existing customers. This is why you need to maintain active engagement with existing customers and work on winning customer retention programs in order to not only stay in touch with customers, but also delight them with good deals and offers, thank you gifts and surprises at appropriate times. With close knit customer relationships, you can ask them to introduce you to other businesses that could use your products or services.
Social listening is one of the most effective techniques to gauge community conversations concerning your brand as well as your industry. Using social intelligence and competitor intelligence reports, you can find out what some of your competitors' customers think of their products and services. It can also give you information about vocal customers who are facing issues with a competitor's product or are not getting what they hope for. You can reach out to those customers and solve their problems.
Social listening can also reveal market trends and industry gaps, which you can further utilise to gain the competitive edge.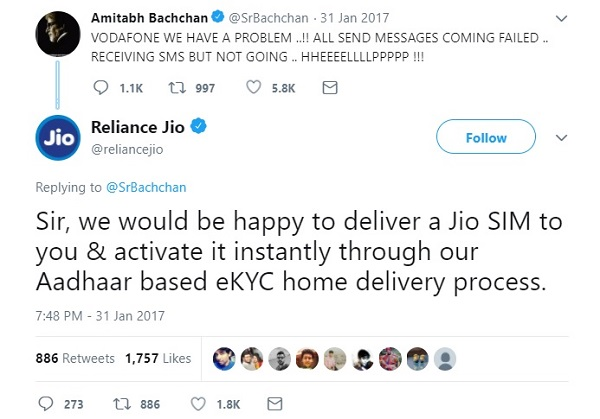 Powerful social media channels like Facebook and LinkedIn, are great places to find and engage with business professionals relevant to your industry. You can identify active and large groups consisting of industry experts to join and engage in conversations with. Participate in conversations, ask relevant questions, give credible answers and be a part of discussions within the group. This helps establish credibility and gradually introduce your products and services to generate leads.
Get active on Q&A websites to offer expert advice
Q&A websites like Quora offer great opportunities for you to demonstrate your expertise. Subscribe to relevant topics of conversation and actively engage in answering questions. Supply credible and information-rich answers in order to grab their attention. Post links only where necessary, so as to not seem too spammy. Instead, offer phone numbers and real company executive names for them to contact, if you find genuine people looking for solutions that you offer.
Use E-books
E-books are another great way to display your knowledge and expertise. At the same time it gives you an opportunity to showcase a sample of the value that customers will likely get from associating with your company. You can offer E-books as a gated form of content so that you can receive the email addresses of the people downloading your e-book.
Supplying high-value content with the form of eBooks is a great way to generate inbound leads.
Guest posts
Guest posting insightful content on other blogs and websites with a good solid readership gives you more chances to spread the word about the benefits you offer. It allows you to reach out to newer audiences who are already interested in the content offered by the website. This means you are assured of being seen and read by a number of relevant people, thereby improving your reach.
Publish guest posts on websites that are in your industry and you will attract the attention of potential customers.
Be active with industry events
Organize or take part in industry events in order to connect with more people. Networking is one of the most important and effective ways to stay relevant in any industry. It is important to be active and alive in your industry, communicating constantly with relevant people and establishing an influence.
Important events almost always invite the presence of important decision makers from various businesses, who will most likely be interested in what you have to offer.
One of our customers, PourMyBeer uses industry events as a crucial strategy to connect with partners and customers. Here's what PourMyBeer's senior marketing manager had to say: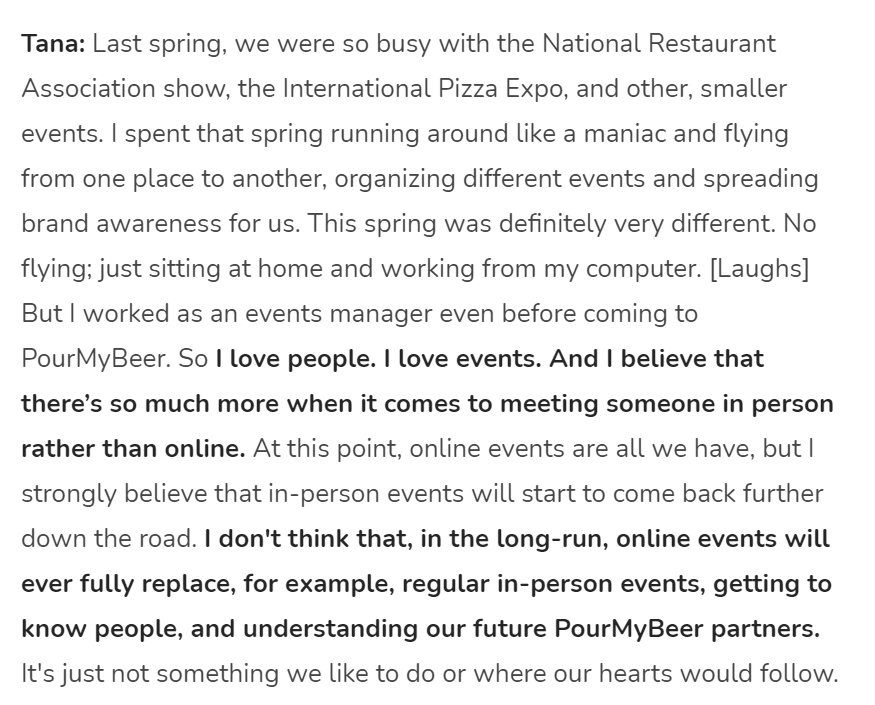 And, this is what Florian Frese, Marketing Lead of Container xChange had to say: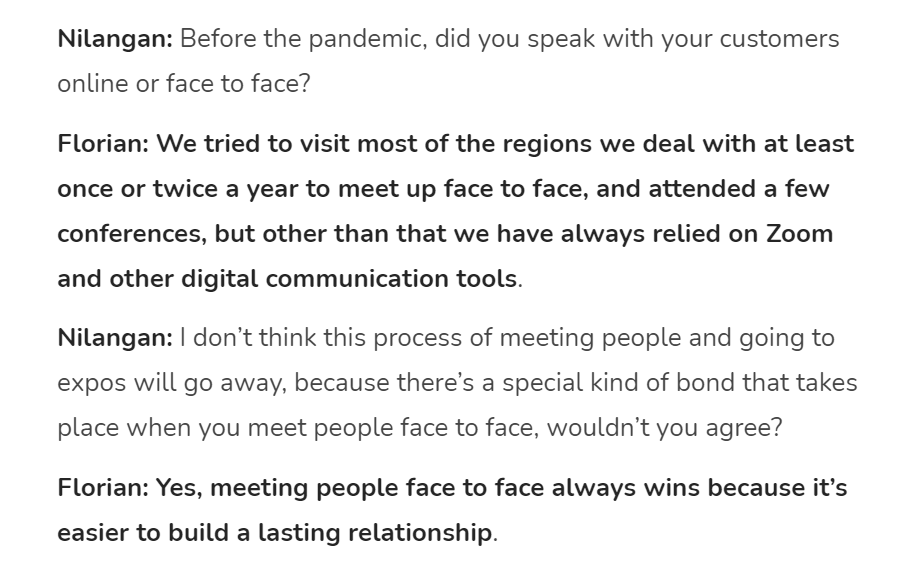 Use lead generation ads on Facebook and Twitter
Facebook and Twitter are two social media channels that offer amazing techniques for businesses to generate leads. They have a special ads feature which you can use to attract relevant visitors and obtain email addresses. However, you must make sure to promote high quality content with ample value and reach out to the right audience. Also, for your call to action, turn clicks into well-designed landing pages where they can enter their personal information.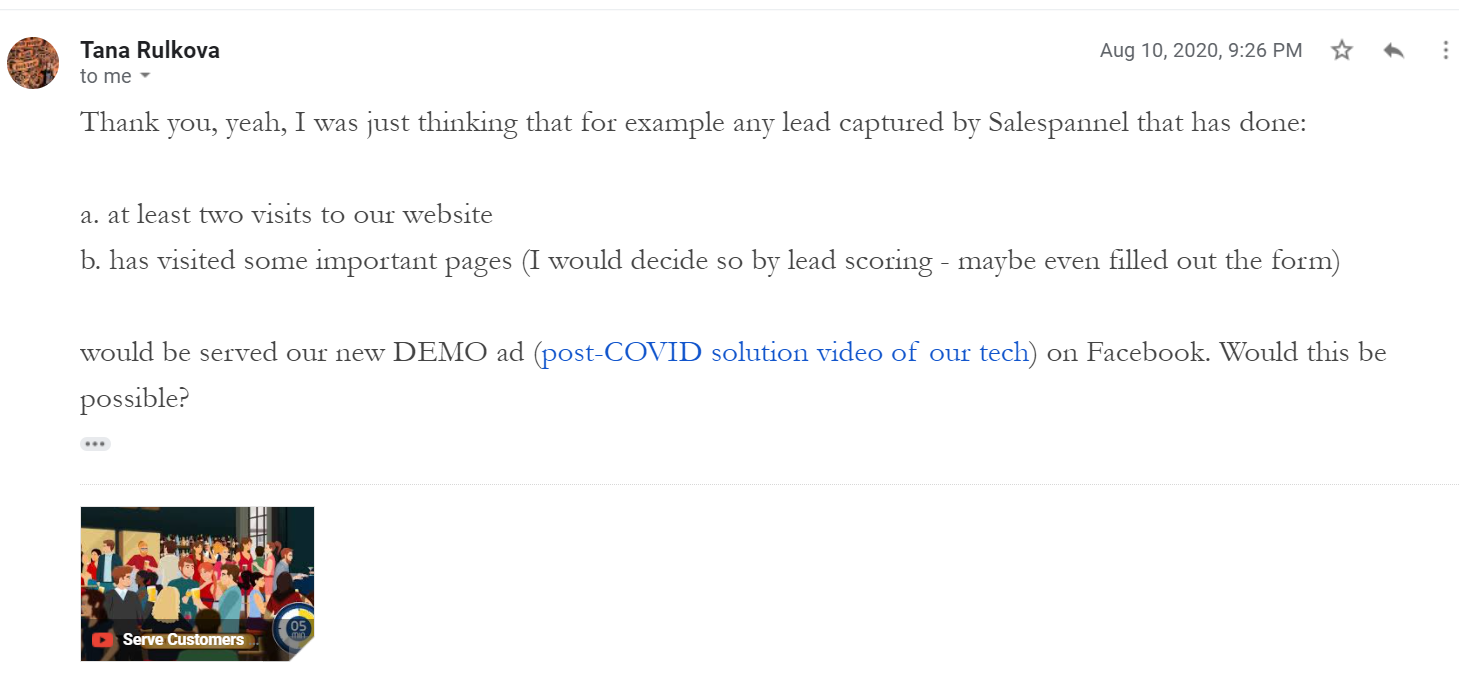 Use dedicated landing pages
Studies have shown that properly designed dedicated landing pages where customers can either sign up to a free trial, demo, a newsletter or any other program, work wonders for lead generation. A good number of marketers actually swear by the technique of publishing powerful copy with landing pages, to generate high quality leads. As always, it is the influence of content that works here. Of course, the ad should be click-worthy too.
Use Gmail ads to target your competitor's audience
Gmail ads offer a clever and compelling way to reach out to new customers. Given that email is still the number one lead generation channel for marketers, it is a very effective medium to draw the attention of your competitors' customers. Google Ads allow you to target people who have received emails from your competitors. As sneaky as that sounds, it is possible and is a powerful way to reach out to people who are already interested and are looking for a product similar to what you have to offer. An amazing click-worthy ad sitting at the top of an email inbox, offering something promising is bound to generate results.
What if you could reach the inbox of qualified visitors even if they have never signed up? Learn more.
Identify website visitors
Of all the visitors you bring to your website, over 90% will not convert. B2B companies who visit your website can be identified.
Identifying companies who visit your website using a tool like Salespanel can help you increase the number of sales leads you generate significantly. You can reach out to these leads either through account-based marketing (ABM) or retargeting and engage them to finally get them to sign up.
Create ICP based list on LinkedIn
LinkedIn is an influential network of business professionals that you can effectively utilize to generate good quality leads. LinkedIn acts as a credible and reliable source of lead information for marketers, which is why you need to make the most of the platform.
You can create ICP based lists on LinkedIn to pursue for outreach, advertising, or ABM. LinkedIn Sales Navigator helps you find prospects from its network based on several individual, firmographic and demographic data points. You can use these filters to pick out those professionals from LinkedIn that perfectly match your ICP attributes.
Lookalike audiences for B2B advertising
Let's take a look at two scenarios.
You have a list of great customers.
You have visitors on your website who perform desirable actions.
You want to replicate them. What do you do? Create a lookalike audience. A lookalike audience is an audience that advertising platforms integrating with Salespanel can create to find profiles who have characteristics similar to your ideal visitors and customers. We will cover lookalike audiences in detail in a future article. If you want to know more, please reach out to us.
Outreach by cold emails
Emails as mentioned before are always one of the most effective ways to grab customer attention. It greatly makes sense to use email for lead generation, in addition to sending out marketing campaigns. Just like cold calls, cold emails are a great way to provide relevant info and induce leads to click through or sign up. You can use ICP based lists generated via LinkedIn to send out cold emails, with a clear, concise, and powerful pitch.
You can use a prospecting tool like Hunter to find email addresses of your leads. A thoughtful non-spammy sales email would get responses from leads.
Lead magnets
Lead magnets are tried and tested techniques to generate leads. Miraculous ways to help grow their business or "guaranteed sales" promises for their company are far from effective now. You provide actual valuable content and they would provide their email addresses in return. Ebooks for example, as we discussed before, are lead magnets. A sensible and useful piece of content – something that offers a sample of the value they are likely to get from you, is what will get leads to type in their email addresses.
Lead qualification checklist
Before we began listing the strategies, we mentioned how leads need to be qualified once they are generated. The goal of this article is to help you generate quality leads.
When the lead is generated, you've already received some personal information of theirs, in exchange for perhaps a piece of valuable content from your side, in the form of a lead magnet. It could also be periodic content through an email marketing campaign.
In fact, here's a quick list. We have discussed the qualification checklist in detail on another article.
– First off, you need to determine if a customer is fit for your business. Do they match your customer profile? Are they marketing qualified?
–  Once you've established that the lead is worth pursuing, you need to carefully understand their needs, the problems they are facing currently, the problems they faced with previous companies, etc. and determine whether or not your product or service will solve that specific problem.
– Next, you need to figure out if your point of contact is the right decision-maker in their business. If not, you can ask questions to find out who else is involved and request for their contact.
These steps will definitely help determine good quality leads and convert an MQL into an SQL or a Sales Qualified Lead. However, it is important to remember that all of these steps can be taken only after creating a solid connection with the lead. The ultimate goal is to establish long-lasting relationships with customers, above making sales, as it is only a loyal customer base with sufficient lifetime value that will help you survive in the long run.
Sell more, understand your customers' journey for free!
Sales and Marketing teams spend millions of dollars to bring visitors to your website. But do you track your customer's journey? Do you know who buys and why?
Around 8% of your website traffic will sign up on your lead forms. What happens to the other 92% of your traffic? Can you identify your visiting accounts? Can you engage and retarget your qualified visitors even if they are not identified?