Guide to Social Media Marketing and Tools For B2B
According to the Digital 2020 July Global Snapshot, more than half of the world currently uses social media.
Out of the 4.57 billion people who use the internet worldwide, 346 Million new users emerged in the past 8 months.
The pandemic of 2020 indeed surged a significant rise in social media use, and the reasons for this go beyond just lockdowns.
People naturally took to digital channels to stay in touch with their loved ones. And entertainment became confined to the four walls of artists' and creators' houses, which further got them to be more active in their social media pages. Furthermore, events of social relevance became rampant around the middle of the year, leading to a massive engagement surge.
It only made sense for marketers to leverage social media to use the platform to stay connected with their customers and engage with them meaningfully. This is not just for B2C. The people behind B2B businesses, the real people you deal with, also spend their time on social media to state the obvious.
Social media statistics show that more than 54% of consumers browse their favorite social media channels to research products and services they consider buying. Not just for discoveries, customers are 70% more likely to convert if you are retargeting them on social media.
It is evident that B2B businesses need to tap into this not just on B2B friendly sites like Twitter and LinkedIn but also B2C sites like Facebook and Instagram to serve relevant content.
With more and more users coming on board on social media, it is no longer about the number of followers or subscribers that companies generate. It is all about attracting the right audience and getting them to engage with your content.
For that, it is not enough to merely put out a few eloquent words about your product and call it a day. You need to provide content that is valuable for users and that they can relate to.
Additionally, as customers are becoming more knowledgeable about the way brands operate and more conscious with their product choices, with a good majority of them looking for brands that stand for specific values, there is a need for businesses to be more transparent with their ways and more vocal about their social as well as moral responsibilities.
This necessitates the constant projection of your brand's human side, along with consistency in efforts to be and do more of the things that customers are particular about. This is so that more conversations are generated and so that customers get more involved with their favorite brands leading to better relationships and better customer experiences.
It is all about the experience you provide on your digital platforms at the end of the day. An exceptional customer experience surpasses even a better product sometimes. In fact, more than 71% of customers are highly likely to recommend a brand to a friend or family member if they had a positive experience.
What's the key takeaway here?
Focus more on putting out valuable content because the content is always King. Secondly, humanize your brand more and engage in deep conversations with customers to provide a rich customer experience because that's what matters.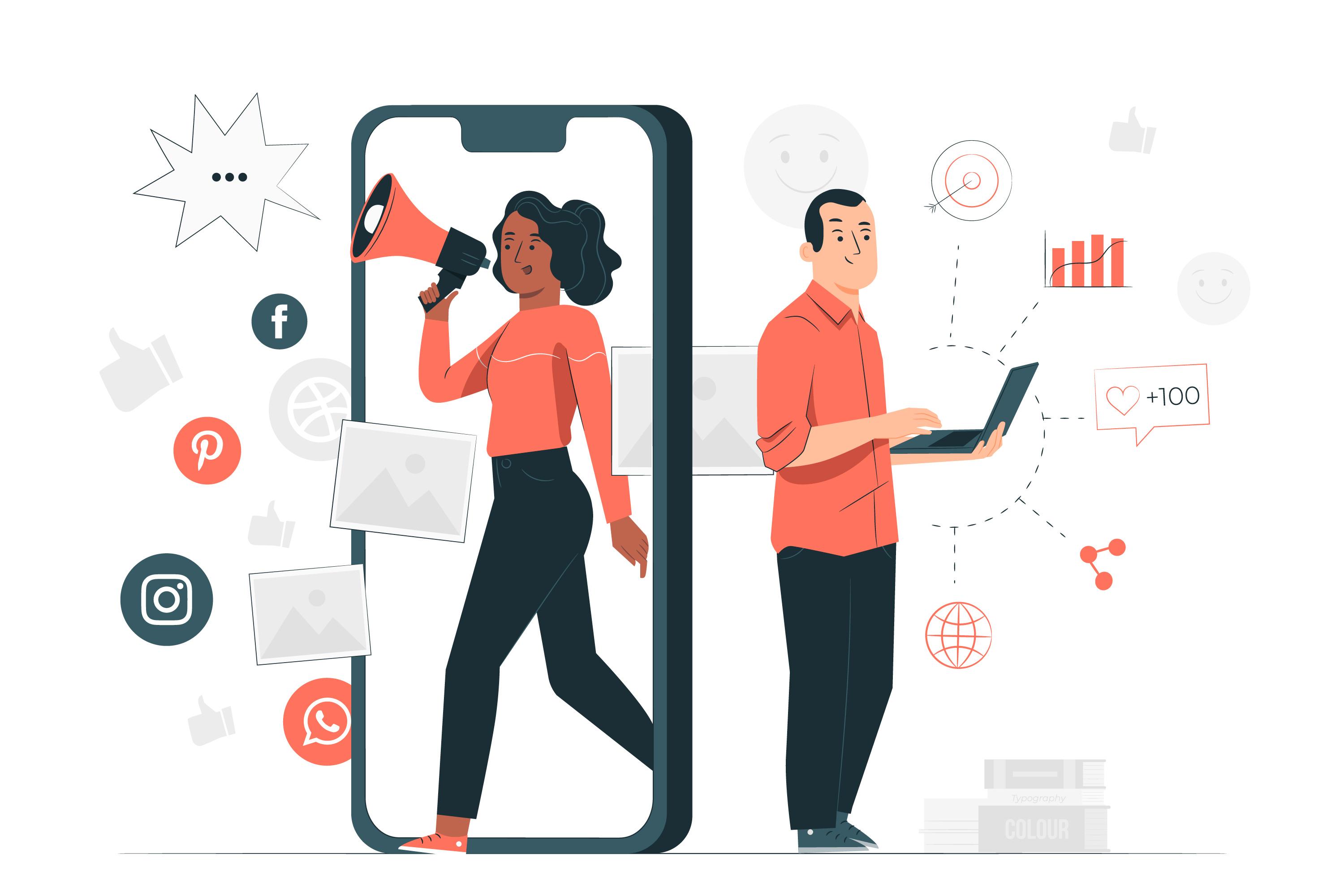 Like we mentioned before, your customers are on social media. In B2C, they are making decisions for themselves, and in B2B they are doing it businesses from your target market. The most commonly used social media sites have data of individuals instead of businesses, with the notable exception of LinkedIn. But, there are two issues with that:
LinkedIn is expensive and costs 10 times higher than sites like Facebook and Instagram.
Your customers spend way more time on Facebook and Instagram, but the platform pioneers for B2C and doesn't generally offer the data B2B businesses need.
You would get too many unqualified leads from Facebook if you used the B2C leaning targeting provided by them.
The same can be said for Twitter. The best you can do is create lookalikes of followers of other companies in your industry. What if you could show your ads to only qualified leads? What if you could create lookalike audiences of only qualified leads? We will discuss more as we discuss tools and strategies.
Here are 5 more strategies for B2B businesses on social media to be used going forward in 2021.
Re-targeting
Re-targeting or re-marketing has always been one of the most proven effective ways to induce a purchase. By carefully monitoring customer buying patterns and user behavior on social media pages, ads can be re-targeted to appear on multiple channels reminding customers of the fantastic product they just checked out. It works on the psychological effect of "FOMO," highlighting the benefits that customers stand to lose from not purchasing the product or service.
Facebook and its equally effective baby Instagram are two platforms that work magically for re-targeting. In particular, Instagram generates 500+ Million daily active users, which makes it the second most used platform after Facebook in terms of daily logins. Some of its features like stories and the newly launched reels generate immense engagement.
With the help of a smart tool like Salespanel, you can qualify every single visitor on your website using data patterns and show highly personalized content to them using retargeting.
Read more: https://salespanel.io/blog/marketing/focused-retargeting/
As discussed before, it is not easy to generate organic traffic and organic engagement for B2B through B2C-centric channels like Facebook. But on the flip side, paid advertisements have been found to work better for B2B than for B2C. By all means, running paid social media ads are going to pay off.
Statistics have shown that, despite the challenges that we faced over the past year, and despite the emergence of new platforms in social media, Facebook still tops the charts in terms of user base and engagement. It is one platform that continuously showed increased usage across countries and age barriers. Currently standing at more than 2.5 Billion monthly active users (MAUs), it is a place where marketers can get the most reach with ads. According to the platform's advertising tools, almost 1.95 Million users can be reached out to with ads, which accounts for 80% of the total MAUs.
Facebook ads will get the word out and allow you to connect with more people, more than your organic posts. Active and consistent ads with super valuable content, relevant hashtags, and suitable calls to action are bound to work for B2B.
We have already talked about a focused retargeting process. Now let's take out another tool from the arsenal, lookalike audiences. What you can do is sync your qualified visitors and leads to Facebook using Salespanel and create lookalike audiences of them to get similar visitors and leads. Facebook's machine learning will effectively match your qualified visitor lists and show your ads to people with similar profiles.
Personalization
The more personal you get, the better. Customers are tired of hearing generic sales copy beautifying your brand and your product. They want to hear how your product will help them. At the same time, they also want to see how you value them. Considering the competition that is already out there, if you do not excel in providing a good customer experience with highly personalized content, your competitors will likely beat you to it.
Hence it is essential to offer the most personalized content for your audience, no matter what social media channels they are on. Customer segmentation tools can help you group people with common interests, common buying patterns, etc. With this information, you can create organic posts with relevant content suitable for the group or combine the previous strategy of running dynamic ads, garnering both worlds' best.
Tailored content with a pillar content strategy
Taking a step back to talk about content again here because 2021 is the perfect time to push great content more than anything. Putting out valuable and personalized content is one thing; tailoring each piece to suit different platforms is a whole other thing that will create a massive difference.
As mentioned before, Facebook and Instagram are two platforms that are currently generating the most amount of engagement. Hence, these are the two channels that you must leverage through to its full potential for content marketing.
Now here are few features of FB and IG that make it so popular.
Stories – interesting short 24-hour snippets of video content
IGTV – longer videos supporting detailed content without the need to escalate it to a video streaming application like YouTube
Live videos – broadcasted live streams
Direct messages – a direct one on one connection with the user
Emojis and GIFs – interesting reactions, emojis, and GIFs that make commenting and engaging with posts more fun
There's a pretty clear pattern here – video content reigns supreme, but in different formats.
To form a solid and foolproof pillar content strategy that caters to the different content formats, here's what you can do.
First off, form a detailed piece of content in any of your primary digital platforms. It could be an informative and valuable blog post on your website or an insightful video on YouTube. From this pillar content piece, derive smaller snippets of video-capable of standing alone, preferably throwing a tease into the main video, suitable for your reels, stories, IGTV, etc. Make sure, though, that the small piece of content also packs value.
This way, you can cross-post one intricate piece of content across channels, tailoring each piece to suit the most popular feature under each channel.
Many social media management tools offer social listening features with which you can easily gain a competitive edge. We know that competition is rife, and especially in B2B, there is a need to constantly keep in touch with the customers throughout their buying process until they make a favorable decision.
With that in mind, companies are making use of social listening tools to get in on conversations happening in their industry without them being mentioned. These tools also help marketers get the inside info on what their competitors are up to in terms of content. Additionally, they also provide insights on industry trends, market gaps, etc., all of which can be used by marketers to create better content, better products, etc.
Now genius social media strategies inevitably require excellent social media marketing tools as well. So here are 5 of the best in the market right now.
We have mentioned Salespanel multiple times in this post, and it is only fair to start with it for this reason. Salespanel is a visitor intelligence tool that helps you identify, track and qualify your visitors. The way it works with social media is to help you trigger Facebook events for qualified visitors and show them targeted content based on their interests. It can also help you create lookalike audiences of your qualified visitors to bring B2B targeting capabilities to B2C social platforms.

AgoraPulse is an all-encompassing social media marketing tool that allows you to do everything from posting content to scheduling posts to engagement, monitoring, and analytics. It comes with a content calendar feature with which you can plan ahead and schedule your content for upcoming weeks or even months on YouTube, Facebook, Instagram, Twitter, etc.
As part of its social listening capabilities, it helps monitor streams on Facebook, Instagram, etc., for your brand name, mentions automatically. It also provides reports on the number of brand mentions found. Additionally, it also offers a unique "listening search" feature where you can set it up to monitor specific keywords or hashtags on Instagram. You can also assign each discovered incident to different members of your team for a closer watch.
Hootsuite is one of the most popular and widely used social media marketing platforms, offering a ton of essential and useful features to manage social media. It comes with a powerful social intelligence building tool that lets you track multiple streams on different channels, spot trends, analyze conversations and track social sentiment in real-time. In terms of management, it enables you to post all your social media content from a single calendar where you can effectively see and manage notifications as well. You can even run ads, optimize them and generate reports on them for future social media ad campaigns. Above all, you get to build a common content library on Hootsuite with only branded content that can be used across your company.
Canva is more of a content creation tool than a management tool, specifically designed for social media channels. It runs on the cloud, which means all your social media posts get automatically saved on Canva, even if you don't download them. It comes with a plethora of pre-designed templates for every channel, including Facebook, Instagram, Pinterest, YouTube, etc., free and paid, which you can conveniently use to create designer-quality content. You can also create your designs with its pre-set dimensions for each type of content. For example, if you are creating an Instagram story, it allows you to simply select the dimension for it directly, without worrying about it fitting the platform.
Oktopost is another efficient social media marketing platform meant specifically for B2B. It offers features to manage content – post, schedule, monitor, and analyze all of your social media activities from a single place. With relevant insights related to industry trends, competitor content, engagement, analytics level of engagement on your platforms, etc., you can turn the numbers to your advantage. It also comes with a unique social box feature with which you get to monitor all of your comments, direct messages, and brand mentions in a single place, which facilitates streamlined and effective engagement across multiple platforms. Besides, it offers lead tracking capabilities specially designed for B2B, which lets you gauge every post, campaign, or even channel's effectiveness.
Hubspot Marketing is a sub-product provided by Hubspot CRM. It comes with pretty much everything from email automation to SEO and lead generation, to CRM and social media marketing as well.
Its efficient social media marketing hub offers built-in social listening tools to keep a close eye on Facebook, Instagram, or Twitter conversations, with or without brand mentions. Apart from monitoring hashtags or keywords, it also lets you monitor social interactions with contacts already in your database.
It also allows you to build full-blown marketing campaigns, schedule posts for future dates, and effectively share content across different platforms all at once. With its insights on engagement, you discover the best times to post as well.
Bottom line
Any social media marketing campaign's success comes from the perfect combination of a winning strategy and an intelligent social media marketing platform. Seamless integration across workflow management systems and other organizational software will further help achieve smooth operations.
Sell more, understand your customers' journey for free!
Sales and Marketing teams spend millions of dollars to bring visitors to your website. But do you track your customer's journey? Do you know who buys and why?
Around 8% of your website traffic will sign up on your lead forms. What happens to the other 92% of your traffic? Can you identify your visiting accounts? Can you engage and retarget your qualified visitors even if they are not identified?