Best Lead Generation Specialists and Agencies of 2021
Lead generation can be a difficult and challenging process. According to a report from Hubspot, 61% of marketers consider generating traffic and leads to be their biggest challenge.
The truth is that the B2B sales funnel is changing. With direct access to Google and various social media platforms, B2B Customers are in more control of the buying journey. This means that companies that don't align effective lead generation efforts with the complex B2B buying journey will continue to struggle to acquire qualified leads. As such, many businesses choose to hire a lead generation specialist or expert to boost customer acquisition.
How a lead generation agency or specialist can help
A lead generation agency or specialist makes the lead generation process easier and more effective. However, this unfolds into so many benefits. Here are two ways they can help generate more customers for your business.
Generate qualified leads: a lead generation agency doesn't just fetch a bunch of emails of cold leads. Instead, they work on capturing good quality leads, fetch customer data, and qualify leads. The best lead generation companies focus on maintaining a steady pipeline of leads, implementing lead tracking systems, and improving your overall lead generation strategy.
Provide a clear picture of your ideal customer persona: If your team is having a hard time figuring out the ideal prospects to target, a lead generation agency can fetch customer data that they can use to gain a better idea of your ideal customer persona. As a result, you'll be able to identify the motivations, needs, challenges, and buying patterns of your best customers.
Differences in hiring an agency vs individual experts
Before you decide on moving forward with lead generation, it'll be helpful to know how hiring an agency is different from hiring a lead generation expert. Here are two differences: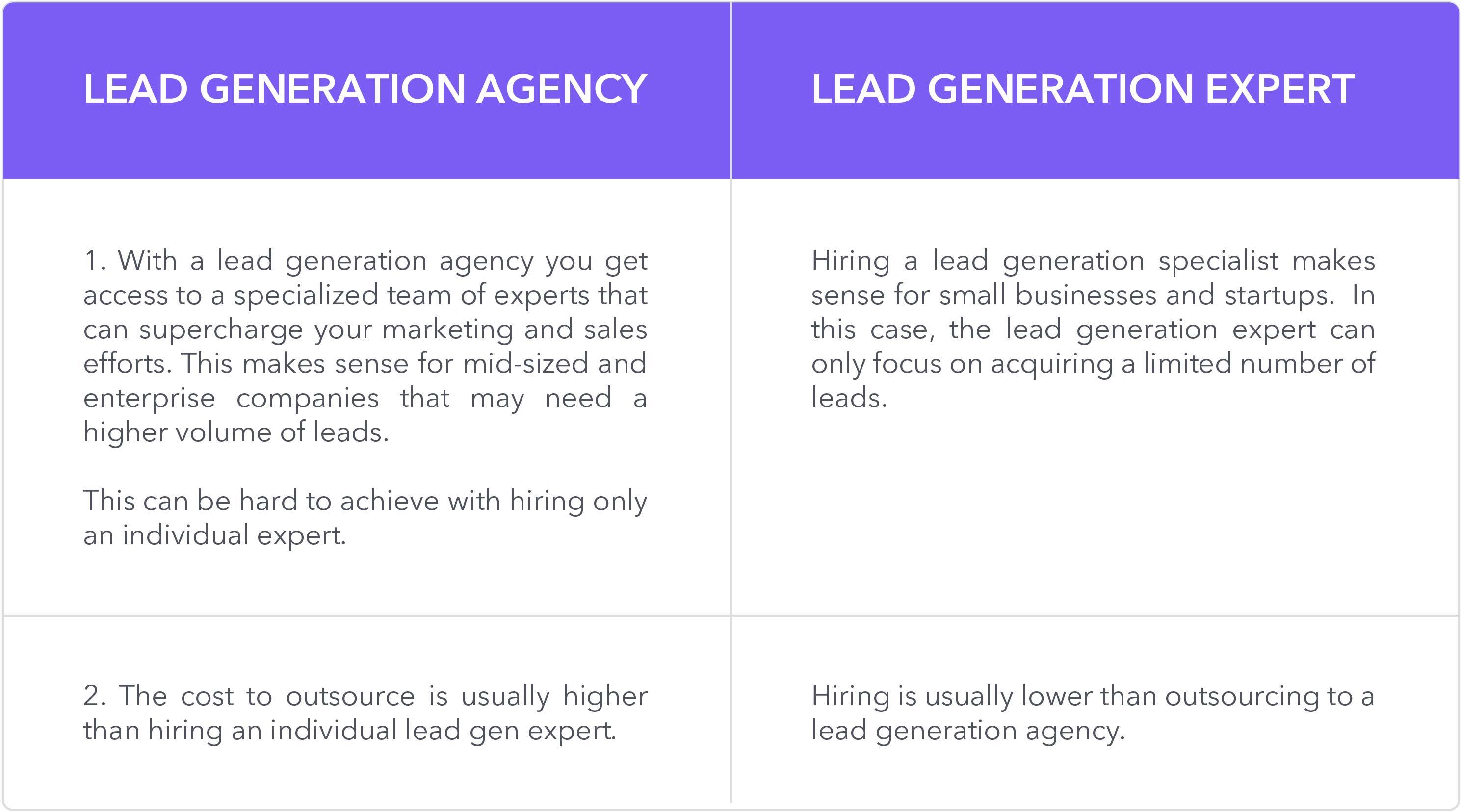 As you can see, you need to understand the differences between a lead generation agency and an individual expert to know the right one that'll fit your business needs.
Top 5 agencies lead generation
Before we get to the top 5 lead generation companies, you should know that every company has a unique way on how they acquire leads. So you should choose an agency based on how you want your leads delivered. Here's the list of the top 5 lead generation agencies.
CloudTask
CloudTask is a B2B lead generation company that's designed to drive qualified leads through teams of sales development professionals. CloudTask provides complete transparency through live and accurate reports. They focus on providing high-value prospects through an experienced sales management structure and technology. They also have lead generation offices in the UK, the Philippines as well as London, and Miami.
CIENCE technologies
CIENCE uses a combination of advanced tools and a dedicated team of sales experts, specialists to provide and nurture leads for businesses. Science provides the option to customize your plans based on your organization's needs.
Callbox
The great thing about Callbox is that they offer a full-fledged lead generation service to B2B companies across several industries including healthcare, IT, finance, software products, marketing, advertising, and more. By leveraging different multi-touch channels like social, email, voice, website, Callbox finds prospects, qualifies them, giving your sales team the needed confidence to close a deal.
Martal group
Martal group leverages account-based marketing, outbound, and inbound lead generation to target and reach the right prospects at the right company. They do this by integrating with advanced data intelligence and applying the knowledge of top sales executives to create a targeted list based on your ideal customer persona.
Salesroads
Salesroads helps B2B companies unlock their unique value and sales potential. Their lead generation services focus on a rigorous campaign build-out process that involves a survey and appointment settings. The team at Salesroads prides itself in curating only high-quality leads so you can expect to get the best prospects and a higher chance of closing deals.
Top 5 specialists lead generation
Below you'd find the top five B2B lead generation experts that are crushing it and helping businesses grow.
Neil Patel
Neil Patel is a New York Times bestselling author and co-founder of Neil Patel digital. Neil's entire digital marketing career is focused on helping businesses grow and acquire more customers. He regularly shares actionable marketing and lead generation practices on his blog. You can find more information about him here.
Aseem Badshah
Aseem Badshah is the founder and CEO of Docebo, a demand generation platform that helps marketers target, engage and qualify leads through social media marketing. You can find more information about him here.
Sujan Patel
Sujan Patel is the co-founder of Webprofits and Mailshake. He has spent over 14 years as a marketer and entrepreneur, helping companies drive traffic and generate qualified leads. You can find more information about him here.
Chris Hexton
Chris Hexton is the CEO and co-founder of Vero, an email marketing platform that helps businesses create customer-centric messages across email and other channels. You can find more information about him here.
Rand Fishkin
Rand Fishkin is the co-founder at Moz and one of the top SEO experts. He focuses on sharing marketing and tech advice on the Sparktoro website.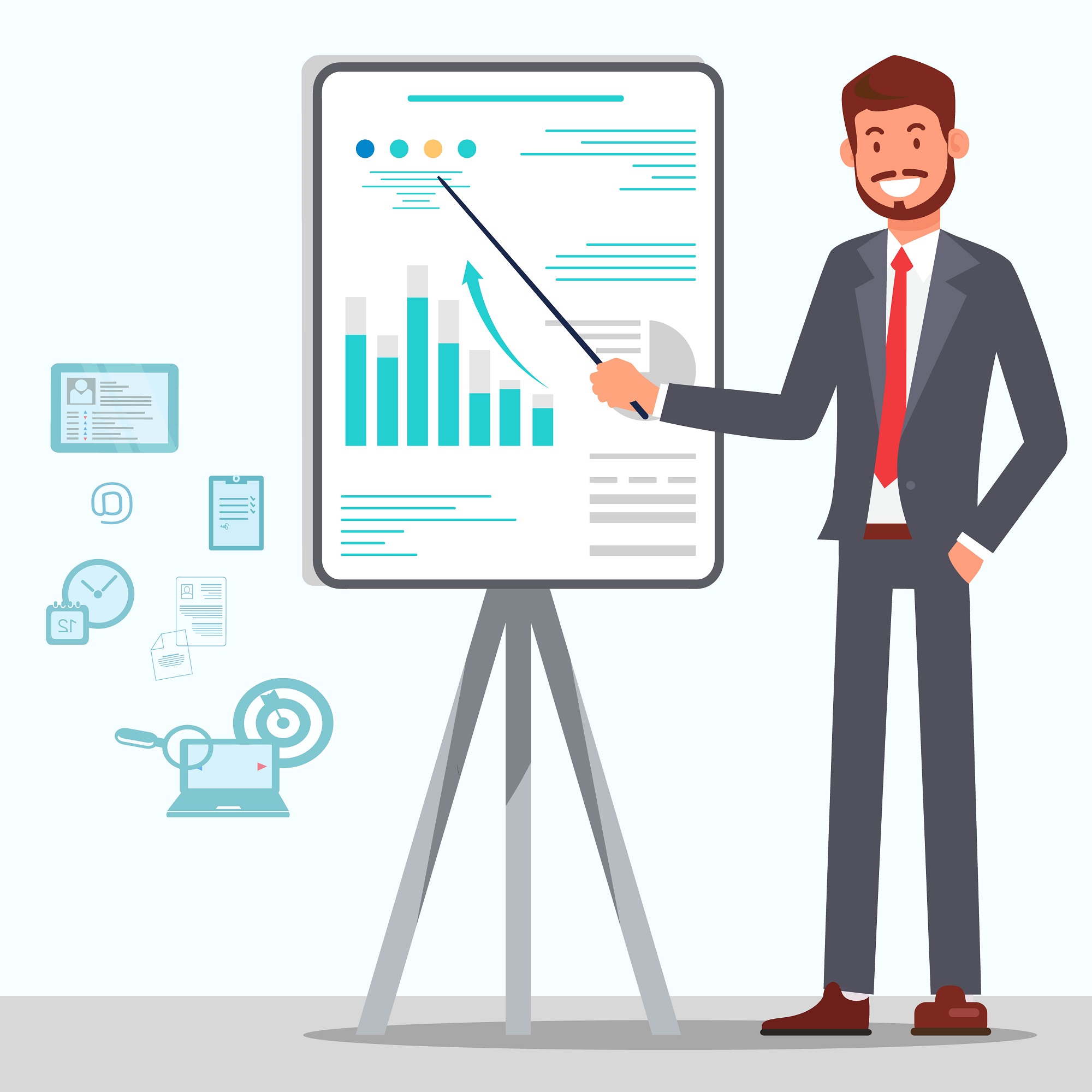 Conclusion
While there are countless lead generation companies in the market, you must choose an agency based on your organization's needs and goals. Remember to evaluate their lead generation methodology to ensure you're provided the most qualified leads for your business.
You might also want to check out the best free and paid lead generation tools from here.
Sell more, understand your customers' journey for free!
Sales and Marketing teams spend millions of dollars to bring visitors to your website. But do you track your customer's journey? Do you know who buys and why?
Around 8% of your website traffic will sign up on your lead forms. What happens to the other 92% of your traffic? Can you identify your visiting accounts? Can you engage and retarget your qualified visitors even if they are not identified?