B2B Lead Generation Strategies and Tools for 2021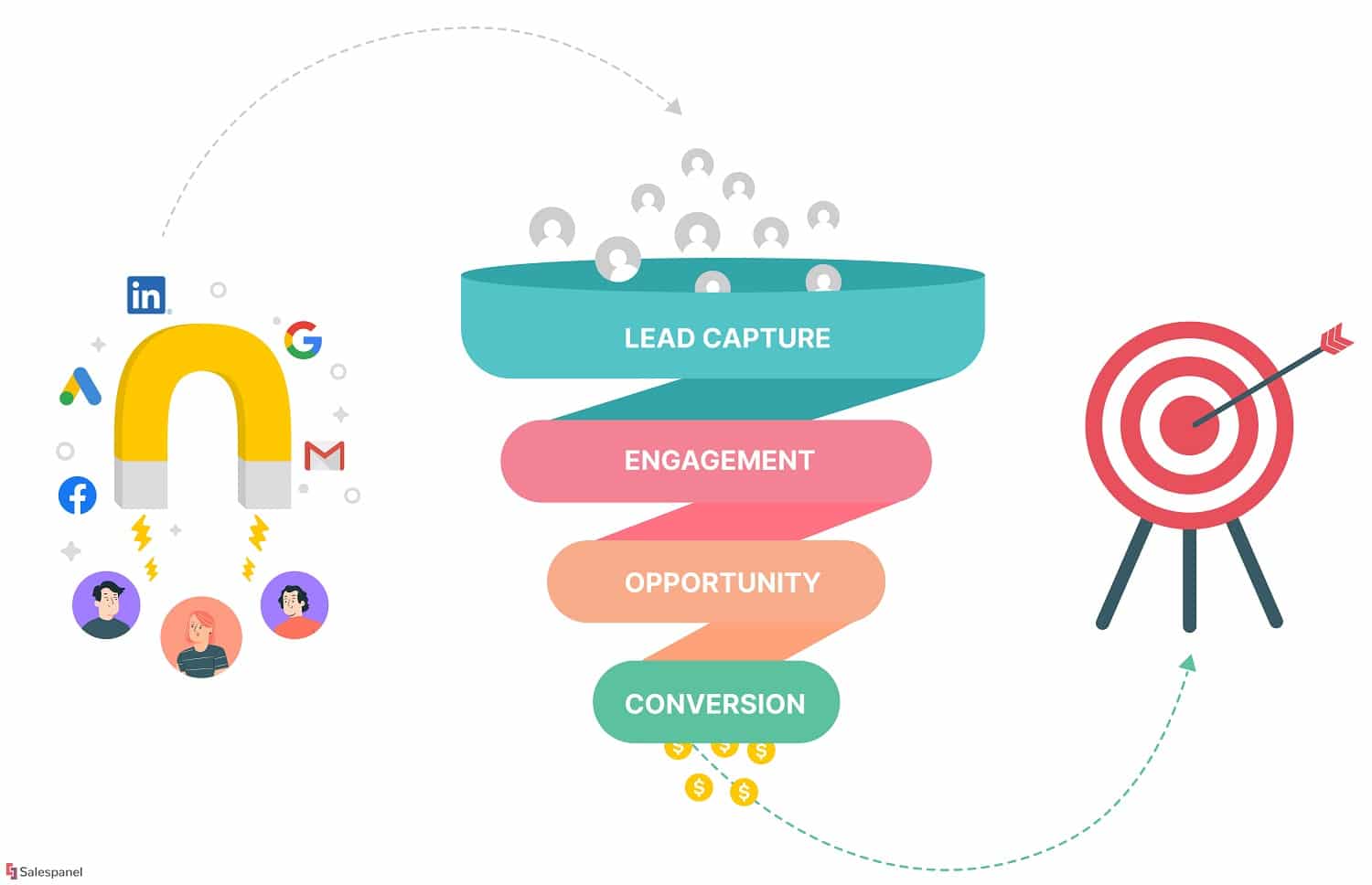 All businesses, irrespective of the industry and irrespective of whether it is B2B or B2C, strive for one thing and one thing only – generate more sales and increase revenue.
Breaking down a business, the goal of all teams collectively is of course to increase revenue. But the most pivotal point to that journey of sales is lead generation.
Lead generation is easy. What is not easy is generating quality leads that are actually relevant for your business.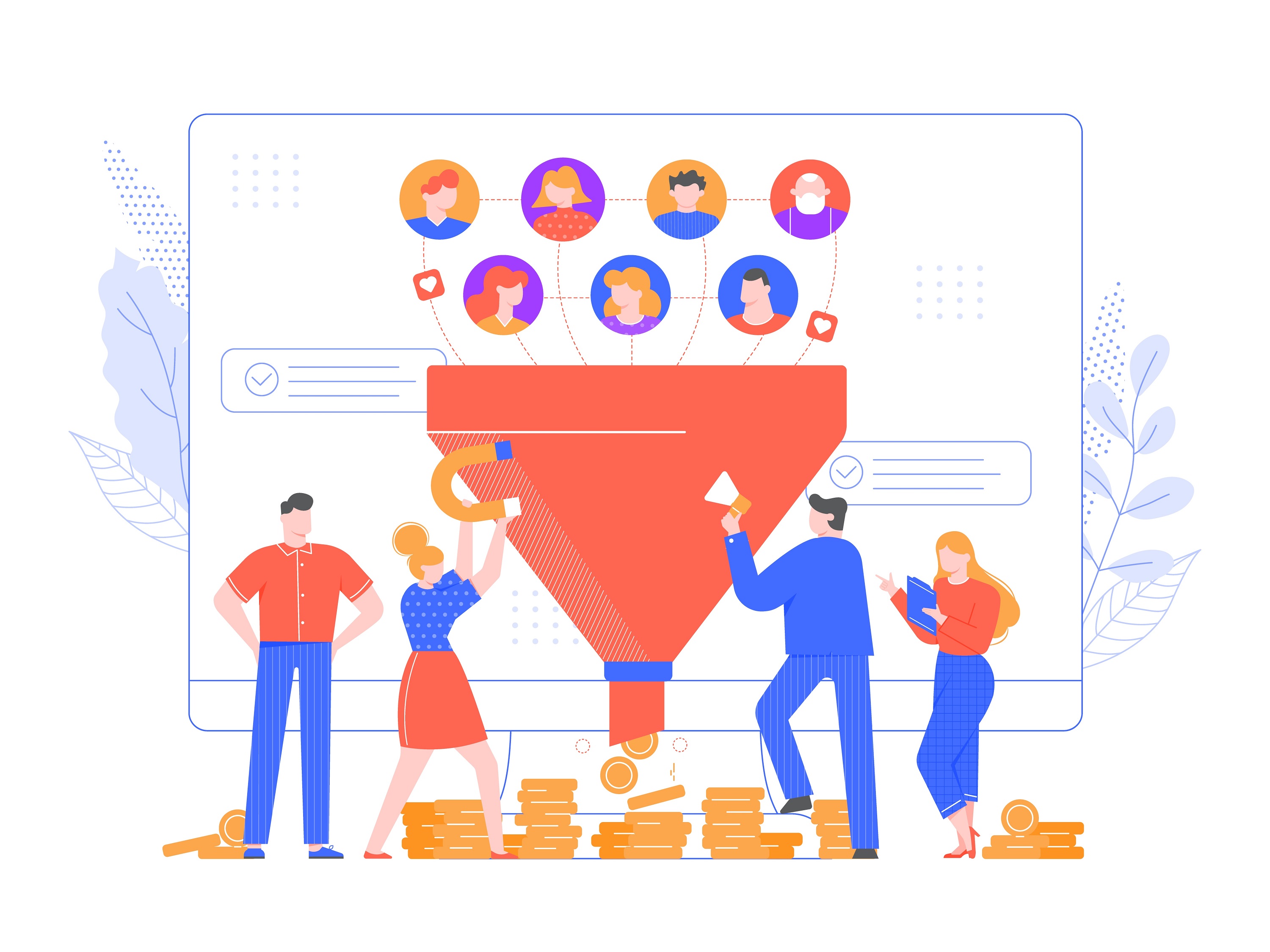 What is Lead Generation?
A lead is a person/business who has shown interest in your product or services. A lead, depending on your strategy, might also be a person/business who you think might be interested in your company.
Lead generation is the process of generating these 'leads' using various modes of communication and engagement.
In B2C, businesses reach out to consumers and in B2B businesses reach out to other businesses and decision-makers purchasing for the business.
The Herculean task of B2B lead generation
Lead generation is one of the most difficult aspects of running a business, more so in the B2B industry. It is merely the first significant step in the journey of a customer while they enter the sales funnel.
In simple terms, it is the process of identifying ideal customers or clients for a business and inducing them to make a purchase. And it involves collecting information from people that seem like a possible customer and then using the info to engage them and turn them into potential customers.
As we mentioned at the start of the article, the difficult part comes in generating qualified leads that are relevant for your business.
This is why you need properly planned lead generation strategies and tools to stay in the game, lest your competitors walk away with all the good stuff.
Especially in this day and age, where clients or customers are more aware of what they need and are warier of marketing gimmicks, it is important to use smart and transparent ways of lead generation.
In this article, we cover the latest start of the art techniques going forward, in 2021. While the fundamentals have stayed the same, the process is constantly evolving and the competition is only going to get fiercer.
Here are 10 effective strategies you can use.
10 effective B2B lead generation strategies for 2021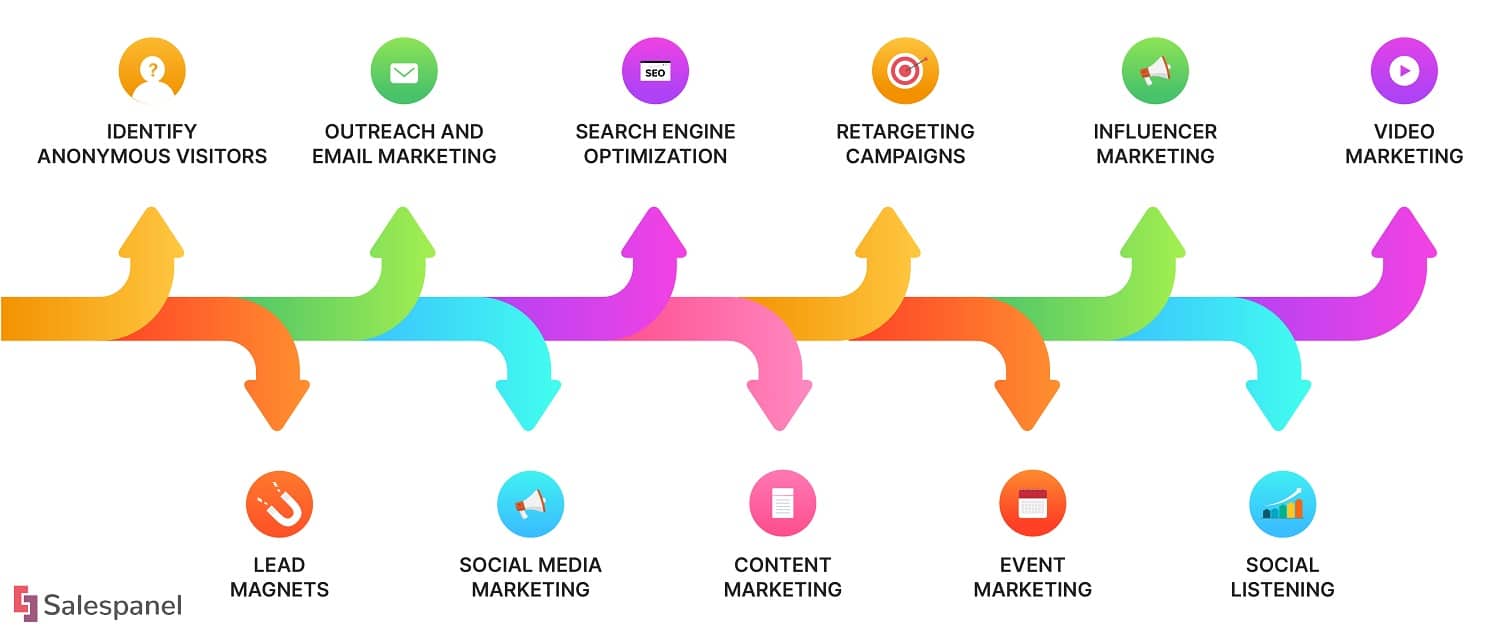 Identifying companies who visit your website anonymously
Throughout the list, we will be mentioning several strategies that can help you get visitors to your website. But, not all these visitors will provide their sign up information. In fact, over 90% of your visitors won't provide you their information.
For B2B businesses, identifying companies who visit your website using a tool like Salespanel can help you increase the number of leads you generate from the rest of the methods mentioned in this article and increase your overall ROI significantly.
Lead magnets
Lead magnets are a vital source of leads in B2B and they are always going to stay relevant. Here's why.
A lead magnet acts as a sample of the value you promise to provide through your product or service. It gives users free information or value, which induces customers to provide their information to obtain the information. It also shows your expertise and knowledge in the subject, which establishes credibility and trust. And, you are giving your leads something valuable and it is valuable enough for them to trust you with their contact information.
When a lead is generated from lead magnets, they are already familiar with your business and they have decided to trust you. This gives you a head start as you start with warm leads.
Evidently, a lead magnet is a powerful way to connect with customers and obtain contact information.
A few widely used and successful lead magnets include eBooks, White papers, Webinars, and video content. You provide your leads value and they provide you value in return. Everybody wins!
Outreach and Email marketing
Email marketing is still one of the most effective and sure shot ways to generate leads. Statistics suggest that 59% of marketers find email to be their most effective channel for maximizing revenue.
More than 205 Billion emails are sent and received on a daily basis and above 80% of users check their emails every day. This means you have a high chance of being seen and a big window for you to influence their decision.
While your customers wouldn't be very fond of generic cold emails or cold calls going into 2021, outbound marketing is still as huge as it was. And, businesses have actually started to use data to use outbound properly without being intrusive. If you have what a lead needs, they would always be receptive to you.
Email marketing plays a crucial role in both lead generation and lead nurturing. You can gather customer info, analyze behavior with customer relationship software, and send powerful personalized emails to influence customers. You can also send cold emails to prospective clients without spamming them and with the right kind of pitch.
It is the age of social media. It goes without saying how powerful social media is when it comes to influencing people. More than half of the world currently uses social media with an average person spending up to 3 hours a day on social networks. Almost 54% of customers use social media to learn about products and services as well. And these numbers are further expected to increase over the coming months.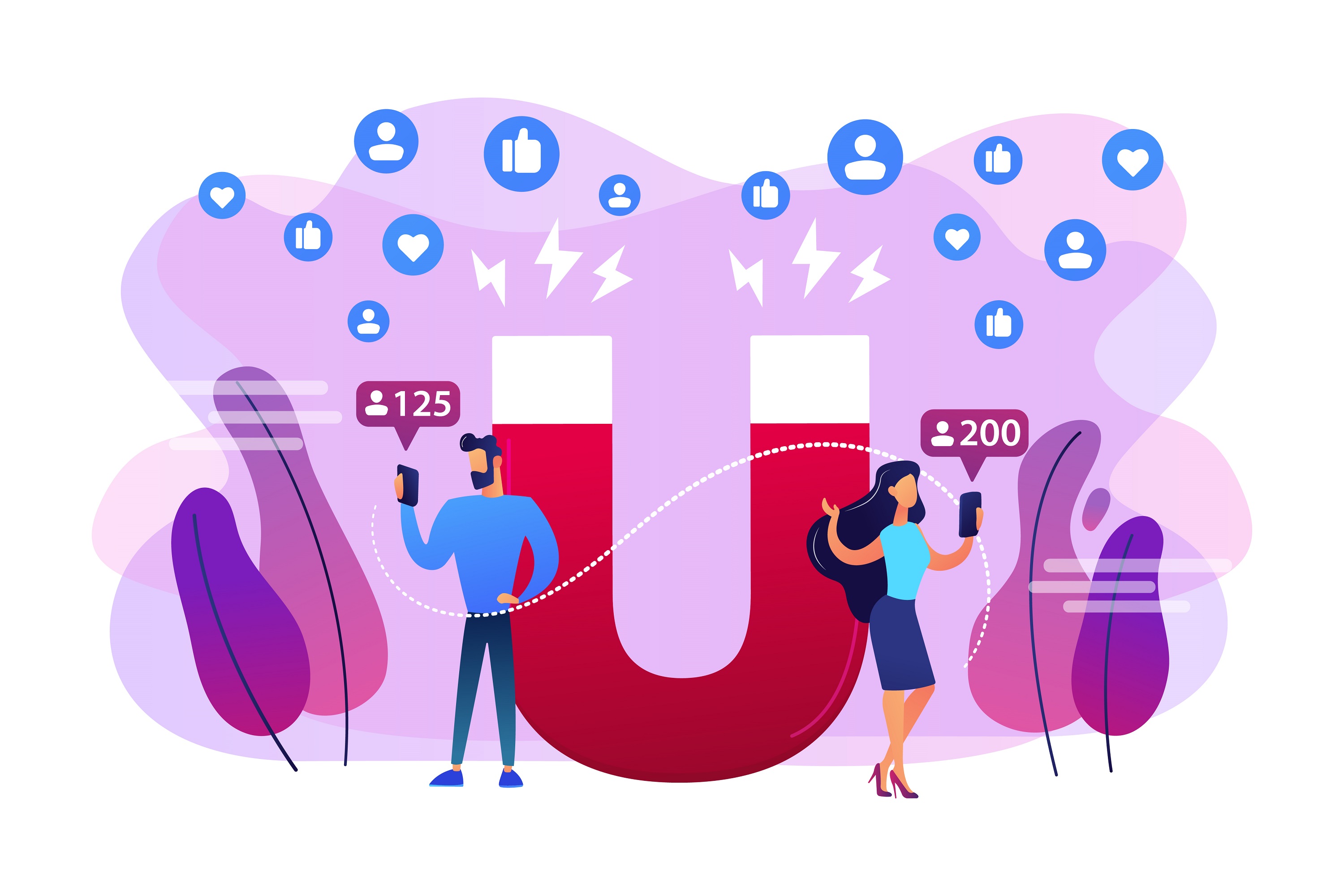 Clearly, social media is the place where your leads spend the most time. Hence it only makes sense to target your marketing efforts on the channels where you can find them.
For B2B businesses, LinkedIn has been found to be the most effective, with more than 660 million users around the world. Other than that Facebook, Instagram, and Twitter are also widely used. Facebook Live, Instagram stories, hashtags, and DMs are some of the most used social media features by business companies.
Connecting to B2B leads on social media is a bit difficult as sites like Facebook do not have the necessary B2B information like LinkedIn (which is expensive!). There is, however, a way to run B2B advertising on Facebook.
Search Engine Optimization (SEO)
Coming to this question again… Wouldn't it be great if you were a CRM software and your product showed up to people who search for CRMs?
This time, instead of spending money for each visit, you create a strong website profile with good authority that makes Google rank your webpages for the keywords you target.
It is not necessary to generate traffic to sales keywords. You can create 'top of the funnel' content that is read by your target customers and show up for them. For example, if you are a company that provides services to salespeople, you can write content on sales productivity, sales tools, etc. Search engines will also rank you for related keywords.
Content marketing
Content marketing is a crucial strategy for most companies who generate leads digitally. In fact, it is the third most used lead generation strategy in B2B after email marketing and event marketing (we will get to it shortly). And almost 83% of B2B marketers make use of content marketing.
It primarily focuses on creating valuable content and disseminating the content through different means. It helps in attracting customer attention with powerful headlines, retain customers with information and value, grow brand awareness, and increase followers on social media.
It can be done in any form including blogs, videos, pictures, infographics as well as audio, Each of these types can be shared using relevant social media channels as well. Properly written valuable content is known to work like magic. The trick is to come up with creative, useful and unique content for 2021.
Content marketing is not only valuable to get readers to your site, it also gets you traffic using the previously mentioned strategy: SEO. Content goes a long way and is the most valuable method to generate inbound B2B traffic for companies practicing digital marketing.
Content marketing can also be used to generate subscribers for your newsletters which in turn will work to help you generate leads for your product/service.
Retargeting campaigns
Retargeting is a very persuasive and amazing way to generate leads. Apparently, around 98% of your website visitors are not likely to convert right away. Retargeting ads help bring back their interest in your product and can make them provide you their contact information.
With a proper B2B retargeting strategy, you can show your ads only to visitors who are of good quality and engage them with highly targeted content.
Event Marketing
Before the pandemic hit and turned everyone's life upside down, Events were a great way to make partnerships, learn valuable information from peers, discover new products, and of course, generate leads for your own product.
Events and expositions bring businesses from the same industry together. So a Marketing expo would have marketers, an Entrepreneur expo would have founders, and a Sales expo would have salespeople. While expos can make a little dent on the pocket and can be a hassle, they are worth it for the sheer value they bring to you. A good idea would be to find out if your competitors are going to expos. If they are, they might be getting away with the good leads!
While the pandemic has greatly damaged this opportunity, people have turned to online video conferences to achieve the same results. While they don't work as well as in-person events, the positive news coming around means we can again start to look forward to in-person expos from 2021 and beyond.
During interviews, our customers PourMyBeer and Container xChange, both of whom are in different industries but heavily focus on event marketing have claimed that in-person events are highly valuable for their company.
Influencer marketing
Influencers are people, groups, or publications that have a strong influence over specific target markets. It works on the sole psychological factor of trust and yes it works amazingly well for B2B. A recent survey conducted on customers revealed that almost 65% of them trust influencers over what a brand says about itself. Furthermore, according to the numbers every dollar spent on influencer marketing resulted in a return of $5.20 in terms of media value.
Reaching out to the most popular publications and creators in your industry and partnering with them is without a doubt, bound to generate leads.
Social listening is a comparatively new but extremely relevant concept that immensely helps generate leads. It is essentially the process of analyzing relevant social media networks, and gaining insights on customer behavior as well as industry and competitor insights to identify market gaps, keep track of community conversations surrounding your product and be proactive in your social media game. It allows you to be more creative and agile with social media marketing and creates opportunities to help customers, produce new content, and gain more followers. In terms of competitors, it gives you useful information like what content of theirs gets more traction, what features of their product are not liked by customers, what features are customers looking for, etc. In a nutshell, it gives you the inside knowledge to take appropriate action and reap more leads.
If this is something that interests you, you can learn more on the topics from here.
Video marketing
Video marketing refers to the usage of videos to promote products and services. As much as 70% of B2B marketers swear by this technique and they say it is more effective than any other type of content when it comes to lead generation.
Videos can be integrated into your website and also be published separately on channels like YouTube. Properly researched and created video content covering tutorials, how-to guides, customer testimonials, corporate training, etc. can all be leveraged to generate tons of marketing and even sales-qualified leads.
Best lead generation tools for 2021
Here are some of the best lead generation tools that you can use to augment B2B lead generation in 2021.
These tools are a collection of marketing tools, email marketing software, form builders, CRM tools, and landing pages that work in different ways to help you generate more leads. These tools work best when used in the above-mentioned lead generation strategies.
Call us biased but we have to start the list with our own tool. Salespanel is a lead generation and marketing enablement platform that helps you identify, track, and qualify leads. Remember when we mentioned that the problem was generating relevant and qualified leads? Salespanel not only helps you generate leads by identifying visitors but also helps you qualify every single visitor on your website and turn qualified visitors into customers. Salespanel helps in both marketing qualification and sales qualification process and provides you a strong utility for sales and marketing automation.
Hunter is an all-in-one product for B2B lead generation and cold outreach automation. With its tools you can find the email of your prospects in plenty of different ways: you can get a list of all people working in the specific company using Domain Search, find contact information of a single professional with Email Finder, or even found an email of the article author just by having the article URL with Author Finder. Besides that, Hunter offers a tool for email verification and absolutely free product for cold outreach automation. Hunter is used now by 2M+ professionals including such companies as Google, IBM, and Microsoft.
OptinMonster offers a comprehensive email marketing and lead generation tool that lets you convert visitors into subscribers and in turn leads. It comes with a drag and drop builder with which you can create attractive pop-ups for customers to sign up, along with other lead generation forms. It also provides 50+ free templates, which you can use in your targeted campaigns.
While it does not help you get new leads, it helps you capture leads using powerful forms and pop-ups. Combine OptinMonster with the Lead Magnet strategy and watch the leads flow.
MailChimp or any email marketing software of your choice helps you engage your audience that you acquire using Content Marketing and turn them into leads for your product. MailChimp is one of the most popular email marketing and automation platform and comes with extensive training in the form of webinars and online classes that make sure you put the tool to the best use and generate maximum leads.
Hubspot Marketing Hub is a one-stop growth platform as it offers various types of marketing solutions. It comes with a CRM to nurture leads, a sales hub that helps automate redundant sales tasks, a service hub that offers effective customer service tools to help you connect with customers, and also a holistic marketing hub that provides analytics, landing page templates, and many more to help convert visitors into leads.
Leadformly is a form builder tool that allows you to create winning forms that are proven to convert more leads. It helps you create more targeted and guaranteed-to-convert forms with details taken care of. It also offers a wide range of tried and tested form templates that are already optimized to generate more leads along with insightful analytics on how the forms are performing. It can be embedded in your website with an embed code.
You cannot convert your visitors into leads, if you do not have effective landing pages with proper call to actions (CTAs). While many websites create their own landing pages, having landing pages created quickly is a tough job because developers need to be involved. This is where landing page tools come in. Not only do they provide you a solution to quickly publish landing pages and host them on your website but also help you build effective lead generation funnels.
Unbounce is a tool that allows you to create customized and dedicated landing pages for your website without complicated coding. And landing pages are a proven effective technique to capture more leads. Almost 68% of B2B marketers use strategic landing pages to acquire leads.
Hootsuite is a CRM and social media management solution that offers tools for social listening, automated post scheduling, analytics, and everything you need to provide prompt customer service on social media and engage with your leads.
If you use Social Media Marketing or Social Listening strategy, Hootsuite is something you should check out.
The battle is not won yet
Let us call back again to the point we made at the very beginning. Generating qualified leads is hard. To qualify leads, sales and marketing teams break down the process into two stages: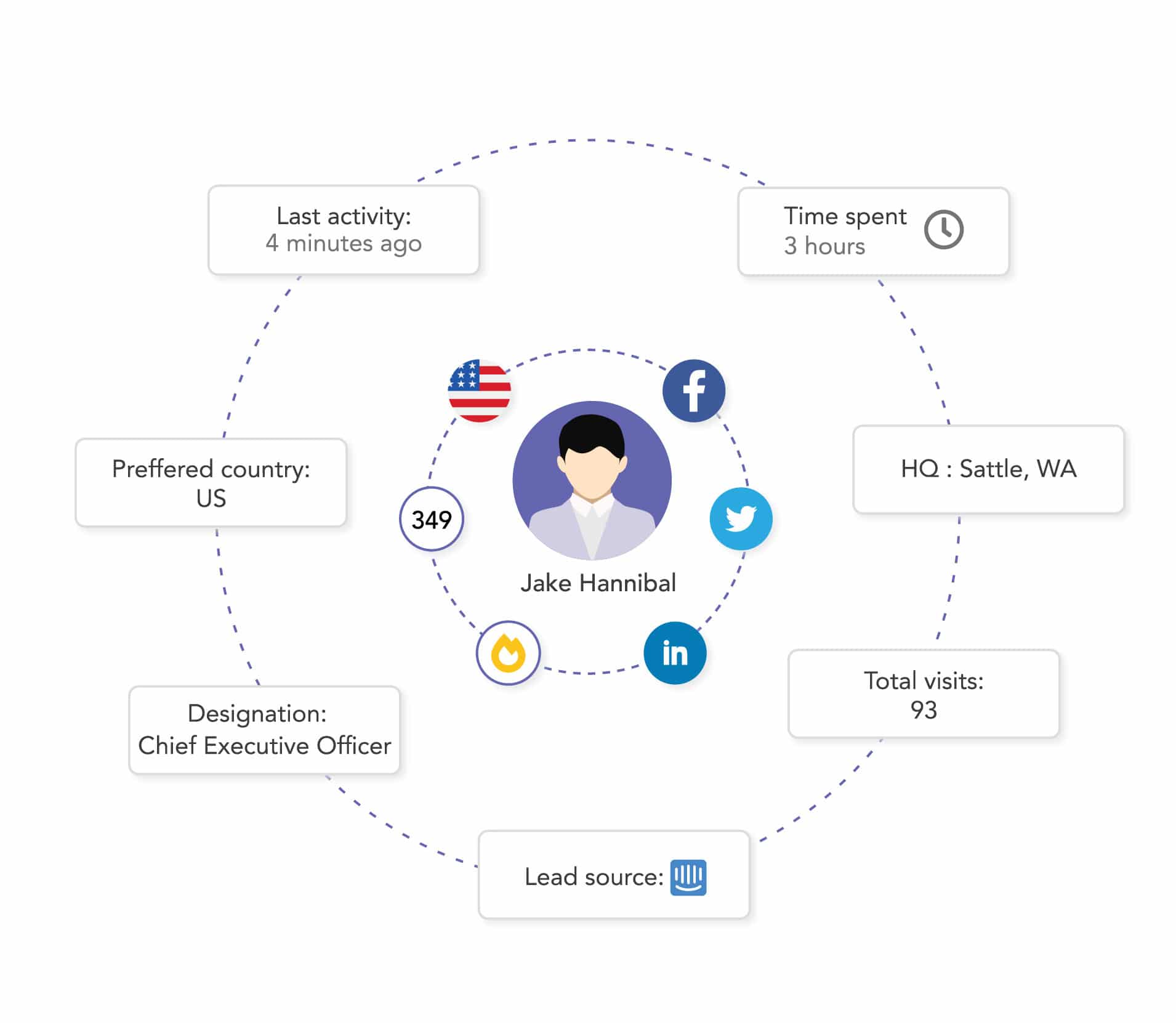 Marketing Qualified Leads (MQLs)
Marketing Qualified Leads are the ones who match your customer profile and/or have shown some kind of interest in your product or service. For example, they may be someone from a target industry who has visited your pricing page and filled up a form after that.
Sales Qualified Leads (SQLs)
Sales Qualified Leads are the ones that have progressed from being marketing qualified and are ready to interact with your sales team. They are pretty much on the verge of making a purchase and have shown intent to do so. Sales qualified leads are determined by the sales team after they do their discovery call.
We have talked about lead qualification and techniques in several articles on our website. You can start reading from here.
Conclusion
It is always a combination of several winning lead generation tools used with a clear and properly planned lead generation strategy that works effectively for businesses. The right solution and the right strategy should be decided after conducting due research, establishing goals, and carefully examining the requirements of your unique business model.
Sell more, understand your customers' journey for free!
Sales and Marketing teams spend millions of dollars to bring visitors to your website. But do you track your customer's journey? Do you know who buys and why?
Around 8% of your website traffic will sign up on your lead forms. What happens to the other 92% of your traffic? Can you identify your visiting accounts? Can you engage and retarget your qualified visitors even if they are not identified?