What is a Drip Marketing Campaign? Complete Guide to Email Drip Campaigns
It is an established fact that email marketing is one of the most effective ways to build strong relationships with customers and keep them updated with good offers and deals on your website. Naturally, by all means, you must invest in email marketing to grab customer attention and engage them.
However, newsletters are often not specifically catered to the different types of subscribers you may have, like new subscribers or subscribers looking to purchase on a budget, or subscribers who are there just for the information, etc. Newsletters form part of a company's regular email marketing efforts, where generic emails announcing developments, good deals, and offers are sent out occasionally to customers. Some customers love a good offer, and hence, with an attractively designed email, you can get them to click through to your website.
However, some customers may have specific needs, regardless of your good deals, which is why your regular newsletter may not be enough for them. This is especially the case if you have a trial period.
This is where an email drip marketing campaign finds its relevance.
What is a drip marketing campaign?
Drip marketing is a communication strategy that sends, or "drips," a pre-written set of messages to customers or prospects over time. Variations of drip campaigns go by names like lifecycle emails, autoresponders, automated campaigns, and email marketing automation. Each serves a specific purpose.
By definition, a drip marketing campaign involves a series of automated messages sent out to customers at specific times, according to the recipient's actions/characteristics. It essentially helps reach out to your customers with targeted content, grab their attention, and possibly influence their thought process to make decisions related to your products/services.
The name "drip campaign" draws on the concept of nurturing and taking care of produce. In the case of business, it takes care of leads or prospects in a systematic and effective way by sending them relevant info, gradually establishing a strong relationship with them, and ultimately driving them towards making a purchase. Drip campaigns are popular in almost all industries dealing with digital sales, like SaaS, real-estate, e-commerce, etc.
Think about fine Tennessee Whiskey being charcoal mellowed in oak barrels where "drips" are created for the natural flavors of the wood and the charcoal to seep in gradually. The end result is the finest smoothest American whiskey – Jack Daniel.
In the same way, email drip campaigns are meant to gradually create a loyal and valuable customer.
Why should you use email drips?
Reports suggest that email drip marketing campaigns implemented based on properly segmented groups can drive up to 18 times more revenue for businesses. Aside from that, prospects or customers nurtured through effective drip campaigns over time have been found to make almost 47% larger purchases.
Clearly, email drips are powerful ways to increase sales and revenue. It makes customers feel valued and cared for and it also directly connects to customer requirements.
According to a recent study, 59% of respondents said that emails influence their purchase decisions. And, as much as 80% of entrepreneurs believe that consistent email marketing increases customer retention.
These numbers speak for themselves.
Rest assured, you will be missing out on invaluable opportunities to grow your customer base and create meaningful relationships on a scale if you don't use email drips.
Types of drip campaigns for B2B
In the B2B industry, there are a number of ways in which you can implement a drip email campaign. Each campaign is initiated on certain actions from the part of the lead, and with the help of an efficient email automation platform like Mailchimp or ConvertKit, you can set or define each trigger and action, along with the emails to be sent out for each.
Here are 5 types of drip campaigns you can use in B2B:
Welcome emails
Welcome campaigns are one of the most widely used email drip campaigns in both B2B and B2C. What it does is, it triggers a series of emails the moment a prospective client signs up from your website or subscribes to your newsletter. The emails will include information about your company and will attempt to provide resources and explain through the course of time.
Welcome emails should ideally inform clients about the kind of value they will be receiving from your company. It initiates the start of a relationship nurturing through a series of emails, in the course of which you will develop your connection with the lead/client. For SaaS businesses, welcome emails serve as a medium to convince users to purchase through the course of the product trial.
The numbers too tell the same story. Studies have shown that welcome emails hold immense potential with 82% open rates when compared to the average open rate of 21% for regular emails.
Ascension emails
Ascension email campaigns are meant to induce a purchase or drive a client to the point of making a purchase by giving them a relevant offer. The series is often triggered when a client is product-qualified or when they would benefit from an upsell. These emails will contain attractive offers and incentives for the customer to think further about making the purchase. The idea is to push the client into acting on his decision to make the purchase, which is already on his mind. Something is likely holding him back, and ascension emails are meant for them to overcome objections and make the purchase.
An important thing to remember with ascension emails is that the offers must be relevant to the client with respect to his individual journey. And what's relevant can be determined with the help of behavioral analytics in B2B on any scale.
Engagement emails
Engagement emails, as the name suggests, are meant to keep the lead warm and nurtured. They are also meant to keep your prospects active with your company in many ways. The series is often triggered when a lead clicks through to your website and engages in some way, but does not complete the sales funnel. For example, a client may click and download a resource from your website, like a whitepaper or a case study, but does not engage in a sales conversation. Or, the person is a low touch / self-serve lead or customer.
Engagement emails will thus provide crucial information to clients and help them take decisions. It will acknowledge their engagement and further provide steps to consider, ultimately driving them through the sales funnel
Segmentation emails
Segmentation emails, rather than being initiated on trigger, are based on categorized groups of clients. Your marketing automation system will likely help you segment your customers on the basis of different criteria, such as areas of interest, demographics, location, etc. Then a segmentation email drip campaign can be set up to send a series of emails to each group with relevant CTAs. For example, promoting a workshop or a seminar with the call to action of signing up, for a group of clients in a certain location, triggers a segmentation email campaign.
On Salespanel, we help users segment their audience based on several individual, firmographic and behavioral characteristics. This helps users run highly targeted data-driven drip campaigns on any scale automatically.
Here are some example scenarios:
Trigger drip campaigns based on customer profile. Your welcome campaign for small companies should not be the same as the campaign you send to enterprises.
Trigger drip campaigns based on lead interest. Are they interested in a particular product/service/feature?
Trigger drip emails based on activities.
Re-engagement or product upsell campaigns
Re-engagement campaigns are mainly meant for inactive clients who have not been opening your emails or engaging with your website. It will include attractive incentives and eye-catching graphics meant to encourage the client to get active once again. It should give your clients a reason to engage with you.
Product upsell campaigns, which are similar to re-engagement campaigns will include new features and upgrade details of a revamped product or service. These features will be carefully crafted to resonate with the customer, and thereby will encourage some kind of action from the buyer. For product qualified leads, upsell campaigns might also be triggered if the user is close to finishing the account quota.
Examples of drip campaigns
Here are a few examples of some powerful drip campaigns executed effectively by major players in the market.
Netflix's re-subscription campaign
Netflix, the hugely popular entertainment platform, sees a churn rate of around 2-3% with many customers leaving. Now, this is something that is very normal in any industry. Customers may leave or churn, for multiple reasons, including loss of interest or finding a better product, or just loss of engagement.
In such cases, a re-engagement or win-back campaign is the best way to go, and that is exactly what Netflix did.
They came up with a fantastic campaign where the first triggered email was sent out confirming the cancellation, along with a boldly colored button to "restart membership".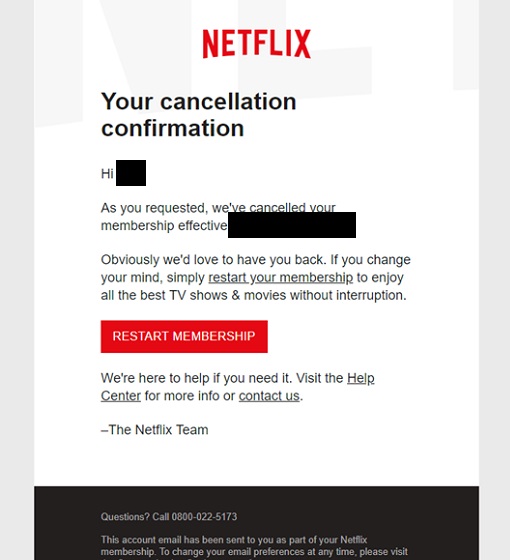 On top of that, Netflix sent out a series of emails over the course of the next few weeks with a list of top shows and movies, including the customer's personal favorites to show what the customer was missing out on. Strategically crafted emails showing newly added shows and the customer's top picks from historical data would serve as a powerful win-back incentive.
After a series of such emails, Netflix sent out a more targeted email to induce action and finally re-subscription.
Drift's welcome email campaign
Welcome drip campaigns as mentioned before, are meant to start a series of lead nurturing emails, keep the customer warm and engaged and at some point induce action from them.
Drift sent out one such powerful welcome email, which consisted of a few strategic pieces of content.
A simple text message with no links or banners, welcoming them to the team and assuring them of not sending long boring emails.
A list of the popular reads on their website, with links and icons showing the number of views for each read. With these, the company was able to earn the trust of their customers and also induce action by urging them to read their blog posts.
In the same way, drip campaigns can be created to achieve specific goals for each company, whether it is to gain more subscribers, or win back lost customers, or induce a purchase, etc.
Send Drip Campaigns with MailChimp
MailChimp is one of the most popular email service providers in marketing. They offer a host of useful features along with ways to launch a successful email drip.
Here's how you can set up a Mailchimp drip campaign.
The first step is to log in with your account on MailChimp and provide answers to questions on what your goals are so that MailChimp can understand what you need to get done.
Next, go to "Automate" and choose the type of automation email you want. MailChimp offers a list of options along with explanations for you to choose from. For example, whether it is a Welcome email or a "Happy Birthday" email etc.
Next, you can either go for a custom campaign or choose one of the fantastic email templates offered MailChimp.
Name your campaign once you've decided, and go on to set the different criteria for your emails. For example, you can change the subject lines or the addresses, or the times when you want the emails to go. The more personalized and specific you make your emails, the better.
The next step is to start creating content for all of your emails in the drip campaign. MailChimp comes with an easy to use email editor with which you can add text, buttons, images, icons, social sharing buttons, and more. You can also format the content to suit your brand image.
Once you are done, you can proceed to creating the next email in your sequence by following the same steps. All you need to do is go to the main page and edit the campaign.
Send Drip campaign  with ConvertKit
ConvertKit is another user-friendly email automation tool that offers a unique visual automation feature to see how your drip will work. While MailChimp is good for beautiful newsletters, Convertkit actually specializes in drip campaigns and conversational marketing and is a fantastic choice to start your first campaign.
Here's what you need to do to set up a drip campaign with ConvertKit
As the first step in ConvertKit, you get to draw out a visual map of how your email drip is going to work. It lets you map out the flow and see the customer's journey throughout the campaign
Once you've mapped out the entire campaign, you can go to the first trigger email and start editing your automation. ConvertKit allows you to choose from three main triggers – an action, an event, or a condition. Once you define the trigger based on the criteria, you can proceed to the next step in the drip.
Define the next action, where you can set the system to send the first email. For example, on the trigger of a person hitting the subscribe button, a welcome email can be sent out.
Similarly, you can proceed to add more actions and steps in the sequence until you complete the campaign
At the end of the campaign, add a final action to either send customers into another drip campaign or segment the recipients, etc.
Triggering Automated Drip Sequences Based on Customer Data
Now that it is clear how and why you should trigger your campaigns, you will realize that drip campaigns are heavily dependent on data for precision. How would you know if a customer needs to be pushed for a plan upgrade? How would you know which lead is an enterprise customer? Would it work if you sent the same drip campaigns to self-service customers and Enterprise customers? How can you trigger these operations on scale?
With proper marketing automation, you can set up workflows to trigger your drip campaigns when leads have a characteristic or perform any actions. You can also segment your leads and send them different campaigns based on their profile. To know how you can do this with Salespanel, please check out this article.
Adding to that, Salespanel also tracks the activities of your leads from any email marketing software and this means every touchpoint of your customer cohesively comes together. You can know how customers are engaging with your drip campaigns and also understand if your drip emails are making them perform desired actions.
Conclusion
Email automation, as is evident, is fairly simple and easy to incorporate into your marketing plan, as long as you have the right idea. Considering the power that email drip marketing campaigns have, both in the B2B and B2C world, you are best off setting up automation tools to make the most of your marketing efforts. They effectively enhance the reach of your other marketing channels as well and allow you to grab customer attention. Drip marketing campaigns are one of the best ways to build trust and increase revenue, no matter what industry you are in.
Sell more, understand your customers' journey for free!
Sales and Marketing teams spend millions of dollars to bring visitors to your website. But do you track your customer's journey? Do you know who buys and why?
Around 8% of your website traffic will sign up on your lead forms. What happens to the other 92% of your traffic? Can you identify your visiting accounts? Can you engage and retarget your qualified visitors even if they are not identified?