Salesforce Lead Conversion Mapping for Qualified Leads
Lead generation is the number one priority for businesses today. Every business organization uses several lead-generation tactics to enrich its sales funnel with leads.
But unfortunately, most businesses stop at lead generation without determining whether the generated leads are qualified. As a result, less than 10% of leads turn into customers.
It is therefore crucial to map your lead's journey to find qualified leads in your sales pipeline. The definition of qualified leads can change depending on your business goals, targeted audience, etc. Theoretically, it looks easy to find the right lead in your sales pipeline according to your marketing campaign goals. But, when you have thousands of lead records in your CRM system, it is a mammoth task to find suitable leads and convert them.
But, if you use Salesforce CRM, custom field mapping can help you set up a qualification system to find the right leads to connect with your potential customers. Salesforce is one popular lead conversion mapping tool that lets you convert your leads into Accounts, Contacts, and Opportunities [ACO].
Salesforce users can use the custom fields in lead objects to transfer them into ACO objects after the lead is converted. But, to do so, users have first to define a mapping between them. And that's what we will learn to do today – Salesforce lead conversion mapping.
The Benefits of Salesforce Lead Conversion Mapping
Salesforce lead conversion is a process that converts a lead into Accounts, Contacts, and Opportunities. This happens when Salesforce recognizes a lead as a qualified sales prospect.
Salesforce automatically assigns leads to queues after importing them from your website or another tool.
A lead queue is the storage place for all unassigned leads. You can manually assign leads or use automatic assignment rules to add your leads to the right accounts.
Salesforce has more than 3000 assignment rules to make lead mapping and conversion easy for users.
Since qualified leads for every business are different, the standard ACO fields can't help all businesses find sales prospects. The tip is to use a custom lead field to map your lead's journey.
Using this can help you:
1. Optimize the process
Salesforce allows you to map your leads from start to end, which helps you optimize your lead conversion process. As a result, you can better track a lead's journey and create a roadmap to convert them faster.
2. Prevent lead leakage
You might have noticed that the number of leads entering your sales funnel is often higher than the number of actual sales.
Suppose you have generated 1,000 leads and only half of them (i.e., 500 leads) pass your lead scoring system. However, in the end, you might only be left with 50-75 sales.
Where did the remaining 900+ leads disappear?
They dropped out of your sales funnel due to poor communication, unsatisfactory customer experience, or something else.
To prevent this, you can use Salesforce lead conversion mapping to sort all of your leads. It will help you focus on the leads that are ready to drop out from your funnel and make efforts to prevent them from leaking.
3. Abstract leads from your web pages
According to Salesforce, you can capture up to 500 leads in a 24-hour period from your website. When you figure out which web pages generate more leads for your business, you can optimize them for qualified lead generation.
Here're a few ways to do that:
Add forms to the pages that receive maximum traffic.
Measure the performance of all of your lead generation assets such as your blog posts, newsletters, ebooks, etc.
Experiment with various calls-to-action (CTAs) on your homepage and other important web pages.
Offer free downloadable material like an ebook or a case study.
Use a live chat service on your website.
Personalize content to reach a targeted audience base.
4. Reduce costs
Lead conversion mapping can help you identify qualified and relevant lead accounts. It can cut down all the time and resources you would otherwise waste on irrelevant leads.
You can better allocate your resources to the ready-to-buy accounts. This can help boost your ROI and lead conversion rate.
How to Use Salesforce Lead Conversion Mapping
Salesforce custom field mapping can open doors for many qualified opportunities for businesses to personalize lead conversion. But that's only when you do the mapping properly.
Before mapping leads on Salesforce, remember the following things:
When you convert leads, Salesforce looks for an account with the same name as the Company field on your lead record. If an account name with the same company name already exists, you will be given the option to use the existing record.
Each target field can only have one source field assigned to it.
Train your team. They should know when and how to map leads using the accurate assignment rule entries.
There is no way to remove a field that is part of Lead Custom Field Mapping. To delete a field, you must first remove the mapping.
To remove a Lead Custom Field, first, remove mappings that refer to it.
Convert a Salesforce Lead into a Contact
Here's how you can convert a Salesforce lead into a contact:
Step 1: Click "Convert" in a lead record.
Step 2: Create a new Account, or you can also select an existing Account in the Account name field.
Step 3: In the Contact name field, enter a new Contact or select an existing Contact.
Step 4: In the Opportunity name field, create a new Opportunity or select an existing Opportunity.
Step 5: If you don't want to create an Opportunity, check the "Don't create an opportunity upon conversion" box.
Step 6: Select "Convert."
What to Do When Some Data Is Missing?
Salesforce will automatically map "Standard" Lead fields to their corresponding objects using the above-mentioned steps.
But, it will not map custom fields created on your Lead object. You must have manually configured those leads in your Salesforce Setup using the Lead Conversion Field Mapping feature.
That means you must configure the "data field map" between the Lead and the objects to which the Lead is converted (Account, Contact, Opportunity) so that no data is lost during conversion.
To do so, follow these steps:
Step 1: Go to your Lead Record > Click on the gear icon > Edit Object.
Step 2: Navigate to your missing object's Field & Relationships Tab > Map Lead Fields.
Step 3. Tap between the Account, Contact, and Opportunity tabs and select which Lead fields should map to which fields on these objects. "None" indicates no field map configured for the Lead field in question.
Step 4. Once you are done modifying your field mapping settings, don't forget to hit the Save button.
If still some of your data is missing during lead conversion, you need to consult the Salesforce System Administrator.
Automatic Lead Collection and Injection on Salesforce using Salespanel
Does all of this feel hard and complex and doesn't solve what you are looking for?
No worries. You can use Salespanel to update your Salesforce lead records in real-time.
Salespanel can automatically connect your marketing data with the Salesforce CRM. You can use visitor intelligence to qualify leads in real-time with targeted content.
After integrating Salespanel with Salesforce CRM, you can do the following:
Create records for new leads and opportunities captured from various marketing channels automatically.
Send critical data intelligence to the CRM, such as lead score, quality score, company information, etc. along with all activities performed by a lead or account.
By syncing behavioral tracking data and lead scoring metrics directly to the CRM, you can help your sales team identify purchase intent and personalize sales messages.
Sync every identified lead to Salesforce contacts automatically or use Segments to selectively sync only qualified leads.
Assign qualified leads to sales representatives automatically. Leads can be routed to regional salespeople and subject matter experts using Segments.
Notify your salespeople in real time about new leads as they enter the sales pipeline or return to your website.In Salesforce, you can use quality indicators such as lead score, quality score, and lead temperature to help prioritize deals.
Even if they have never signed up, you can qualify your visitors. With highly-targeted content on and outside of your website, you can engage and nurture 100% of your qualified visitors instead of nurturing only those who sign up.
Integrating Salespanel into your existing CRM ecosystem allows you to create flexible marketing automation workflows.
Salespanel can assist you with completing your workflow, whether you want to create a specific mailing trigger, dynamic website triggers, or an alerting process.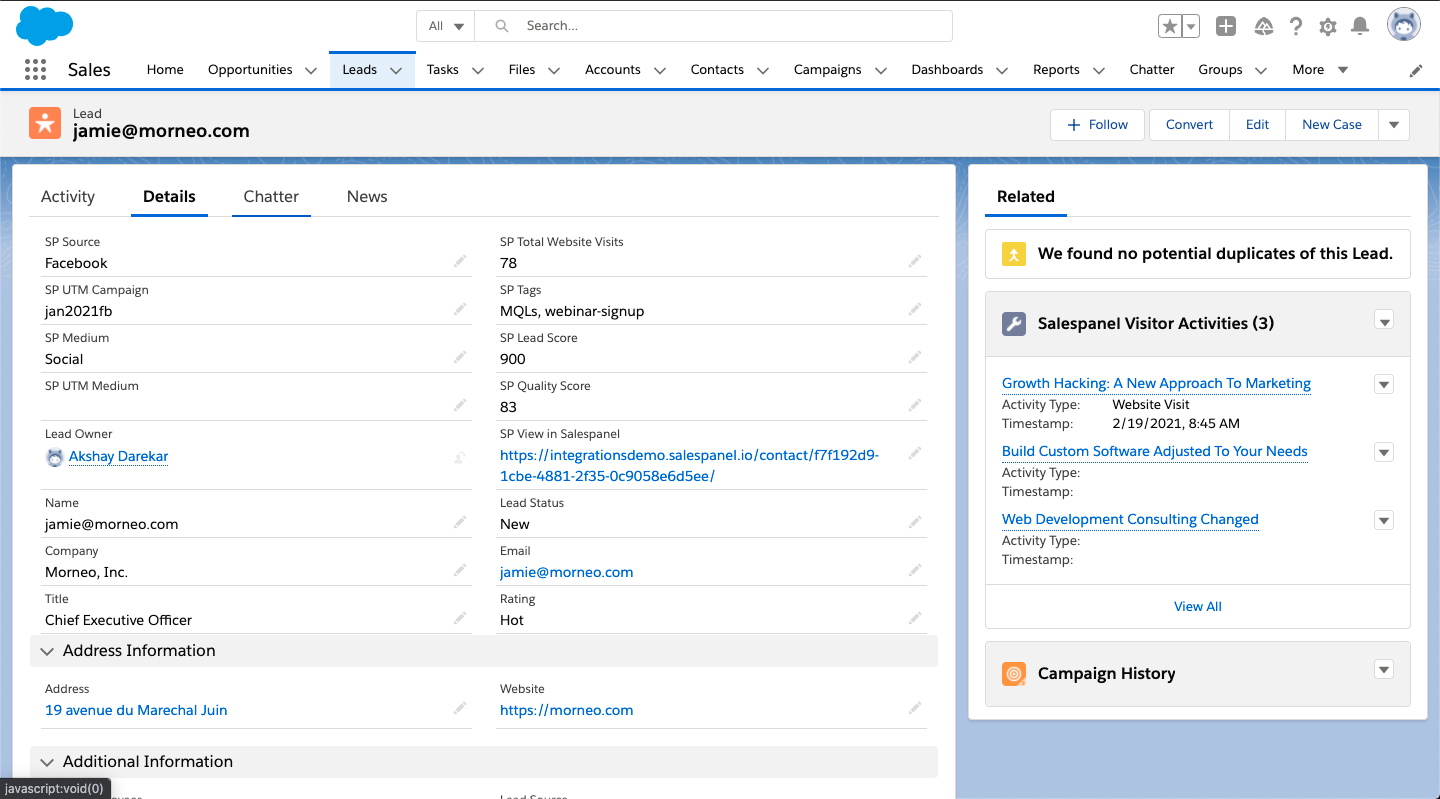 Here's how you can use Salespanel with Salesforce.
Step 1: Log in to your Salespanel and Salesforce accounts to start the integration.
Step 2: Install the Salespanel package on your Production Environment by following the on-screen instructions from the Salesforce Integration page.
You can regulate how the integration sends and receives information from Salesforce. To configure your workflow, go to the Sync settings.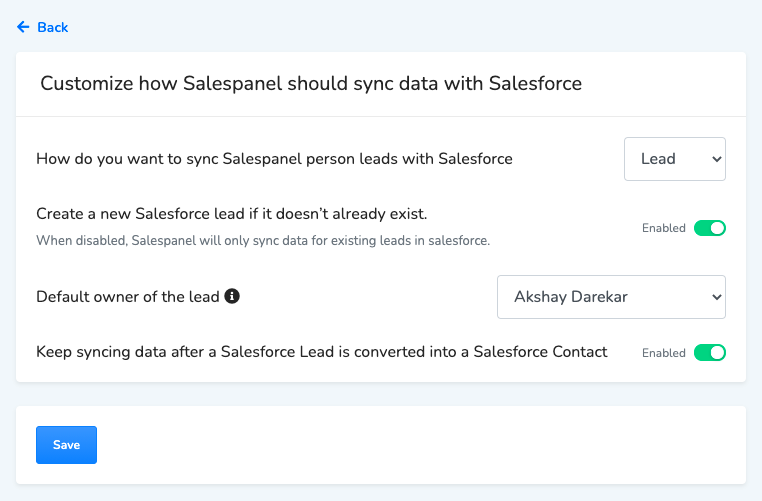 From these settings, you can:
Specify whether visitors should be synced as Salesforce Leads or Contacts.
Create new Salesforce contacts or only update existing leads' data.
Select which team member will be assigned as the default leader.
Continue to sync data even after a Salesforce lead has been converted into a Salesforce Contact.
In Salesforce, you can use Object Explorer's page layout to specify where you want to display the Salespanel data.
Use Salespanel data to improve Salesforce reports.
Let's Get Started with Salesforce Lead Conversion Mapping!
As you can see, Salesforce lead conversion mapping can provide you with the right direction to manage your leads. Salesforce's own mapping solution is great in itself but for businesses that need a simpler straightforward alternative should try Salespanel.
Salespanel will help you track leads from your website and transfer data to the Salesforce CRM in real time. This can reduce all the manual work you need to do to create a custom lead mapping. So, integrate Salesforce with Salespanel now and never miss another lead with conversion potential.
Sell more, understand your customers' journey for free!
Sales and Marketing teams spend millions of dollars to bring visitors to your website. But do you track your customer's journey? Do you know who buys and why?
Around 8% of your website traffic will sign up on your lead forms. What happens to the other 92% of your traffic? Can you identify your visiting accounts? Can you engage and retarget your qualified visitors even if they are not identified?