SaaS Sales 101 and 5 Strategies to Use in 2021
Software as a service has become the preferred alternative over in-house technology setups for a good reason- It's easily accessible, scalable. It can meet almost every business and individual needs. When Salesforce launched its SaaS product, they completely changed the game for businesses.
Despite all these benefits, SaaS can still prove challenging to sell. Even the most effective, unique, and problem-solving product can be hard to sell if the right sales strategy is not implemented. SaaS products have a different sales cycle, especially in the B2B segment. Other B2B businesses can have sales cycles longer than a few months with high deal values, SaaS products usually sell in 14-30 days and have lower deal values. They are also often self-serve for most of the buying process, even in B2B.
Nonetheless, when it comes to selling SaaS, what is being sold is the service, not the product. Almost all SaaS tend to solve a particular business or individual problem. Hence, rendering software that solves these problems through a service plan.
One of the best ways to understand SaaS sales is to realize that prospects have goals to achieve and problems to solve. If you want to keep prospects interested and meet the monthly sales quota, you have to build a genuine relationship with them and offer a solution that truly addresses their pain points.
This article covers the saas sales process and some strategies you can apply. We'll cover:
What is SaaS
How SaaS sales are different from other industries
SaaS sales cycle
SaaS sales strategies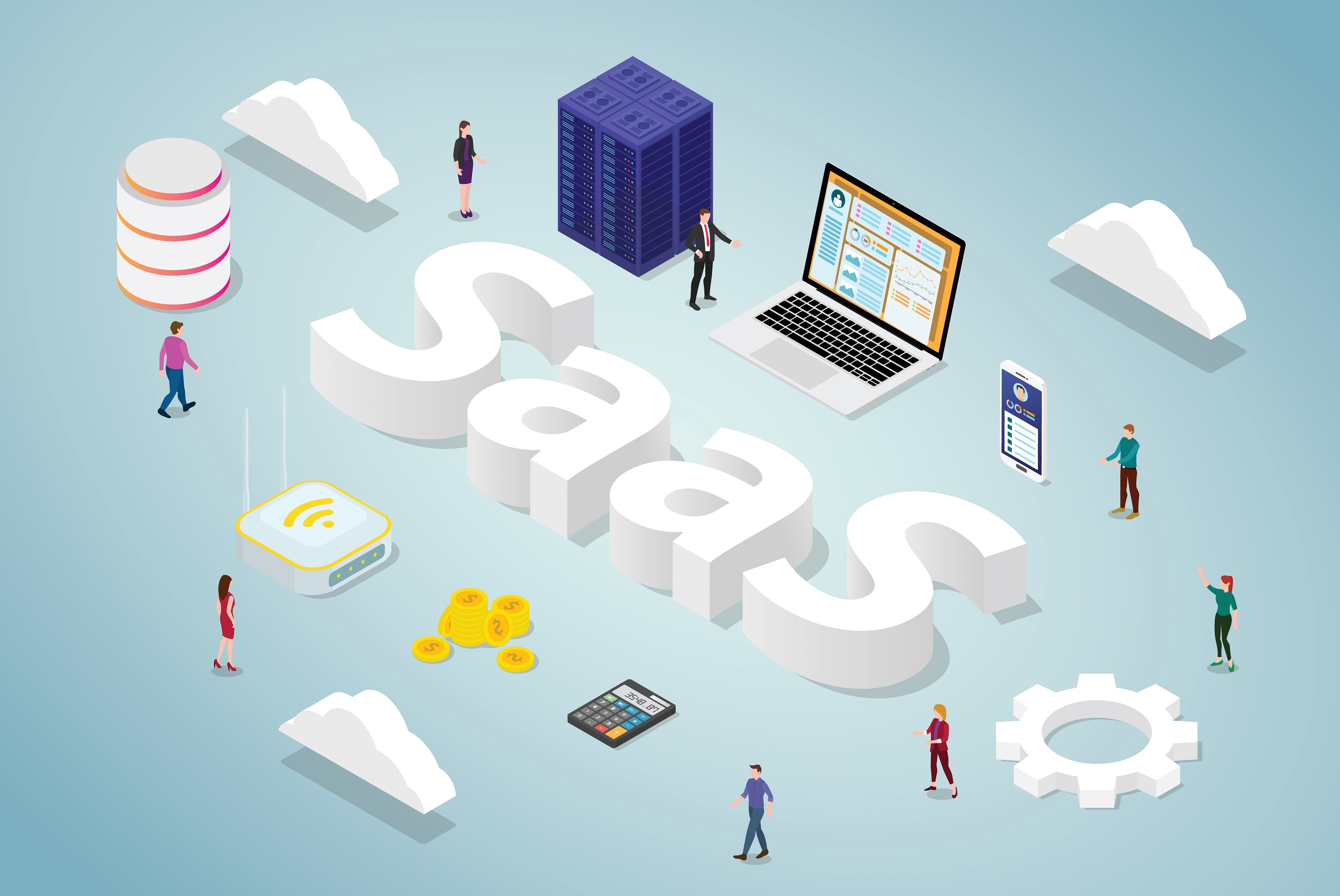 What is SaaS?
Software as a service is a web-based model of software delivery. It means that you can access any software on the internet with a login ID rather than using the traditional on-premise software. This type of software is hosted on the cloud, managed, and secured by a single provider.
SaaS has many advantages over traditional software use. There's a lower cost of entry, easier integration, and faster upgrades. With all these factors, it's without question that SaaS requires a unique selling approach.
How saas sales are different from other industries
When you look at other industries, including B2C, you'll see how SaaS sales are different. SaaS sales have so many factors that it requires a unique selling approach. You don't usually find this when it relates to financing, manufacturing, and consumer products. Here are three ways that SaaS sales are different from other industries:
1. SaaS sales are based on a subscription model, not a one-time purchase. Customers will be provided access to the software as long as they pay monthly/annually. This means that the longer a customer pays for the subscription, the more sales are made. The revenue generated keeps compounding as customers from previous months stay subscribed while new customers keep joining.
2. Like we previously mentioned, SaaS sales offer customers of a self-serve option. However, this model is common among lower-priced products that are easy to use and understand. The free plan and premium models are some of the ways that customers can get to use this service. There's less need for a full sales team. Instead, the website is the key driver to getting prospects to subscribe to a plan.
The website copy and strategic marketing content should highlight the unique value proposition of the product to reduce entry barriers. In summary, prospects should visit the site, understand your product offering and choose a convenient subscription plan. Most SaaS products offer a free trial, and as such, sales do not need to interact much with leads. Sales teams mostly deal with high ticket leads.
Think MailChimp or Slack. Would you need to talk to their sales team before you sign up?
3. Every product serves different purposes with different levels of complexity. As a result, selling a complex SaaS product might require a bit more patience and demonstration. However, a strategic approach should be taken when selling SaaS. Conduct in-depth research and understand the buyers. Understand their pain points, goals, and needs. In this way, it will be easy to point out specific features that directly meet the buyer's requirements.
Saas sales cycle
There is no straightforward approach when it comes to selling SaaS. You would have to consider the product price, ideal customer personas, and complexity. As a result, the sales cycle is bound to vary.
For example, if you're selling SaaS to enterprises, the sales cycle takes typically longer than selling to SMBs. This is because more stakeholders are involved and usually take ideally weeks or months to decide. Here are additional factors that influence the length of a sales cycle:
Product's complexity- a SaaS tool that's complex to understand translates to a longer sales cycle. The sales rep would need to use demos effectively to point out features and work to meet the clients' demands.
Free trials- the length of free trials can shorten or increase the sales cycle. A free trial that offers 7-14 days of usage may drive prospects to buy the product earlier, while a 30-day trial may cause more delay in the sales cycle.
Competition- If there are countless SaaS options in the market, it can increase the sales cycle. Consumers are bound to alternate usage of the products before making a final choice. It is convenient for the consumers because most of them make use the free trial till they find the product that works for their needs.
With these many factors to consider, how can you determine the ideal sales cycle? Jason Lemkin, the founder of SaaStr, gave the following benchmarks for the SaaS sales cycle.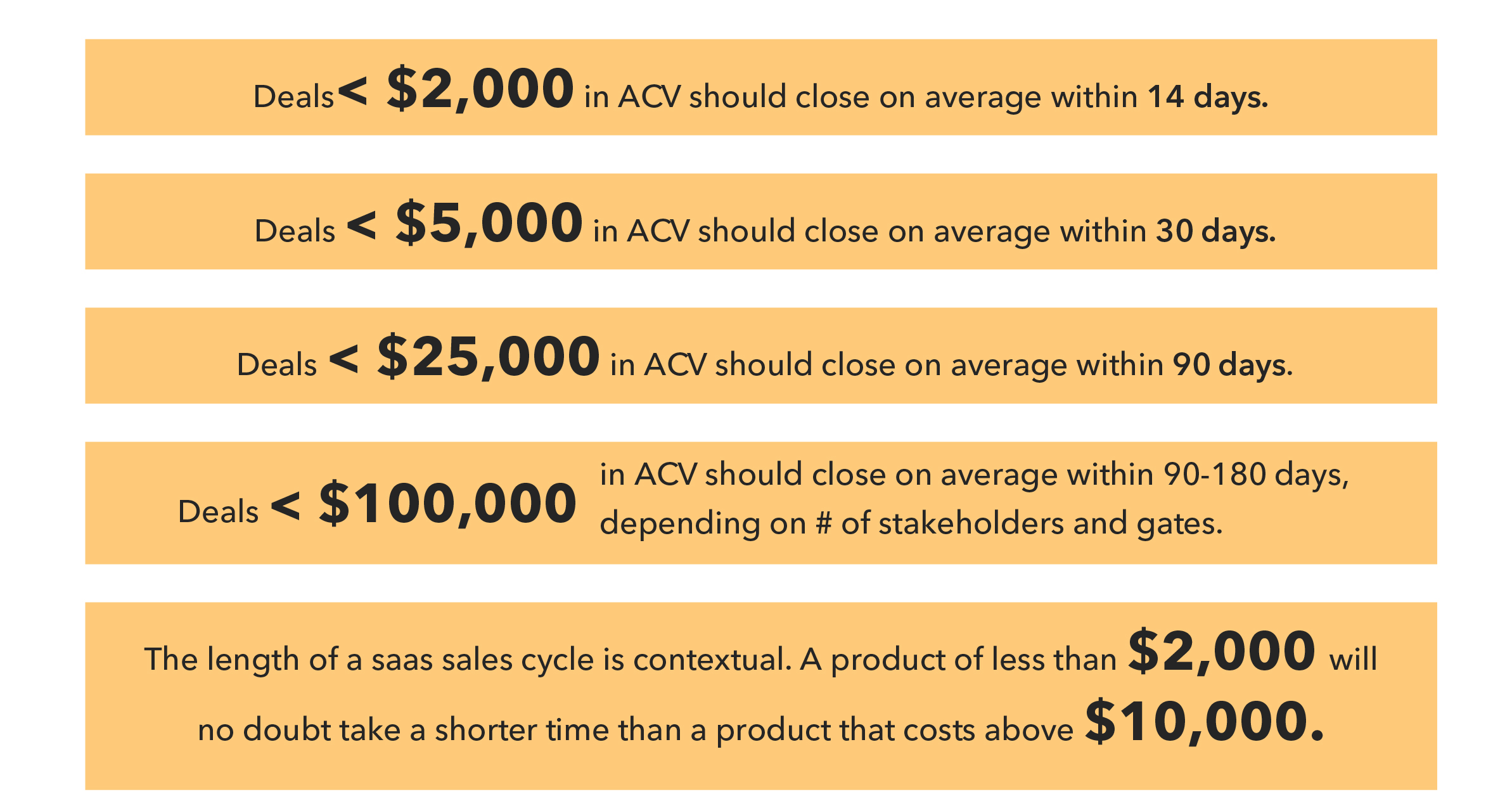 5 SAAS sales strategies
1. Persistent follow-ups
As mentioned earlier, there is no straightforward approach when it comes to selling SaaS. This means that there are factors that could stall your selling process. Sometimes, prospects aren't ready to buy due to various reasons. So if you get the "we need to think about it" responses, it means that persistent follow-ups are a must-do. According to the Brevet Group, 80% of sales reps require five follow-up calls after the first meeting. Another study states that only 2% of deals are closed during the first meeting.
When a prospect has expressed interest in your product, whether, through a demo or free trial, you must follow-up consistently, but you should remember that customers have hesitations or objections. So bear this in mind when you decide to follow-up. You need to understand the factors that could affect the buying decision. Here's how:
During the initial call, try to find out any objection or doubt that is impacting their buying decision. Schedule another call so you can address these concerns.
Track the buying process and the decision-makers involved.
If a buyer wants to go the self-serve route, try to provide the information through email communications.
2. Consider budgetary factors when negotiating – ROI should be obvious to a buyer
While every business owner or individual may be interested in buying an excellent product, the ROI will always be in question. Not to mention that living in a COVID era has made the SaaS selling landscape take a different turn. CFOs consider more budgetary factors now, especially as the need for remote work and productivity keeps increasing. If prospects are not shown how the cost value of a product influences the bottom line, then getting a deal done will be far from being achievable. As Tim ritters, the CFO of Gong puts it:
"The best way to get a deal done today is to prove how you're going to increase remote productivity, enhance visibility into the business, or increase agility. You have to come prepared to show how a specific investment will save the company hard dollars. The bar for a measurable and rapid return on investment is much higher than it was before."
In other words, during sales calls, follow-ups, or demo, your prospects want to understand how using the product will guarantee improved productivity and long term cost savings.
3. Upsell to existing customers
When done right, upselling can be the difference between getting your customers more involved in your product or ending up annoying them. It makes sense to get new customers, but do you know how much easier it is to sell to an existing customer? Studies have shown that the probability of selling to a new prospect is 5-20%, while the possibility of selling to an existing customer is 60-70%. In other words, upselling is your ticket to faster profitability.
Whether your customers sign up for a freemium or free plan, they are still primed for upselling. Before you decide to set up a call or email outreach, remember that you shouldn't ask them to upgrade to a new feature without giving them value. Certain factors should guide your upselling strategy. Some include:
Upsell to customers that enjoy using your product, not unhappy one.
Sell value, not features.
Avoid overbearing sales tactics.
In any case, upselling makes sense when they are getting the full value of their current plan. For example, when they are running out of credits. With Salespanel, you can create a trigger where an email sequence for upselling is triggered when a lead is likely to upgrade. You can also notify your sales reps about these eligible customers.
To sell your product successfully, you have to show up where your buyer personas frequent the most. Social media platforms such as Linkedin, Twitter groups, blogs, and quora are good options to choose from. However, you need to be on the best platforms that will work for your SaaS business.
The key is to build a genuine relationship with your buyers and show them how your product offering can make their lives better. When you continuously show up and offer value to your target audience, your efforts will eventually add up to provide a long term profitability structure.
You're selling them on a journey that holds the solution to their challenges as well as the goals they want to achieve. Remember these 4 tips as you use social platforms to communicate with buyers:
Offer high-quality content that addresses their goals and challenges.
Use social platforms to promote your content( blogs, podcast, and webinars)
Focus on building genuine relationships with prospects
Remember to start meaningful conversations with the potential to go offline.
5. Maintain alignment between the marketing and sales team
Saas sales are more likely to fall flat when there's a misalignment between the marketing and sales departments. As much as they have different responsibilities, they also have a common role-play. This means that the sales team will get a better chance at closing deals when communicating and sharing a mutual goal with the marketing team.
The SaaS sales journey typically involves a long-term partnership between buyers and companies. So, the collective effort of marketing and sales will ensure that buyers are always provided with more value. Additional tips to maintaining alignment between both teams include:
The marketing team should analyze sales pipeline data to identify specific areas and objections that prospects could have.
Sales should notify the marketing and product team of buyer concerns in general.
There should be an arrangement for a member of the marketing team to be present occasionally during demos. In this way, they get to understand the customer better and learn more about their pain points and goals.
Good communication is critical. The CEO should ensure the marketing and sales team consistently follow up on every strategy.
Use software like Salespanel that syncs data between sales and marketing in real-time, helping both teams stay updated on the latest leads, customers, and information.
Successful SaaS companies are those that know the importance of maintaining an alignment between marketing and sales teams.
SaaS Sales Tracking
Throughout the article, we have covered product qualification, upselling, sales and marketing alignment, marketing automation, etc. All of these can be enabled from tracking. By tracking how they engage with your marketing material and content, you can serve them personalized messages and content that will help you sell better. By tracking how users engage with a free account and product trials, you can product qualify leads and know which leads are likely to buy. You can also notify sales about these leads. By tracking user profiles, you can prioritize high ticket leads to the priority sales pipeline. You can sync data between sales and marketing to bring crucial sales intelligence to your pipeline and maintain perfect sales and marketing alignment. And, the list goes on.. If you want to get all of these, try out Salespanel.
Final thoughts
SaaS is an industry with huge growth potential and is projected to reach a revised $219.5 billion size by 2027. While it has many advantages over other industries, it's not an easy one to sell. It comes with different levels of complexity, buyer personas, and pricing factors that a balanced mix of patience, dedication, and a well-planned strategy is necessary for successful saas sales.
The SaaS sales process might seem to be a mix of never-ending sales cadences. But as you put in more effort to learn about your product, target market, and sales reps, you'll be a step closer to building a long-term profitability structure.
Sell more, understand your customers' journey for free!
Sales and Marketing teams spend millions of dollars to bring visitors to your website. But do you track your customer's journey? Do you know who buys and why?
Around 8% of your website traffic will sign up on your lead forms. What happens to the other 92% of your traffic? Can you identify your visiting accounts? Can you engage and retarget your qualified visitors even if they are not identified?