Top 6 Copper (Prosperworks) App Integrations for 2022
Updated on 3rd Dec, 2021
Copper (previously known as Prosperworks CRM) is the only CRM that has been dedicatedly made for G-Suite and works within G-Suite. A little unconventional but due to this unique setup, Copper CRM is the choice of teams who like to work within the G-suite workspace. It is a Google Apps partner and has close integrations with other Google applications.
But, a CRM needs multiple types of modules to give you to complete your use case and get the desired results. You might be using a support desk that you want to integrate with your CRM or you might need customer journey tracking. And, getting all of these functionalities from Copper or their G-suite primary integrations is not possible.
While Copper and its G-suite ecosystem integrations are great, we will discuss integrations that will add superpowers to the CRM and connect the sales workspace to other departments. In this list, we will talk about 6 Copper/Prosperworks apps that we heavily recommend our readers to check out:
1. Quickbooks
Need all invoice related records connected to your Copper CRM? The Quickbooks integration is here to help you do just that. With the Quickbooks integration, all open, paid, or overdue bills will show up for each of your contacts. Your team will also be able to see the invoice number, due date, and balance total.
The integration also adds activity logs when due dates get updated or when a payment is made or any status changes. This helps you get all financial records without leaving the CRM space. You or your team members can view a contact's invoicing history or overdue history by simply viewing the contact details within the CRM.
Quickbook pricing starts at $15/month for independent contractors and freelancers and goes up from there. Learn more about the Quickbooks integration from here.
2. Salespanel
Salespanel (which happens to be our product 🙂 ) is a lead acquisition, tracking, and qualification platform. Salespanel captures leads from your marketing channels, aggregates them, and brings them directly to your Copper <> G-suite ecosystem along with some valuable lead information. It also helps you segment and qualify leads using various data-driven techniques.
Salespanel uses machine learning to determine which leads are qualified and are potential buyers and passes the information to your CRM. How cool is that?
It enriches your CRM with highly actionable data that reduces communication and manual work between sales and marketing and helps your sales team close more deals. Learn more about Salespanel from here.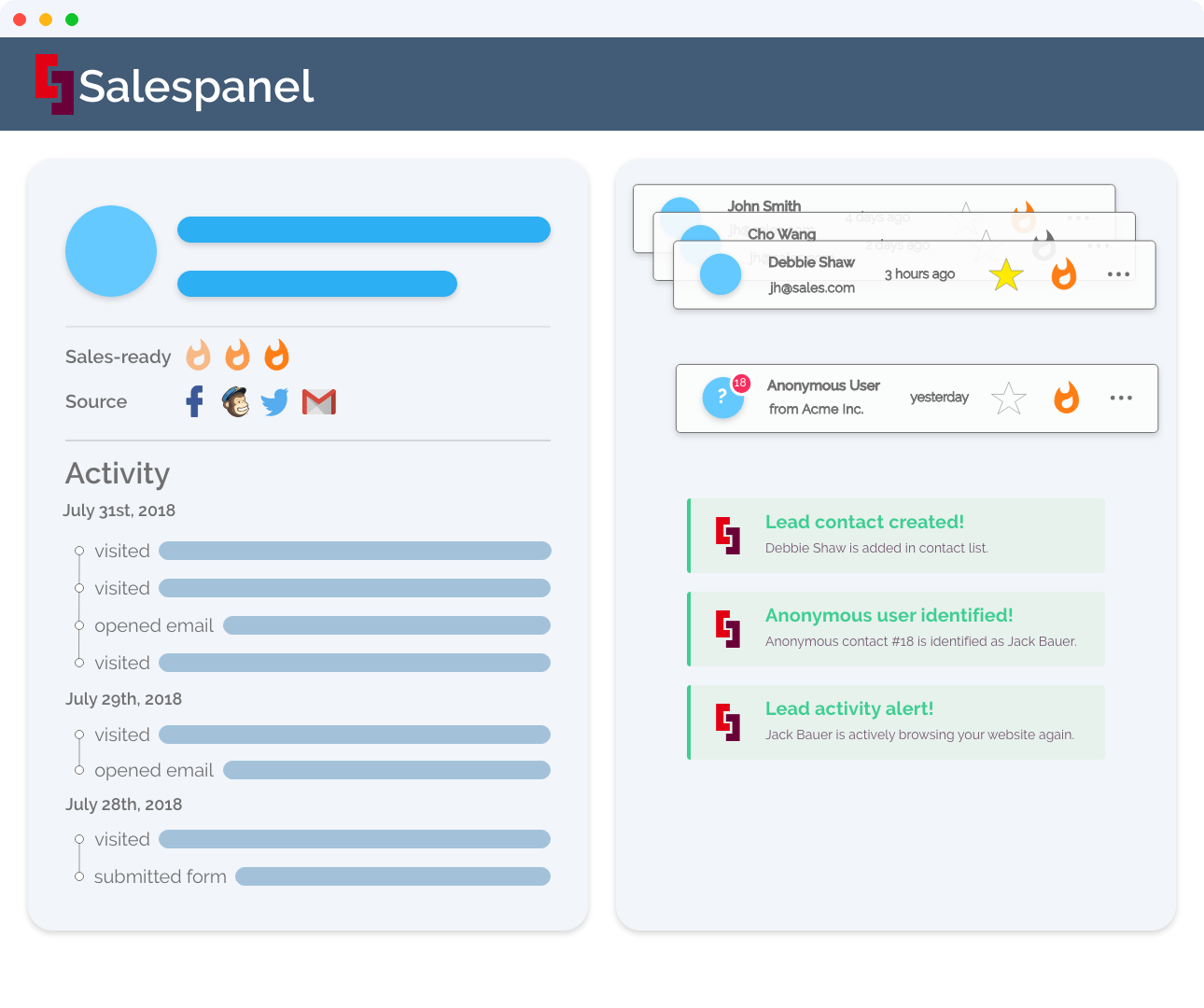 3. Outfunnel
Outfunnel's integration lets you connect Copper with marketing tools like Mailchimp or ActiveCampaign and web forms such as Wix or Elementor. Connect your web forms with Copper using Outfunnel's App connector and your form fills will get synced over to Copper along with custom fields and key data about web visits. Marketing automation tool connections help keep your sales and marketing contact lists in sync, and enable running marketing campaigns automatically based on data changes in the CRM.
All marketing engagement data from the connected tools (email opens, clicks, form fills, web visits) gets recorded in your CRM, so sales has full context and can sell smarter.
Finally, you can use Outfunnel's own simple email campaigns tool to get started with marketing automation, in sync with Copper.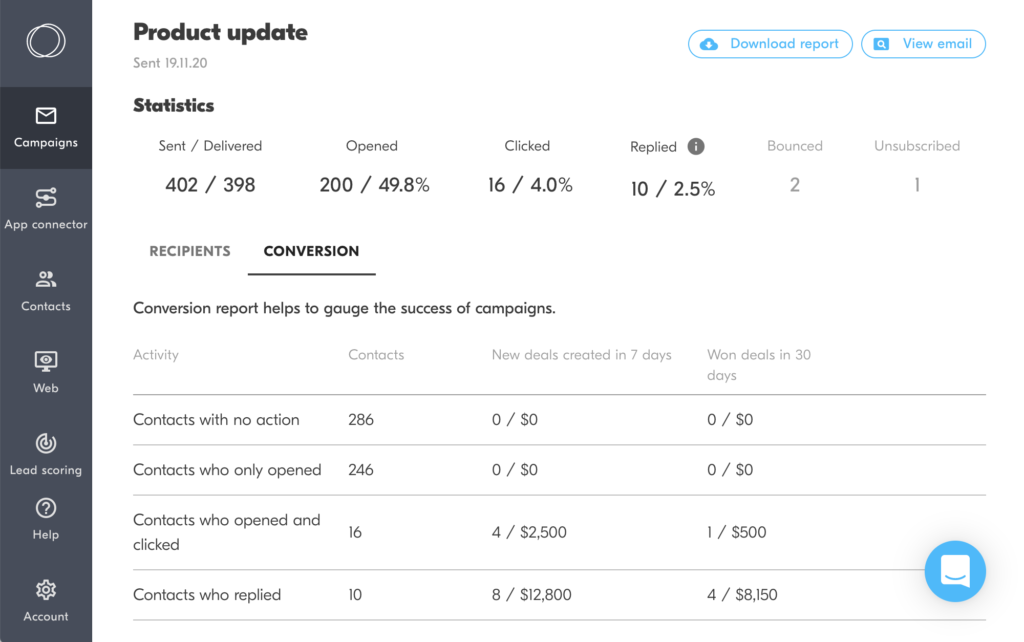 4. Slack
Slack has become the fastest growing business app that many businesses have now adapted for team communication and collaboration. If your team already uses Slack and Copper, you definitely need to check this out.
The Slack integration alerts your team about lead and opportunity updates by sending notifications to your Slack channels. This means that every time there is a development, your sales team can be notified immediately and can take fast actions to move the deals forward.
The Slack integration can also notify sales managers and executives when deals are won or lost which helps them track progress at any time. You can learn more about the integration's functionality from here.
5. MailChimp
A tight connection between your CRM and your email marketing and automation tool is always an important thing to have. The Mailchimp integration brings email automation to Copper as you can directly add your Copper contacts to MailChimp lists as needed.
This opens up several use cases for you. What if you decide that a particular contact or a group of contacts are suitable for your referral program? Simply add them to your referral campaign on MailChimp and that's it. You can do similar things for any other campaign. (Bonus: If you are also using Salespanel, you can unlock a whole new level of profile and behavior-based automation).
You can also see within Copper which lists and campaigns your contacts are part of. This makes it easier for your sales reps to know the status of nurturing.
MailChimp has a free plan where you can manage up to 2000 contacts and one audience. Paid plans start at $9/month and go up to $1190/month for the highest tier premium plan (up to 200k contacts and premium features). Know more about the MailChimp integration from here.
6. Zendesk
Having your support system tied with your CRM helps you with a lot of things. It lets the assigned reps know about support tickets contacts might have opened. Think how off the track it would be if your sales rep pushed to close the deal while a lead had a critical support thread active.
With the Zendesk integration, your team can now see all tickets as it syncs all ticket history to the activity feed of your contacts in the CRM. Tickets can appear for both individuals and companies.
Zendesk is one of the most popular helpdesk solutions in the world and the integration is directly provided by Copper. Zendesk's pricing details can be found here.
You can learn more about the integration from here.
These are our picks for integrations to use to supercharge your CRM ecosystem within G-Suite. It should be noted that we have not mentioned in Google Apps in the list because Copper natively positions tightly with G-Suite. If you need any help or have any questions about Salespanel's Copper integration, please get in touch with us.
Sell more, understand your customers' journey for free!
Sales and Marketing teams spend millions of dollars to bring visitors to your website. But do you track your customer's journey? Do you know who buys and why?
Around 8% of your website traffic will sign up on your lead forms. What happens to the other 92% of your traffic? Can you identify your visiting accounts? Can you engage and retarget your qualified visitors even if they are not identified?