Google Analytics 4 Limitations And Solving Them
Google's Universal Analytics used to be the number 1 website analytics tool in world with a market share of 85.8% as of October 2022. However, the Universal Analytics platform faced its end on 1st July 2023, with all properties ceasing to process further. In light of this, switching to its successor, Google Analytics 4, may seem like a natural progression for measuring vital site user behavior. However, things are as gloomy as one might think! With no option to migrate data from Universal Analytics and the emerging limitations of the new platform, businesses are carefully evaluating their options.
While this new update to the Google Analytics platform seeks to give you a better insight of how your customers use your websites and apps by tracking users' journeys with updated metrics, GA4 is, after all, a completely new software, which means it will be accompanied by a steep learning curve. While it is expected that GA4 will offer a more user-friendly platform, enabling you to easily access more valuable data to help you make critical business decisions, there are several ambiguities surrounding issues like privacy and data ownership.
GA4 will also introduce a new reporting and measuring system, where data is based on events rather than sessions, and will include additional customizations and workflows. The bottom line is, switching from UA to GA4 will require considerable knowledge of both platforms (but especially GA4), and unless you know its shortcomings, it will impact your marketing analytics efforts.
In this blog, we will discuss the most notable limitations of Google Analytics 4 and ways to overcome them so that you may fully understand how the switch from UA to GA4 (or any other data analytics tool, for that matter) will impact your business.
What is Google Analytics 4?
Google Analytics 4 is the latest update to the free and popular Universal Analytics platform, powered by Google, with numerous significant modifications to the software's operation and the information it gathers. Here's what Universal Analytics does —
The platform lets you see how users interact with your websites and online products by following them throughout your apps and websites. The data gathered includes the web pages your customers access, their activities (including taps, scrolls, purchases, and other consumer actions), and information about the users themselves if they have chosen to make it public.
GA4 is being developed with a privacy-focused future in mind and is expected to help analysts and marketers process user-level data while fostering visitor trust. However, there are still many areas where GA4 falls short, which we will discuss in the following section of this blog.
Limitations of Google Analytics 4
As reported by the early adopters of Google Analytics 4, here are seven limitations you must keep in mind while migrating your analytics processes from Universal Analytics to GA4. Bear in mind that users will most likely struggle with some of these changes and may also need to change their approach (or tools) to get the data you need.
1. Sampled Data
To fill in the gaps in data reporting, Google Analytics 4 relies more on sampling data and machine learning. They are taking this action to make up for the removal of third-party cookies.
Data sampling usually happens once your website crosses the threshold of 500K sessions. Google attributes the need for data sampling to the complexity of analytics implementation, query complexity for segmentation, the use of view filters, or some combination of those factors. However, using filtered views, segments, long-time frames, or custom reports may still impact a low-traffic site.
With sampled data, much more guesswork is involved, and you can never be fully positive your data is 100% correct. In light of this, actual data will become less prevalent since you can neither know the real data volume you have collected nor the caliber of the data you have sampled. Both of these aspects will hamper the accuracy of your data.
How to solve this?
If you want to obtain data that is not sampled, you will need to work with basic settings in Google Analytics, such as standard reports. Avoid using sophisticated options and restrict the analyzed time frame.
These solutions limit your ability to manage your data with flexibility. Although Google Analytics 360 is an upgrade option, it also samples monthly data from 100M sessions.
You need complete data sets if you want accurate reporting, cutting-edge analysis, and the ability to handle various use cases, such as tracking the entire customer journey. By using all of this, you will not have a chance to overlook any important information, and your reports will be accurate with unsampled data.
You may also connect GA4 with BigQuery to overcome this challenge. BigQuery is a Google Cloud Platform service that lets you store and analyze enormous amounts of data without sampling.
Once you've connected GA4 to BigQuery, you can use it to:
Gain access to all of your data without sampling;
Create unsampled reports using data visualization tools;
Perform a more detailed analysis of your data; and,
Create more actionable insights for future marketing campaigns.
To circumvent data sampling altogether, you might need to shift to raw data analytics solutions like Plausible and Matomo (for general analytics) or Salespanel (for B2B analytics).
2. User Interface Changes
Major changes to the user interface can slow you down, just like any significant upgrade to software your company uses daily. Workflows can be disrupted when buttons are moved, and terminology is changed.
The user interface of Google Analytics version 4 significantly differs from earlier iterations. The new and more straightforward layout is made to be flexible and functional on devices with different screen widths. As a result, re-sizeable columns have been forgone, and this may create a challenge in deciphering which functions are available or whether new features have been added with the new and streamlined menus.
How to solve this?
The only way to solve this issue is to become accustomed to this new interface as soon as possible so that you know where everything is. You can also use these tips to better adjust to the user interface changes on the new GA4 platform:
Refer to official guides, tutorials, and videos provided by Google to understand the new functionalities and their usage better;
Play around with the demo data provided by GA4 to test different features, create custom reports, and learn about all the new capabilities of the platform;
Create conversion events and define data streams that are relevant to your company goals; and,
Engage with fellow adopters on online forums and communities to learn about their experiences, insights, and the best practices they have developed to maximize the use of GA4.
3. Removal of Attribution Models
Attribution has changed in GA4, with reliance switching from raw data to predictive modelling with solutions like predictive metrics and ID resolution. Universal Analytics used to display attribution using a "last-click" model by default, and offered options to see this information from various angles (known as aided attributions). But first-click, linear, time-decay, and position-based attribution models have all been sunsetted in the new GA4 update. The only attribution models GA4 now provides are last-click and data-driven attribution.
According to Google, the decision to retire certain devices was made in order to adapt to the rapidly evolving digital environment, and rule-based attribution algorithms are no longer precise or adaptable enough to follow the intricate buying paths of modern consumers. However, many marketers are worried about the data loss and tracking visibility that will occur as a result of the sunsetting of rule-based attribution models.
How to solve this?
Since GA4 is pushing for predictive data-driven attribution, it is recommended that you familiarize yourself with it. Predictive modelling is powered by AI and machine learning, which can provide you with more accurate and actionable insights into your marketing data. GA4 is also expected to provide a more circumferential view of the complete user journey, which can help you mark key conversion drivers.
Marketers may consider adopting a third-party marketing attribution platform (like Hubspot Marketing Hub, Demandbase, or Salespanel) for traditional attribution models. Unlike GA4's built-in models, third-party marketing attribution tools can deliver more precise and adaptable attribution data. Moreover, they also provide a variety of attribution models, including all of those that were previously accessible in Google Analytics. As a result, you may have more control over how you evaluate the success of your marketing efforts and attribute credit to leads and salespeople. Certain software like Salespanel also employ UTM tagging to attribute conversions to particular marketing channels and campaigns and create custom reports for deeper analysis.
4. Data Collection Limits
There are certain data collection limitations for event parameters and user characteristics in the free version of Google Analytics 4, as highlighted below:
There is a cap of 50 custom metrics and dimensions for each property;
There is a cap of 30 conversions per property, and,
There is a cap of 14 months on the retention of all calculated metrics and data
Moreover, Google Analytics does not allow full anonymization of data. This can get into murky territory because Google uses your data to power its advertising. To avoid providing personal data or personally identifiable information (PII) to Google Analytics, Google recommends using a minimum hashing requirement of SHA256. However, GDPR still considers hashed data to be personal data, therefore, gathering and processing it requires valid visitor consent. This could result in significant data loss (since 30-70% of visitors do not consent to having their data tracked).
How to solve this?
You can do away with these restrictions if you sign up for the paid version of Google Analytics 360. It also provides:
125 unique metrics and dimensions for each attribute;
50 conversions each for a GA4 property; and,
Retention of calculated metrics and data upto 50 months.
However, if GA4 is beyond your price range, you can perhaps take the following into account:
Create unique metrics and dimensions only if they are necessary for monitoring your marketing efforts;
Export data from GA4 to a different program (this may allow you to keep and study your data with more freedom); and,
Utilize consent management to limit data collection to users who have consented.
5. Non-Adherence to GDPR Compliance Laws
As of 2022, several European authorities, like France's CNIL, Sweden's IMY, Belgium's APD, and Austria's DSB, declared the usage of Google Analytics in violation of GDPR guidelines. The problem is that when you use Google Analytics, your data is stored in multiple Google data centers worldwide, most of which are in the United States. One can never know where their data is. This may influence your legal compliance and make data security more difficult to implement.
Ultimately, the major compliance issues pertaining to Google Analytics boil down to insufficient data protection and governance.
Since GA4 transfers data to the United States, it violates consumer privacy under the GDPR guidelines. Furthermore, Google Analytics users' data helps Google to profile them. This is concerning for any organization that values data privacy. The more companies who have access to your data, the greater the risk of a security breach. Since you have little influence over how Google utilizes its data, tailoring data collecting to individuals' privacy preferences is difficult.
How to solve this?
While Google has stated that it is working to resolve the concerns of the European Union's data protection authorities, it is unclear when GA4 will be fully GDPR compliant. Thus, if you collect data on EU residents, it is strongly advised that you maintain that data on servers in the EU. This simplifies data collection and processing while also avoiding any legal and regulatory issues with data transfers outside the EU.
The recommended action of choice here is to use an analytics platform that allows you to keep data on your servers or designate specific storage locations. This will allow you to accomplish your goals while focusing on working with analytics data for your projects. We have talked more about the problems of Google Analytics with GDPR here.
6. Lack of Migration Support from Universal Analytics
The difficulty of transferring current data from Universal Analytics to Google Analytics 4 is one of its main drawbacks. In July 2023, UA stopped gathering fresh data from user interactions, and any information gathered there isn't accessible to GA4 properties.
While this restriction only applies to current Universal Analytics customers, it implies that the data of those users is split into two distinct analytics systems, making it impossible to find patterns across both data sets without exporting them into a different system for analysis. Additionally, the enhanced analysis tools included in GA4 cannot be used with the data in UA.
How to solve this?
In order to ensure that you have the most data available when UA is de-commissioned, it is crucial that you implement GA4 on all of your websites and apps right away.
Before migrating, you should also familiarize yourself with the new GA4 interface and features. The words sessions (described above) and eCommerce-related activities are still used in GA4, although they operate differently than they did in UA.
7. No Dedicated Customer Support
Setting up and maintaining analytics for your website is time-consuming and complicated. The only support options provided by Google Analytics are online documentation and community forums, despite its large user base giving rise to many communities dedicated to the platform's difficulties. You will still have to filter through the information to determine what's obsolete, irrelevant, or inapplicable
That level of assistance is insufficient when dealing with pressing concerns or complex analytics challenges. It is also a matter of how much time you will need to devote to learning the ins and outs of the platform or scouring the internet for answers. This means that big organizations, unfamiliar with Google Analytics, will be left to figure out major problems with the workings of GA4 on their own, making the setup and implementation of the software inadvertently hard.
How to solve this?
To get a rip on GA4 and improve your website and marketing campaigns using its analytics data, you can take the following steps:
Participate in communities: Join online networks (such as Reddit or LinkedIn) to ask questions, receive help, and learn from other companies that use GA4;
Create a Slack channel: Request your team submit and share any noteworthy articles, posts, or videos about GA4 in a company Slack channel dedicated to GA4;
Watch YouTube videos to learn: Video courses are an excellent method to master the fundamentals of Google Analytics 4; and
Attend workshops and webinars: Many specialists with years of experience using UA, who are now early adopters of GA4, conduct workshops, providing the most up-to-date information about Google Analytics.
The Future and Options
GA4 represents the user-centered, privacy-conscious future of Google Analytics. While it has its benefits, without an analytics process designed to take full advantage of the breadth and depth of customer data at your disposal, you cannot maximize the usage of your website data to optimize the growth of your business.
Understanding these limitations listed above will make switching from Universal Analytics as simple as possible, and you will be able to take full advantage of the GA's features. However, if you are looking for raw B2B data that is not affected by EU-USA conflicts and is also not used for advertising, you should consider your options.
Salespanel is a B2B website analytics and customer journey tracking tool that enables you to track first-party website data and attribute marketing outcomes. As a result, Salespanel gives you analytical data that directly connects your customers, unlike traditional analytics, which gives you comprehensive data for analytics. This is perfect for B2B companies that want to score prospects, automate processes, or personalize their marketing to sell more effectively. Sales representatives can receive the analytical data and lead ratings in the form of customized reports and utilize them to interpret customer behavior and intent. Moreover, Salespanel does not monetize or use the data while it is in the "rest" state (good for privacy and compliance). The tracking begins only after your cookie manager or other consent mechanism receives consent. Salespanel offers tracking that complies with GDPR.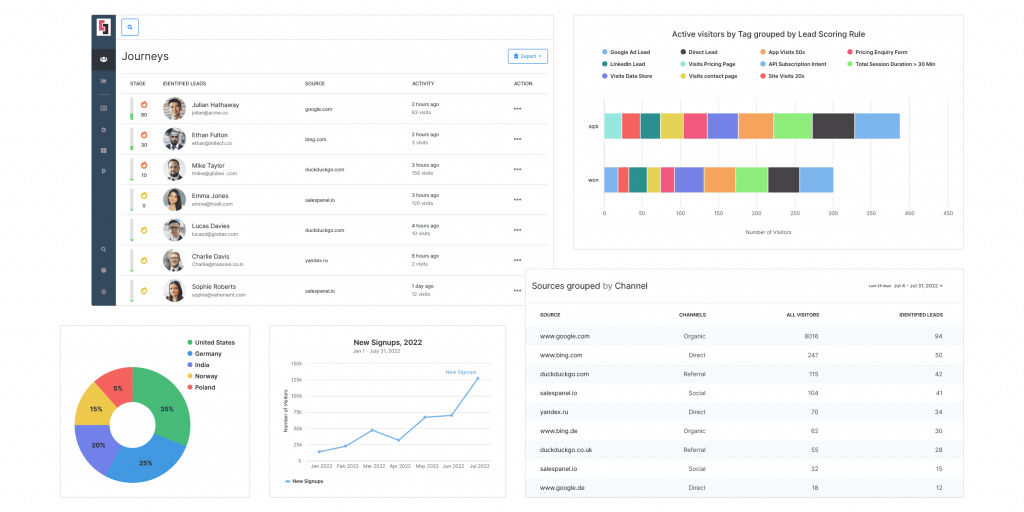 Final Thoughts
Some organizations may suffer a nasty awakening as a result of the forced conversion to Google Analytics 4, particularly given the inability to migrate Universal Analytics data. Data that was previously stored and reported on by Google Analytics alone is now dispersed between two platforms. In the face of this, taking complete ownership of your data is the greatest approach to prevent being caught off guard by future changes to your data tools.
Evaluating your options in this situation and finding tools that are tailored for your use case might save you from future headaches.
Sell more, understand your customers' journey for free!
Sales and Marketing teams spend millions of dollars to bring visitors to your website. But do you track your customer's journey? Do you know who buys and why?
Around 8% of your website traffic will sign up on your lead forms. What happens to the other 92% of your traffic? Can you identify your visiting accounts? Can you engage and retarget your qualified visitors even if they are not identified?