Top 5 Alternatives For Lead Forensics
In today's dynamic digital marketing environment, knowing who's visiting your website is a crucial element in Account-Based Marketing (ABM) and B2B lead generation. Online interactions are super important to determine whether the visitor to your site was simply browsing or had a buying intent. Identifying target accounts among these visitors enables businesses to deliver personalized content, create targeted marketing initiatives, and inform decision-making for business growth. In addition to this, it allows for prompt follow-ups, lead nurturing, and a more effective use of resources.
This is where website visitor identification software like Lead Forensics came in. The tool was one of the first visitor intelligence software in the market. Having provided its services to thousands of online businesses for more than a decade, it has established a good market position while having the luxury of setting high prices. However, with new tools penetrating the market with their cutting-edge capabilities, Lead Forensics may not be the best option for your business. In this blog, we will provide you with a brief overview of Lead Forensics, explore its limitations and discuss the best alternatives that you should try out. Let's get started!
What is Lead Forensics?
Lead Forensics is a B2B website visitor identification tool that identifies anonymous companies visiting a website and surfaces important contacts within those companies for additional outreach and targeting. This tool is particularly useful for B2B marketers, salespeople, and agencies seeking to access qualified accounts from the website that have not signed up.
Here are some core competencies of Lead Forensics:
Monitoring companies visiting your website in real time and providing a breakdown of their contact details.
Organizing those leads by name, contact information, demographics, and search history.
Sending notification alerts when prospective customers visit your website.
Giving precise business intelligence information so you can follow customers from the initial click to the final sale.
Lead Forensics helps you generate quality data on your website visitors, identify those who have intent and drive them into your sales pipeline, and ultimately, nurture them for sales conversions.
Now, let's see how Lead Forensics works.
How Does Lead Forensics Work?
Before we talk about competitors, it is important to understand how this product essentially works. To begin using Lead Forensics (or any similar tool), you need to install a specific tracking code to your website's, where it begins to log visitor IP addresses.
Every visitor has an IP address and visitors coming to your website while on their company network, often have an IP from the company's IP pool. This is not the case for very small businesses but midmarket companies and large enterprises have recognizable IP pools. The information is then used to search through a sizable company information database maintained by Lead Forensics that comprises IP addresses together with business information. If the IP address of the visitor matches one in the database, Lead Forensics returns the name of the corresponding company and further information stored about the business in its database.
The Lead Forensics cookie can be tracked over an extended period of time, allowing you to recognize a certain visitor to your site when they return. The software searches for a cookie whenever a visitor clicks on your website. The user is labeled as a "returning visitor" if a cookie is discovered, and their clicks are stored along with any prior visits to display their lifetime scroll-and-click path through your website.
Limitations of Lead Forensics and Its Visitor Identification Technology
While Lead Forensics is a market leader in website visitor identification software, it has some shortcomings. Here are three limitations of Lead Forensics:
1. Data Accuracy
Lead Forensics does not always offer the most accurate data. IP to company data is tricky and sometimes visitors are incorrectly attributed. Lead Forensics also does not record all companies visiting your site because many of them are not in the database. Also, in some cases, internet service providers of your visitors can be misattributed as accounts visiting your website.
2. No Consumer Data
Lead Forensics does not provide you with contact data of specific leads visiting your website. It can simply identify the name of the organization they are from. This means that you can never know whether the visitor to your website was a C-level executive or an intern. It can make outreach efforts very difficult.
3. Short Trial Periods
Lead Forensics only offers a 14-day trial period. This is barely sufficient time to form your own representative opinion about the software.
4. Expensive Compared to Alternatives
While Lead Forensics does not offer transparent pricing on its website, users have found it to be much more expensive, especially compared to its alternatives today.
Lead Forensics was one of the first-of-its-kind software for IP to company reveal and hence, had the first-mover's advantage. However, with other options available in today's market, investing in this software is probably not worth it. More money does not equal better data. Plus, Lead Forensics has a hard sales tactics (as per hundreds of complaints online) where businesses are compelled to buy their expensive annual subscriptions.
Lead Forensics is good at what it does. But, if you are looking for a more comprehensive solution though, to find out more granular details about your potential leads at more affordable prices, you need an alternative.
Why Do You Need a Lead Forensics Alternative?
Lead Forensics enables company identification which is a great strategy, but may feel outdated in today's ever-evolving and fiercely competitive corporate environment. You may face problems such as limited company identification rates, not reaching the right prospects, or inadequacies in lead scoring and segmentation.
Company identification rates generally range between 10%-40% (depending on your traffic), which means that a majority of your website visitors are left unidentified. Many of them might be good prospects, but if you don't have the functionalities to enage them, you may end up losing them.
Moreover, Lead Forensics capabilities end at providing you with company information of only those organizations logged within their database. While that is still a sizable number, the software cannot identify small businesses that usually don't share a network. Besides this, if the company is bigger with a larger network of professionals, things can get difficult if you want to identify who visited your site. Without the proper information, reaching the right prospect can be a game of guesswork.
Simply spraying and praying outreach emails to accounts identified from your website would not work in this day and age.
For these reasons, you may choose to try out an alternative for your lead generation purposes. We have highlighted five tools below, which might be better options to explore. Let's check them out!
Top Lead Forensics Alternatives
Salespanel is a B2B website visitor intelligence tool built for a privacy-focus and cookie-free digital world. What does this mean? Most website visitor identification tools fall in a gray area when it comes to ensuring that the data they furnish has been sourced ethically and in compliance with data privacy and security laws. Salespanel circumvents this problem by sourcing only publicly available "citizen" data from first-party sources. This guarantees that you own your data and do not disrupt any international data regulations like GDPR, PECR, and CCPA.
Coming to how Salespanel works, the software uses reverse DNS to identify the businesses that visit your website, but that's not the end of the tale. Every website visitor is qualified using Salespanel and you can target specific accounts, nurturing them toward conversion. The product automatically gathers lead information and associates it with the lead's full customer journey for proper attribution and tracking of leads. Salespanel also boasts an industry leading match rate of up to 67% with high data accuracy.
The tool captures leads from various acquisition channels on your website and transfers the data to your CRM in real time. Furthermore, you can segment and qualify your leads using customer data and intent attributes. Salespanel provides both predictive and rule-based (custom) lead scoring, which users can utilize to determine qualification metrics that produce engaging buyer experiences, then convey the information to your sales staff to enable them to close more deals.
Salespanel is not only more affordable than Lead Forensics but also provides higher more accurate match rates.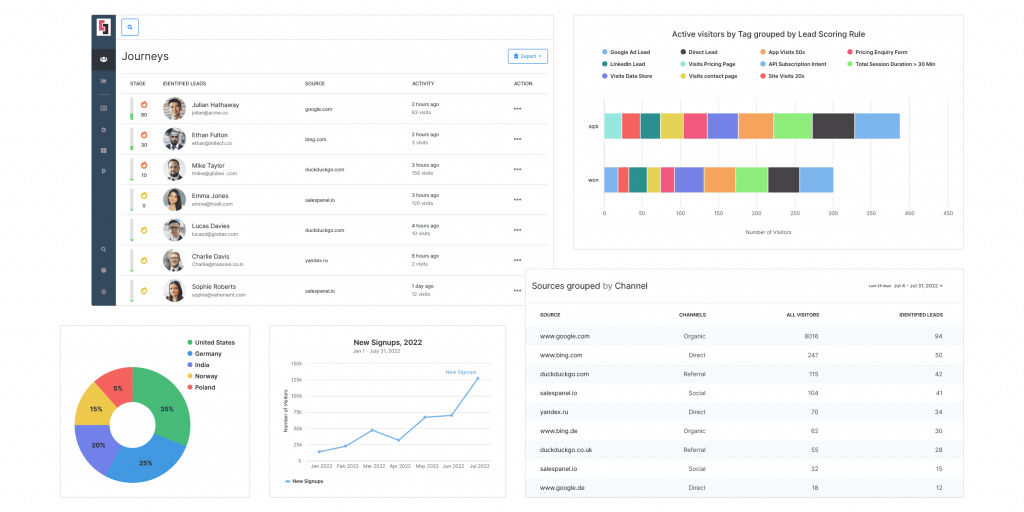 Clearbit Reveal is an IP intelligence product from Clearbit that helps you identify the businesses that are visiting your website, the activities they are performing, and the products and services they are clicking on, so you can interact with them effectively and strategically. This can help you separate those who are just passing through from those who are actively seeking your offerings with intent. Clearbit Reveal uncovers valuable insights from qualified visitors and helps you identify which marketing and sales efforts are generating greater ROI from your target market.
The software combines de-anonymization driven by AI with data in several languages to assist users in identifying profitable advertising campaigns and high-intent accounts. Knowing when your potential customers are visiting your website can help you nurture them to take action.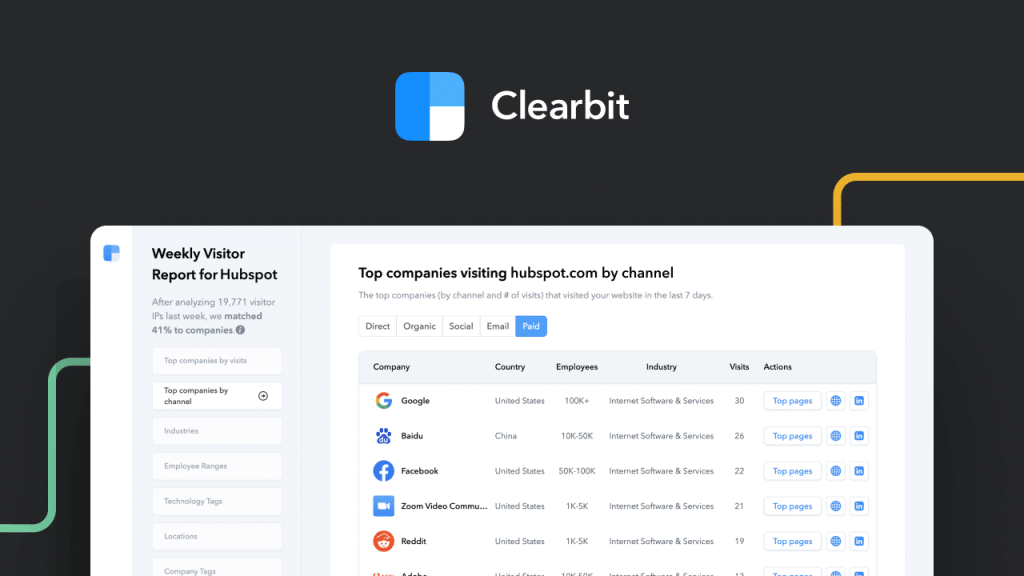 Leadfeeder is yet another tool that identifies companies that are visiting your website. It makes use of a tracking code, just like Lead Forensics, to determine which businesses visit your website. The platform also helps enables companies to set up automatic lead nurturing campaigns, prioritize sales efforts, and use lead scoring. However, the lead scoring system is not as comprehensive as Salespanel and Clearbit.
Leadfeeder has a four-step process for website visitor identification. First, it turns anonymous visitors into real company names and tracks the exact path your leads took through your site by monitoring scrolls and clicks. Next, it qualifies those visitors by removing all ISP traffic and segmenting the companies based on firmographic and behavioral filters that score them on the web activity. Following this, you can search for individual accounts in the company using Leadfeeder's Contacts database. You can search for decision-makers based on job role, location, or seniority and export their contact details, such as email addresses, phone numbers, and LinkedIn profiles. Finally, you sync your data with your CRM, where you can monitor your nurture campaigns for conversion. Leadfeeder also helps with account-based marketing initiatives.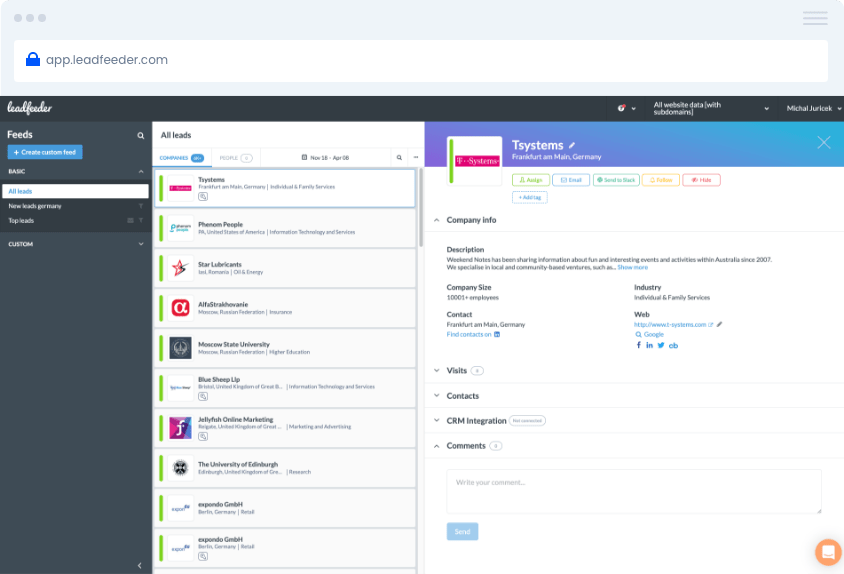 Zoominfo SalesOS is a B2B prospecting product that helps you identify anonymous website visitors and reach out to your next best customers. Zoominfo Sales IQ is a by-product of Zoominfo's SalesOS function and supports you in building your own account database with recognized companies and contacts within the organization. The platform has one of the largest B2B contact databases with over 70M+ direct dial phone numbers and 174M+ verified email addresses.
You can discover and connect with decision-makers within the organizations you identify as leads and detect their buyer intent to further target them with relevant nurture campaigns. Zoominfo Sales IQ has integrations for LinkedIn outreach, which makes it easy to extract, preserve, and export contacts into your sales pipeline. The software also provides conversation intelligence for each lead by analyzing customer calls, meetings, and emails to drive process changes that impact your bottom line. Zoominfo Sales IQ simplifies reach out further, by allowing users to create automated workflows with pre-determined intent triggers and build and execute multi-touch sales cadences with native phone dialer and emailing tool. This platform also enables precision targeting with its advanced search filters and tags that filter out irrelevant accounts.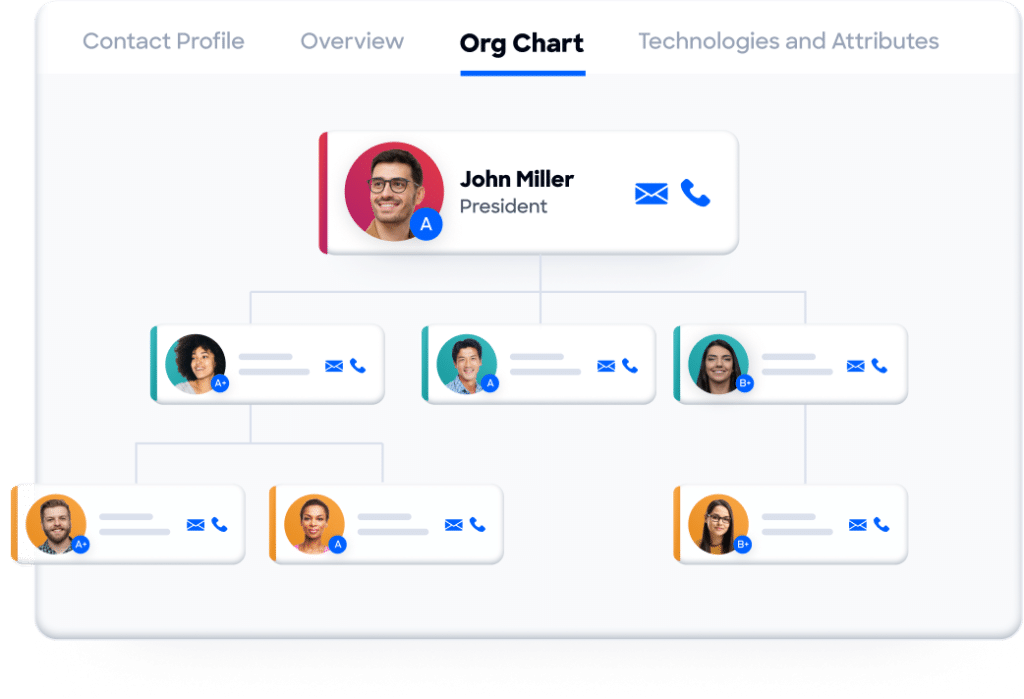 HubSpot Sales Hub is a proprietary sales product built on the HubSpot CRM platform that includes configure-price-quote (CPQ) functionality, sales engagement tools, and robust sales analytics for growing teams. Using this software, sales reps can gain richer insights, warmer leads, and coordinated enablement materials, which will help them work as efficiently as possible. Hubspot provides a complete sales package but if you are looking for the best IP to reveal tool, try the other ones we have mentioned in this article.
Hubspot Sales Hub has multiple features that automate the nitty-gritty tasks of salespeople, allowing for more work with less data entry. It logs all lead interactions automatically and displays all deals and the stages they are in on a separate visual dashboard for complete visibility. Users can manage up to 1,000,000 contacts and store them without expiration — all without spending a dime. You can also set up automated and personalized email workflows using HubSpot's CRM functionality and time their distribution based on intent triggers or a pre-determined timeline.
The tool also provides alert notifications any time a lead opens your email so you can decide how to follow up with that specific prospect further. This tool's capabilities are not just limited to prospecting via emails. You can track calls with your prospects and use conversation intelligence to bring the voice of your customer directly to your CRM. With deal pipelines, meeting scheduler, and document tracker, you can further stay on top of all interactions and transactions and ensure conversions. HubSpot Sales Hub also comes with simple quote creation, playbooks, price books, and sales reporting, all in one place.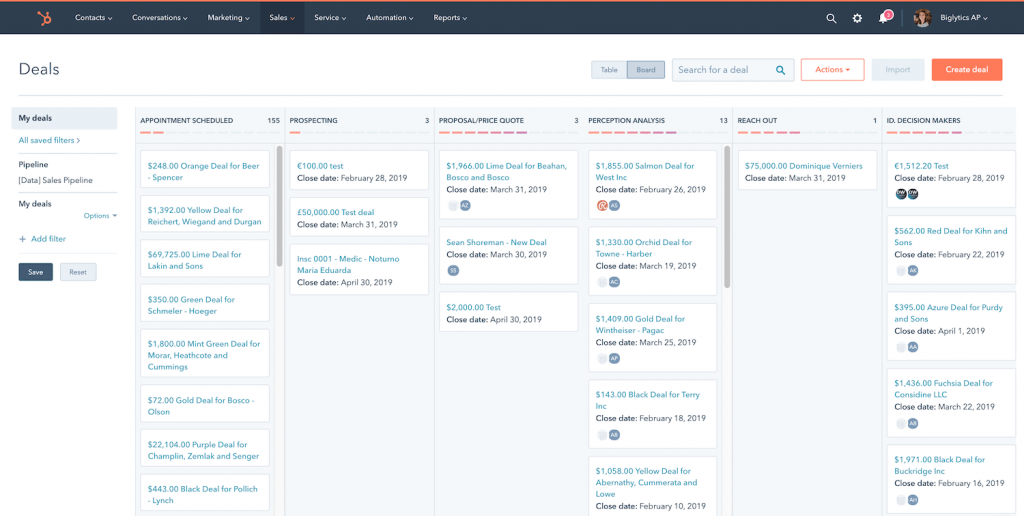 Final Thoughts
To sum things up, Lead Forensics is good if you are looking to generate leads by identifying companies visiting your website (without considering the cost vs. value aspect). However, if you are seeking industry-leading deanonymization with features that actually help you engage and nurture qualified target accounts, try something like Salespanel.
Sell more, understand your customers' journey for free!
Sales and Marketing teams spend millions of dollars to bring visitors to your website. But do you track your customer's journey? Do you know who buys and why?
Around 8% of your website traffic will sign up on your lead forms. What happens to the other 92% of your traffic? Can you identify your visiting accounts? Can you engage and retarget your qualified visitors even if they are not identified?