Piwik Pro: Price, VS Matomo, Reviews, and Other Alternatives
With Google Analytics coming under hot waters for regulatory issues, the demand for an alternative has surged exponentially. And, Piwik Pro is one of them.
Piwik Pro is a privacy-focused alternative, created in 2013, that helps you track the website and product behavior of your users. Not to be confused with Piwik (currently known as Matomo, discussed later).
In this article, we will discuss Piwik Pro, its pricing model, how it differs from Matomo, and also talk about how it fares against some of its competitors and alternatives.
What is Piwik Pro? Piwik Pro VS Piwik (Matomo)
Piwik (founded in 2006) used to an open-source project. By 2013, Piwik Pro was formed to monetize the project by providing enterprise support and premium features on top of this offering. By 2016, Piwik Pro separated from Piwik and became a different organization. Confused? Think of it like WordPress.com and WordPress.org.
In 2018, Piwik rebranded to Matomo, merging services with InnoCraft, a consultancy providing premium solutions on top of Piwik. And, now we are here. Matomo and Piwik Pro, despite of their shared history, are completely different companies.
Now, let's talk about their offerings. You will get a lot of literature on Piwik Pro's website but here's the gist:
Matomo is a good fit for small projects. Due to its nature, it can struggle with higher volume. Matomo is also cheaper than Piwik Pro, which was designed keeping Enterprises in mind.
While the foundation of Piwik was laid to be open-source, Piwik Pro is no longer open-source. Thus, it can't be vetted or audited. Matomo continues to be open-source.
Piwik Pro allows data sampling in its Enterprise plan. This is not possible in Matomo.
Matomo provides SERP ranking data from Google, Bing, and Yahoo while Piwik Pro sources data from Google Search Console only.
Piwik Pro provides rich data on website performance reports while Matomo only provides page generation time.
Piwik Pro provides a dedicated consent management tool for data regulation compliance. This helps you collect and manage visitor consent requests. This is much more difficult to implement on Matomo.
Matomo supports white-label distribution while Piwik Pro does not.
That's the TL;DR. We will also talk about other competitors (like Salespanel) in the article.
Piwik PRO Pricing
Piwik PRO has a free core plan that allows you to track 500,000 interactions from your website every month. The plan hosts your data in EU and retains it for 14 months. You do not get any form of support and/or onboarding assistance and will need to rely on the community for help.
The paid plan, on the other hand, is an Enterprise plan with a lot of offerings, support, and 25 months of data retention. As the name suggests, it is an Enterprise offering and is priced accordingly. While the price is not publicly listed (a crucial hint to how it might be priced!), we can estimate the price to start somewhere around $300-$500/month based on third-party sources.
The Piwik Pro pricing model shows a gap where smaller scale businesses who can neither benefit from the free plan nor afford the Enterprise plan are left out. For example, what if you have a $100/month budget but need support and onboarding assistance?
This gap will be mitigated by some of the alternatives we will discuss in the next section.
Piwik PRO Alternatives
We have already talked about Matomo at length. Let's look at other alternatives.
Salespanel
Salespanel is a data compliance focused Piwik PRO and Google Analytics alternative for B2B business. Our goal is not just to provide you the analytical data but also translate it to meaningful information for proactive sales and marketing operations. The most unique part of our offering is that your analytical data is connected to individual customers and accounts and as such, entire customer journeys are opened to you in real-time (unlike Piwik Pro which updates data every 30 minutes). This helps you take instant proactive actions on your website based on user behavior.
Salespanel is ideal for B2B businesses that want to use buyer intent data to score leads, automate workflows, or personalize their marketing and sell better. The analytical data along with their lead scores can be sent to sales reps who can use it to understand behavior and intent. We provide GDPR-compliant tracking. The tracking only kicks in when your cookie manager or consent mechanism gets the consent. We do not monetize or share your data with third-parties.
Salespanel also bridges the gap between Piwik PRO's free and paid offerings. We have transparent offerings for both small-scale businesses and Enterprise businesses that need onboarding and engineering assistance.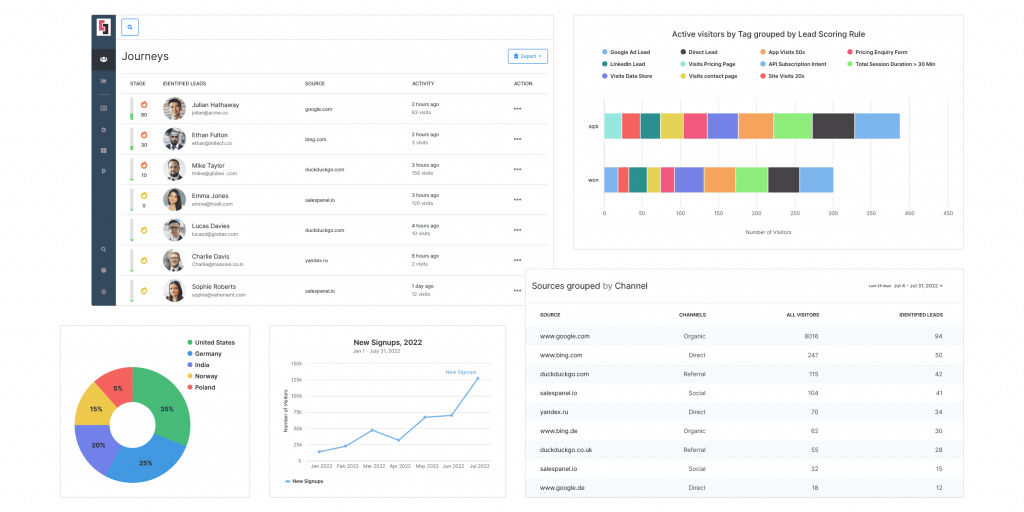 Mixpanel
Mixpanel is a product analytics software for mobile and web. As such, this is primarily suitable for SaaS businesses and other application companies. It tracks a product user's journey in your funnel and provides you key information on how each user engages through key stages of the funnel. Another important use case of Mixpanel is to enable product marketers to change and test their product marketing messages to improve user experience and retention.
The primary difference between Mixpanel and Piwik Pro, as you might have guessed, is that the former is suitable for Product Analytics while the latter is more geared towards Web Analytics.
On direct head-to-head, the data Mixpanel provides real-time data with 60 months of retention while Piwik Pro provides 14 to 25 months of retention (depending on the plan). If you are looking for pure analytics with maximum privacy protocols followed, Piwik Pro provides you data anonymously both before and after a user is identified. This is not the case with Mixpanel. The product also needs some development skills for you to take full benefit of it. Like Salespanel, Mixpanel also helps you track different interactions on your website and applications.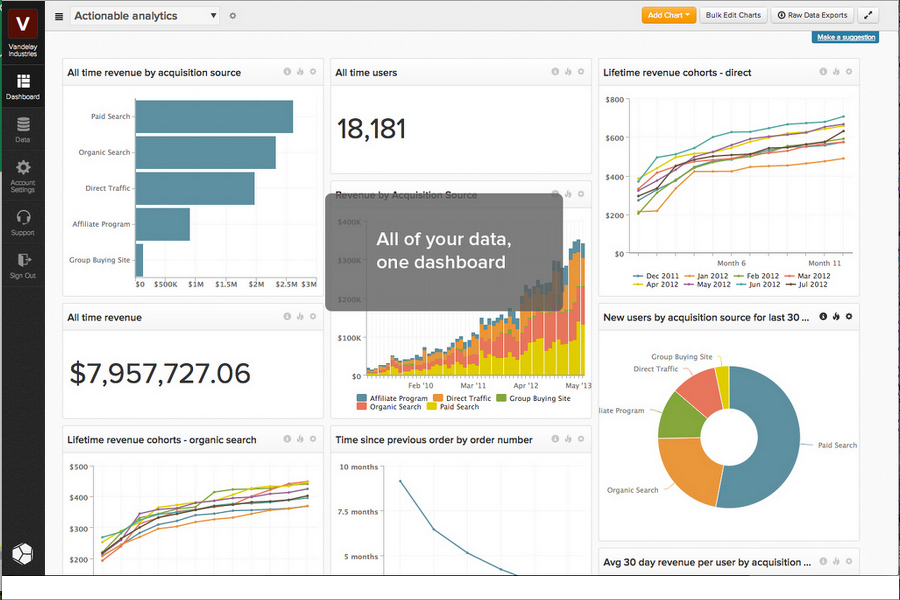 Kissmetrics
Kissmetrics is another product analytics software in our list that, like Salespanel and Mixpanel, also connects usage data to individual users. The primary objective of the software is to help you optimize your funnel and connect your campaigns to revenue data.
Kissmetrics connects product usage data from your website and application to reveal the entire customer journeys of your users. You can use this data to know who is doing what on your applications and understand how users engage with your platform.
The product, like Piwik Pro, is also geared towards Enterprises and has a pricing model in the higher range. So, if you are switching from a paid Piwik Pro plan, there wouldn't be any problems. But, a tighter budget would need you to look into other options.
Adobe Analytics
The only product we will list here that has prices higher than Piwik Pro. Needless to say, if you are an Enterprise business ready to pay the big bucks, Adobe Analytics should be on your radar.
Another privacy-focused solution, Adobe Analytics discourages you to collect any Personally Identifiable Information (PII) and should be used for analytics only. And, its strength lies in predictive analytics of data at large scale companies. This is something Piwik Pro fails at. Adobe Analytics is also better at cohort analysis. What Piwik Pro succeeds in, is support. For the price you pay, Adobe Analytics severaly lacks in the onboarding and personal support department. Piwik Pro provides you dedicated onboarding and service assistance.
Adobe Analytics should be your pick if you have a large scale data infrastructure and can benefit from predictive analysis of your data.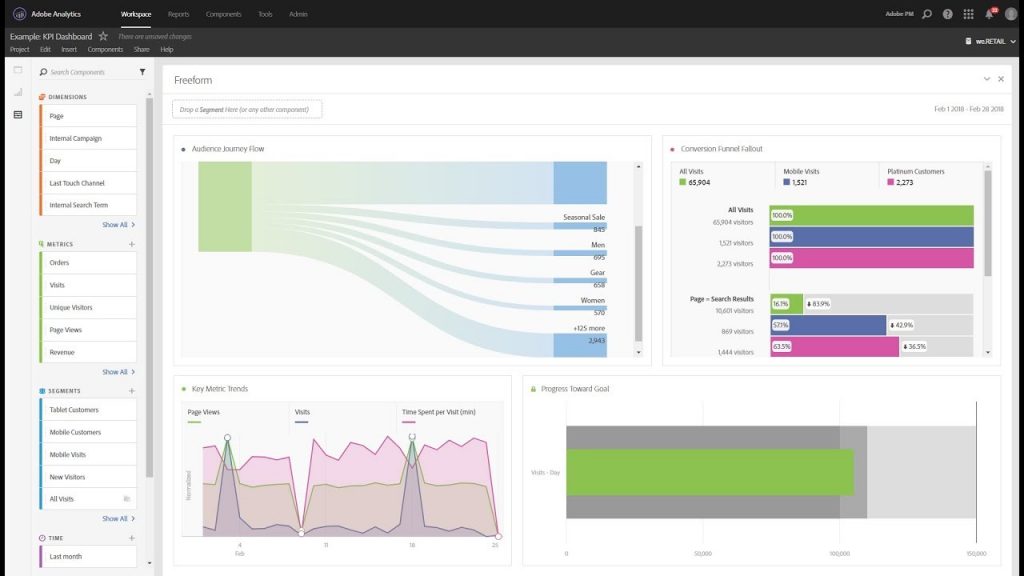 Piwik Pro Reviews
These are some of the most useful reviews of the product: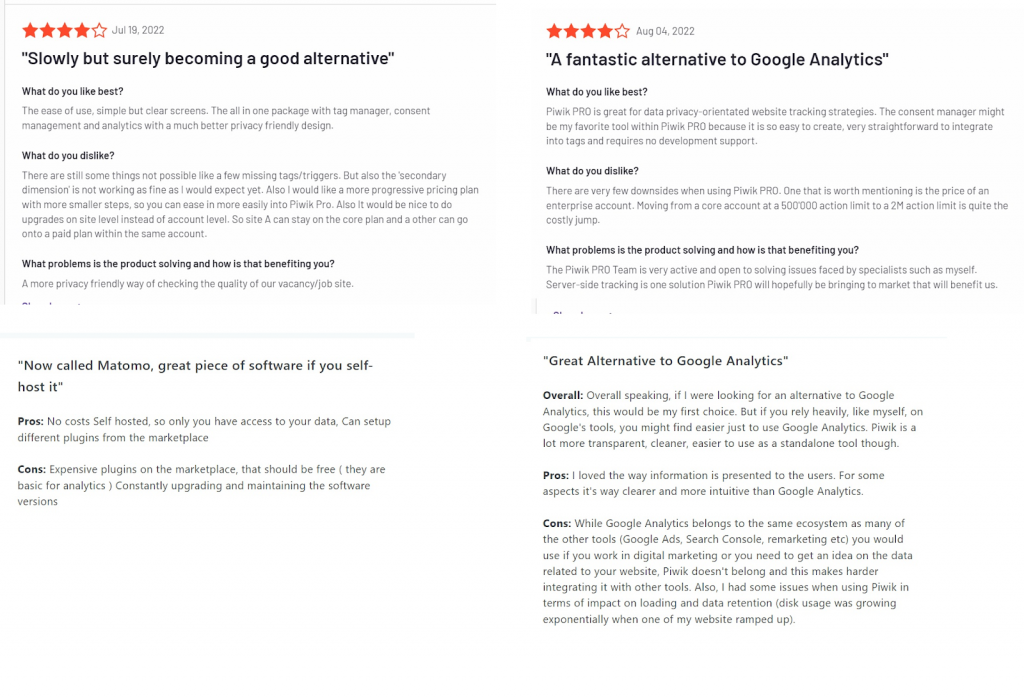 Final Thoughts
Piwik PRO is a great analytics tool especially if you are a privacy-focused Enterprise business. However, if you need a vivid mapping of B2B customer journey data for sales and marketing enablement, a tool like Salespanel can help.
Sell more, understand your customers' journey for free!
Sales and Marketing teams spend millions of dollars to bring visitors to your website. But do you track your customer's journey? Do you know who buys and why?
Around 8% of your website traffic will sign up on your lead forms. What happens to the other 92% of your traffic? Can you identify your visiting accounts? Can you engage and retarget your qualified visitors even if they are not identified?