How Does Calendly Work?
"What time works best for you?" is an oft-repeated question at work, more so with remote work shaping our lives since Covid-19 hit.
Booking meetings can get tricky – be it colleagues, partners, or leads/customers. We know that all-familiar feeling — long email chains to decide a meeting time, booking a meeting only to have it rescheduled as your leads are busy and facing a hard time calculating the time zone.
If you have nodded in agreement to one of these instances, then it's time to use an automated meeting scheduling software. But before that, let's understand what are the pain points with appointment scheduling on a daily basis.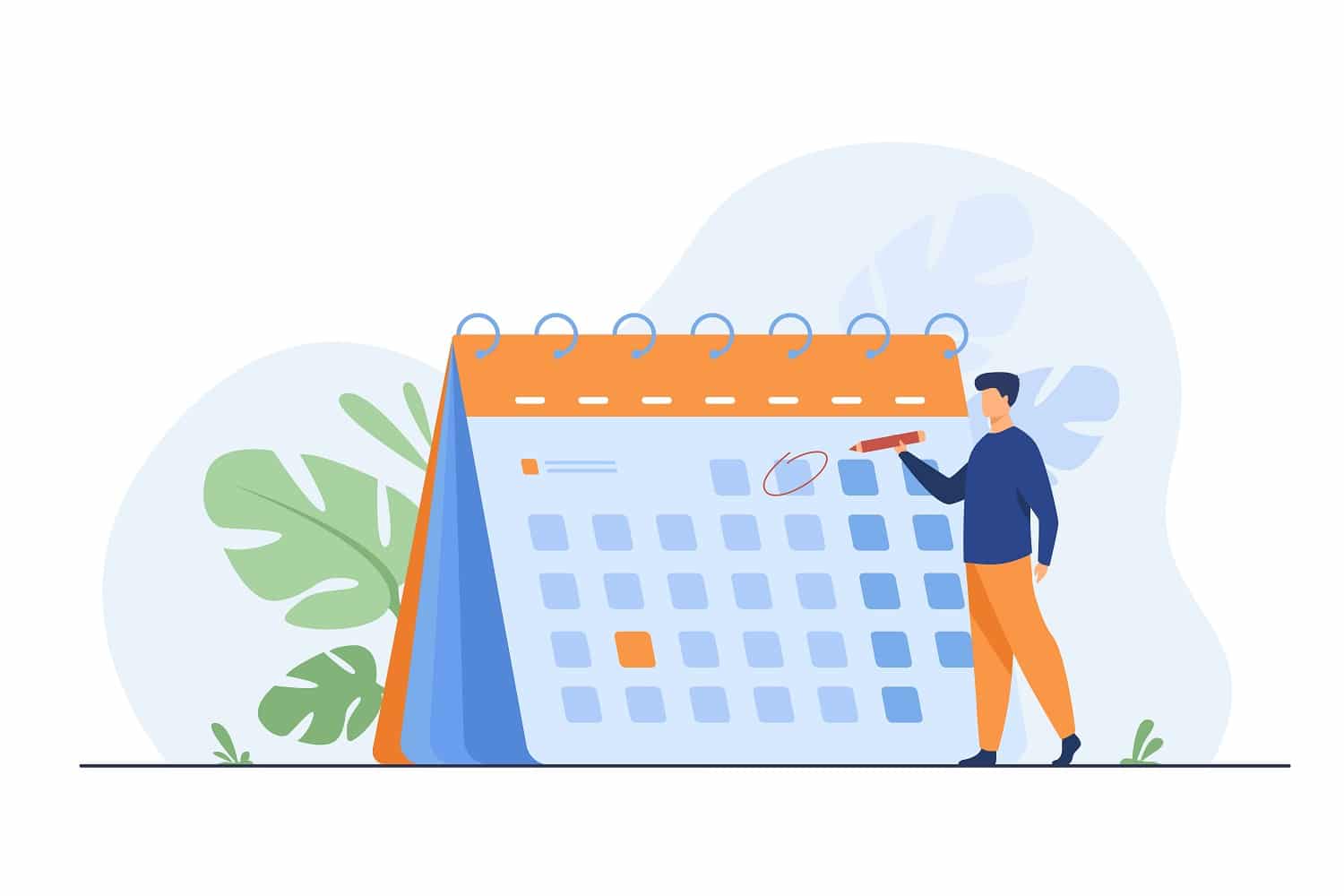 3 Major Challenges with Appointment Scheduling
Appointment scheduling sounds like an easy thing to do, but if you bring different time zones, multiple attendees, and remote work into the picture, then it adds to the complexities of scheduling. Following are the major challenges with meeting scheduling:
1. Multiple time zones
With remote work and remote selling coming into the picture, coordinating a meeting with attendees from different countries is even harder because of time zone differences.
Miscommunication can take place over an email — you may mean a certain time, but the person you are meeting with may understand it differently. So demos get pushed, the sales process gets longer, and this ultimately affects your pipeline.
2. Control over your calendar
Often, do you find yourself wondering "this could have been an email?" when you are stuck in meetings that run for hours, and you hardly have time to focus on priority tasks? Chock-a-block with meetings leave you with very less time for deep thinking and work that impacts your KPIs. Your calendar is no longer owned by you, but by several meeting hosts. Also, if you are conducting sales demos, having demos pile up in the same time period can be problematic as you need some time to personalize your demo for customers from different industries.
Irrespective of your role, you always need uninterrupted time for lunch and buffer time between meetings, that is often not considered when meetings are booked on your calendar.
3. Email chains between attendees
The biggest problem with meeting scheduling is the sheer amount of time it takes to schedule one, and the time spent on numerous cancellations and rescheduling. Leads tend to slip through the cracks while you are running short on a time.
Whether it is through emails, phone call,s or in-person, time spent on deciding when to have an online meeting is just time wasted. This precious time can actually be spent on tasks that impact your growth and learning.
In this article, we will walk you through how Calendly works.
What Is Calendly and How Does It Help You with Appointment Scheduling?
Calendly is a meeting booking software that helps you set your availability first, based on which, people can pick a time slot to meet with you.
It helps interested leads and customers to book time with you in an efficient manner, without any back and forth.
Calendly got a boost in users during the Covid-19 pandemic which forced people across the world to stay indoors and work remotely. This increased the need for virtual meetings and sales demos and hence appointment scheduling. Even companies that relied on outside sales were forced to adapt to this and use tools like Calendly and Zoom.
How Does Calendly Work?
Calendly helps democratize your calendar and gives you more time to focus on your core work. Calendly helps users save an average of up to 4 hours every week. Instead of back and forth conversations, attendees choose an open slot from your calendar and schedule a call. That's it. If you are using only one calendar, two attendees can't schedule a call at the same time. This eliminates a lot of to and fro.
Setting up your Calendly page is very easy. You sign up to Calendly and set up the time periods you want to be available on. You can also create your calendar in a way to keep gaps between your meetings or block out off times. You can also put questions in your scheduler to qualify people who want to book meetings with you. If the answers or an attendee's profile doesn't click, you can always cancel the meeting.
Be more flexible with your calendar:
Share your Calendly link anywhere — website, landing pages, email campaigns, or even a text message.
They don't have to access to your Google Calendar to view your schedule. You get control over your office time, and meetings can only be set in the time slots that are available on your Calendly booking page.
Connect all your work applications with Calendly and get visibility:
Calendly integrates with other tools in your arsenal. For example, its integration with Salespanel helps you know what your leads do before and after they book a demo from your website.
If you are in a profession where you charge per appointment, then you can also integrate Calendly with your Paypal or Stripe account.
Use workflows to send reminders and collect feedback
Calendly reminds you of tasks on your plate, through emails and SMS. It also helps send out reminders to invitees before or after a meeting. Calendly Workflows helps send email follow-ups to invitees automatically, continuing the conversation.
How to Set up Calendly?
Calendly has transformed the way meetings are scheduled and demos are booked all over the world. No more back and forth. No more asking for availability. You control your availability at all times, and people can easily book meetings with you across time zones. If you are wondering how Calendly works, we break it down for you. It's also pretty easy to set up.
1.  Sign up for Calendly
All you need to do is sign up with your email address.
2. Create a unique booking page URL
You will be taken to the Calendly booking page.
Create a URL that can be shared with all the people who want to book your calendar. Set the time zone you are in so those who are booking will be aware of your local time.
3. Sync Google Calendar with Calendly
This will help keep all your meetings in sync and avoid overlaps.
4. Personalize your experience with Calendly
Depending on your line of work, Calendly can be tweaked to offer a better experience.
5. Install it on your website
If you want leads to schedule demos while they explore your website, embed the Calendly widget.
6. Set up office hours
Often meetings extend beyond office hours. That is mostly because your calendar doesn't indicate your working hours. Set boundaries at work by setting aside dedicated office hours in your calendar.
You can show your recurring availability for one-on-one meetings with your peers or prospects by choosing preferred dates, times, time zones, and lengths.
7. Set event type
If you have recurring team meetings, or one-to-ones, then you can indicate those as well in the event type in Calendly. You can choose the type of events that you want to have in your calendar.
Event types can be customized in Calendly to make it more powerful:
Automate event reminders to ensure your attendees show up on time
Set up Calendly to automatically provide web conference details for every meeting
Add buffers before or after your event so you'll have some breathing space between meetings
Ask for event feedback so you can improve your event experience
8. Set up workflows
Calendly also allows you to set up event-related workflows. This helps you automate event related tasks such as text messages when events are booked, email reminders before events, and more.
Some workflows that you can set up to ease your event organization and appointment scheduling include:
Email reminders to invitees
Email reminder to host
Thank you emails to attendees
Text reminder to host
Text booking confirmation to host
Email survey link to invitees
Tracking Leads from Calendly
Calendly helps you set up the meetings and demos effortlessly but what happens before and after that meeting?
Calendly allows almost anyone to book your time. But, you also need visibility into:
where the leads came from?
why are they interested in meeting you?
whether they have interacted with you in the past
Shameless plug but we recently launched our Calendly integration on ProductHunt and we were very interested to write about it. Salespanel helps you connect the dots and can track this information for you.
When you integrate Calendly with a sales and marketing automation tool like Salespanel, you get the following:
1. Get insights into your leads
Calendly helps in smooth booking of your meetings by your prospects or potential clients. But, if you want to ask too many questions in your forms, you risk lower your conversion rates.
With Salespanel, you can track where your leads came from, even before your meeting. Since Salespanel tracks the referrer and campaign data (UTM) for every meeting booked from your website, you have visibility into your calendar and the much-needed context on who you are going to meet with.
With UTMs being tracked, you know:
Which campaigns are bringing in leads
Gauge intent of leads based on lead source
How to personalize content based on lead source
2. Connect the dots
Your meeting with a prospect went well. Then what happens? Do you grow tired of waiting for a response from the prospect over email?
If you integrate Calendly with Salespanel, prospects automatically get added to your CRM as soon as they book a meeting.
Salespanel then tracks all the activities of your leads who schedule a meeting from your website, before and after a meeting. Thereby helping you connect the dots – intent of the lead, your web pages that they visited, calls with your sales team, forms they have filled and more.
This will help your sales team understand lead motivation and conduct better demos.
3. Monitor conversions
Once the meeting is complete, what impact did it have in the buyer's journey? Did they sign up for a trial, or lose interest in your product?
You hardly know this information unless you call or email the prospect. With Salespanel, you can easily set up events and know when leads who scheduled meetings buy or reach important milestones of their buying journey. Track conversions and know how many of your demos result in successful conversions.
Sell more, understand your customers' journey for free!
Sales and Marketing teams spend millions of dollars to bring visitors to your website. But do you track your customer's journey? Do you know who buys and why?
Around 8% of your website traffic will sign up on your lead forms. What happens to the other 92% of your traffic? Can you identify your visiting accounts? Can you engage and retarget your qualified visitors even if they are not identified?