Zapier Alternatives That Save You Hundreds of Dollars
The power of computing and advancements in software design have changed the way business processes are carried out. At the forefront of this change has been the process of automation which has made processes fast, error-free, and cost-effective, no longer requiring human intervention.
Running a business in the online space requires one to utilize a variety of different apps and tools for various functions. Keeping each of those in sync with one another manually can be time-consuming and labor-intensive, raising your cost of operations.
Connecting different tools would need resources and time. This brought opportunities to creators of Zapier and similar tools to bridge this gap in the market. A no-code solution that would connect different applications with each other.
At the moment, there are plenty of automation and cross-app/platform integration solutions providers in the industry, such as API Fuse, ZigiOps, Piesync, IFTTT, Zapier, etc. However, at present, Zapier is at the forefront of the competition offering the most number of supported applications.
Zapier claims to provide integration with over 3000 different tools, apps, software, and platforms on their website. Valuated at $5Bn, Zapier is leading the segment. Users have reported Zapier as being very user-friendly and setting up automation workflows, or Zaps as Zapier would like to call it is easy to design and implement.
So how good is Zapier exactly?
To put it as simply as possible, Zapier is among the veteran champions of the automation and software integration world. What has put them in such a commanding position is how simple they make the process of automation and a large number of apps and software they offer integrations with.
They explain themselves as "Zapier is a tool that helps you automate repetitive tasks between two or more apps—no code necessary. When an event happens in one app, Zapier can tell another app to perform (or do) a particular action."
What tasks can you automate –
Repetitive Tasks – Generating and distributing weekly or monthly reports.
Updating changes/information from one app to another – Syncing project milestones and updated deadlines to team members' calendars.
Non-Decision-based tasks – Updating mailing lists with new subscribers.
For automating these processes, Zapier uses user-designed workflows, which they term as Zaps. You can assign single or multiple functions to a Zap. How it basically works is that you define an event that triggers an action from an app that you pre-define while creating the workflow design.
Using Zapier, you can connect the various apps and tools you utilize to run your business and create workflows that are specific to your specific requirements. This will help a business shorten its process timings and make them more productive.
What makes Zapier perform this well is how easy it is to design Zap workflows; it requires no coding at all. The interface is simple and easy to understand and offers a plethora of templates and built-in actions you can use straight away.
The Zaps are extendable and can have a single trigger for multiple tasks. Moreover, they even offer branch workflows that connect and trigger other workflows when the conditions you've set are met by the initial trigger event.
They offer top-of-the-line data security solutions to ensure all your data is protected and does not fall into the wrong hands. They assure you with zero downtimes to ensure your business is always running well and there are no hindrances in any of the automated processes. They provide users with robust technical assistance in case any issues arise. So there's nothing that can go wrong when using Zapier.
Why should you consider alternatives?
Zapier does its job well and offers more integrations than any of its competitors. So why should you even consider an alternative? A simple answer to that is Zapier's pricing. If a business can get the same work done without compromising on any parameters at a more affordable cost, then why should it not?
If you consider the plan pricing by other service providers, you'll make an observation that many of those are offering essentially similar features at pricing significantly lower than that of Zapiers'.
Why should you pay extra for Zapier? One might argue that Zapier has the most integrations and is also very well built. But, if you are using popular tools (like Salesforce, for example), chances are you will get similar automation solutions from Zapier competitors at cheaper prices.
Now, who are these alternatives?
Best 3 Zapier Alternatives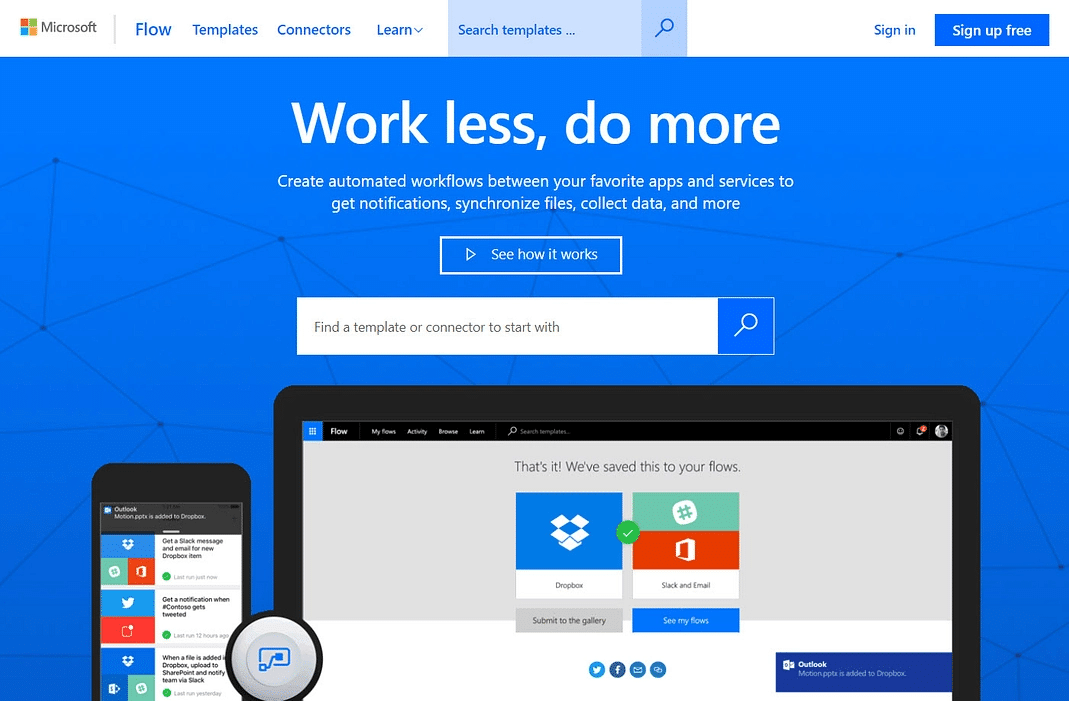 Microsoft needs no introduction, they're the biggest name in technology, and singlehandedly dominate the Operating System Market. What makes their automation and integration service offer the most value is that they already provide other business solutions such as Outlook, Office 365, Microsoft Teams, OneDrive, etc.
These business solutions are extensively used industry-wide, and hence integration between these enabled by Power Automate is seamless and enjoys better-blanketed data storage and security. They utilize cloud storage to store all your data which ensures there's no accidental data loss. Here are some highlights –
Templates – They offer an extensive selection of templates and designs which you could choose from and start work immediately. These templates are neatly categorized under Sales, Marketing, HR, Email, Social Media, Teaching, etc.
Cross-Platform Accessibility – Power Automate enables the user to access and manage their workflows from any platform, be it web, mobile, or desktop. They have a mobile app for both Android and iOS, which is a big plus point as it enables you to make changes to your workflow on the go.
Unlimited Workflows – Power Automate does not restrict how many workflows you can create as other solutions providers do. You're free to create as many workflows as you need, which can be connected to one another to create fully automated business processes.
#2 Automate
Automate is another big name in the automation and integration industry, and they have prominent tech giants as their clients who only serve as a testament to the value their service provides these businesses with. They claim to provide three times as much value compared to Zapier, which is evident in their pricing and even in their free plan.
Ease of use is one of the biggest USPs of Automate as they use a drag and drop method to set up workflows which they refer to as bots. Their service enjoys seamless integrations with many cloud-based apps and web services. You can run social media campaigns, monitor lead generation, send automated emails, track orders, payments, etc., using Automate.
Here are their highlights –
Ease of Use – Their learning curve is shallow, which means you can hit the ground running if you choose Automate. Not only this, their service offers a clean and simple interface that enables a better understanding of processes. All the workflow designs are done using a drag and drop approach which makes setups hassle-free and quick.
Multi-step Workflows – While Zapier only provides multi-step workflows to their premium customers, Automate allows even the free users to have multi-step workflows. This enables the free users to set up and run complex workflows to gauge the full extent of the services' functionality and value.
E-Commerce – Automate provides seamless integrations with all major E-Commerce websites enabling you to automatically send invoices, package tracking details, order confirmations emails, inventory, and payments.
#3 Leadsbridge
Leadsbridge is another good alternative to Zapier, which provides more value through its services. They're marketing partners with major global platforms such as Facebook, Google, Instagram, and LinkedIn.
As of now, they offer integration with over 370 apps, tools, and services, and however, if you require a certain integration they aren't offering right now, they will tailor-make an integration to suit all your requirements.
They offer features like consent-based marketing, custom automation rules, and filters and even ensure that none of your lead generation data is stored or accessed by them. They're GDPR, CCPA, and PCI compliant, which makes them a trusted service provider.
Here are their highlights –
Audience Targeting – Their service enables you to sync your email marketing lists, CRM segments, and customer lists with Facebook, LinkedIn, Google Ads, etc., while ensuring compliance with privacy laws such as GDPR.
Online to Offline Tracking – Here is an important USP of Leadsbridge; it even accounts for offline sales to enable better evaluation of online marketing campaigns. They offer this feature using Facebook Conversion API on Facebook and Google Offline-Conversion on Google.
Cross-Platform Integration and Synchronisation – Their service makes it possible for a firm to integrate and synchronize all its platforms, be it social media, email marketing tools, CRM, etc. This ensures the business doesn't suffer from data silos.
E-Commerce Synchronisation – Leadsbridge makes it possible for your E-Commerce platforms to sync data pertaining to orders, contacts, leads, etc., between it and your advertisement platforms and tools to ensure you can evaluate the overall performance of your business functions more effectively.
Final Notes
These are some Zapier alternatives we have chosen for you. We still love Zapier and are a Zapier partner. However, the goal of our blog is to enlighten readers about different possibilities. If you value ease of use and the number of integrations available, Zapier is still our top pick.
Sell more, understand your customers' journey for free!
Sales and Marketing teams spend millions of dollars to bring visitors to your website. But do you track your customer's journey? Do you know who buys and why?
Around 8% of your website traffic will sign up on your lead forms. What happens to the other 92% of your traffic? Can you identify your visiting accounts? Can you engage and retarget your qualified visitors even if they are not identified?