Lead Forensics Alternative – Pricing, Review, and Competitor Compared
What brings you here? The need for more data? A cheaper alternative? Or, maybe, your reverse IP lookup strategy is not effective anymore, considering that many of your visitors are now working from home. Or, maybe, you think you can do better than simple cold outreach.
We are often asked how Salespanel differs from Lead Forensics because we share a few features in common. In this article, we will explore Salespanel as a Lead Forensics alternative and help you decide which product is right for you.
How does Lead Forensics help customers?
Lead Forensics is a sales-focused lead generation software that identifies some of the companies who visit your website and tracks them while providing you firmographic details. You can use this information to reach out to those anonymously visiting companies, gain their attention again, and start the sales process.
Is follow-up outreach the best you can do?
The times have changed. Cold outreach still works, but you can do so much more to engage with your visitors aside from sending a straight-up cold call or email to the company and hoping that it reaches the correct person.
There are many non-intrusive strategies that you can use to engage your visitors even after they leave your website. When they are on your website, you can show them real-time personalized content. When they leave your website, you can show targeted content through remarketing.
And, you can do this without overpaying.
What is Salespanel? How is it a Lead Forensics alternative?
Salespanel is a marketing enablement software that helps customers identify, track, qualify and nurture leads and create a seamless data synchronization process between Sales and Marketing. Salespanel enables you to optimize your customer engagement with data and connect your marketing to revenue while bringing critical data intelligence to Sales that help them close more deals.
Salespanel can also identify companies who visit your website, but visitor intelligence is where its strength lies. If you are already using a tool like Lead Forensics, you would know that:
Company information can be found for only a handful of visitors.
Not all identified visitors have accurate data.
With Salespanel, even if a visitor can't be identified, you can nurture them, serve highly relevant information and get them to sign up. So, instead of identifying 10-20% of visitors from the company data and outreaching through a spray and pray approach, you engage your visitors inside and outside of your website and turn them into signed-up leads.
Let's look deep into the key differences of both products.
Why intrude when you can get the message across just as easily
Lead Forensics's strength lies in lead generation through company identification. It identifies companies who visit your website and provides you the data you need to follow up with these companies. It also helps you qualify them and prioritize better leads. So overall, it is quite good at helping you generate leads through identifying companies.
Salespanel, on the other hand, is primarily a visitor intelligence software. Like we mentioned before, we also provide you the information you need to follow up with companies. Still, our goal is to help you analyze and track every visitor and use the data to create meaningful customer experiences, qualify leads, serve highly targeted content and convert visitors into customers. And, you can do these for all visitors and not just the ones that can be identified. And, you do these for the actual people who visited your site and not the companies they work for, in general.
Lead generation through identifying companies and outreaching them can be a successful strategy, but there are a few problems.
Problem 1: Identification rate
Your company identification rate can range anywhere from 10-25% based on your traffic, as we mentioned before. What about the rest of your visitors? Many of them are still good quality prospects. If you do not have a framework for them, these visitors can get lost.
Problem 2: Reaching the right person
Company identification fundamentally works the same way for most tools. They are identified based on their shared company network. Now, there is a catch-22 situation. Bigger companies use a shared network and the tool is likely to identify them. But, these companies have a lot of employees, and it might be challenging to reach the person who actually visited your website. At that point, it will be a guessing game, and if you guess wrong, your follow-up is basically a cold email.
On the other hand, you are more likely to reach the right person if your leads are smaller companies, but smaller companies usually do not share a network, and hence they can't be detected often.
If cold outreach works for you, you can definitely stick to Lead Forensics. However, suppose you want to track all visitors, including anonymous visitors, companies, and signed-up leads, and get a firm grip of the customer lifecycle. In that case, Salespanel is something you should try out. Proactive sales and marketing people are always looking for meaningful ways to engage their website visitors in non-intrusive ways with highly targeted content and create better relationships. Not everyone responds to cold calls and emails after all.
Segmentation and Lead Qualification
Lead Forensics offers a lead scoring solution that helps you segment and qualify the companies that are identified from your website. This enables you to prioritize companies that are more important to you. But, the functionality is limited to only companies.
Salespanel lets you segment and qualify every single visitor in real-time while they are still on your website. If a visitor is found qualified, shouldn't they be prioritized and fast-tracked to premium pre-sales service? You can do just that with Salespanel along with serving them relevant content. You can also capture qualified visitors and run remarketing campaigns even outside of your website.
When it comes to lead qualification features, we have both automated and manual features:
Lead Scoring: Using this tool, you can set up your own custom workflow to gradually qualify your leads using several data points available on Salespanel.
Predictive Lead Scoring: Salespanel uses machine learning to analyze data from our lead qualification engine and adds a quality score to your leads without needing any input from your side. So, every lead gets a score.

Lead Temperature: Lead Temperature tracks the behavior of your lead and notifies your sales team when leads show high intent. This feature is also available on Lead Forensics.
B2B Analytics
Another key feature of Salespanel is B2B analytics. Many B2B marketers use Google Analytics for their analytical needs. While Google Analytics is great, it only provides holistic data, and B2B marketers need something more. Something that would help them connect to individual leads and companies. This is where Salespanel comes in.
Salespanel tracks every visitor/account/lead interaction and creates reports in real-time. These reports can be filtered based on any data attribute. You can also create segments of lead categories and get analytics only for leads who are added to the segment.
Getting easy access to analytical data helps you optimize your campaigns, properly use your resources and acquire more customers. Lead Forensics also provides a reporting feature, but again, the data you get is only limited to companies visiting your website.
Lead Forensics Pricing: The elephant in the room!
We saved the best for the last. Although the pricing of Lead Forensics is not listed openly on their website, customers claim that their pricing is on the higher side while comparing it to any other company identification-based lead generation tool in the market. Also, they do not offer monthly subscriptions, and you would need to get an annual contract. We had previously found claims that their prices go around $2000 per month. Lead Forensics is definitely an expensive tool when you consider the pricing of similar tools.
Lead Forensics charges almost four to five times higher prices than any company identification software. Does it give you a lot more data? No!
Then, why the price?
There are two theories. 1. Lead Forensics is one of the first tools to help companies generate leads through reverse IP lookup. With their first mover's advantage, they were able to set their price. This opinion is also shared by other companies in the segment. 2. If you check out what the leads of Lead Forensics (get it? Leadception!) have to say on social media, you would realize that they have a 'hard sell' strategy. Their amazing sales team is doing the heavy lifting to acquire customers.
These are two theories that many companies would agree with. Please feel free to do your digging.
Coming to Salespanel's pricing, it starts at $49 for the basic plan for tracking 1000 unique visitors per month and goes up to $499 per month for sophisticated Enterprise solutions. We also provide monthly plans. And, with Salespanel, you get so much more.
Here is what one of our customers who tried several company identification tools had to say about our pricing:
"We discovered that at the moment, you're the best priced in the market based on quality-pricing."
-Maria, ADvendio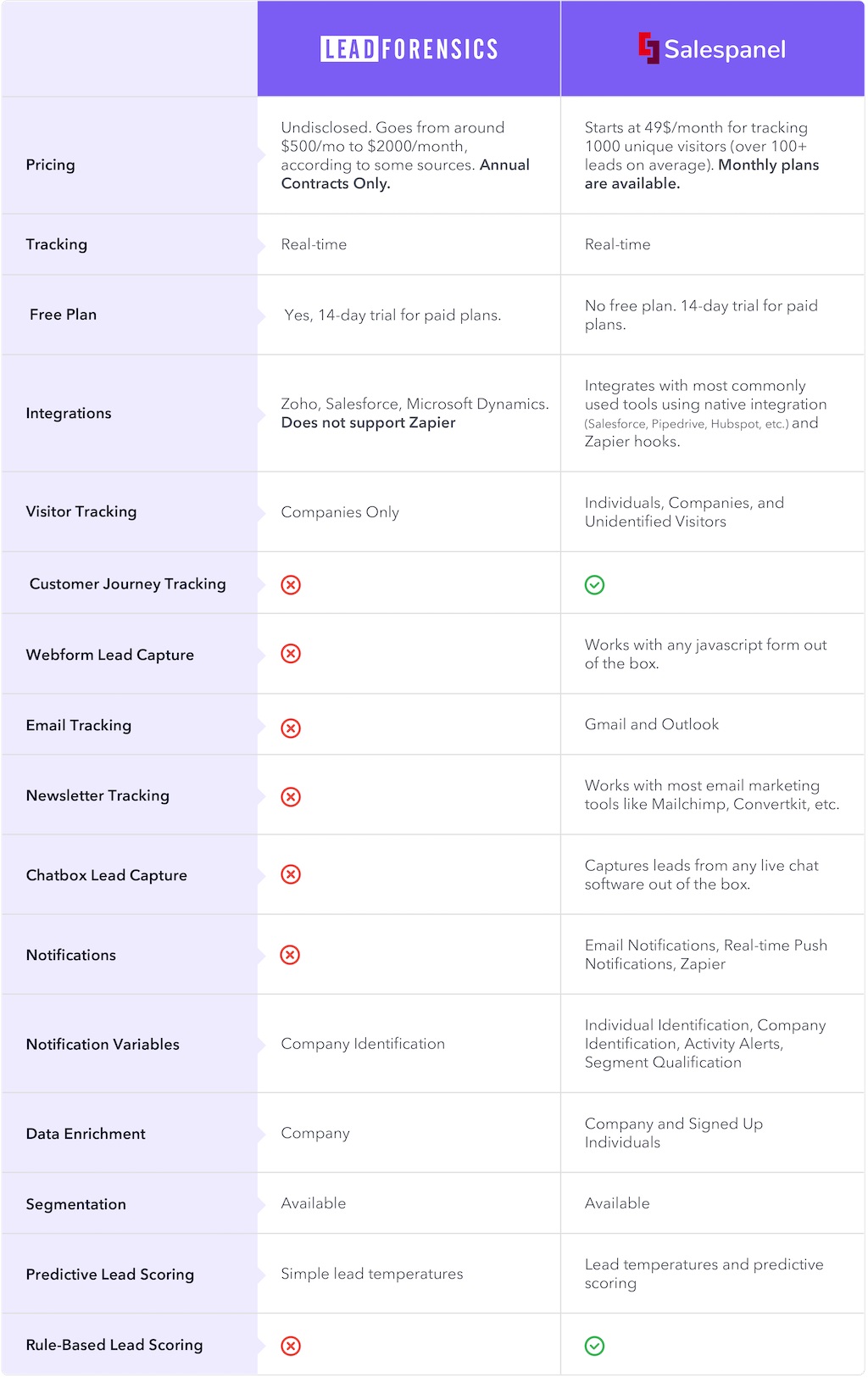 Conclusion
To conclude, if you are looking for a lead generation tool that helps you identify companies from your website, Lead Forensics is a good choice (disregarding the price to value aspect).
On the other hand, if you are looking for a product that helps you work on all of your visitors in non-intrusive ways and connects your Sales and Marketing while being more value for money, Salespanel is what you need to check out. Salespanel helps you implement proactive sales and marketing strategies while connecting in meaningful ways with your customers.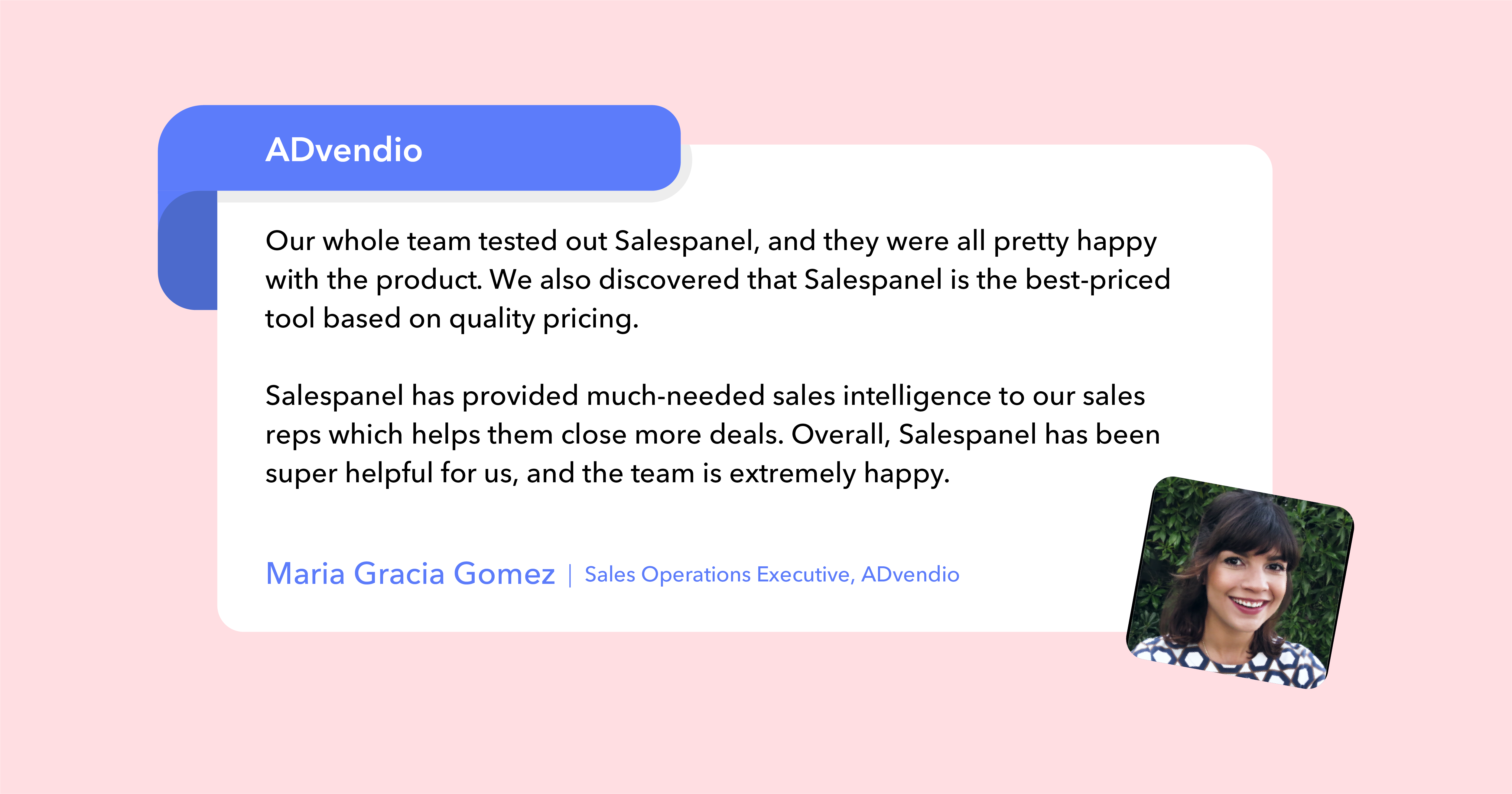 Sell more, understand your customers' journey for free!
Sales and Marketing teams spend millions of dollars to bring visitors to your website. But do you track your customer's journey? Do you know who buys and why?
Around 8% of your website traffic will sign up on your lead forms. What happens to the other 92% of your traffic? Can you identify your visiting accounts? Can you engage and retarget your qualified visitors even if they are not identified?