Salespanel as an Albacross Alternative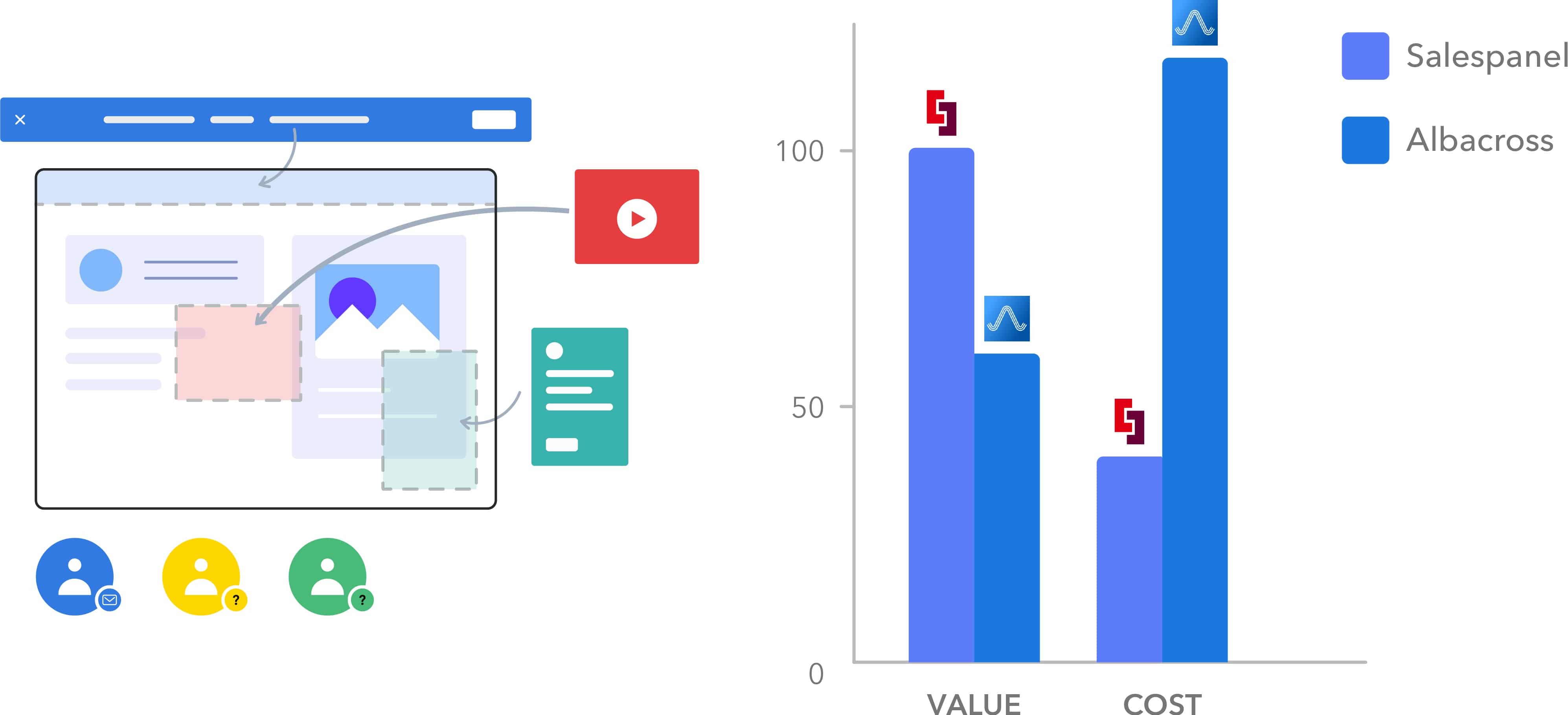 Are you looking for an Albacross alternative? What would be the reason for it? Perhaps you were on the boat when the product was free, and the frequent changes in prices and the product's positioning have left you confused. Or perhaps, you are comparing multiple visitor identification products before settling on one.
Or, you are not getting the results anymore because with more people now working remotely, reverse account lookup does not work as well as it did.
Whatever the case is, we will use this opportunity to introduce you to Salespanel and try to provide you an alternative that will help you do better while paying similar prices (or less!).
What is Albacross?
Albacross is a lead generation and marketing automation software that helps you identify companies who visit your website (using reverse DNS tracking) and run outreach or account-based marketing campaigns. It also helps you create workflows with other tools in your arsenal.
What is Salespanel?
Salespanel is a marketing enablement software that helps customers identify, track, qualify and nurture leads and create a seamless data synchronization process between Sales and Marketing. Salespanel enables you to optimize your customer engagement with data and connect your marketing to revenue while bringing critical data intelligence to Sales that help them close more deals.
Pricing
Starts at $49/month for tracking 1000 unique visitors (over 100+ leads on average). Monthly plans are available.
Undisclosed. Claimed to start at $400/month for pro plans.
Tracking
Real-time
Unknown
Free Plan
Free plan available with 7 days of data retention and web activity details.
14-day free trial for premium plans.
Free plan not available.
14-day free trial for premium plans.
Integrations
Integrates with most commonly used tools using native integrations (Salesforce, Pipedrive, Hubspot, etc.) and Zapier hooks.
Integrates with most commonly used tools using native integrations and Zapier hooks.
Visitor Tracking
Individuals, Companies, and Unidentified Visitors
Companies Only
Customer Journey Tracking
Yes
No
Webform Lead Capture
Works with any javascript form out of the box.
No
Email Tracking
Gmail and Outlook
No
Newsletter Tracking
Works with most email marketing tools like Mailchimp, Convertkit, etc.
No
Chatbox Lead Capture
Captures leads from any live chat software out of the box.
No
Notifications
Email Notifications, Real-time Push Notifications, Zapier
Email, Zapier
Notification Variables
Individual Identification, Company Identification, Activity Alerts, Segment Qualification
Company Identification
Data Enrichment
Company and Signed Up Individuals
Companies and prospects
Segmentation
Available
Available
Predictive Lead Scoring
Lead temperatures and predictive scoring
Lead temperature
Rule-Based Lead Scoring
Yes
No
Website Personalization and triggers
Yes
No
Support
Live Chat and Email, Call Support for Enterprise
Live Chat and Email, Call Support for Enterprise
Similarities between Salespanel and Albacross
Visitor Deanonymization
Both Salespanel and Albacross help you identify companies visiting your website. The technology behind this is fairly simple, and you will get a similar identification rate for every product that honors user privacy and complies with GDPR, CCPA, and other data regulations.
Mid-market and Enterprise companies have a specific DNS pool where all the computers from the network browse through. So, all employees visiting from a company's IP pool can be identified and tagged accordingly. And, if you have B2B visitors on your website, a tracking product can identify companies where your visitors work. And, that is all. There are no secret sauces unless a product is doing something that does not go well with data and privacy regulations.
Around 10-25% of accounts visiting your website can be identified using this strategy.
Account-Based Marketing
Both Salespanel and Albacross help you run Account-Based Marketing (ABM) campaigns based on account information and intent data gathered by each tool. Both products also help you run targeted advertising campaigns to these accounts on platforms like LinkedIn.
One difference that I would like to point out, however, is that Salespanel has out-of-the-box lead qualification features, and you can qualify any visitor (not just accounts) and run highly personalized advertising campaigns based on intent data.
Account-based marketing is available on Salespanel Scale plans starting at $499/mo. The cost of Albacross is not disclosed but based on the data we found, and it should cost higher than that.
Website Personalization
Website personalization is another feature that both products share in common. Website personalization on Albacross is a subset of their ABM module, and you can use it to run targeted personalization on your website for identified accounts (companies that are identified from your website). Salespanel, on the other hand, helps you leverage account data and intent data and run personalization for all visitors.
If you are running personalization for accounts that can be identified, you can run personalization only on 10-25% of your visitors. Plus, if you start qualifying, the numbers decrease substantially. Every visitor gets qualified using machine learning and lead scoring on Salespanel, and you can fast track good quality leads to priority sales. Custom trigger events, pop-ups, site blocks, etc. can also be created. The possibilities are endless.
Differences between Salespanel and Albacross
Pricing: Salespanel vs. Albacross
Albacross's pricing and positioning changes a lot from what I have observed so far. In the last few years, it went from a completely free product to an Enterprise product. Its pricing structure has seen starting points of $0/mo, $89/mo, $167/mo, and now ~$400/mo (claimed by sources).
Pricing is currently undisclosed, and it is hard to compare since it changes so frequently. Salespanel starts at $49/month to track 1,000 unique visitors and goes to $499/mo for the most premium Scale plan (for tracking 30,000 unique visitors) with ABM and other Enterprise grade functionalities.
I believe you get much more value from Salespanel while paying lesser prices. You be the judge.
Tracking for all visitors (signed up leads, companies, and anonymous visitors)
As you have guessed by now, Salespanel is a complete visitor intelligence and marketing enablement software. Salespanel helps you capture leads from your web forms, live chat, and email marketing campaigns, segment and qualify them using various data attributes, run account-based marketing, create sales and marketing alignment, and the list goes on.
Salespanel tracks customer journey right from the first visit and even after the visitor signs up and later converts into a customer. You will know what your leads did on your website even before they signed up.
If your focus has solely been on visiting companies so far, using tools like Albacross, you will realize what you were missing out on as soon as you start seeing the data on Salespanel.
Salespanel works with all your newsletter software, support chat, third-party web form software, and email clients. It will also enrich your CRM with a lead's activity information. Salespanel tracks the complete customer journey of your visitors from the time they were anonymous and up until the purchase is complete. Salespanel can even track them for post-conversion nurturing.
Segment and qualify your leads
Albacross has a segmentation feature that works on accounts that are identified on your website.
Salespanel helps you segment and qualify all of your visitors, leads (sign-ups), and accounts based on all the available personal (for signed up leads), firmographic, and behavioral intent data attributes. For lead qualification, Salespanel provides both predictive (automatic) and rule-based (manual) lead scoring solutions.
Lead Scoring: Using this feature, you can set up your own custom workflow to gradually qualify your leads using several data points available on Salespanel.
Predictive Lead Scoring: Salespanel uses machine learning to analyze data from our lead qualification engine and adds a quality score to your leads without needing any input from your side. So, every lead gets a score.
Lead Temperature: Lead Temperature tracks the behavior of your lead and notifies your sales team when leads show high intent.
You can create thresholds and alert your sales team through push notifications, emails, or a communication platform like Slack to help them strike conversations when leads are hot.
Get meaningful B2B analytics
Another key feature of Salespanel is B2B analytics. Many B2B marketers use Google Analytics for their analytical needs. While Google Analytics is great, it only provides holistic data, and B2B marketers need something more. Something that would help them connect to individual leads and companies. This is where Salespanel comes in.
Salespanel tracks every visitor/account/lead interaction and creates reports in real-time. These reports can be filtered based on any data attribute. You can also create segments of lead categories and get analytics only for leads who are added to the segment.
Getting easy access to analytical data helps you optimize your campaigns, properly use your resources and acquire more customers. Lead Forensics also provides a reporting feature, but again, the data you get is only limited to companies visiting your website.
Final Thoughts
While Albacross's positioning has somewhat changed in the last year or so to make comparisons done beforehand irrelevant, the core still remains the same. It identifies companies visiting your website and offers you functionalities revolving around it.
Salespanel, on the other hand, helps you work on all visitors on your website and create a pluggable tracking system connecting your sales and marketing operations. It tracks a customer's entire journey and helps you create a highly relevant experience for leads who are actually going to buy. It also helps your sales team use data intelligence to close more deals. We would suggest you take both products for a spin and choose what you think is best.
Sell more, understand your customers' journey for free!
Sales and Marketing teams spend millions of dollars to bring visitors to your website. But do you track your customer's journey? Do you know who buys and why?
Around 8% of your website traffic will sign up on your lead forms. What happens to the other 92% of your traffic? Can you identify your visiting accounts? Can you engage and retarget your qualified visitors even if they are not identified?