What is Pipedrive CRM? Do You Need a Pipeline CRM?
In the fast-paced world of sales and client relationship building, you will need some fantastic technology to support your daily needs. Thankfully, services such as Pipedrive CRM exist to help you manage your customer relationship with efficiency and care. But what exactly does Pipedrive do? What even is a CRM as a concept?
If you're looking for ways to build new client relationships and serve customers, it's time to consider a leading CRM. However, as always, it pays to do a little homework before you leap into any particular brand. Let's take a closer look at the concept.
What is a CRM?
CRM stands for Customer Relationship Management. A CRM platform acts as a central hub where you can manage multiple accounts and projects.
A CRM helps you track customers, know where they are in the sales process and move them through a systematic sales process. Crucially, it may also be a useful space for you to ensure your team members are all on the same page.
Modern businesses require careful streamlining. That applies to all departments. Companies use CRMs to gain useful insights into current project progress, as well as what they are doing to reach out to customers.
Why is a CRM Needed? How Does it Help Sales?
Effective sales strategies, naturally, revolve around building relationships, not just acquiring leads. A CRM is the perfect asset in helping sales manage their clients. It offers customers and clients peace of mind and confidence, too, that a business is constantly in-touch through the service stages.
For salespeople, a CRM is a fantastic asset in helping to follow up on leads. A CRM platform will allow you to monitor client records, to keep track of multiple conversations, and to process follow-ups. A good CRM will allow sales teams to follow up with prospects through a simple UI quickly. This, of course, will also be beneficial to everyday clients and customers.
A sales CRM is a measure of productivity and success. All your sales data is collated in one place, and it is simple to trace the history of conversations. This way, sales professionals can continue to ensure they are on-message with their brand and on-target with their prospects.
Crucially, the best CRMs will allow sales teams to refine and target their sales strategies carefully. There is no need for guesswork. All parties in the sales chain will be kept up to speed on what is happening. What's more, it is likely to save you time and money in streamlining the whole process.
What is a Pipeline CRM?
There are different types of CRM services available. A pipeline CRM, for example, is one that carefully maps out each stage of your sales pipeline. That may be obvious from the name of the service alone. However, it is how these CRMs manage your sales pipelines.
A pipeline CRM helps you create different stages of the sales process and move leads through each stage. You'll receive useful notifications and reminders of what you need to do at each stage of the process.
Therefore, it is a system that is specifically designed for sales processes. As sales pipelines will differ from company to company – and from prospect to prospect – the best tools will be flexible, versatile, and endlessly manageable to your own needs.
The whole aim of a pipeline CRM is to keep your clients engaged. It's a system where you can ensure your leads don't stick or drop off at the second or third rung of the pipe. Essentially, it's a useful organizer that you can fall back on if things start to get a little murky or hard to follow.
How Does a Pipeline CRM Work Differently From Other CRMs?
Pipeline CRMs are built explicitly for sales analysis, lead nurturing, and pipeline follow-ups. These systems benefit from the same assets a standard CRM will offer. Therefore, it will always be easy for you and your team to follow each stage of the lead building process. What's more, there will always be opportunities for you to collaborate, communicate, and ensure everyone is on the same page.
However, the main difference between a pipeline CRM from other types of management software is the fact that the pipeline takes center stage. A pipeline system will clearly layout and annotate user-defined stages of the sales process. You will be able to set up reminders, triggers, and useful tools to tie in with each stage of the sales pipeline.
A CRM offering pipeline analysis as its main feature is going to organize a little differently to most mainstream software. Client collaboration CRMs, for example, will offer more emphasis on file-sharing and online workspaces.
Pipeline services, meanwhile, will divide workflows up into the stages you expect. This is beneficial to both the sales team and the client. This way, everyone is up to date and up to speed on where things are heading.
Introduction to Pipedrive CRM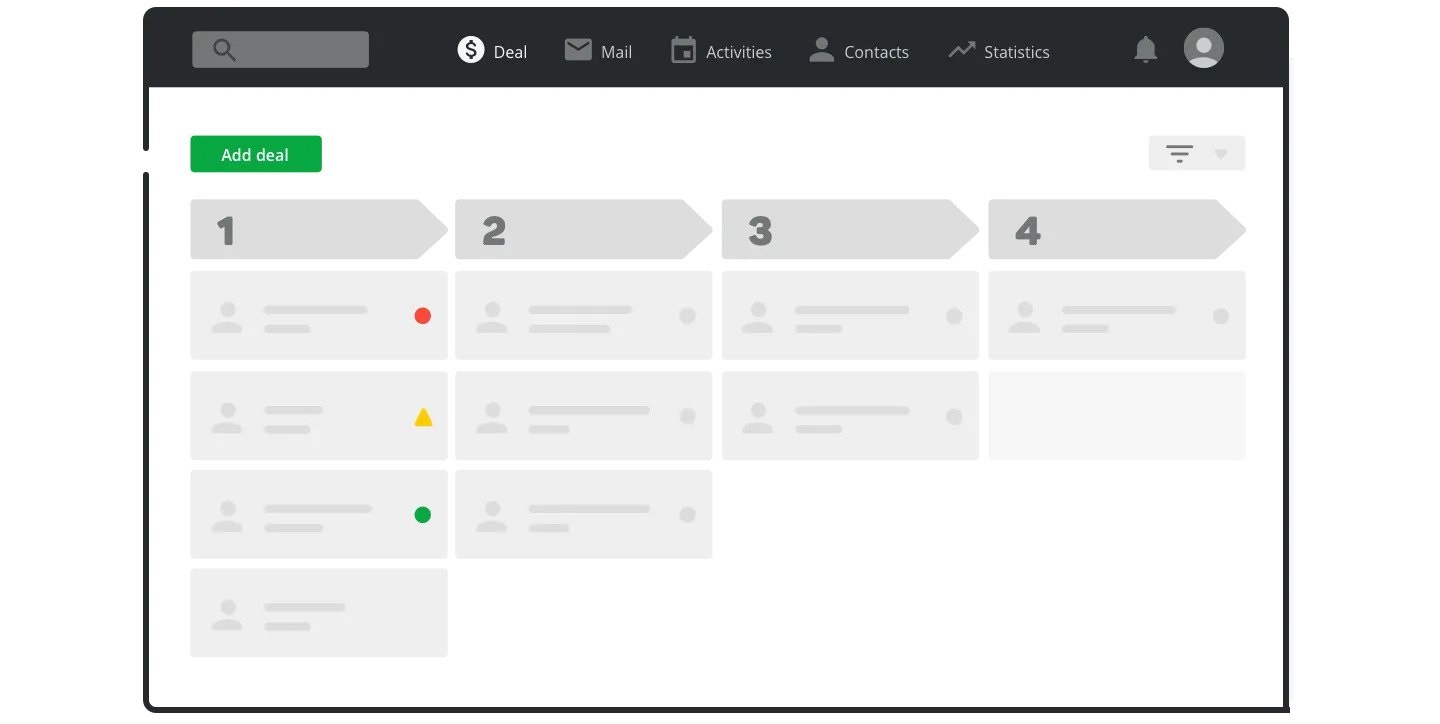 Pipedrive CRM is a leading pipeline CRM service that seeks to make the sales and relationship-building process more efficient than ever. Pipedrive helps you easily import your leads, assign them to your salespeople and move them through different stages of the sales cycle. With Salespanel integration, it can enrich all records with marketing data and provide crucial sales intelligence.
Pipedrive is entirely customizable. That means that you can establish your own unique sales processes and patterns without having to fall back on any default standards. One of the significant driving benefits of using Pipedrive lies in its incredible flexibility.
Pipedrive exists not only to remind and report users on stages in the pipeline but to cleanly correlate it with data. Many sales experts will head to Pipedrive with clusters of spreadsheets and confusing data patterns and turn them into usable info.
Ultimately, Pipedrive strives to help keep your sales drivers and processes running in a clear order. Some CRMs are better for collaboration and long-term targets. Pipedrive, meanwhile, is perfect for managing sales from end to end.
Features of Pipedrive CRM
Pipedrive boasts a number of great features that sales teams are likely to find useful:
Build, label and manage your own custom pipelines and process stages
Track your complete contact history from start to end
Pull leads from chatbots and email forms and through integrations (eg: Salespanel)
Track communications and have full visibility
Get complete control over your business data and sales paths
Automate tasks with Pipedrive and its integrations
Automate lead sourcing and build relationships
Crucially, Pipedrive provides the above features and more with efficiency, thanks to a user-friendly UI. You can learn more from here.
Pipedrive as a Pipeline CRM – How Does it Differ From Others in the Market?
Pipedrive competes against other specialist pipeline CRMs with a variety of exclusive features and cost-effective plans. Here are just a few positive reasons for why the platform sits apart from the competition:
Pipedrive is a really easy to use pipeline CRM
The service integrates with over 350 third party programs, platforms, and services
Pipedrive offers a variety of apps, across Android, iOS and via web
Pipedrive remains one of the most customizable CRMs available
Unlike some CRMs and platforms, Pipedrive is built to scale and grow with your business
The platform is easy to use and requires minimal training to adapt to
Data such as spreadsheets are always straightforward to import and export
Full client support is available through a helpline, email, and live chat
The same support channels are available to your customers
How Much Does Pipedrive Cost?
Pricing for the Pipedrive platform is flexible and cost-effective. The system is currently available to new users at the following levels:
Essential – US $12.50 per month, per user, with access to entry-level pipeline management
Advanced – US $24.90 per month, per user, with access to intermediate automation and workflow management
Professional – US $49.90 per month, per user, with complete access to Pipedrive's best CRM facilities
Enterprise – US $99.90 per month, per user, built for bigger businesses for wider onboarding
Final Thoughts
Maintaining a sales pipeline, historically, has been relatively complex. However, in the age of the flexible, user-friendly CRM, it's getting easier to keep track of where your leads are heading. To build the best relationships, and to really drive revenue, clarity and confidence are key.
Pipedrive CRM will offer you full pipeline oversight. This will help you to manage your sales targets and to ensure your prospects are happy, confident, and well-informed. Why waste time using multiple programs and spreadsheets to confuse matters? Always choose a leading pipeline CRM which blends together complex, crucial data for long-term leads and financial success.
Sell more, understand your customers' journey for free!
Sales and Marketing teams spend millions of dollars to bring visitors to your website. But do you track your customer's journey? Do you know who buys and why?
Around 8% of your website traffic will sign up on your lead forms. What happens to the other 92% of your traffic? Can you identify your visiting accounts? Can you engage and retarget your qualified visitors even if they are not identified?