What is Sales Outsourcing? Top 15 Sales Outsourcing Companies in 2023
Updated on 29th August, 2023.
Your in-house salespeople are the best; they know your product better than anybody else. We get it! However, as your business grows, scaling your team proportionally can be a challenge, especially for startups whose founders and initial employees handle sales. If your sales team can't keep up with your growth, you may experience a bottleneck situation. That's where sales outsourcing can help.
While sales outsourcing was once frowned upon due to concerns about accountability and oversight, an increasing number of businesses struggle to balance their desire for growth with the lack of bandwidth to handle the volume of new leads that pour in while they are not yet ready to have a full-scale sales team in-house. As a result, certain sales tasks are regularly outsourced to different companies.
Even sales software can now handle 4-5 tasks that were previously juggled between sales reps, freeing them to focus more on closing and less on routine maintenance and mundane tasks. Sales outsourcing agencies and tools can help you scale many of your sales operations and keep your growth trajectory consistent.
In this article, we cover:
What is sales outsourcing
When should you consider sales outsourcing
Pros and cons of outsourcing sales
Sales outsourcing software and agencies to consider
What is Sales Outsourcing?
Sales outsourcing is the process of delegating a part of your sales process to a third party or agency.
Outsourcing sales could include market research, lead generation or even routine sales tasks like outbound calling or handling inbound calls. You can also outsource most of the sales process to an external agency.
Who Needs Sales Outsourcing?
Sales outsourcing is usually considered by businesses that lack adequate resources like manpower or time to expand their sales process. Let's face it, salespeople would spend less time on sales without proper tools.
A typical salesperson spends most of his time updating excel sheets and status, traveling to meetings, filling out timesheets, and more. In fact, sales reps spend only 30% of their time selling.
Sales outsourcing helps salespeople focus more on selling. Outsourcing sales can help increase flexibility and allows sales teams to focus on higher-level tactical tasks or strategies.
How Does Sales Outsourcing Work For B2B Companies?
For B2B businesses, sales outsourcing entails leveraging technology to accelerate and improve key stages of the sales process. Outsourcing sales processes like lead acquisition, nurturing, follow-ups, and data management are frequently part of it.
B2B companies can outsource or automate workflows that initiate actions based on prospect behavior or predetermined criteria by integrating Customer Relationship Management (CRM) systems, email marketing platforms, and other tools. By doing this, they increase operational efficiency, decrease manual work, and free up time for your sales teams to concentrate on high-value tasks like forming connections and completing deals.
In the B2B setting, sales outsourcing improves productivity, increases accuracy, and shortens the sales cycle. Outsourcing sales is an all-encompassing solution that has become a crucial component of the contemporary business environment, helping organizations to outperform their rivals and achieve long-term success.
5 Reasons to Consider Sales Outsourcing
Sales outsourcing is not for all businesses. Some scenarios that can prompt you to consider outsourcing sales include:
Small team: You have a small sales team that is simply unable to handle the volume of leads generated
New markets: You are a growing startup that is looking to scale across new geographies or markets, but lack good sales resources/talent.
Budget constraints: You don't have the budget to hire top sales talent for in-house functionalities
Lack of resources: Lack of expertise in your sales team to handle certain sales functions
Manual task overload: Your sales team is caught up with administrative tasks, that leave very less time for selling.
Pros and Cons of Outsourcing Sales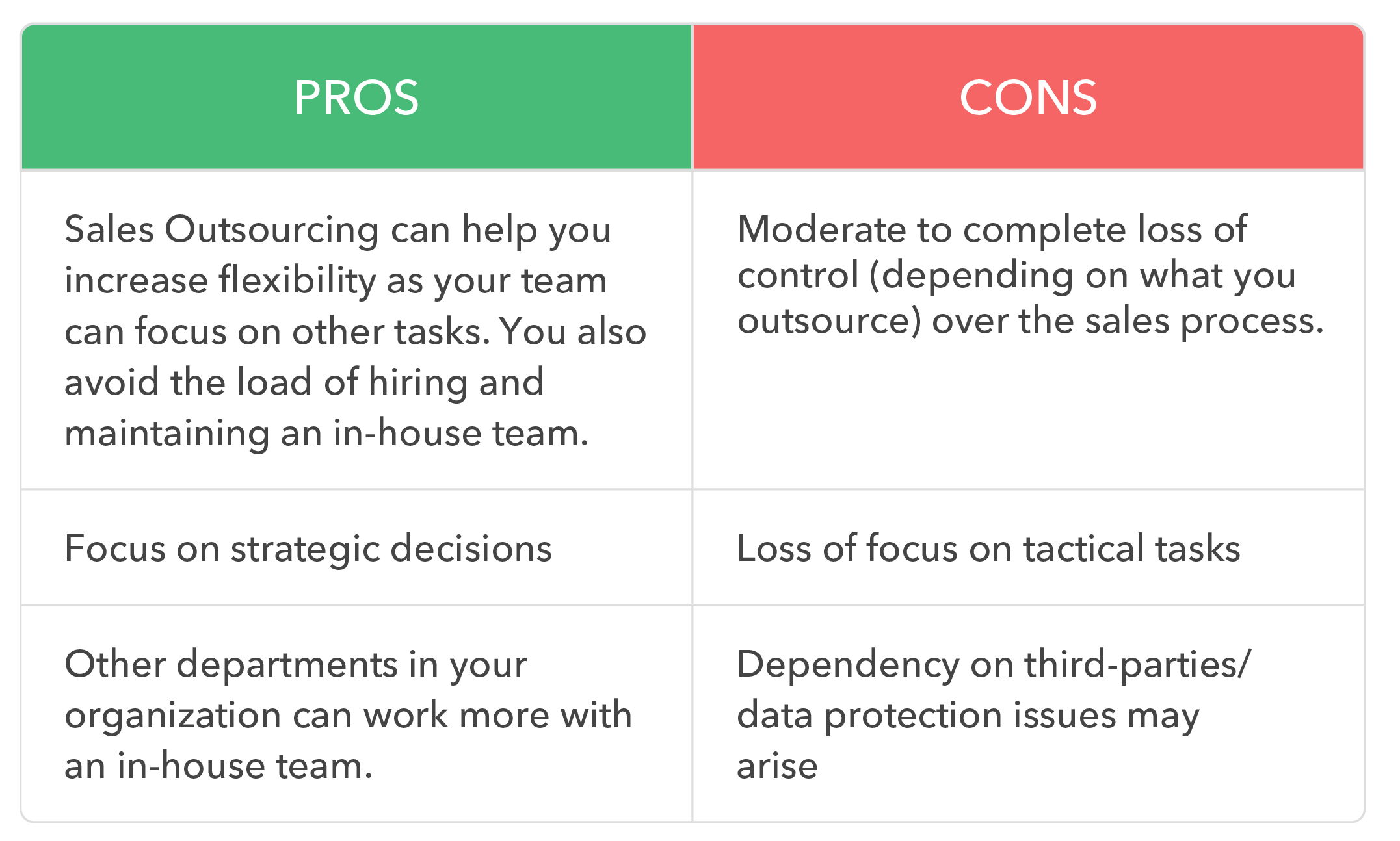 Pros:
Access to Expertise: You can access the knowledge of specialists in sales by outsourcing your sales. This is especially helpful if your sales process is not well defined yet. Sales teams with extensive expertise and a solid understanding of sales techniques, plans, and customer behaviors are frequently employed by sales outsourcing organizations. They are versed in a variety of sales tactics and may modify their strategy to fit the needs of your particular target market and sector.
Scalability and Flexibility: Outsourcing sales offers a lot of flexibility and scalability. An outsourced sales crew can quickly adjust to the changing needs as your company expands or encounters swings in sales demand. They can scale up or down depending on your needs, without the difficulties and delays involved in recruiting and training new employees from within.
Cost Savings: Significant investments, including pay, benefits, training, and overhead, go into creating and maintaining an inside sales staff. Due to the fact that you just pay for the services the outsourced team renders, outsourcing sales may be more economical. This can save a lot of money, especially for startups or companies that want to grow without having to incur huge fixed costs.
Cons:
Communication Challenges: It is essential that your internal staff and the outsourced sales team communicate clearly. Unclear communication routes, slow response times, and misunderstandings might hamper the success of your sales process. Working with an outside partner can make it harder to coordinate tasks and keep the information flowing smoothly.
Loss of Control: By outsourcing sales, you are transferring a sizable element of your sales process to a third party. The presentation of your goods or services, engagement of potential clients, and management of sales interactions may all suffer as a result of this. It could be difficult to maintain consistent branding and message, and there's a chance that the outsourced team might not accurately grasp or represent the culture and values of your business.
Difficulties in Brand Alignment: It can be difficult to make sure that the outsourced sales force is in line with the objectives, principles, and client expectations of your company. There can be problems with client satisfaction if the caliber of contacts with potential consumers falls short of your criteria. Misaligned strategies could damage the reputation of your brand and your long-term connections with customers.
Sales Outsourcing: Automation as an Ally
On a day-to-day basis, your sales team focuses on repetitive tasks and documentation which gives them fewer work hours to focus on core sales activities. Sales automation makes sales teams more productive by automating grunt work like scheduling meetings, updating lead databases, and setting reminders. Sales automation software also helps salespeople make sense of data and get intelligent suggestions about leads that can help save time and close deals faster.
5 Tips to Keep in Mind Before You Outsource Sales
Before you set out to outsource a big chunk of your sales process, evaluate your requirements.
Identify business reason: Can this be done in-house or automated, or does it need to be outsourced?
Define the objective and metrics: What do you aim to achieve by outsourcing or automating this function – Is it to grow your user base, enter a new market, or improve the lifetime value of customers?
List down your scope: List down the markets you want to cover, what you need to outsource exactly and how an outsourcing agency or a tool comes into play.
Inform all teams: Ensure there is internal alignment between your sales and marketing teams before you proceed with selecting a sales outsourcing agency or software – decide KPIs, roles, and responsibilities of your existing sales and marketing teams, and make sure everyone is working towards a common goal
Choose between automated or manual sales outsourcing: Once you have identified the scope of your sales outsourcing program, decide if you want to outsource sales to a manual agency or deploy a sales outsourcing software in your company that automates crucial sales functions, and helps generate leads.
Top 15 Sales Outsourcing Software and Companies
Below are some of the best software and companies you can consider for outsourcing sales.
1. Salespanel
Category: Software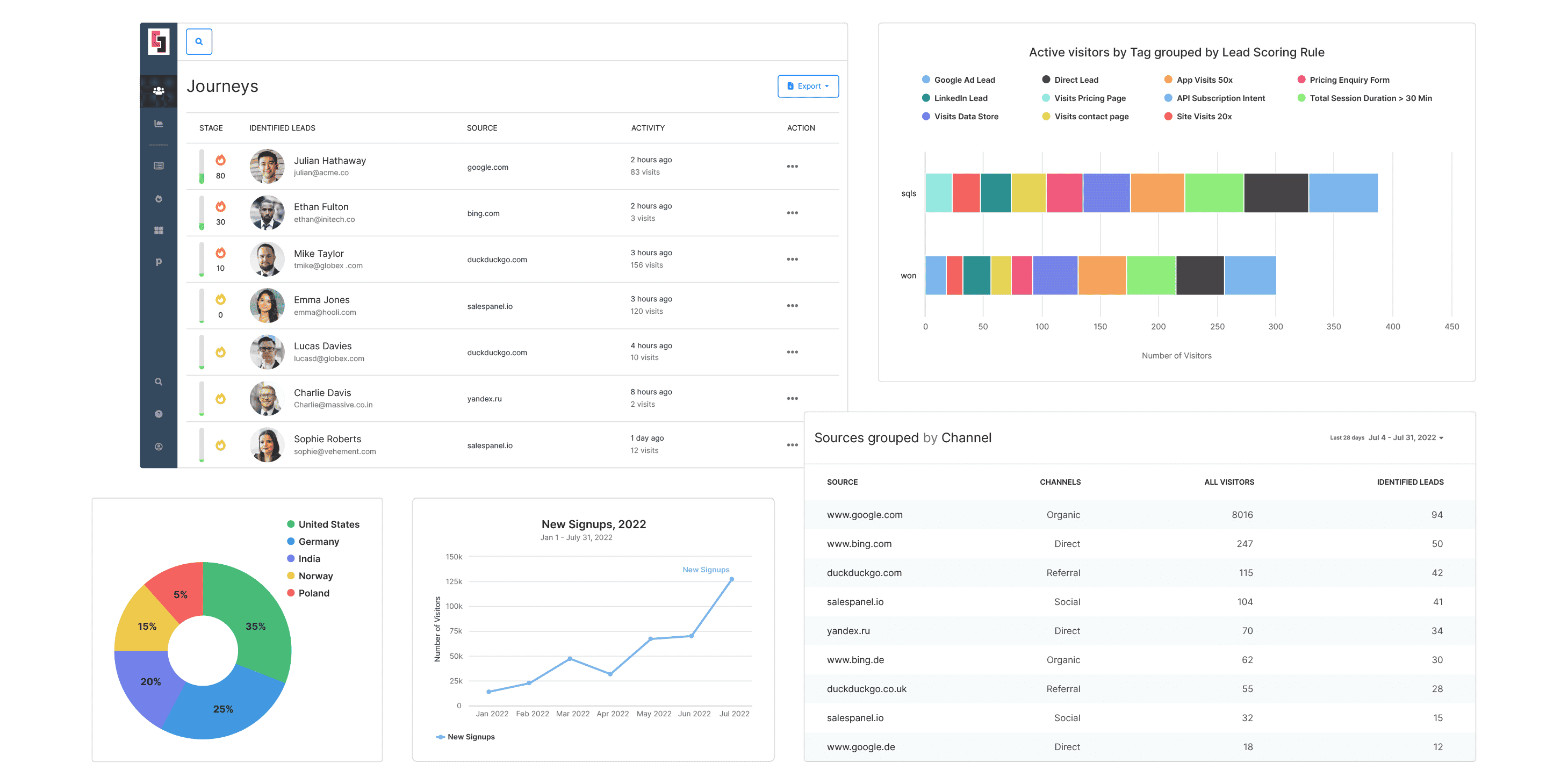 Starting with our product first, Salespanel is a lead generation and sales intelligence software that helps you identify, track and qualify your leads. You can outsource or automate sales tasks like:
Tracking sales emails
Automatically gathering sales intelligence and data from the marketing team
Qualifying leads
Knowing the purchase intent of leads in the pipeline
Salespanel offers an array of features that help your sales team become more productive, qualify more leads, and add close more deals. With Salespanel, you can perform different activities across different stages of the sales funnel:
Lead generation: Generate new leads and fill the sales pipeline with fresh new leads. Set up real-time alerts and create a workflow to send qualified leads to your CRM.
Lead tracking: Track your leads in real-time as they move through your funnel using behavioral data and marketing automation campaigns.
Lead data: Collect lead data without effort as Salespanel automatically tracks publicly available lead information such as past work experience of the lead, lead's Twitter account, and company details.
Lead scoring: Most often, salespeople are not sure about which leads to focus their energy on. With Salespanel, you can score and prioritize your hottest leads and empower your sales team with prospects that are sales-ready.
Sales lead injections: Save your salespeople the gruntwork. Salespanel automatically fills your sales pipeline with qualified leads and their data.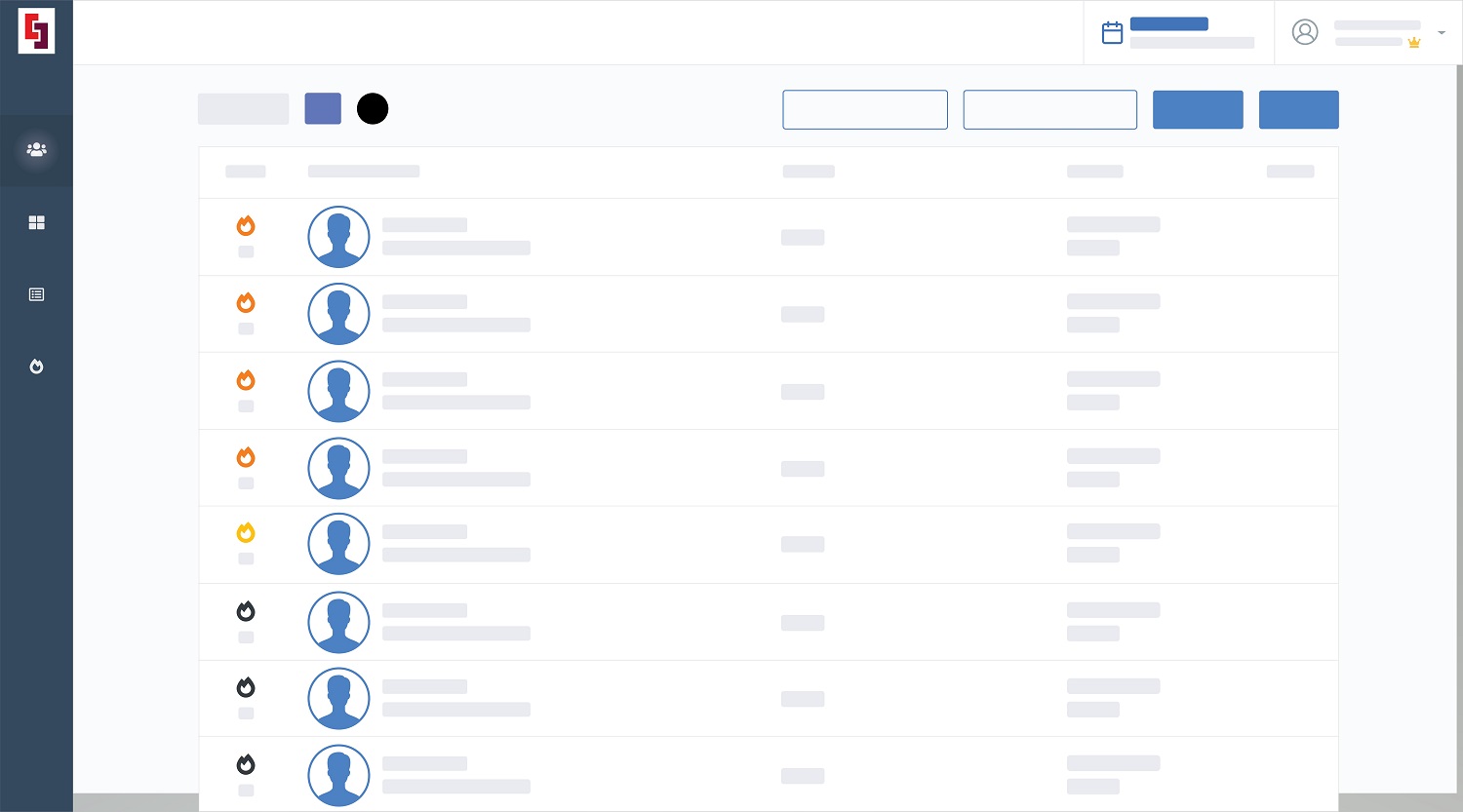 2. Belkins
Category: Agency
Belkins is a sales outsourcing company that specializes in lead generation. The agency works closely with clients to generate high-quality customers, using data, technology, and skilled professionals to drive revenue. The company's primary solution is its Appointment Setting service, which schedules appointments between clients and prospects who match their target customer profile. Additionally, for businesses focused on inbound marketing, Belkins provides solutions to convert inbound leads into sales. Belkins has over 790 customers worldwide and has built a reputation for delivering high-quality results for businesses of all sizes.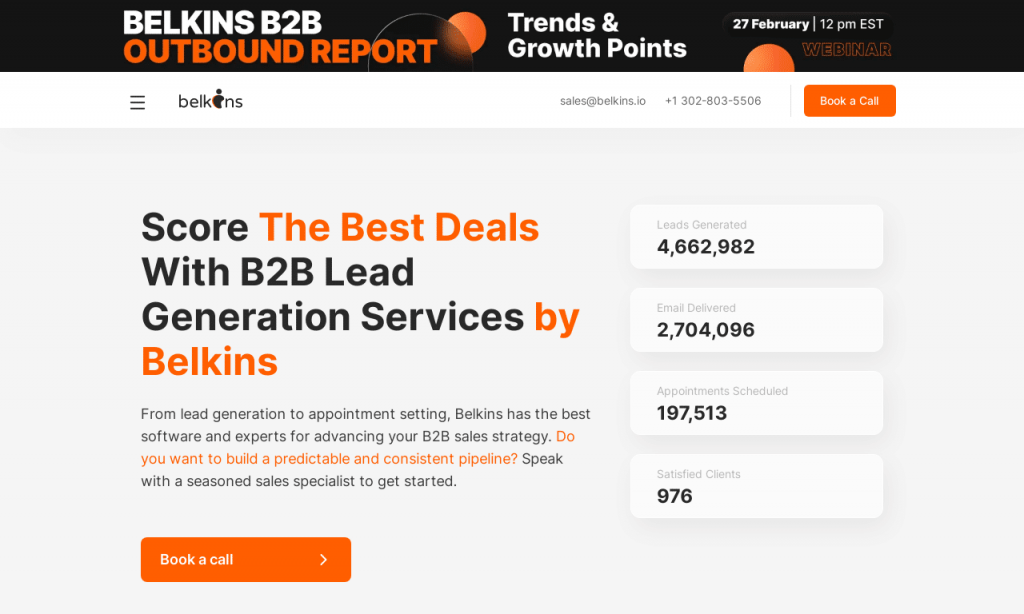 3. Zapier
Category: Software
Zapier is a workflow automation software that helps salespeople automate sales tasks. With Zapier, salespeople can:
Build a Master Contact Database
Cultivate leads with webinars and drip campaigns
Send personalized emails
Create forms and collect submission information
Schedule meetings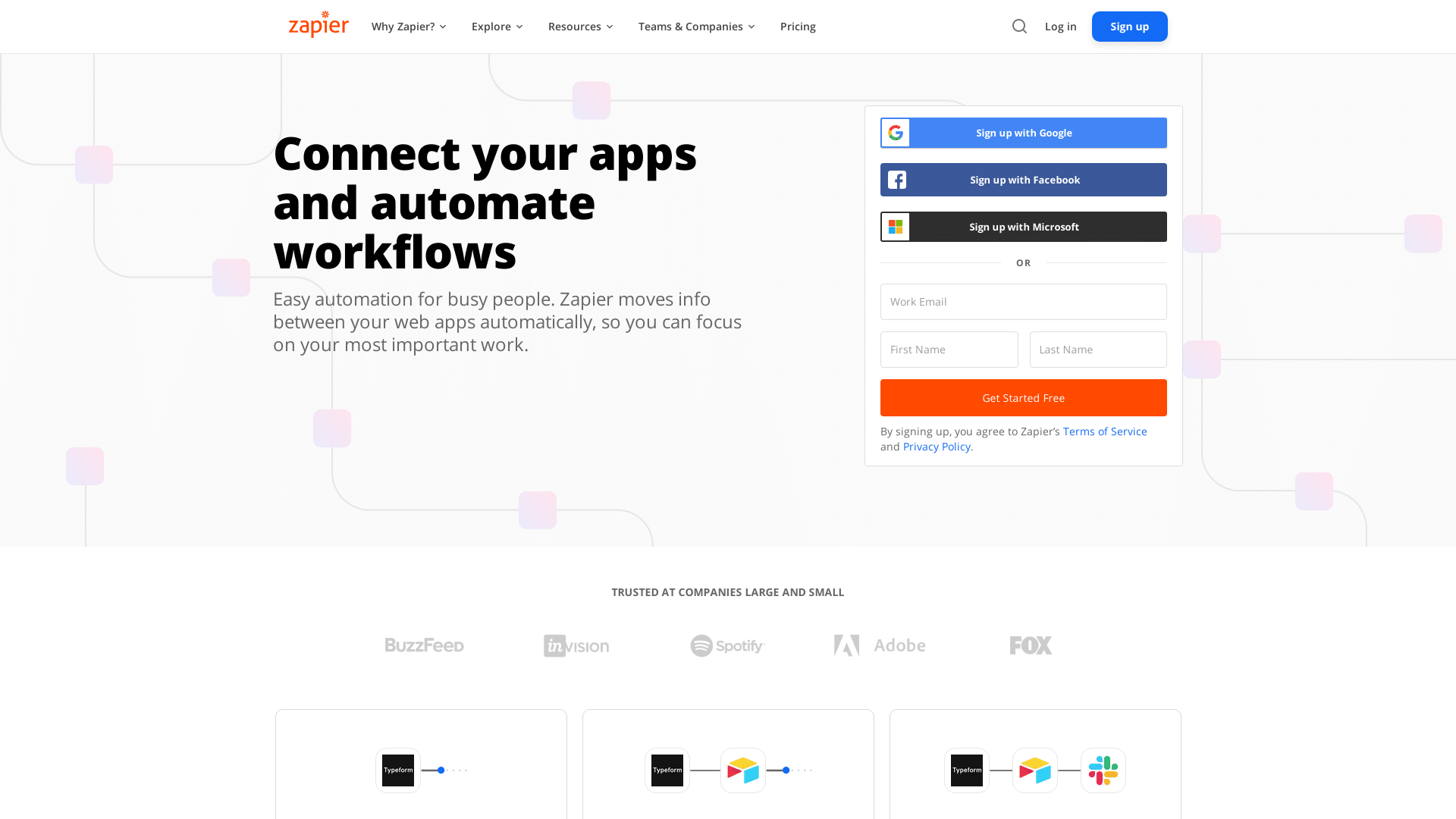 4. Martal Group
Category: Agency
According to a report by NNC services, outsourcing sales functions like lead-generation can bring up to 43% better results than an in-house team. Martal group specializes in generating B2B leads for tech companies.
They take on sales functions such as:
Lead generation
Personalized outreach
Account management
Customer onboarding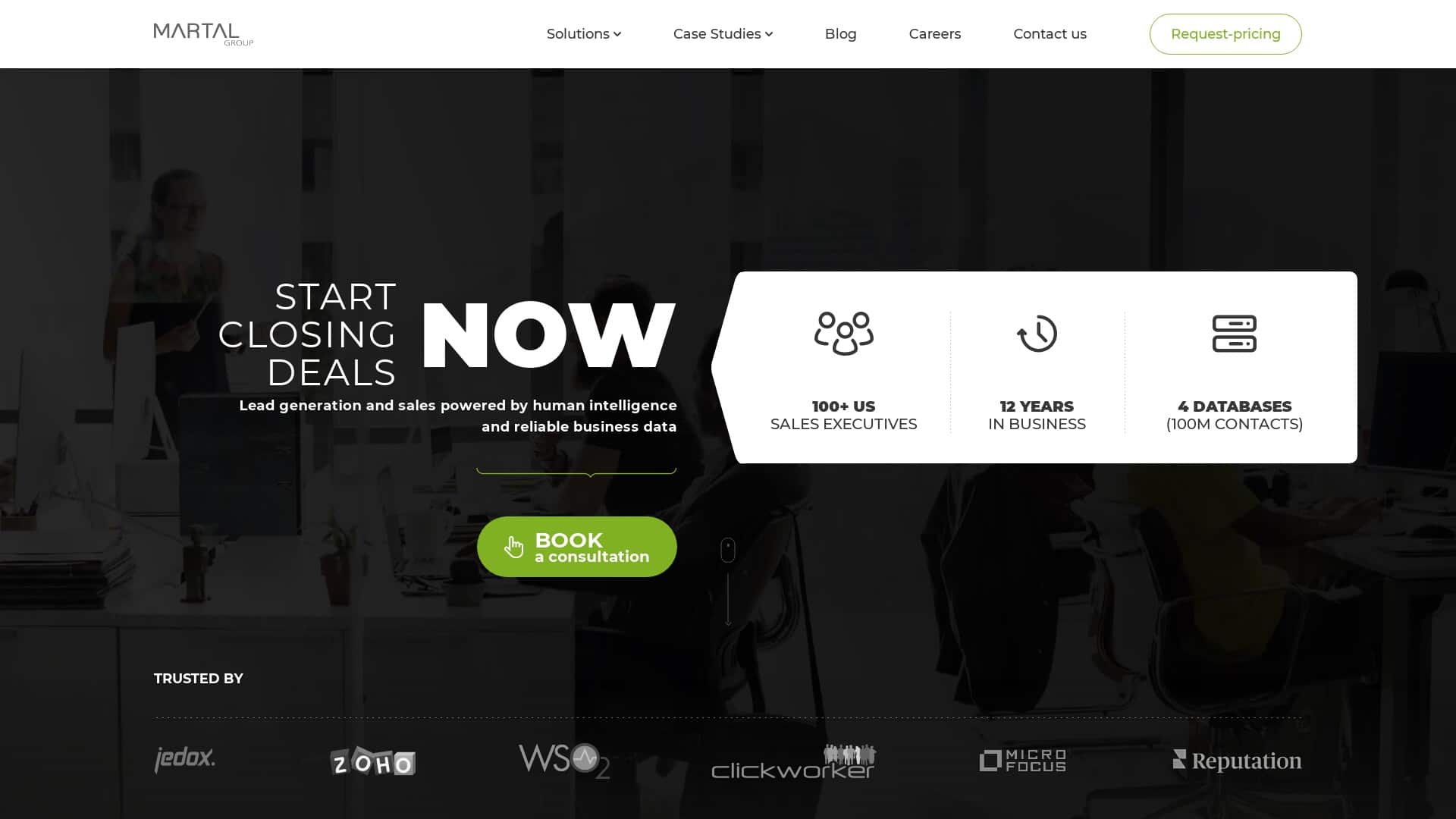 5. Cloudtask
Category: Agency
CloudTask is a B2B Lead Generation company that focuses on SaaS companies. It focuses on driving revenue growth through its large team of sales development professionals. CloudTask's model includes managing and recruiting their own skilled team to do the following sales outsourcing tasks for you:
Engage with new prospects
Re-engage with cold leads
Help run upsell and renewal campaigns for existing customers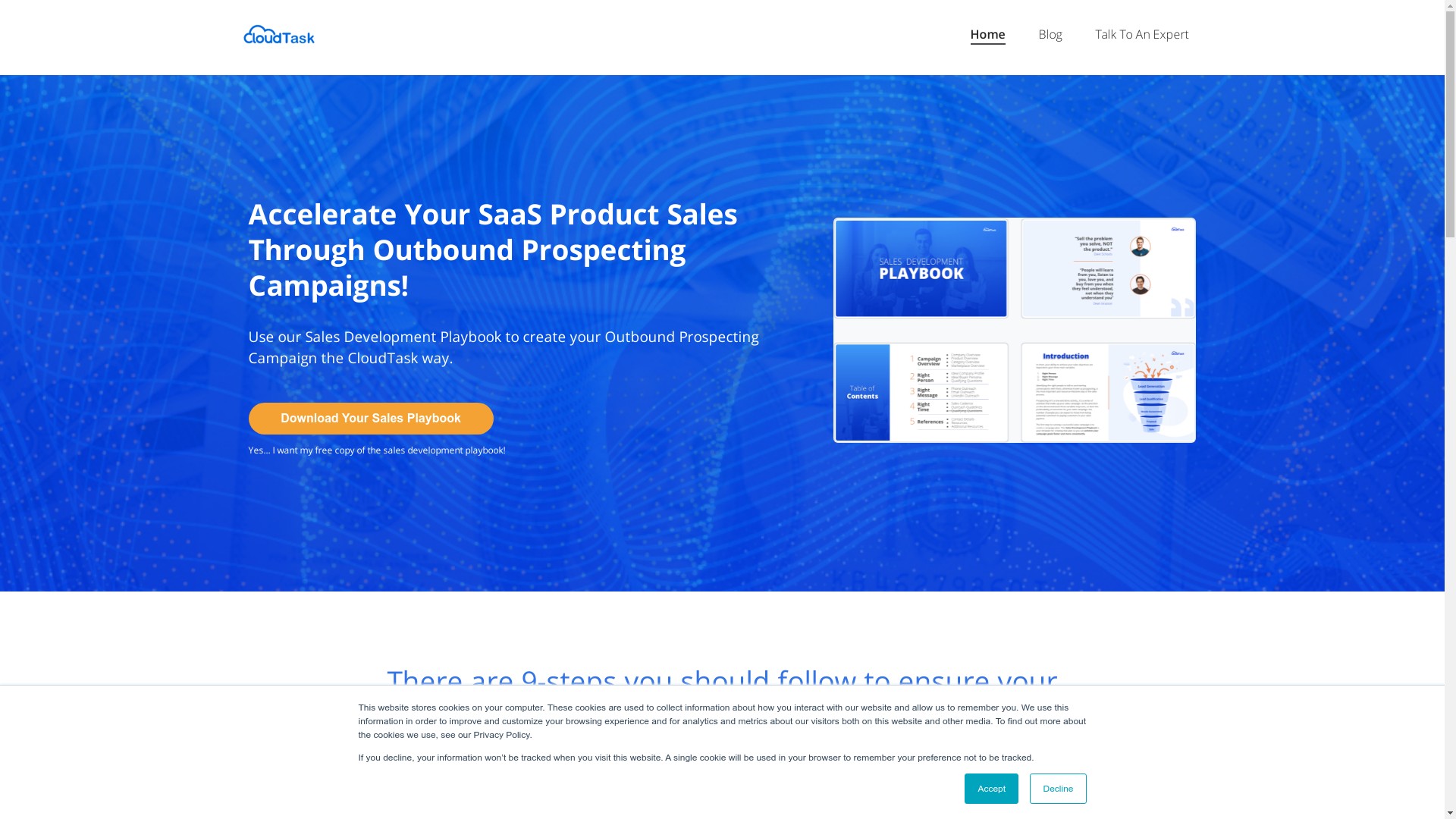 6. Cience
Category: Agency
Cience is an agency that specializes in outbound sales prospecting. Cience uses a combination of a skilled SDR team and proprietary software to increase sales efficiency for your business.
Areas where you can employ help from Cience include:
Outbound sales prospecting
Creating ideal customer profiles
Campaign strategy
Market research
Advertising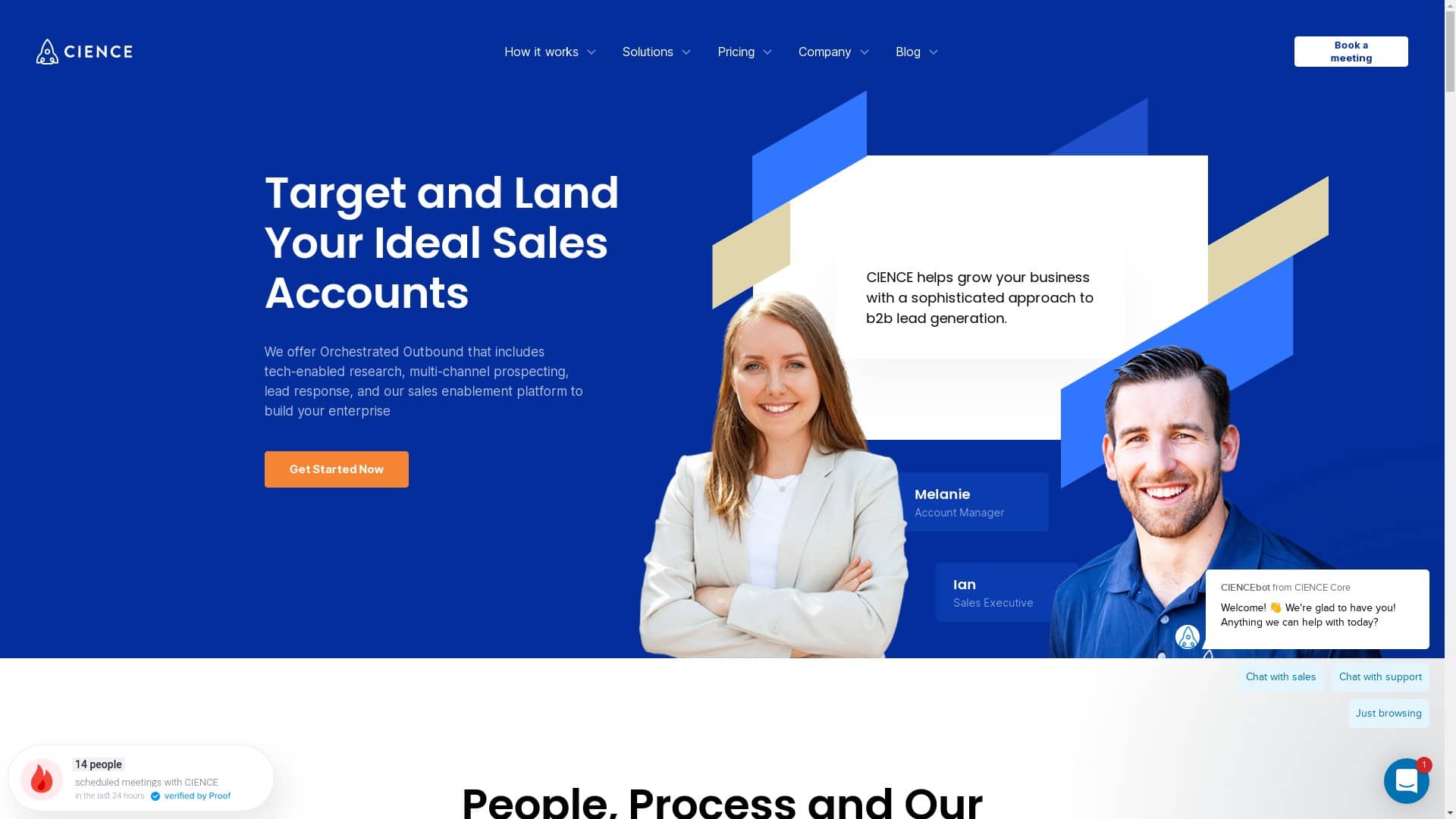 7. SalesRoads
Category: Agency
SalesRoads, like Belkins, is an appointment setting and lead generation service from the USA. The company provides its clients with success managers, SDRs, talent development managers, and data experts, essentially allowing businesses to deploy a sales team without incurring in-house expenses. In addition to appointment setting and lead generation, SalesRoads offers ABM data, list building services, and intent data. With over 15 years of experience, SalesRoads has a team of experienced sales professionals skilled in cold calling, email marketing, and other sales techniques to generate leads and conversions. They work closely with their clients to understand their unique needs and goals, using advanced analytics to measure and optimize campaigns for maximum ROI. SalesRoads has over 500 clients and is a great fit for growing businesses.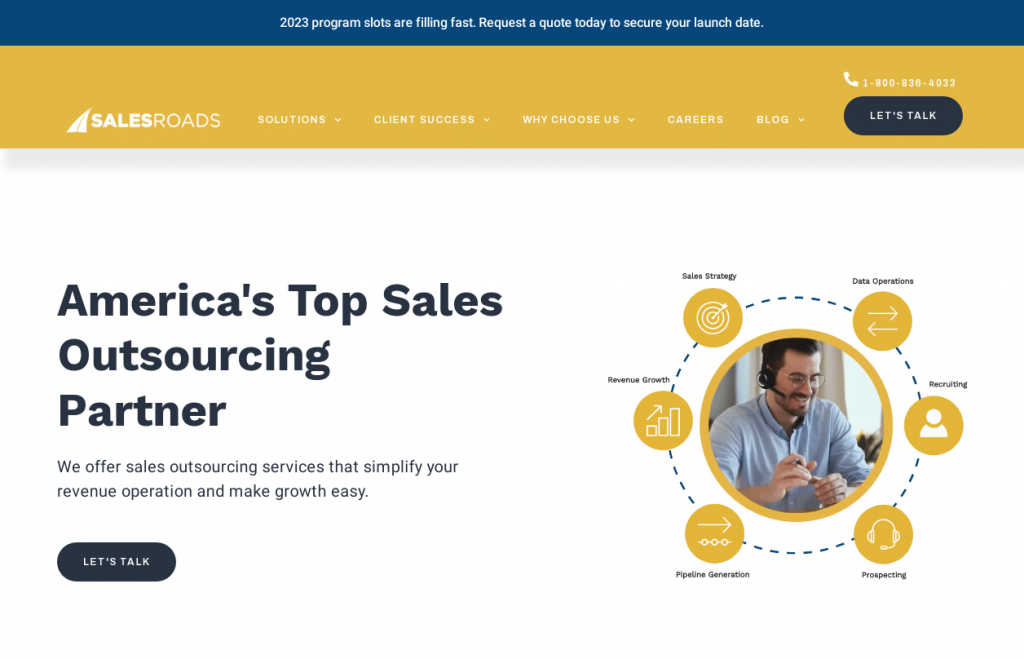 8. Drift
Category: Software
Drift is the Revenue Acceleration platform that uses Conversational Marketing and Conversational Sales to help companies grow revenue and increase customer lifetime value.
Drift offers:
Visitor intelligence
Real-time personalization
Target account engagement
AI Chatbot
Analytics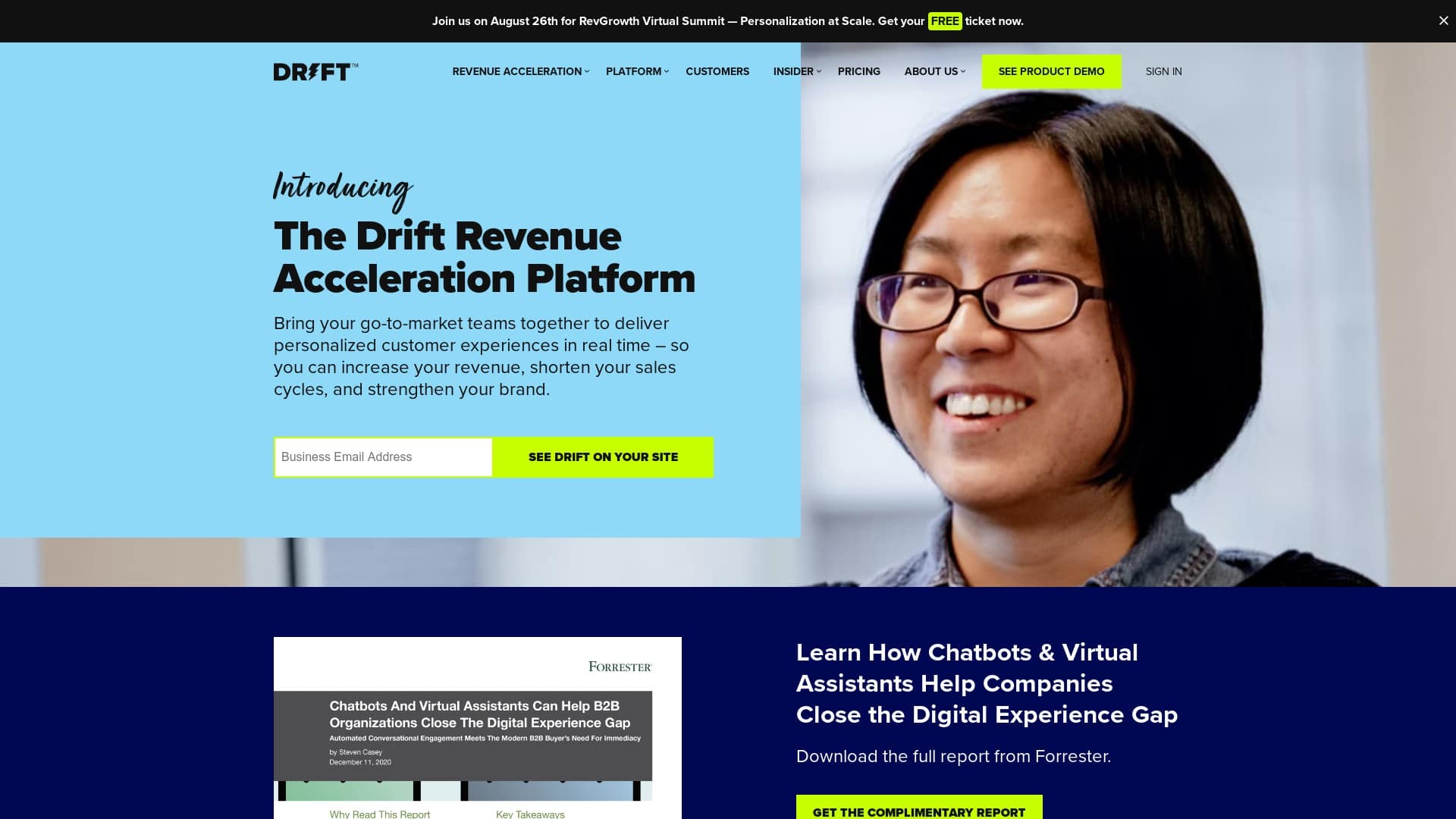 9. Zoominfo
Category: Software
Zoominfo is a B2B sales intelligence tool with a comprehensive contact database that can help your sales and business development teams work with better lead data.
Zoominfo provides lead intelligence such as:
Direct dial phone numbers
Email addresses
Background information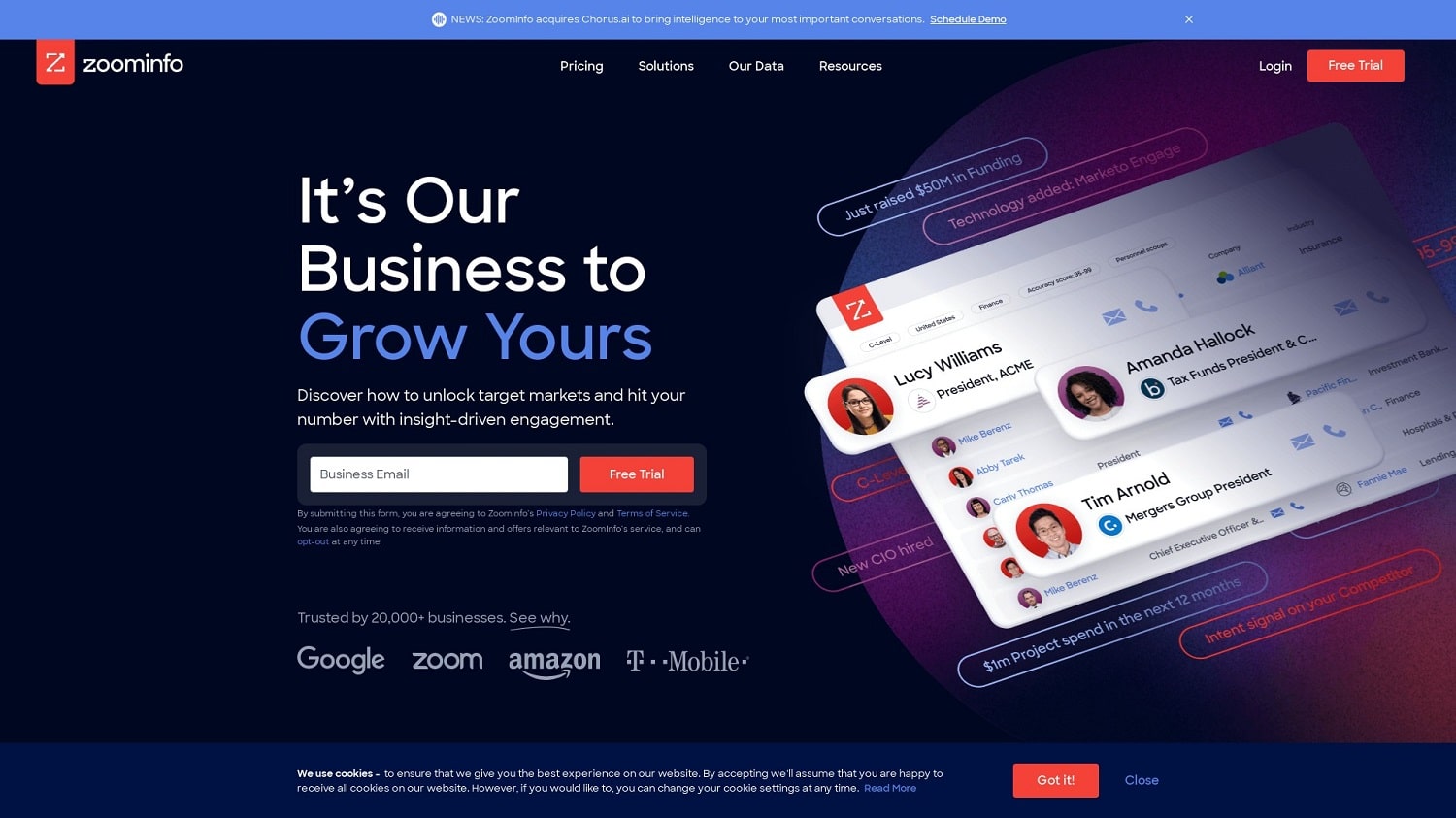 10. Operatix
Category: Agency
Operatix is an agency founded in 2012 that specializes in accelerating growth and increasing revenue for B2B software companies across North America and Europe.
Operatix caters to the tech industry as well as a multitude of emerging software vendors and startups.
Some of the core B2B sales outsourcing tasks that Operatix handles includes:
Outbound sales development
Cold prospecting
Account-based selling
Lead qualification
Deal management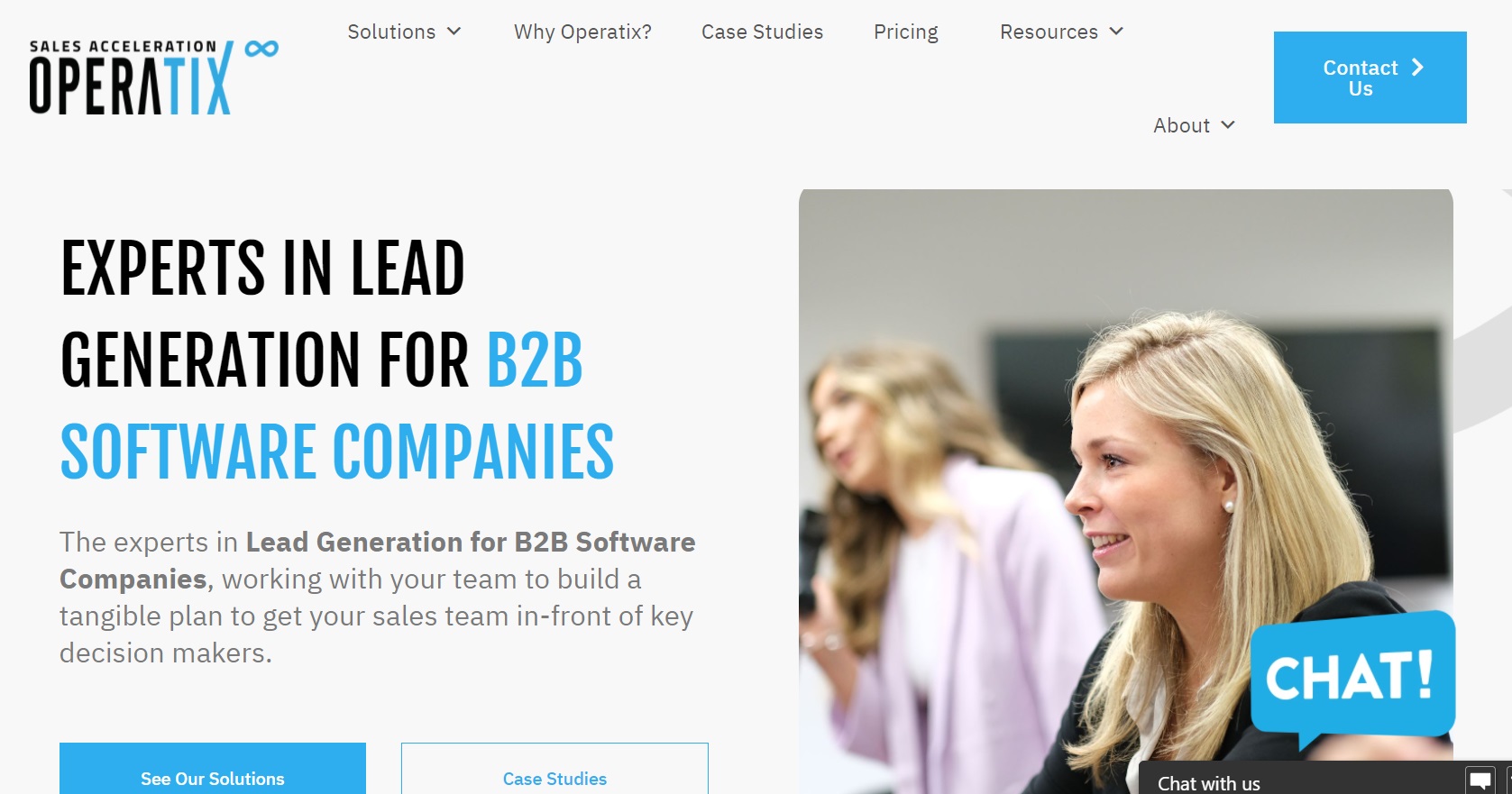 11. Callbox
Category: Agency
Callbox is a B2B lead generation and sales support services agency. It provides sales opportunities to clients in the US, Canada, Australia, Singapore. It caters to industries like IT and Software, Manufacturing, Management Consulting, Healthcare, Finance, and Advertising.
Callbox helps find the best quality leads and sales appointments with the greatest chance of becoming profitable customers.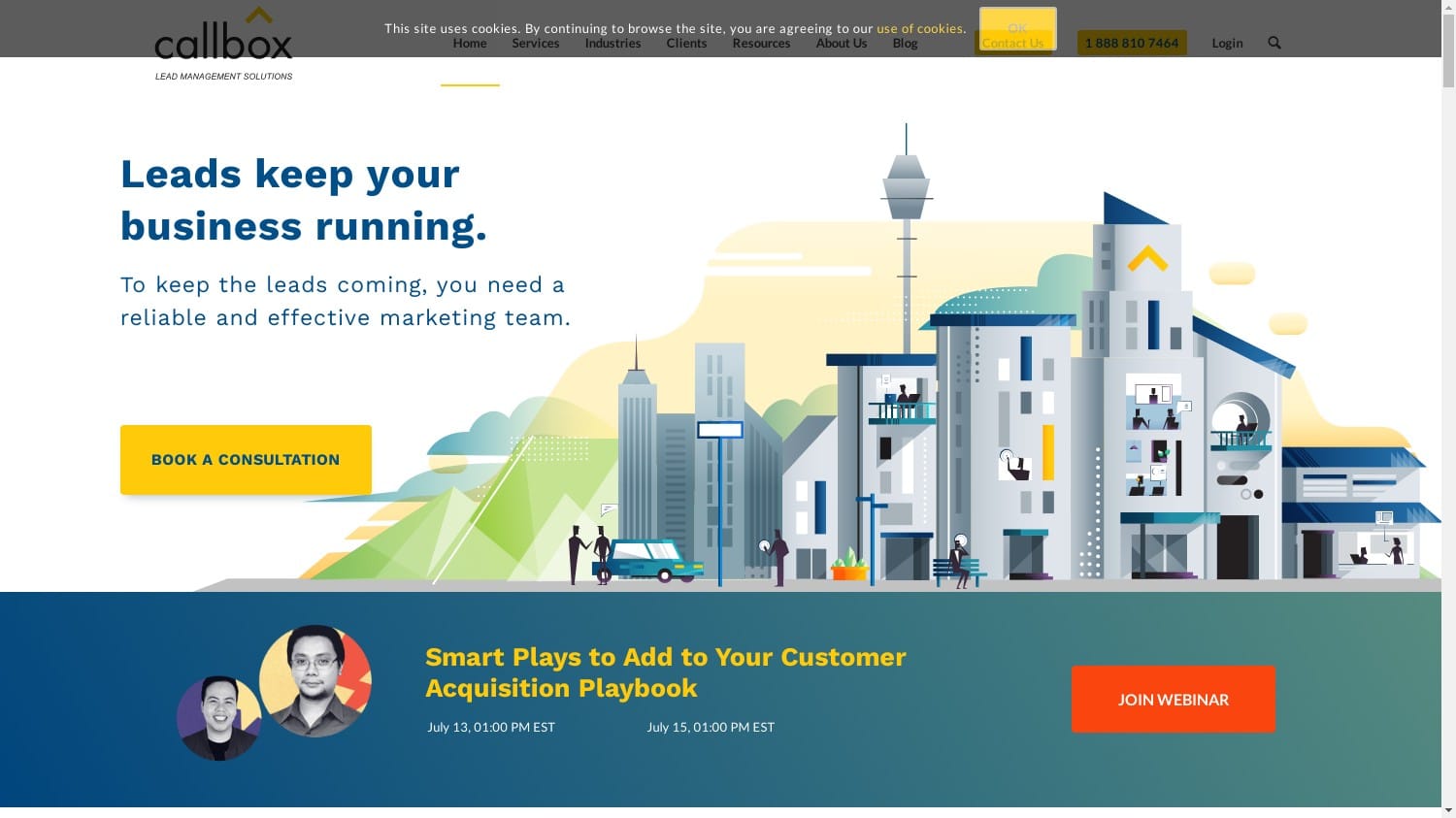 12. Smith.ai
Category: Agency
Smith.ai helps your sales team capture and screen callers, book appointments, and log details instantly in your CRM and on your calendar. Smith.ai uses a combination of AI and a sales team for handling activities like:
24/7 Phone Answering
Free Spam Blocking
Outbound Call-Backs
Sales Development
24/7 website chat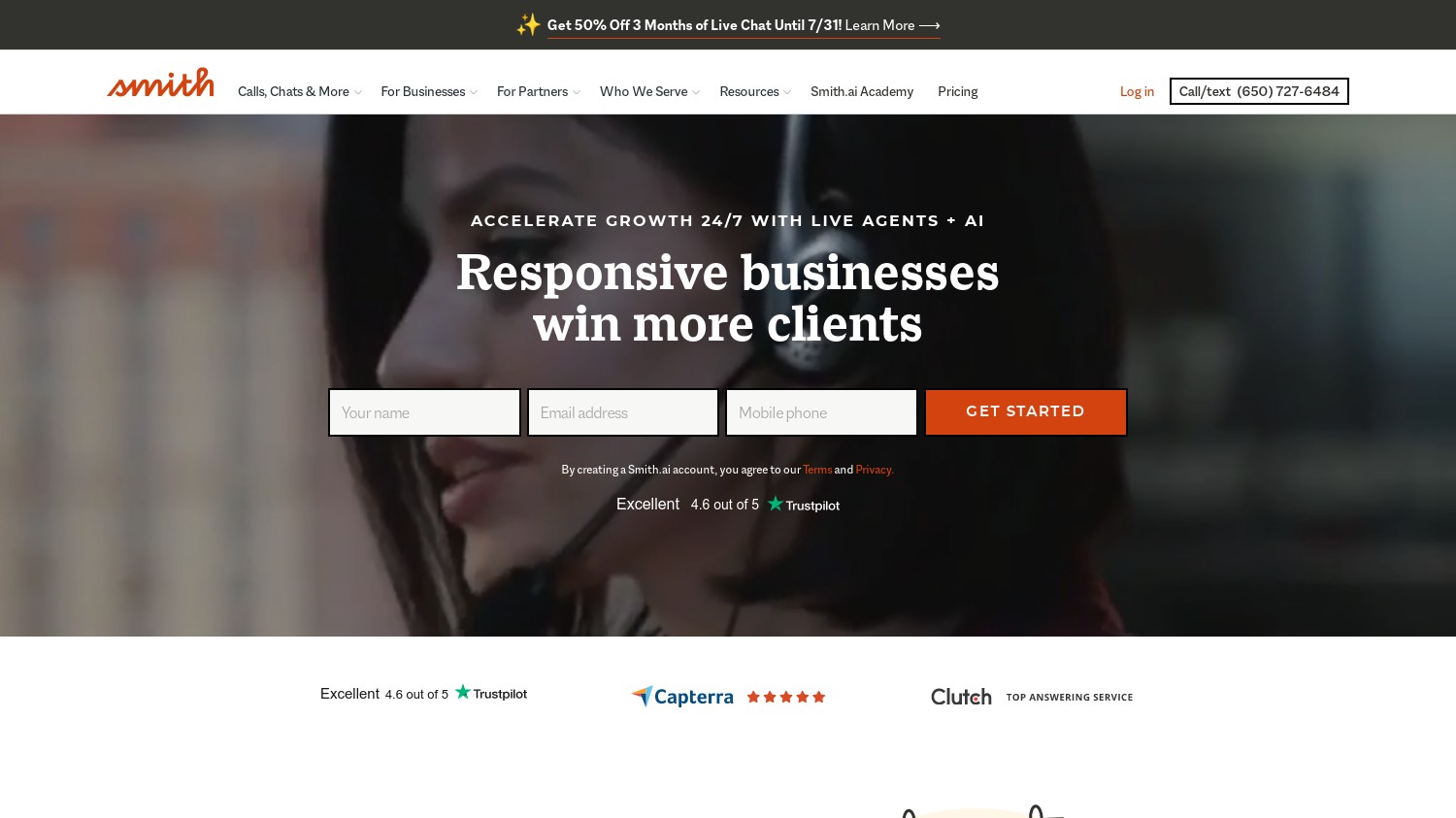 13. SalesAR
Category: Agency
SalesAR is a B2B lead generation agency from the Ukraine. While based in Kviv, the agency has employees from Germany, UK, and the USA. SalesAR boasts of a clientbase of over 150 and over 80% of their clients have longterm contracts. This proves that the agency is successfully completing client operations and is retaining its customers. The company employs a three step process where they find leads who match your ICP, run campaigns to them, and then pass them to you when an appointment is booked. One of the biggest advantage with this agency is that it, unlike many others in the segment, offer monthly contracts. This makes it easier for smaller businesses and those that are trying to get started with sales outsourcing.
13. Cleverly
Category: Agency
For those of you who have customers active on LinkedIn, this agency is for you! Cleverly is a LinkedIn focused lead generation and content agency. The agency also helps its clients with inbound marketing activities like google ads and organic content marketing. The agency sends highly personalized messages to your potential customers and brings the conversations directly to your inbox. The LinkedIn lead generation process with Cleverly is a four-stepped process where the agency builds a target audience list on LinkedIn, executes the outreach, and then passes you the leads to take over as soon as someone replies. With a clientele including the likes of Paypal, Uber, Amazon, and Google, Cleverly has become one of the biggest agencies to consider when it comes to LinkedIn outreach.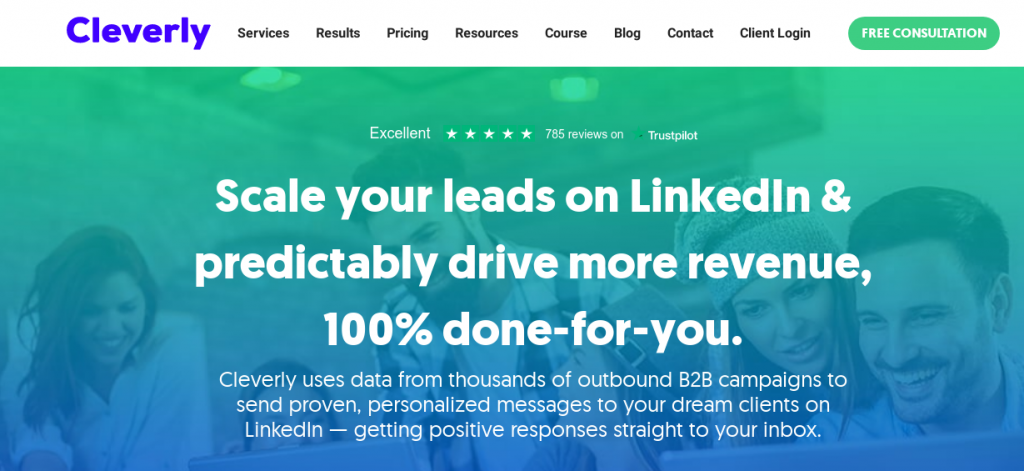 15. MarketStar
Category: Agency
MarketStar is a sales outsourcing company that provides inside sales, channel sales, digital ad sales, and customer care solutions to businesses across industries. The agency works globally and has offices across North America, Europe, Asia Pacific, and Latin America. With over 35 years of active operation, the company is one of the oldest in this segment and serves Enterprises and Medium-Sized businesses. This agency is a good fit for businesses that are looking at developing a revenue growth and expansion program. Small businesses, however, should look into other agencies shared in this list.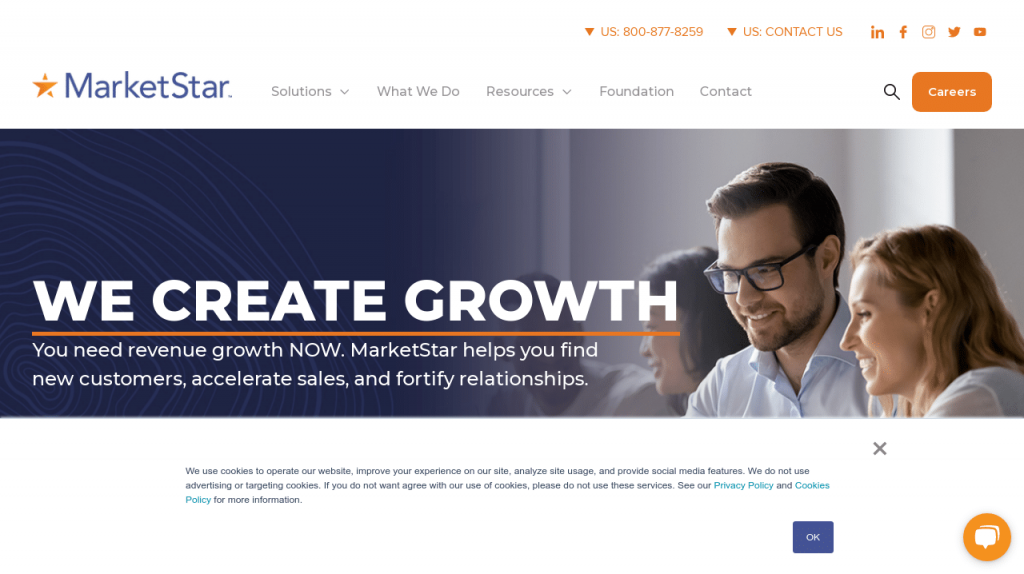 Final Take: To Outsource or Not To Outsource, That is the Question
There could be many reasons for you to pass over the baton to a sales outsourcing agency or sales software to take on parts of your sales functions.
It definitely comes with certain benefits over traditional in-house sales models:
Time-saving processes
Repeatable success in the sales functions they offer
Advanced reporting and analysis
Better ROI
So do consider all these factors before taking a crucial decision to outsource sales. Tools are always something that you will need but you need to spend more time before going with an agency.
Sell more, understand your customers' journey for free!
Sales and Marketing teams spend millions of dollars to bring visitors to your website. But do you track your customer's journey? Do you know who buys and why?
Around 8% of your website traffic will sign up on your lead forms. What happens to the other 92% of your traffic? Can you identify your visiting accounts? Can you engage and retarget your qualified visitors even if they are not identified?