8 CRM Modules (sorted by Categories) That Work With Any CRM
Updated on 21st Sep, 2023.
A CRM is a customer relationship management software—an application that helps you manage and track relationships with your leads, customers, and partners. A sales management CRM would focus on helping you manage sales leads and move them from point A to point B in your funnel. On the other hand, a customer or lead management software uses complex systems to organize, track, and manage client data for efficient communication and follow-ups . In a data-driven framework, there are different aspects of management that the CRM can't fulfill at its core, and this is where CRM modules come in.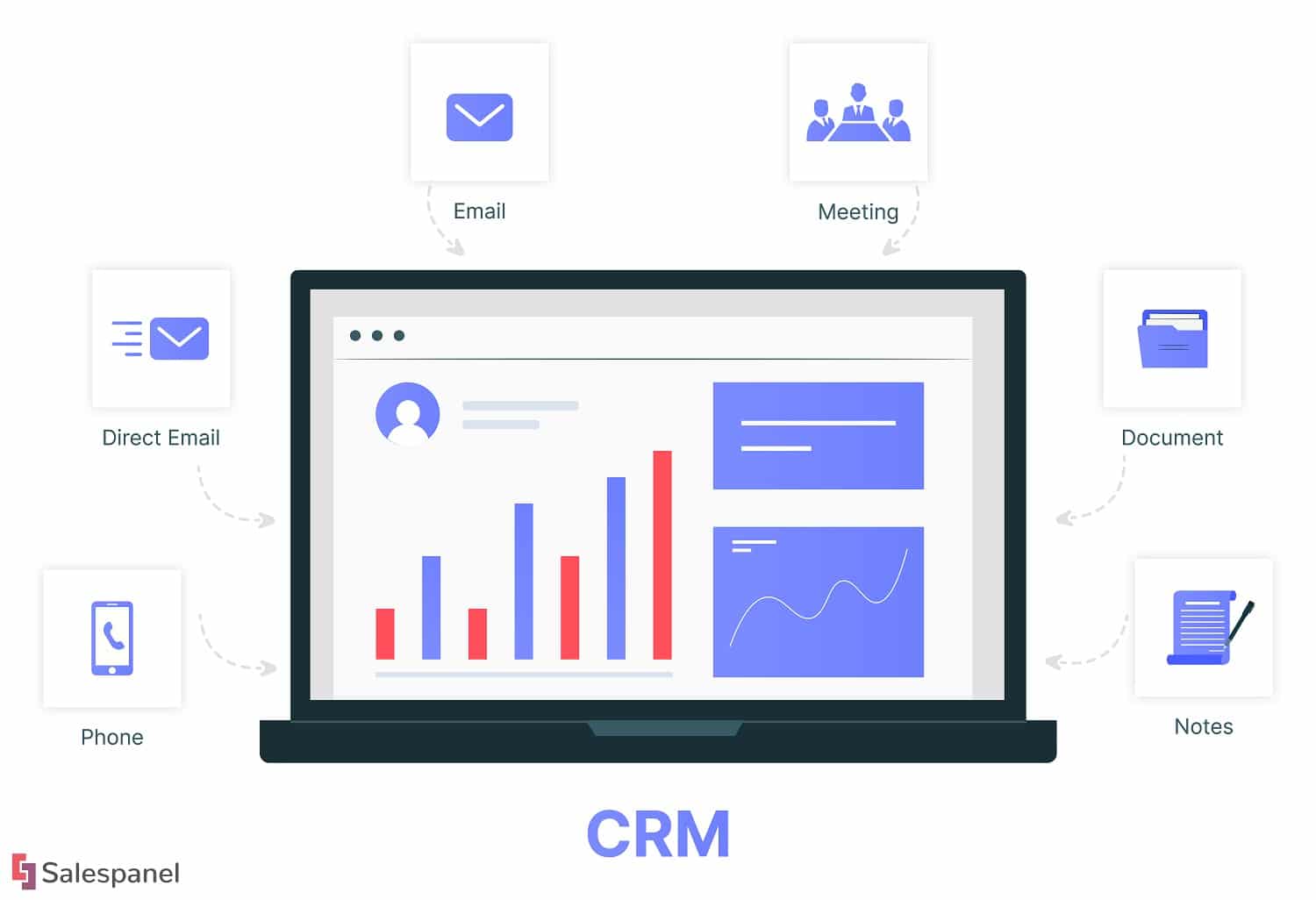 What are CRM modules?
The customer relationship management process starts with marketing and goes through sales and pre-sales customer support before the conversion happens. And, once the customer makes the purchase, the focus shifts to customer success and retention. In this whole system, there are several moving parts. There is your website, conversion funnels, website modules (forms, meeting schedulers, etc.), emailing strategy, support process, and multiple departments are involved throughout the buyer journey. CRMs cannot do it all. They try to. But, if you depend on it, you either pay more, get inferior 1st party modules, or get stuck in their walled garden. A CRM company will always try to do it all. They would provide their own forms, emailing system, meeting schedulers, and everything you can wish for. But, will they be as good as top products that are dedicated to functionality? Will the live chat software provided by your CRM be as functional as something like Intercom?
This is why we have CRM modules. CRM modules are applications that work that connect with your CRM and enhance the value you generate from them. They might work independently or be something that solely works with the CRM. Most companies now use multiple applications, with small companies (up to 50 employees) using around 20-50 SaaS products and large companies (250+ employees) using over 100 applications. It would be beneficial for your sales and marketing operations to have a diversified pool of software that can work on their individual strengths.
Why do you need CRM Modules?
Coming down to it, here are the top five benefits of using CRM modules:
Improved Customer Relationships
Using different CRM modules equips marketers, salespeople, and other stakeholders in the business to develop a clear picture of the customer at any specific point in time.
A CRM module improves customer relationships by centralizing customer data and enabling companies to manage interactions, preferences, and purchase history successfully with every individual customer. With this data, marketers and salespeople can build solid and long-term relationships with customers through loyalty, trust, and a better understanding of their demands.
Efficient Sales Management
A combination of CRM modules provides sales managers with a complete overview of every customer account. This helps sales representatives use the CRM solutions to generate opportunities and develop sales projections, one customer at a time to ensure precision.
The modules organize leads, automate tasks, and time communications exactly right. Moreover, they identify trends that can guide sales techniques with the help of data-driven analytics, leading to improved conversion rates, faster sales cycles, and increased revenue for the business as a whole.
Streamlined Customer Support
When businesses implement CRM, they frequently engage the customer support module. This allows for reciprocal visibility between sales and support, which can be beneficial for preserving positive customer relationships.
For instance, if customer support receives a seemingly trivial complaint from a customer from a million-dollar client, they would still obviously want to prioritize it. A CRM module offers them that visibility and all the pertinent information to respond accordingly. Alternatively, a sales representative can use CRM to view open support tickets when phoning a customer. Therefore, by using a customer support module, agents can personalize assistance, monitor case progress, and make use of data insights in order to improve customer happiness and support efficiency.
Data Centralization
A CRM module facilitates easy disaggregation of customer information, particularly for accounts with numerous locations and contacts. This solves the challenges of managing client communications. The modules provide your business with a common master data record for each customer.
This results in fewer data silos, less duplication, and proper access to latest information for team members. The organization as a whole can make more informed decisions thanks to data centralization, which also improves data accuracy and streamlines communication.
Automation and Workflow Management
A combination of CRM modules automates tasks and workflow management by scheduling follow-ups, sending automatic responses, and launching activities based on customer interactions. This automation increases efficiency and uniformity in client communications, reduces mistakes, and frees up time for more strategic and customer-focused tasks.
Moreover, using CRM modules, sales representatives can be on top of cross-sell and upsell proposals, for instance, by bundling a service contract with the purchase of a product. Following this, sales managers may monitor how effectively salespeople are upselling and cross-selling to customers. CRMs also automatically track marketing campaigns to measure their effectiveness, and salespeople can easily see the ROI from these initiatives.
Top Use Cases for CRM Modules
CRM modules come in various shapes and forms, each serving its own specific purpose. Here are the most common use cases:
Lead Management: Lead management is a crucial component of any CRM system. Leads can come from a variety of sources, such as advertisements, webinars, lead magnets, and more. Without proper lead management, keeping track of lead acquisition channels and recording all necessary information can be challenging. A lead management module can assist in automatically collecting leads from different sources and tracking them efficiently. This data also helps your sales reps understand who your leads are, where they came from, and how they are engaging with you. If you are looking for a lead management software, Salespanel should be on your radar.
Contact Management: A contact management module helps you store and manage contact information within your CRM. Depending on the type of module, it can either help you capture more vivid information about your customers (forms, for example) or enrich your database with third-party customer data (data enrichment modules). Creating a complete profile of customers within the CRM workspace helps sales reps be more productive and stay up-to-date on all customer data.
Customer Service and Support: This type of module helps you manage customer service requests within your CRM. The module can be integrated with communication mediums like your helpdesk, email, phone, etc. More than one module can be needed to do this job. This module also helps your sales reps view open support tickets, have a feedback collection system through Net Promoter Score (NPS), or view history of support requests.
Marketing Modules: This group of modules display or facilitate various marketing activities within your CRM. This includes automating follow-up emails, sending drip campaigns, displaying the customer journey, segmenting with marketing data or qualifying leads with lead scoring. Different marketing modules serve different purposes. Salespanel, for example, displays the customer journey and lead scores on your CRM. Mailchimp's module, on the other hand, helps you create email campaigns with lead data from your CRM.
Top 6 CRM Modules That Integrate With Most CRMs
In this list, we will talk about modules that can universally integrate into multiple CRM platforms. This would mean that you would have a wide pool to choose from and are not limited by plugins that work for specific CRMs. We will also diversify this list with modules that perform different functionalities.
This is NOT a ranked list.
1. Salespanel (Sales and Marketing Alignment and Attribution)
We would start this list with our product, Salespanel. From the get-go, Salespanel's goal has been to be a pluggable software and it plugs into your existing sales and marketing ecosystem. It is a lead identification, tracking, and qualification software that automatically captures your leads from different acquisition channels without any setup (forms, live chat, Calendly, email clients, etc.) and tracks their activities in real-time. The activity tracking goes in-depth and tracks your leads both before and after sign-up for proper attribution. You will know who your leads are, where they came from, and how they engaged with your website and emails. A lead's profile, firmographic, and behavioral data can be used to qualify leads using segmentation and lead scoring.
So, how does it work as a CRM module? Salespanel connects with CRMs like Hubspot, Salesforce, and Pipedrive and will automatically sync leads and their data to your CRM right from the acquisition. A lead's behavior and qualification score are also synced in real-time to help your team stay updated about all lead information without leaving the CRM. This helps them know buyer motivation and prioritize leads with high intent to close more deals.
Clearbit Enrichment is a lead enrichment product from Clearbit that can add crucial lead data to your records on CRM. Clearbit will transform an email address to full-fledged contact with details like name, job title, company, company size, revenue, etc. This helps you shorten your forms as you get the data from them injected into your CRM.
This data also helps your sales team segment leads based on demographics and lead characteristics like job role, revenue, industry, or company size. Leads can effectively be segmented and distributed to reps who specialize in each of your segments.
Clearbit provides highly accurate data and plays well with CRMs like Salesforce. But, it can be a bit pricey for smaller companies.
3. Zendesk (Support Tracking)
In the current landscape of digital buying, customers for many businesses engage with support both before and after buying. For SaaS businesses, for example, people might need support while they are using product trials. So, what would happen if a lead's problems are not solved, and he has a support ticket open, and your sales rep goes for the sale unaware of this situation?
This is where a CRM module for the support desk comes into play. All helpdesk products that support CRM integrations will work in similar ways, and I am choosing Zendesk for our example. Zendesk integrates with CRMs like Salesforce to sync support tickets to deals or contacts on your CRM. So, a sales rep will always be aware of open support tickets or previous support tickets for any deal, and this is something that will be useful for them.
4. Aircall (CRM telephony)
This CRM module is useful for companies where sales/account reps talk to their leads/clients through telephone. A VoIP calling module will help your reps call prospects directly from the CRM and also have recordings and log entries for each contact. This helps reps know when they called the leads and also check out recordings to refresh their memories if needed.
Aircall is a cloud-calling software that integrates with your CRM and Support software for seamless conversations with prospects and clients. Aircall supports leading CRMs like Salesforce and Hubspot and also integrates with Intercom to get leads on the call when they talk to reps on your website.
Apart from Aircall, there are many other telephony tools that can help you with this, and many CRMs also provide their own telephony plugin. No harm checking those out first. The reason for picking Aircall in this article is its pluggable format that works with your helpdesk tool, your live chat tool, and your CRM. As we mentioned earlier, we love "pluggability" at Salespanel.
5. PandaDoc (Document Management and eSigning)
When working on deals, documents relevant to each deal will need to be managed by your reps. Proposals, contracts, sales collaterals, and other relevant documents would be shared between your reps and your prospects. Having a CRM module for document management will help your reps track and store relevant documents within the CRM.
PandaDoc is one such tool that will help in this process. Apart from storing documents, it also helps you and your clients electronically sign contracts. This makes things hassle free for both your reps and your clients making deals go through faster without issues. PandaDoc works with all popular CRMs including Pipedrive, Hubspot, and Salesforce. Apart from PandaDoc, tools like DocuSign and Proposify can also be considered for the same functionalities.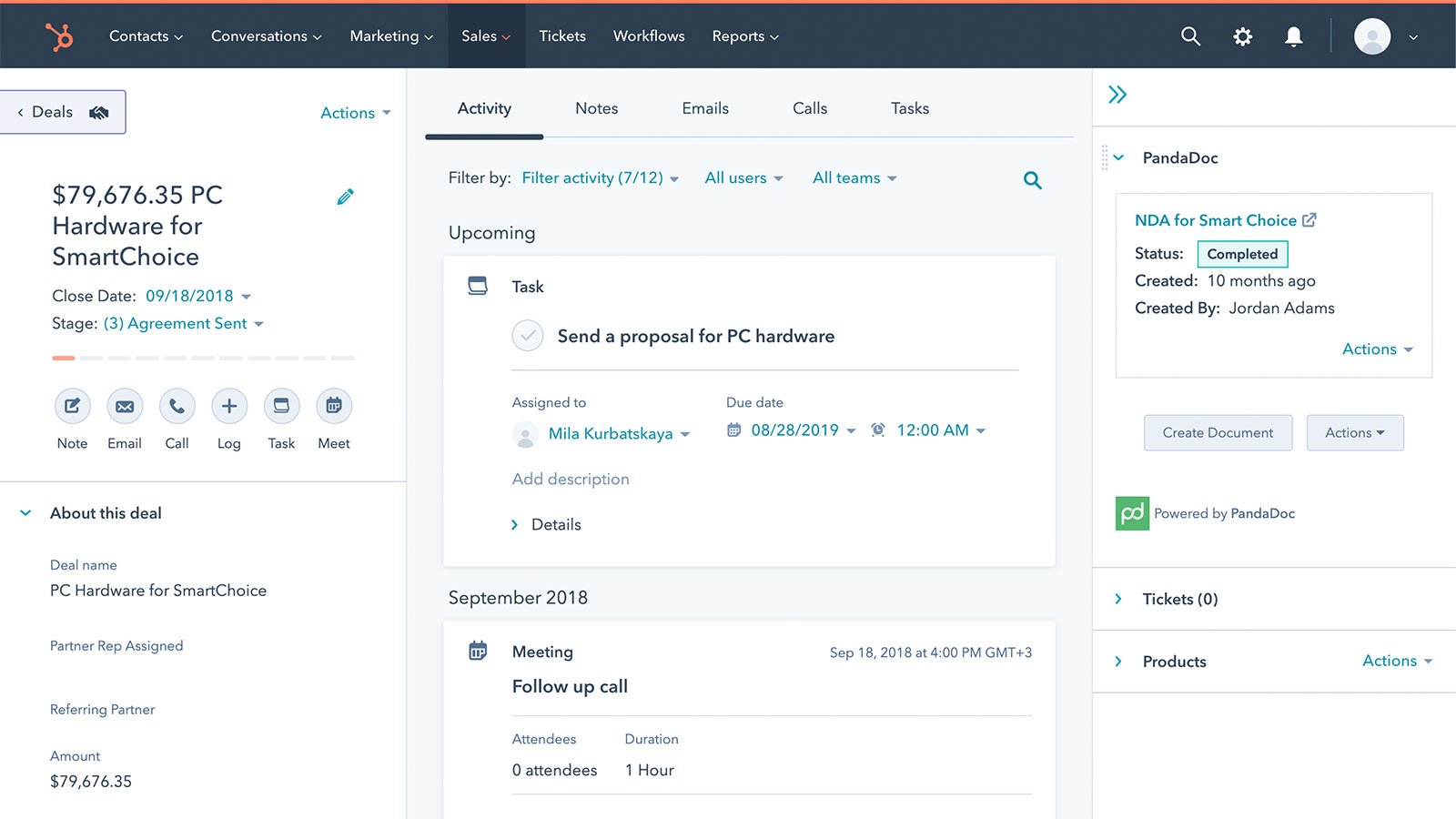 Another need for your reps is the ability to track email interactions with your prospects. They would also benefit from leads from cold emails getting automatically added to your CRM. Let's have a look at sales email tracking for CRMs.
This is the only entry on this list where we have mentioned multiple tools. And, there is a reason for that. There are three distinct functionalities you might want depending on your use case:
Gmail/Outlook tracking (Salespanel, Hubspot, Yesware)
In-CRM Email Tracking (1st party modules- Hubspot, Pipedrive)
Outbound email and newsletter tracking from 3rd party tools like Mailchimp, Mailshake, etc. (Salespanel)
If you use Salespanel, installing the browser extension would help you track email opens, and link clicks from Gmail/Outlook and get the data synced to your CRM. You can also check out tools like Yesware. If your reps want to send emails from within the CRM itself, you would have to use the emailing tool provided by your CRM. That will have its own set of pros and cons. And, if you send outbound campaigns and want deals to be created when leads show interest and click a link, just connect Salespanel with any email marketing software of your choice.
For this module, you have to pick your tool in accordance with what you want inside your CRM. If your reps are comfortable with sending emails using Gmail and G-Suite, it will be better to stick to a lightweight tracking program.
7. Mailchimp (Email Marketing Automation)
As mentioned earlier, an email marketing software can integrate with your CRM and help you send automated emails to your prospects. One of the most commonly used tools is Mailchimp.
Mailchimp helps you leverage your CRM data and trigger campaigns or segment leads based on CRM records. Mailchimp's integration with Pipedrive, for example, helps you send out hyper-personalized emails to high value deals. On Salesforce, Mailchimp integration shows you lead activities and reports. Not just for Salesforce, but for most CRMs, Mailchimp will sync email campaign data like link clicks and opens within the CRM.
For enterprise businesses, connecting finances to CRM is extremely important. Zoho Books is a widely used accounting software that works seamlessly with Zoho CRM and can also integrate with other CRMs such as Salesforce. With this module, your team can easily create invoices using data stored on the CRM. It can also create financial reports that can be accessed in real-time. Additionally, the tool can automate other key accounting processes, such as payments and expense management.
An accounting module like Zoho Books can help you align sales and finance management. With all the data syced to both your CRM and your accounting software, your team can track and manage customer acquisition focused sales processes with ease.
Final Thoughts
A workman is only as good as his tools. In the same way, a CRM is as good as its modules. In this article, we have discussed the 6 most commonly used modules that can help in increasing the productivity of your team. These modules, believe it or not, will directly impact your bottom line and help you close more deals. If you have a suggestion for this article, please let us know.
Sell more, understand your customers' journey for free!
Sales and Marketing teams spend millions of dollars to bring visitors to your website. But do you track your customer's journey? Do you know who buys and why?
Around 8% of your website traffic will sign up on your lead forms. What happens to the other 92% of your traffic? Can you identify your visiting accounts? Can you engage and retarget your qualified visitors even if they are not identified?