Sales Productivity: Tools, Metrics, and Strategies to Close More Deals
Introduction
Distraction is the biggest bane in any job, especially if these distractions directly impact your revenue. Round-the-clock notifications, toggling between multiple screens, gathering customer data, setting up reminders, taking notes, and many more tasks that keep you from focusing on your primary task: selling. In fact, only 39% of a rep's time is spent on selling. This is where sales productivity comes into the picture.
Managers have tried many ways to improve the productivity of their sales teams. Still, the truth is, not all salespeople are built the same way, and productivity levels vary for different salespeople. And, procrastination is often a trait of high performers.
So, this post will help your team perform better with you doing things to motivate them and also doing things to make their jobs easier.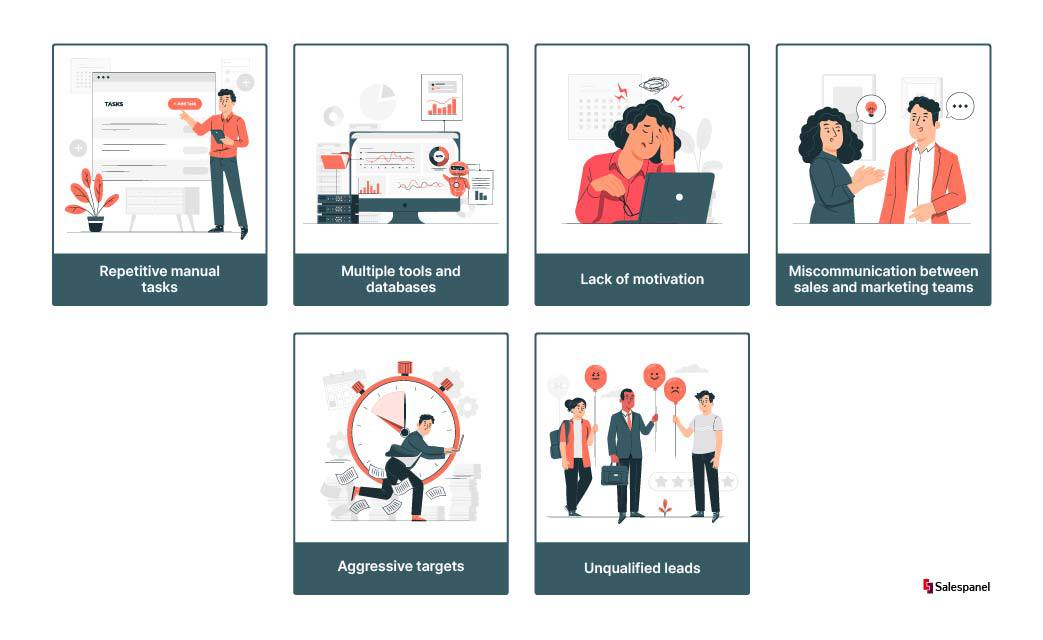 Factors Impacting Sales Productivity
Distractions come in many forms. There are various factors that affect the sales productivity of sales reps. It could be:
Repetitive manual tasks
Multiple tools and databases
Lack of motivation
Miscommunication between sales and marketing teams
Aggressive targets
And, of course, bad or unqualified leads.
Strategies to Help Sales Teams Be More Productive
While there are no strategies set in stone that could be the perfect fit for your sales team, there are universal sales productivity approaches you can use to unlock productivity.
Sales productivity is all about improving the efficiency of your company. It can be defined as the rate at which a salesperson brings in revenue for your company with minimum use of resources.
So how does a salesperson focus on revenue-generating tasks?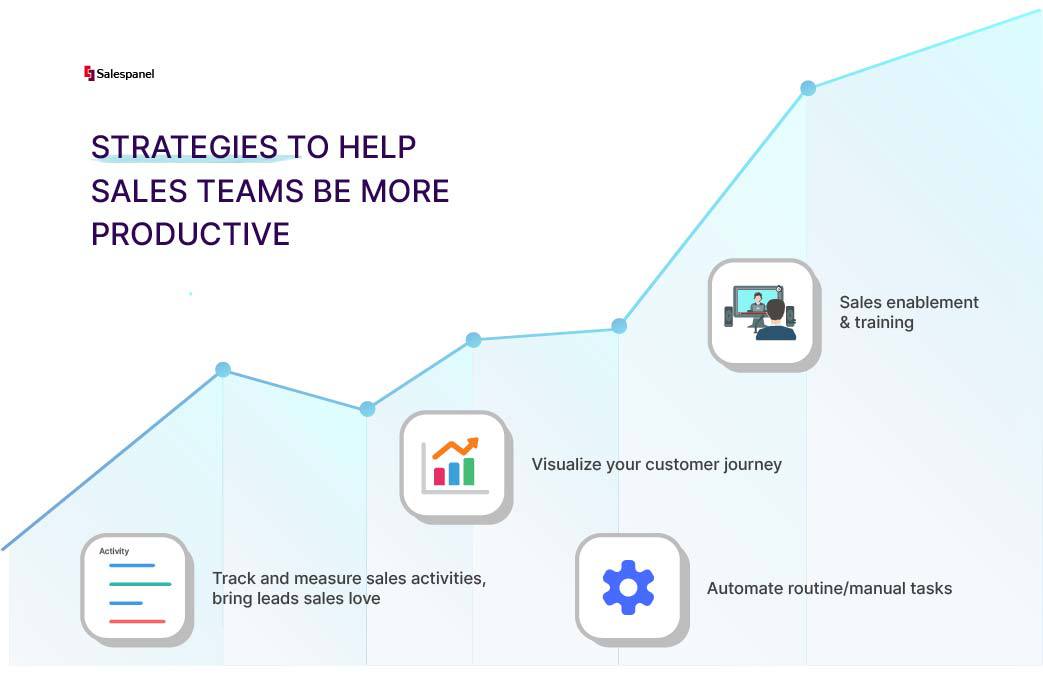 1. Track and measure sales activities, bring leads sales love
In order to get to a destination, you need to begin somewhere. If sales productivity is your destination, then sales tracking is the first step you need to take.
Tracking sales data is crucial to understand where your sales team stands right now and how far they can go if they are productive. Tracking metrics regularly helps you check their progress and roadblocks that hamper sales productivity.
You can also use attribution to track where the best leads are coming from and replicate the channel to bring more leads that are likely to buy. Suppose you are using Salespanel, for example. In that case, a lead is attributed to different touchpoints, and you will know which channels (was it a particular keyword?), content, and messages contributed to closing the best deals.
2. Automate routine/manual tasks
Manual tasks eat into the peak productive time of sales reps. Adding deals, moving them through the pipeline, adding updates, notes, reminders, etc. Plus, sales teams also spend significant time on research.
This is where workflow automation plays an important role in reducing the grunt work of sales reps and saving the time taken to complete a series of tasks.
Using a tool like Salespanel, for example, can reduce this work as all sales-ready leads from marketing are automatically added to the CRM along with crucial lead data. So, your sales reps spend less time on research and manual tasks.
3. Visualize your customer journey
Often, salespeople focus on 1:1 conversations with clients and lose track of the entire picture, which include researching the prospect, understanding their requirement, how your product solves their need, convincing prospects, arriving at price points that are suitable, sharing proposals, etc. are all steps in between that matter.
Using a sales software that can give you visibility into every aspect of the journey from prospect to the customer helps salespeople understand their role in the process. Managers also get visibility into the progress of deals, sales pipeline health, etc.
4. Sales enablement & training
Not all salespeople have reached their highest potential yet. As an employer, the onus lies in you to bring out the best in your employees. The same applies to sales, where all your sales reps have their questions answered and do not spend time searching for information if given access to the right resources, tools, and training material. Have a robust sales enablement strategy in place with training materials, courses, presentations, brochures, etc., that over-communicate about your product and values, so salespeople do not have to look for it anywhere.
Sales Productivity Tools
Thankfully you don't have to rack your brains to make your sales team more productive. There are plenty of handy sales tools that help you track your sales performance, reduce manual tasks and ultimately improve your sales productivity.
We would like to start this list with our own product, Salespanel. Totally not biased! *wink* *wink*
Salespanel is a marketing and sales enablement software that helps your sales team be more productive by pushing qualified leads to the sales pipeline and bringing crucial sales intelligence within the CRM. This software can:
Bring leads to CRM along with crucial sales intelligence
Salespanel helps marketers automatically send sales-ready leads to your CRM and create deals for the same. Every morning, reps start their day with fresh new leads in their pipeline. It also brings along with it crucial attribution and behavioral data and keeps updating them on the CRM. Where did a lead come from? What did they do before scheduling a sales call? How are they interacting with emails? Did they read whitepapers or watch a webinar? What motivates them?Your sales reps get all the answers without leaving the CRM. The need for manual action and research is heavily reduced.
Automatically score leads according to their probability to buy
Salespanel has a predictive (automatic) and rule-based (manual) lead scoring module that helps your company gradually qualify leads as they progress through the buying process. The predictive scoring module uses machine learning to predict the score and does not need manual action. On the other hand, the rule-based scoring module lets you create your own rule based on profile and behavioral characteristics.With Salespanel, every lead gets their unique score that tells a story – how they engage with your emails if they are aware of your product, website activity, etc. Lead scores are brought to your sales reps to help them prioritize leads and know when leads show buying intent. This saves time for salespeople as they can focus on the hot leads and convert quickly.
Real-time sales intelligence & push notifications
Salespeople spend a lot of time following up with prospects. And some are not even sure of the right time to follow up due to different time zones and various job profiles. With Salespanel, salespeople get real-time updates when a contact or lead performs an action or shows intent to help them connect with their prospects at the right times.
Track website visitors and sales emails
Salespanel tracks your leads across different engagement points and lets your reps know if the lead interacts with your ads, visits your website pages, talks to live support, reads your newsletters, engages on sales emails, etc. Real-time email tracking helps them know when reps open emails and visit your website to learn more.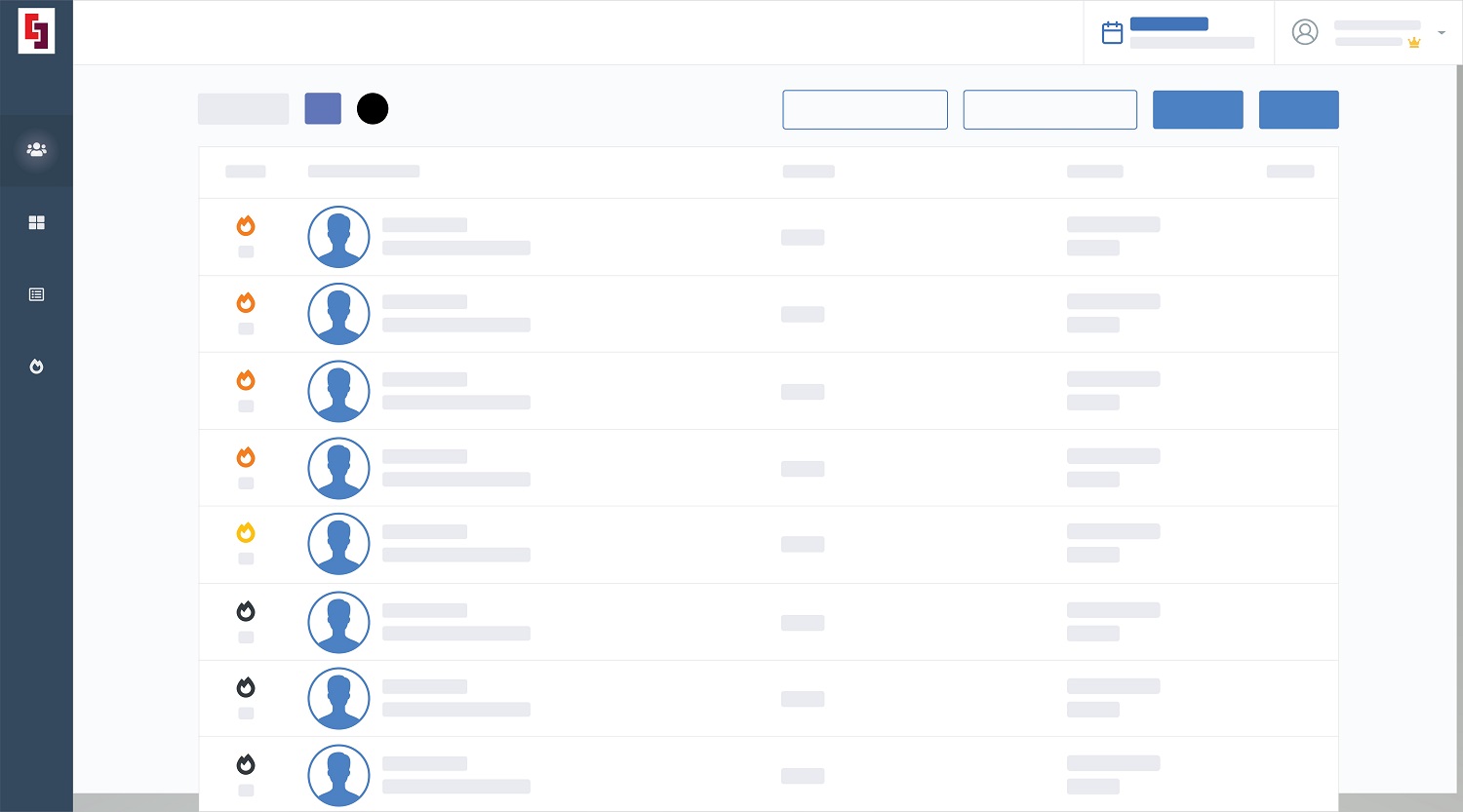 LinkedIn Sales Navigator helps sales teams target the right buyers, understand key insights, and engage with personalized outreach. Linkedin is a social media platform that has become indispensable for all professionals. So, if you are looking for B2B prospects, most decision-makers are here.
Linkedin Sales Navigator goes a step beyond Linkedin, and helps you reach decision-makers, send inMails, and reach target audiences directly. The search and profile view features allow you to zero in on the right prospects and prioritize those who share a mutual connection.
Whether you're in sales or marketing, interruptions to your workflow can be a productivity killer. The Smart Links feature in Sales Navigator allows you to quickly and easily package and share content within your Sales
Navigator workflow, track viewing behavior and gain insights on who is engaging with your content.
These time-saving features in Linkedin Sales Navigator have made it a favorite tool to use among salespeople.
Most often, salespeople are lost toggling between multiple screens. Toggl aims precisely at this time-consuming activity and helps improve productivity in this area.
It works just like a traditional timesheet and has the bonus of allowing you to track and assign specific tasks. Track time across the web app, desktop app, mobile app, or browser extension, and all your entries sync automatically. It allows you to pin your most frequently-used time entries and auto-tracks every application or website you use for more than 10 seconds, so you don't lose precious time. It also has calendar integrations and other functionalities.
A sale is not closed until the prospect signs across the dotted line. Document handling, creating sales proposals, handling agreements, etc., is an entirely different ball game that your sales team has to manage. But apps and integrations like DocuSign helps with the creation of both online proposals and eSignature features with ease and helps save time. This tool is fast, and it helps with quick document signing. You can easily integrate DocuSign with other apps, and it has more than 200 million users around the globe.
If you are looking for an alternative to DocuSign, this guide can help you find the perfect e-signature software.
An important task of a salesperson is to schedule meetings, push/advance them, and set reminders. Calendly helps your salespeople do that in a jiffy. It cuts out the back and forth needed to schedule time on your calendar by sending a link to meeting invitees, who can see the sender's availability and book an open slot. The meeting is then blocked off on all participants' calendars. Calendly integrates with major email clients such as Gmail and Microsoft Outlook, so you don't have to worry.
And, if you want to know what your leads did before and after booking calls from your Calendly website widget, Salespanel has got your back.
Asana is a project management app that helps break down silos that stall sales.
Using this app, you can ensure your sales teams get the information they need to respond to customer requests and questions as quickly as possible.
Your sales team can design visual charts, work on common templates and more that help cut the clutter and help them improve sales productivity.
Sales Productivity Metrics: Measuring sales productivity
So you plan on trying out some sales productivity tools that can help boost your sales team. But what will you track once you have deployed these tools and software?
Sales productivity metrics aren't too different from monthly or quarterly sales metrics you track as a manager of a sales team. But tracking before and after implementing sales productivity tools helps you find the difference and understand if they are working for your team or not.
1. Conversion Rate
Conversion rate is a standard sales metric that indicates the sales team's quarterly or annual performance. It shows all the opportunities or leads in the funnel, how many are converted to customers. If you measure the progress of opportunities across stages, it will help you improve the productivity of your sales reps across different stages.
2. Length of the Sales Cycle
How long does it take for a lead who has entered the sales funnel to convert into a paying customer? This indicates how long/short your sales cycle is. If your sales team is at its productive best, this number should reduce in length over time, generating more leads and converting more customers in shorter spans.
Trivia: The Most Important Marketing Metrics and KPIs for B2B Businesses
Final thoughts
Sales productivity means different things to different companies- for some, it can mean sending out X emails more than last month. For some, it can mean reducing toggling between screens and talking to more customers. So the first step is to define what it means to your sales team, set tools and processes in place that can help your sales team get there, so they are not searching in the dark for customers.
Sell more, understand your customers' journey for free!
Sales and Marketing teams spend millions of dollars to bring visitors to your website. But do you track your customer's journey? Do you know who buys and why?
Around 8% of your website traffic will sign up on your lead forms. What happens to the other 92% of your traffic? Can you identify your visiting accounts? Can you engage and retarget your qualified visitors even if they are not identified?