Top Email Marketing Strategies For Your Small Business
If you are planning to send more emails this year and beyond, you're not alone.
More and more small businesses are taking email marketing seriously, which means you need to find better ways to differentiate yourself and build loyalty with your customers via email. Gone are the days of generalized email templates, clickbait subject lines that offer no value, and unengaging email copies. Today, the stakes are higher, and you'll need to adopt more nuanced strategies if you want your email marketing campaigns to succeed.
This starts with you personalizing, going beyond a general "Hello there" and using their behavior to create customized emails that are
so engaging that it compels the customer to click through and convert.
In this article, you'll learn email marketing strategies and tools that top B2B marketers use to attract and nurture qualified leads into customers. Before we dive into strategy, let me acquaint you with the meaning of email marketing.
What Is Email Marketing?
Email marketing is a type of direct marketing strategy that uses emails as the primary communication medium to reach an audience. An email you send to a lead or a current customer can be considered email marketing. However, the standard definition refers to using email to reach a broad audience and achieve specific objectives, whether to increase leads, retain clients or sell to a group of people.
While email marketing is old and isn't one of those new trendy digital channels, still, small businesses can use it to accomplish their marketing goals. Email is a worthy investment for businesses of all sizes. Here are some statistics to back this:
As part of an overall digital marketing strategy, marketers use various means to attract prospects and collect their emails, usually by persuading them on landing pages and web forms to provide their email in exchange for something valuable. As prospects provide emails, marketers use clever ways to segment prospects based on a combination of various criteria such as demographic, psychographic, geographic, and behavioral criteria. The marketers choose criteria that have an inner logic that could help increase prospect conversions.
During the email marketing campaign, the segmented audiences receive personalized emails to increase engagement and relevance. For instance, if you are a B2B SaaS business, a prospect's job position would be vital demographic data. If your prospect is new in their industry, you can segment them based on the specific problem they need to solve at their growth stage. Keep in mind that the segments you create need to be relevant in your customer profiles.
Even if you believe more in recent social marketing methods like Instagram and Facebook ads, you still need to engage with them once your receive their emails.
Are you in the B2B market and wondering how you can use email marketing to get outstanding results? The following section will tell you about effective strategies that you can use in your business.
Email Marketing Strategies For B2B Businesses
Effective B2B email marketing strategies utilize a simple cycle. You start by building an email list, segmenting your email lists, then creating email campaigns for the different segments, automating your campaigns, and finally measuring the results. At the end of every campaign, you'll take stock and measure what worked and what didn't pan out as you'd expected.
Keep these tips in mind before you view the remarkable B2B email marketing strategies. Consider these tips as best practices that will increase the success of your email marketing campaign.
Follow the rules
If you plan to have email subscribers worldwide, remember to follow email laws like the General Data Protection Regulation (GDPR) and other international laws.
Tell them what to expect
When prospects give you their email address, they don't know how often they'll receive your emails. Ensure that you tell your subscriber how often you'll send emails and the types of emails you'll send after the Welcome email.
Be intentional with content
Keep your email content conventional and avoid content that would be considered inappropriate. Besides being seen as an unethical brand, the email spam filter will pick up on any questionable content and block your emails.
Focus on giving value
Gaining results for your email marketing is essential, but it's not the first thing you should focus on. A quality email feels like a meaningful message that brings value to the reader. It has few images, links and doesn't have spammy terms.
Filter your email list
Remove undelivered and bounced emails from your list and regularly survey your audience to see if your contacts are still interested in receiving emails from you. A clean and active email list means that you send emails to people who want to receive your emails and regularly engage with you.
Make sure they know they can unsubscribe
It's painful when subscribers leave your list. Notwithstanding, you still need to make it easy for them to unsubscribe. It's better to send emails to people who want to receive them than sending emails to people who don't have an interest in what you have to say.
Best Practices
Now you know the leading email marketing best practices, it's time for us to delve into the strategies. Alongside learning about all the ingenious strategies of B2B email marketers, you'll also see examples of these strategies in action. Here we go:
1. Use value to gain qualified subscribers
Building a valuable email list is hard. Perhaps that's the reason some small businesses choose to purchase cold email lists. Buying an email list may offer the potential of reaching a new market, but in the long run, a purchased email list has lower engagement and damages a business's reputation.
A more reliable way to build a valuable email list is to provide value for your target persona repeatedly. B2B marketers use landing pages, lead magnets, free trials, and live events to gather highly targeted prospects. With these tactics, prospects will provide their email address in exchange for information that they believe is valuable.
Example: LogMeInRescue provides a straightforward value offering for this landing page experience. It focuses on showing the value of their remote support solution while following all the best practices of landing page conversion.
2. Segment your email list
While you employ creativity in attracting leads, you also want to segment your leads based on categories like product and service preferences, interests, behaviors, and any other valuable criteria. What better way to show your prospect that you care about them than to take note of everything that makes them unique.
List segmentation yields significant results; according to a study by Experian, segmenting email lists produces six times higher revenue and helps B2B marketers personalize email offers and ensure customer satisfaction. Your email segments help you build genuine relationships with your leads and customer and also helps you increase conversion when you decide to send out an offer.
Example: The online learning platform Udacity offers a personalized discount to its users based on their location. Up to 75% off to prospects that live in third world countries. They also inspire a sense of urgency by adding a deadline to their irresistible discount offer.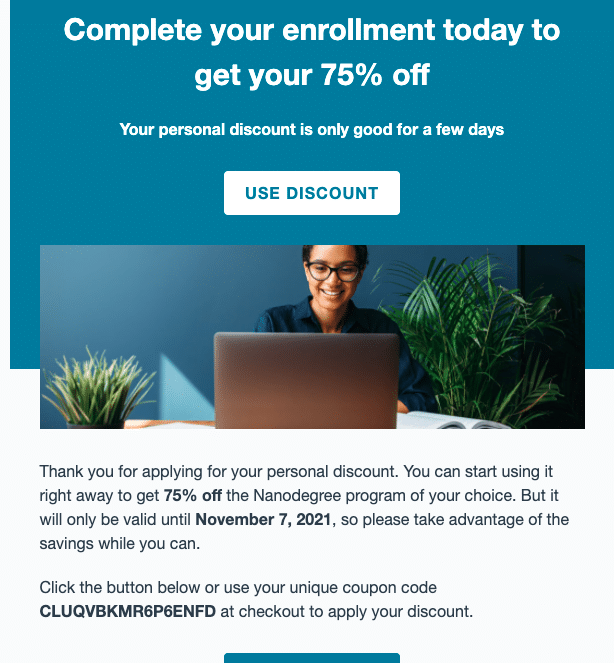 3. Personalize your campaigns
A personalized email uses information that you've collected about your customer to create meaningful and engaging messaging. You can use data points like how often they log into their account, where they live, their first name, company details, and activity information. The list of personalizations ranges from simple techniques to advanced types. However, ensure that your personalizations fit the campaign by being relevant to the customer.
Today's consumers respond well to personalized emails when it comes from a person and not a business, is timely and relevant. According to a research by Experian, personalized emails deliver 6x higher transactional rates, and more than 50% of companies feel they can increase interaction within emails by increasing personalization.
Example: This birthday email from Stitchfix features a lovely arrangement of their products and invites the reader to celebrate their birthday by treating themselves to a "fix" – where they try out clothes at home and keep their best.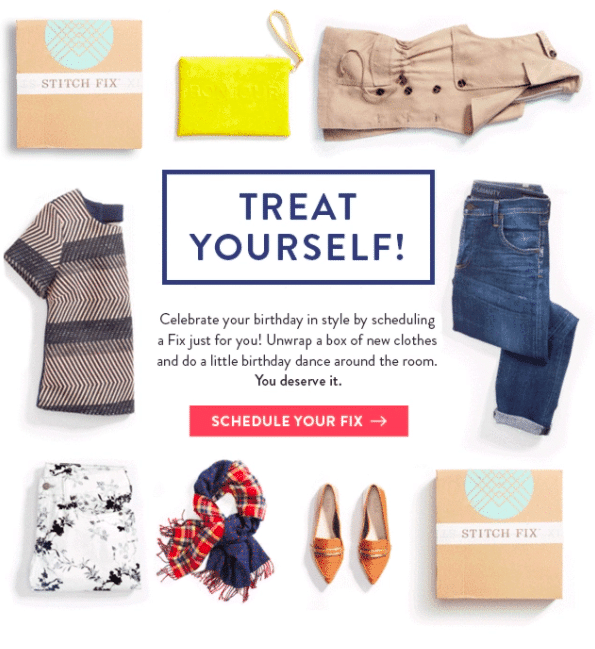 4. Automate your marketing
When you've segmented your email list and created personalized email campaigns, you need a special kind of software that can help you automate many parts of your email marketing tasks. This software is beneficial for small businesses with limited resources. It carries out most tasks from simple recurring tasks like sending out emails to welcome new subscribers to complex long-term nurture email sequences that will help you develop relationships with your subscribers.
According to this report by the Aberdeen group – Nearly 70% of businesses in their study are either using a marketing automation program or currently executing one. The same study also showed that 88% of top-performing companies are effective in their ability to route "hot" leads to Sales, vs. 57% of others who don't use automation.
The automation software you choose should have CRM functionalities like lead scoring and qualification, lead tracking and identification, and detailed reporting features. With the right automation tool, you get to move hot leads through your sales funnel to conversion quickly.
Example: This survey email from Airbnb is a typical example of a follow-up task you can personalize and automate for every unique purchase from your customer. Imagine if you tried to send an email every time someone purchases from your business.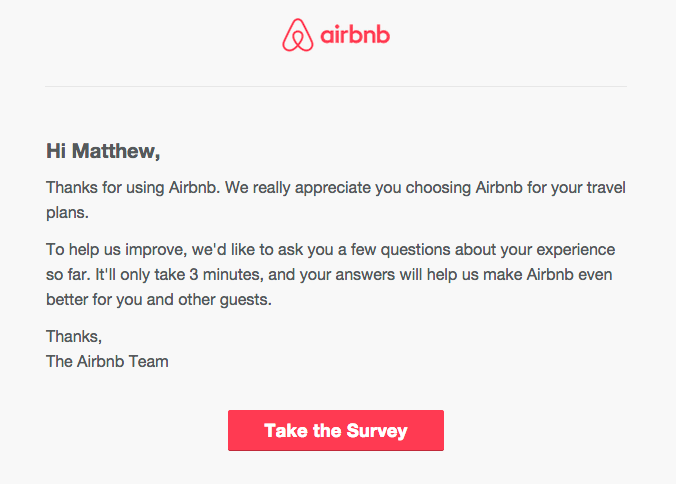 Top 5 Email Marketing Tools
Are wondering about the best tools to help with email marketing for your business? Here are the top 5 email marketing tools that you can try.
P.S.- Leads from all of these tools can be tracked and qualified and converted into customers using Salespanel.
Constant contact is a fast-growing and intuitive email marketing software recommended for beginners. Signing up for a Constant Contact account grants you unlimited emails, a marketing calendar, email templates, social sharing tools, an image library, and list segmentation.
Premium Constant Contact account gives you access to email automation, survey polls, drip campaigns, and subject line A/B testing to maximize open rates. You have active customer support with live chat, emails, phone calls, and community support as a premium user.
Constant Contact has a 60-day free trial (no credit card required). After that, their pricing starts as low as $20/month.
Drip is an excellent email marketing tool suited to eCommerce brands, bloggers, and digital marketers. The software helps eCommerce brands run multi-channel campaigns with a slick interface and easy integration to several other product.
Drip's central selling point is its intelligent marketing automation tools, precise email segmenting, split testing features, list groups, and an automation workflow builder. Drip's customer support includes live chat, video courses, guides, and extensive documentation.
Drip offers a free trial, and their cheapest plan on the drip platform is $49/monthly.
SendinBlue is an SMS and email marketing software making waves in Europe. Their onboarding process features a drag-and-drop email builder perfect for email marketing newbies. The email automation on SendinBlue is also beginner-friendly and lets you send transactional emails, create automatic follow-up emails, and segment prospects.
SendinBlue has a free plan to send up to 300 emails daily and store unlimited contacts. Their premium plan offers advanced features like landing page builder, sales CRM, and Facebook Ad integration. Customer support in SendinBlue is quite extensive, engaging customers on emails, phone calls, and email marketing courses to help you advance your skills. Their paid plan starts at $25 per month for the lite plan.
Hubspot's email marketing tool offers a diverse set of capabilities. The tool has a sleek drag-and-drop email builder that empowers you to customize the emails extensively; the software also allows you to optimize email campaigns with A/B tests and analytics.
The tool is built right into Hubspot's popular CRM software, allowing you to enjoy CRM functionalities. You can personalize emails based on the subscriber's device type, country, list membership, etc. The free version allows you to send 2,000 emails and store an unlimited number of subscribers. Their paid plans start at $45/month.
Mailchimp is perhaps the most well-known email marketing software in the world. They were recently named among the Best Global Software Companies by G2.
If you are a small or medium-sized business, Mailchimp is a great tool to get started with. Started as an email marketing software, it is now a full fledged automation tool with easy to use features. Mailchimp can, however, be pricey and you should read our pricing breakdown before you buy.
Final Thoughts
In conclusion, email marketing is one of the cheapest digital marketing channels to help you create meaningful connections with your customers and build profitable interactions. Also, stay tuned to all the email marketing updates.
Consider using an email marketing software that works with other marketing channels and lets you intuitively manage and grow your subscribers on one dashboard. If you need a tool to capture and track leads from any email marketing tool, try out Salespanel.
Sell more, understand your customers' journey for free!
Sales and Marketing teams spend millions of dollars to bring visitors to your website. But do you track your customer's journey? Do you know who buys and why?
Around 8% of your website traffic will sign up on your lead forms. What happens to the other 92% of your traffic? Can you identify your visiting accounts? Can you engage and retarget your qualified visitors even if they are not identified?