Mailchimp Pricing: Breakdown of the Marketing Plans
Today, Mailchimp is one of the marketer leaders in the email marketing and marketing automation category. The start of their business has humble roots in a web design agency called The Rocket Science Group, started by Ben Chestnut and Dan Kurzius 20 years ago. In fact, if you are using Mailchimp and look at your credit card statement, you will find The Rocket Science Group in your transaction statement.
It was 2001 when they started the product based on their client requests who were trying simpler ways to send emails. It was a challenging time for email marketing in 2007 when email spam was rampant and authentication mechanisms such as DKIM, SenderID, DomainKeys and DKIM came to usage. Mailchimp closed their web agency and started focusing full-time on the product. They had to develop a product that could get the job done while keeping it cost-effective. Fast forward to 2021, where email marketing is a billion-dollar market, email marketing products are much more organized and benefit from spam and privacy control compliances.
From the Freemium subscription, which fueled the growth of Mailchimp, the company found ways to delight customers and positioned itself in a market with a strong design language. Mailchimp has almost become an industry standard when it comes to email marketing. Being a strong incumbent product, it is addressing a wide spectrum of creators and industry segments like e-commerce while creating a pricing structure that tries to charge more from capable businesses while ensuring that they have the ROI.
In this article, we will be looking at how Mailchimp's pricing is organized. If you are looking forward to upgrading your existing Mailchimp account or want to start fresh, we have some valuable information to share. Also, if you are an existing customer of Mailchimp who is trying to find out if the price you pay is worth it and decide if you need an alternative, this will be an insightful read. We will only break down the pricing of Mailchimp 'Marketing'. 'Website & E-commerce and 'Transactional Emails' pricing will not be discussed.
Pricing Structure
Mailchimp's pricing is based on these three important factors:
The number of contacts you are storing in the system.
The number of emails you want to send per month.
The features that you want to use. For example, in the Free plan, a limited amount of templates are available, and Mailchimp will be adding its branding in the email footer. A variety of design templates will for sure add speed to your workflow, and you will end up paying more if you want to use them, even if the number of contacts and emails you send per month stays the same.
The Mailchimp pricing structure seems to be designed based on a value-based model, where the cost increases asymmetrically as you go for higher-tier premium subscriptions. This is a strategy to charge differently to different buyer personas.
Basically, if you are interested in features from higher subscription plans, you would like to invest in better workflows or templates to save more of your time as it goes with your ROI. Value-based pricing is focused on designing pricing models based on how much your customers are willing to pay for your products. If you are interested further, you can read more about it here:
Before we discuss the plans, it's good to understand some of the basic terminologies with a big picture of the pricing model. Let's have a look:
Contacts
People to who you want to send emails. They subscribe to your emails during a signup process or to receive updates from your end.
Audience
An audience is a list of contacts who share the same source of subscription. When you are sending an email campaign, you have to select an audience.
Credits
One email to one subscriber is called one 'send' and one send costs one credit. So, for example, if you have an audience of 100 contacts, then one email campaign would need 100 sends and cost 100 credits.
The Free Plan
Let's break down the Free plan first. The free plan does not offer much to professionals and experts, but it is something that you can get started with if you are a beginner or a very small business.
The free plan lets you have 2,000 contacts and send 10,000 emails per month. You can only have one audience and one user. It also comes with basic templates and features. This might seem adequate, but the non-removable Mailchimp branding on the footer can be a deal-breaker for you.

Pricing Models for Paid Plans:
Mailchimp provides two kinds of pricing models. A standard monthly subscription-based model and pay as you go model. Let's say you have a recurring need of sending emails to your subscribers, and it's predictable every month then the subscription-based model is for you. If you are an infrequent email sender and that too in low volume, then the pay-as-you-go model will make sense to you.
A. Subscription-Based Model
The subscription-based model is a fixed pricing plan where you choose a package with specific limitations and features and stick to it. This is similar to how you pay for most SaaS applications. We are not discussing the free plan here.
The Essentials plan starts at $10.20/mo and lets you run campaigns for 500 contacts. The maximum allowed emails are 10X of your contact limitations. So, for this plan with 500 contacts, you can send 5,000 emails. The pricing breakdown for other available plans is listed below. The email sending quota increases as you upgrade to higher-tier plans. The Premium plan allows 15X email sends.

B. The Pay as you go Model
The pay-as-you-go plan lets you buy email credits and then send emails in a very flexible manner. This is especially helpful if you send emails infrequently. You are not charged month on month, and you only pay for the number of emails you send. It is important to note that the Pay as you go model only comes with features that are available on the Essentials plan.
The minimum amount of credits you can buy for this model is 5,000, which costs around $150.
Available credit options:
5,000 credits
10,000 credits
15,000 credits
50,000 credits
75,000 credits
200,000 credits
2,000,000 credits
5,000,0000 credits
25,000,000 credits
Overages
When you select your plan, you have to choose with a fixed quota of contacts and the co-relating email sending limits. If the number of emails you are sending exceeds this amount, then Mailchimp charges you extra for the emails you send outside of this quota. It's called the overage fee.
For example, the Essential plan starts with 500 contacts, and the contact limit is 10X of this number, i.e., 5,000 email sends per month, as we mentioned before. Once you cross that limit, you have to pay for the overage. Here is the breakdown: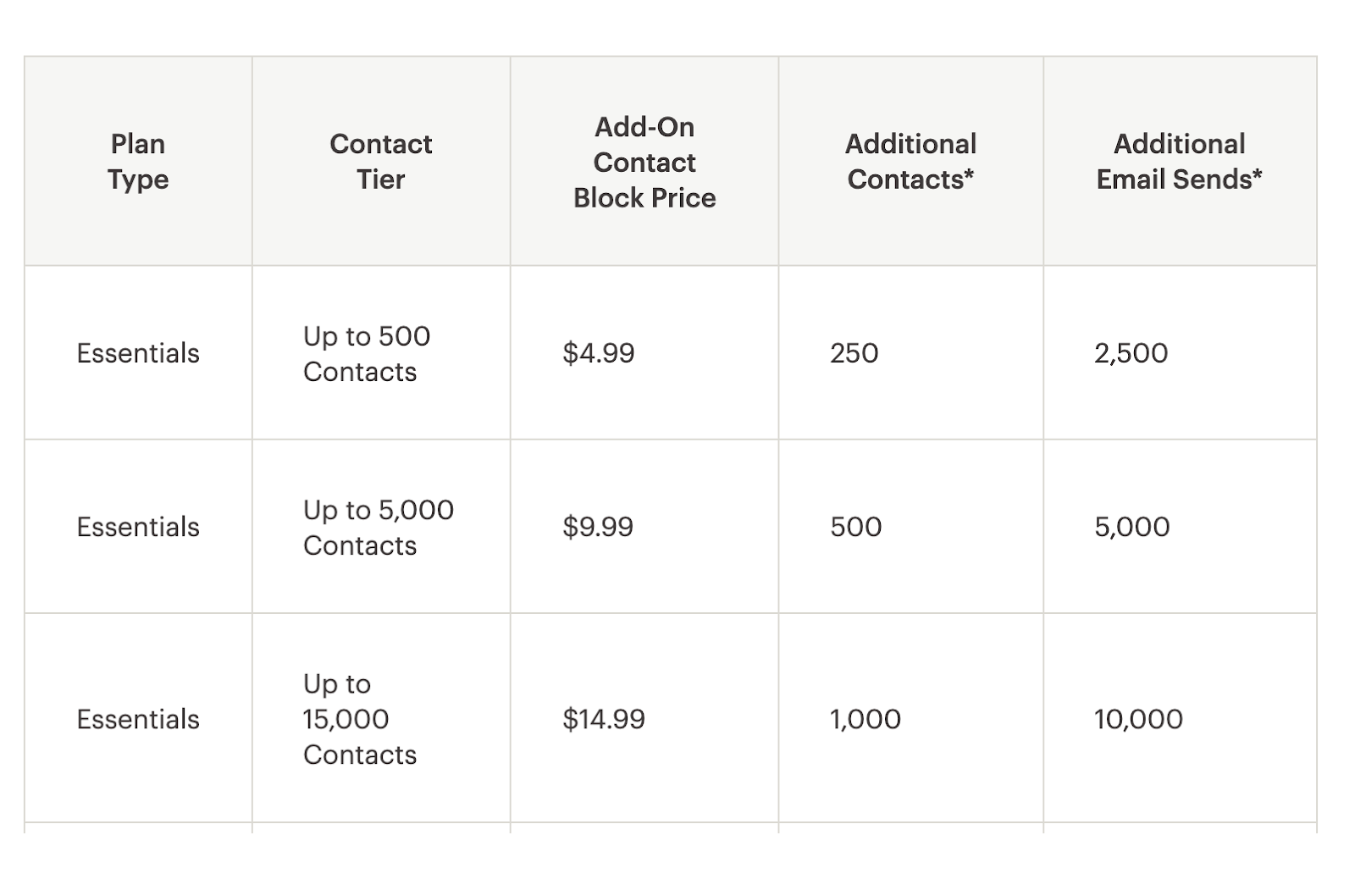 You can learn about Mailchimp overages here:
What should I consider before choosing a plan?
You should consider a few present and future factors for your business before choosing Mailchimp and picking any of their plans. Here are those:
How many contacts do you have?
The first and the most obvious factor. The number of contacts you have now would dictate which subscription plan you start with. If you have 2,000 subscribers and are good with sending less than 20,000 emails per month while having features like custom templates and branding, you can choose the Essential plan with 2,000 contacts costing around $30 a month.
Which features do you need?
The bigger your business grows, the more features you might need. Or, if you have high ticket subscribers, you may need more sophisticated features even if your contact count is low. For example, if you need phone support or Multivariate Testing, you will need to purchase the Premium plan even if your subscriber count is on the lower side.
How frequently do your contacts and team members increase?
Before buying, many buyers think about the current scenario. But for a service like this, the future is a crucial determiner that is often overlooked and can contribute to rapidly increasing costs and overage fees for you. Let's say you have 5,000 subscribers today, and your net subscriber count grows 10% a month (a very conservative estimate). Within 10 months, your subscriber count will be 2X, and it will keep increasing. Will the pricing make sense to you at that point?
Also, if your team member count increases, you have to jump to a higher tier plan. The Standard plan (starting from $15.24/mo) has a limitation of 5 seats. If you need another seat, you have to switch to the Premium plan (starting from $304.82/mo).
Before you purchase a plan, make this calculation and decide if the plan is right for you.
How frequently are you sending emails?
How many emails are you sending a month? If you have 2,000 subscribers on the Essentials plan and you send 15 emails a month, you cross the sending limit. On the contrary, if you are sending very few emails a month, you might benefit from a pay-as-you-go plan.
Consider all of these factors before you purchase Mailchimp because once you get in, it is a hassle to migrate as with all software.
Quick Plug: Salespanel
We are using this opportunity to introduce you to Salespanel as an addon for Mailchimp (or any email marketing software).
Salespanel helps you identify, track, and qualify your leads and track how your contacts engage from your email campaigns. You will be able to track every touchpoint before and after lead signs up, work with behavioral targeting, and set up custom events to monitor engagement. Salespanel also syncs these activities in real-time with your choice of CRM, helping your Sales team to remain updated about qualified leads.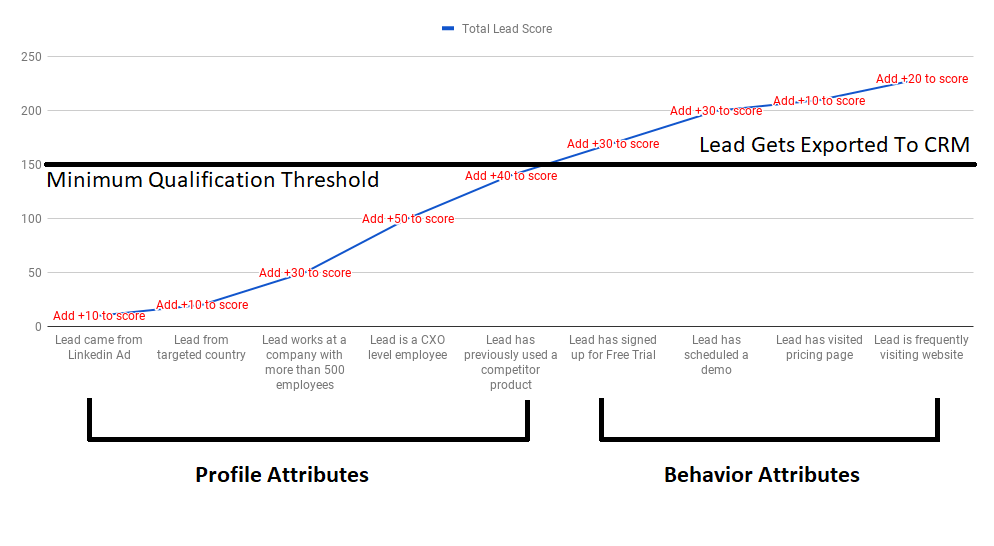 Basic real-time tracking is free on Salespanel.
Closing Thoughts
As a market leader, Mailchimp is able to dictate their prices and their plans, which we tried to break down in our article. We hope this helps you make an informed decision while considering a purchase or going for an upgrade. If the price to value does not match your pace, you can choose from any of the options available in the market. Salespanel tracks them all. 😀
Sell more, understand your customers' journey for free!
Sales and Marketing teams spend millions of dollars to bring visitors to your website. But do you track your customer's journey? Do you know who buys and why?
Around 8% of your website traffic will sign up on your lead forms. What happens to the other 92% of your traffic? Can you identify your visiting accounts? Can you engage and retarget your qualified visitors even if they are not identified?