Flodesk vs Mailchimp: Pick the Right Tool For Your Business
Updated on 28th April, 2023.
There is a belief from the business world that far outdated the existence of the internet or even electronics: 'The best way to sell is direct.' This belief is a postulate of salesmanship, but website selling, social media, or other digital means are anything but direct selling. That is why we have email marketing, the most direct way of reaching your audience.
The statistics don't lie; Email marketing generates around 40 fold more revenue for every dollar invested. So why isn't everyone using email marketing? Well, here's the catch, there are 4 billion people with email addresses; even if you consider 0.1% of those who would be interested in your product, that's still 4 million users.
Now, mailing every potential customer manually is simply not possible. That is why we have plenty of web-based online tools that help us automate the entire process of email marketing. The most popular player in the segment is Mailchimp.
Started in 2001 as a side project, it took another 8 years for Mailchimp to take center stage. In 2009 it added a freemium option which quadrupled its user base to 450,000 in a year. Over 10 billion emails were being sent, that's over 300 million emails every day, in 2014.
Forbes ranked Mailchimp at No.7 in its 2016 Cloud 100 list. In 2017, Mailchimp was not only named among the Most Innovative Companies by Fast Company but was also adding 14,000 new users on average every day. There's some outstanding value that Mailchimp provides through its service, which is evident from its growth.
The email marketing industry is pretty crowded with big names such as Constant Contact, Sendinblue, G2 deals, and MailerLite. Then there are newcomer unicorns such as Flodesk, who have been making big moves recently. In the end, the market shall decide who will prevail.
How Has Mailchimp Developed So Far?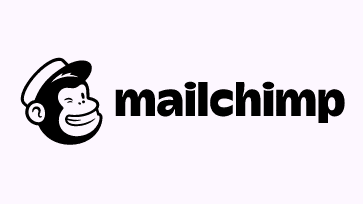 Mailchimp has grown over the recent years, and now, offers website hosting, e-commerce solutions, and transactional email services, alongside offering basic email marketing automation services.
It was recently named among the Best Global Software Companies by G2. This clearly means Mailchimp is growing at an exponential pace and offering the exact services that today's businesses need to scale.
Considering its present trajectory, it won't be a surprise to see Mailchimp diversify its offerings to service more customers and become the category leader. This move has put Mailchimp in competition with marketing titans such as Hubspot.
Note, Mailchimp was acquired by Intuit on Sept 13, 2021 for $12 billion. So, more surprises are expected.
The Entry of a Likely Unicorn: Flodesk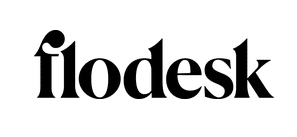 You could say Flodesk is the Tesla of the email marketing industry. It offers an email marketing service like none in the market. Its approach to doing email marketing is entirely different from what the industry is doing. Long story short, users love Flodesk's offerings, and it's disrupting an entire unsuspecting industry.
To put it simply, Flodesk has brought the Apple experience to the world of email marketing, and that too at an astounding price. The value it offers is far too great for users to not jump ships.
Flodesk introduces itself as 'A new email marketing service by the creators and for the creators.' This claim is backed by a 'Design First' approach to email marketing. Its tagline 'Design Emails that people love to open.' is strongly upheld by its performance, with users reporting significantly higher email open rates than that of the other service providers.
Flodesk vs. Mailchimp
Who Are These Tools For?
Both these providers aim at providing service to small and medium-scale businesses (SMBs), but they're targeted at different types of people altogether.
Mailchimp is more suitable for marketing executives who have experience in using such email marketing tools. Mailchimp is not beginner-friendly and requires the user to be well versed with CSS and HTML if they wish to make more customizations to emails and their designs. They even offer advanced analytics, which is more helpful to the pros than beginners.
If you're an entrepreneur running a small to medium-sized online business, Flodesk is your best option for email marketing. Flodesk is user-friendly, easy to understand and operate. Their designs are easy to customize and do not require you to know CSS. They offer analytics that is easy to understand for beginners.
Both service providers are good at what they do; the decision for opting between the two comes down to what approach you're comfortable with, your needs and email marketing strategy, and of course, the pricing.
What Features Do They Offer?
Being a veteran in the marketing industry, Mailchimp has simply more to offer in terms of features and add-on services. Their recent diversification drive has only added more to this list of features. Mailchimp started as a simple email marketing software and turned into a CRM as they progressed. This happens with most major players in the market. The more they grow, the more they expand into something like Hubspot. Flodesk, on the other hand, is relatively new to the game and hence only offers features that are necessary for email marketing.
When it comes to basic email marketing functions, both providers offer everything you'll need. Their operating may differ, but the function remains the same. Flodesk's offerings end here, while Mailchimp has a wide selection of features available. AB testing is one such important feature we would have liked to see Flodesk offer.
Besides that, Mailchimp offers features that ensure your emails do not land in the spam folders. They have options to run Drip Campaigns to re-engage cold leads. Customer Surveys and Auto Responders are other important features that Mailchimp offers.
One big advantage Mailchimp has over Flodesk is that its service integrates with Shopify and WordPress, which can prove essential in running an online retail business. Salespanel is one platform which offers both MailChimp and Flodesk integration.
Performance Comparison
Mailchimp is available on both mobile and web. Meanwhile Flodesk is yet to provide an offering for users to track performance remotely from their smartphones. The former understands the importance of mobile apps and the constant need to mail, track, and analyse data. The latter is yet to give its users that advantage.
While Mailchimp has gotten bulky over time, it is still one of the most user-friendly email marketing tools on the market right now. Flowdesk also performs well but, it is a new product in the market and has some catching up to do!
Templates
Now, both the service providers provide email templates, and that's where the similarities end.
Mailchimp has thousands of email templates, but you won't have access to those unless you're subscribed to their premium tiered plans. The design language of Mailchimp's templates is more focused on function rather than form.
There are plenty of limitations when it comes to customizing these templates, one being that the user must be well versed with CSS to customize these templates, and even then the scope for customization is limited.
Flodesk has hit a home run in this department; not only do they have a wider selection of templates, but the visuals of their templates are far too appealing. Their design language is a perfect mix of form and function as the users have expressed their templates as being highly effective.
Customization possibilities are near endless, and users can import custom fonts and styles and tweak the designs as they want, and it's easy as it's all a drag and drop affair.
User Experience
Mailchimp's services are designed considering that the user base is going to consist of professionals who are well versed with the technicalities of email marketing. Thus, Mailchimp provides more complex and advanced features that experts make use of. However, Mailchimp has a notoriously tough learning curve, and even users who love Mailchimp do complain about its operations being too clunky and complicated.
Combined with complex back-end systems requiring thorough knowledge about those and embedded forms needing a lot of work to get right, using Mailchimp will not be a pleasant experience for any average user.
Flodesk, on the other hand, followed Apple's philosophy and made everything as user-friendly and seamless as possible. Drag and drop editing, high levels of easy customizations, the ability to use web fonts, and an easy and intuitive learning curve have made it a favorite among the non-professional strata.
They offer analytics as well that are easy to understand and follow through with for beginners. However, any advanced features such as A/B testing, drip campaigns, etc., are missing from their offering.
Pricing Comparison
With the slew of features on offer and overall expertise and experience in the field of email marketing, Mailchimp commands premium pricing. Though the pricing isn't as high as some of its competitors, Mailchimp still is placed in the upper echelons in terms of service plan pricing.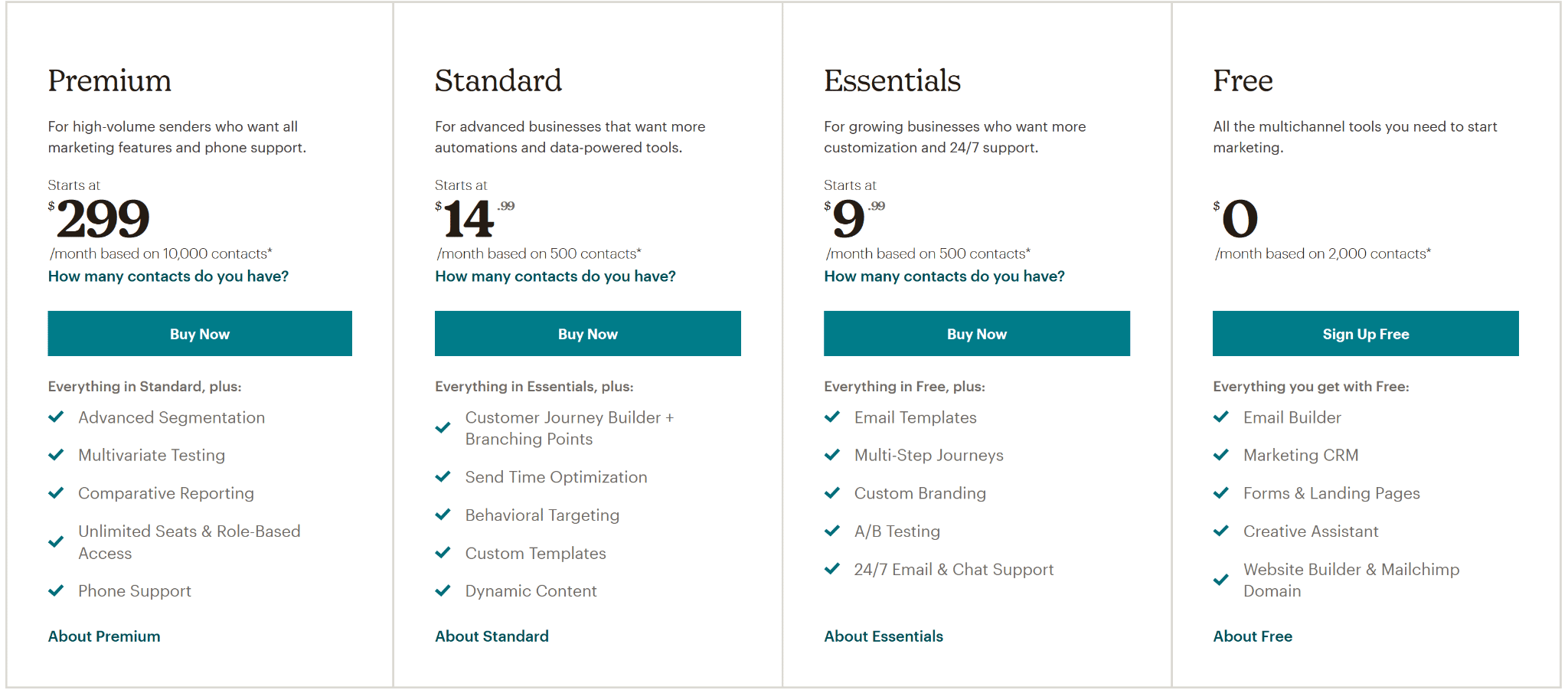 Mailchimp has a tiered pricing scheme for the plan it offers, with every extra feature you opt for costing you more. Also, their pricing is progressive, i.e., the size of your mailing list determines the cost of service. The costs increase the bigger the mailing list grows. So, when you consider its pricing, do also consider your growth trajectory as your pricing will compound with your list.
We have a separate article breaking down Mailchimp's pricing that we recommend you to check out before you make a decision.
Coming to Flodesk, it wasn't just their approach of doing email marketing and designs alone that helped them disrupt the entire email marketing industry; it was their pricing that was unheard of until then. They offered one plan, Unlimited Everything, for $64 a month. That is astounding, and considering the value, they provided for that fee, many users switched to Flodesk.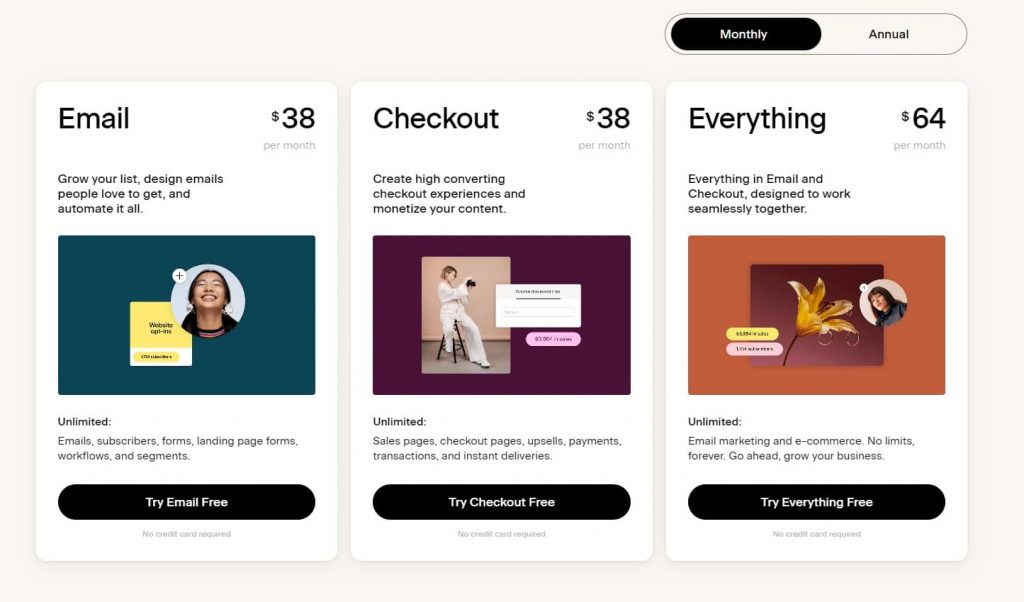 Mailchimp does offer a free plan, but it is restricted to mailing lists up to 2000 contacts; Flodesk has no free plans but offers a 30 day free trial for those willing to take a dip. Unlike others, Flodesk has no progressive pricing based on the size of the mailing list. Everything is, as stated, Unlimited.
Tracking your Email Marketing Leads
Most organizations selling online these days use over 10 SaaS products for their business. So, whatever you choose, you need to ensure that they match your requirements. You can always complement a good email marketing campaign by integrating it with other products the increase the value you generate from it. Salespanel, for example, helps you track leads from any email marketing campaign sent from any software. You will know who clicked your links from emails and also learn what they did on your website. This is key for email marketing revenue attribution.
Leads can then be identified, segmented, scored, and qualified to generate high-value qualified leads. Data can be analyzed to generate various reports that will help you tweak your campaigns to get them to perform better.
Integrations
While Flodesk has earned a seat on the big boys table, it's yet to prove itself on the integration front. At present, Flodesk offers a very limited number of native integrations. As per our knowledge these integrations are limited to Shopify, Instagram, and Zapier. You have to rely on Zapier to bring these integrations and this would very easily shoot up the costs.
MailChimp on the other hand, enjoys the benefit of being the older email marketing platform with integrations with all the major platforms across different avenues, especially marketing and CRM software. Some popular native integrations include Shopify, WooCommerce, Stripe, SquareSpace, LiveChat, Zendesk, and more.
Trivia: Salespanel integrates natively with Mailchimp in one click but also works with Flodesk if you suffix the tracking parameters in your emails.
Analytics
Both MailChimp and Flodesk provide the necessary tools to track the performance of your email campaigns, improve deliverability, and offer actionable insights to grow your business. However, Mailchimp has much more data.
For instance, Flodesk helps track,
Bounced emails
Unsubscriptions
Sent emails that were marked spam
Device used by the recepient while opening the email.
Meanwhile, Mailchimp on the other hand, provides you all the basics and more. Some of these metrics are:
Email open rate ( your average vs industry average)
Click rate (unique plus total)
Subscribers with the most opens
Performance of social media handles (tweets, Facebook likes, etc.)
Demographics, engagement, geographical regions with the most opens
Customer Support
Offering the best customer support to customers is paramount, especially in today's day and age. While both platforms have built excellent customer support systems, MailChimp takes the front seat.
Mailchimp offers a variety of support options to its customers, including Mailchimp Assistant, email support, weekday phone support, and 24×7 chat support. However, the catch is that only Mailchimp Assistant (chatbot) is available to free users. One can avail other support options only with paid plans. Being a fairly popular tool, you can also simply find endless tutorials on how things in MailChimp work rather than waiting for the team to reply.
Talking about Flodesk, it currently offers only email support to its customers. However, its users claim that the platform replies quickly, which keeps their anxiety at bay. You can also join the 'Flodesk Insiders' Facebook group, where you can easily ask questions and share tips. Most questions get answered within seconds by peers using Flodesk on a regular basis.
Flodesk also has a comprehensive help section on its website, where you can find answers to most of your questions and queries.
Conclusion
Email marketing, though one of the oldest forms of digital direct marketing, still reigns supreme when it comes to effectiveness and ROI. You will need a tool to help you automate and run an email marketing campaign, and choosing the right tool is necessary for your business's success.
We've discussed two such tools in this article, Mailchimp and Flodesk. Each of these caters to a different type of crowd from the same segment. Both offer something the other does not and have different approaches to email marketing.
As someone looking out for an email marketing tool, what you need to understand is your requirements and how you want to do email marketing. If you're a creator, artist, traveler, or individual entrepreneur looking to grow your business, we recommend Flodesk. If you're a seasoned email marketer, a business with a marketing team, Mailchimp could be your best choice.
So, what do you prefer, aesthetics or functionality?
Sell more, understand your customers' journey for free!
Sales and Marketing teams spend millions of dollars to bring visitors to your website. But do you track your customer's journey? Do you know who buys and why?
Around 8% of your website traffic will sign up on your lead forms. What happens to the other 92% of your traffic? Can you identify your visiting accounts? Can you engage and retarget your qualified visitors even if they are not identified?