9 Incredible Sales Intelligence and Enablement Tools to Qualify More Leads
Often, salespeople search in the dark for ideal customers. They have assumptions before getting in touch with a prospect, only to connect the dots and realize that their requirements are completely different from your product offering. This is where marketers can step in and help sales teams by providing timely, accurate, and useful data, a.k.a sales intelligence.
For years Marketing and Sales have walked separate paths with collaborations only happening for information transfer. But, with the emergence of data-driven sales and marketing, Marketing now leverages data and intelligence to serve crucial information to sales that help them close better deals and stay aligned.
Sales intelligence: What is it?
Sales intelligence refers to the use of technology or tools used by marketing to derive more information about potential customers that not only helps sales reps understand lead motivation but also assists them in closing deals.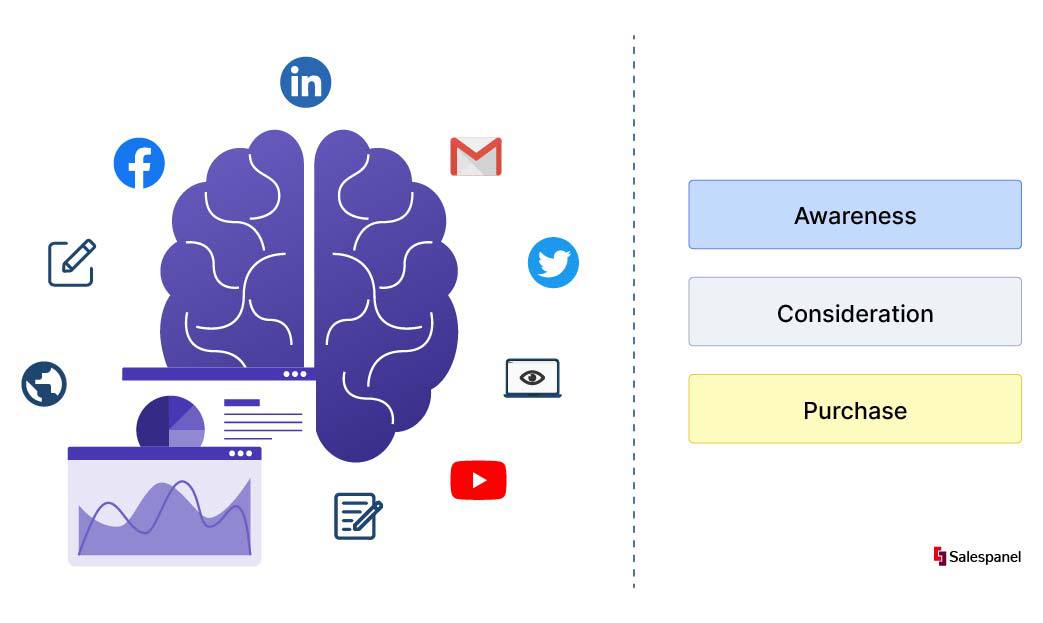 This means the facilitation of enablement software along with critical information such as
Page visits
Form fills
Button clicks
Media views
Email reads
Social profile
Firmographic details
It helps your sales team understand the exact requirements of the prospect and always stay one step ahead in the interactions, ultimately closing deals quicker.
How can marketing data help sales close more deals?
Gives visibility into the needs of the customer
Most times, marketing and sales make assumptions about the buyer persona, plan marketing campaigns, collect leads and pass them on to sales. But then, when salespeople actually have discovery calls to understand the requirements of the leads, they realize that there is a mismatch or that the product cannot deliver the lead's requirements.
This is where sales intelligence plays a key role: by helping marketers provide real-time data of leads to Sales. Sales can connect buyer persona with buyer intent and pitch to leads who are sales-ready. Leads who are not sales-ready can continue to be nurtured.
For instance, Salespanel helps Marketing derive a complete profile of the lead by providing information like job role, company size, along with activity information which can actually help salespeople understand who is the gatekeeper, and who is the decision-maker and what the motivation is of the prospect when they are preparing a sales pitch.
Helps tailor sales messaging
The power of personalization is incredible. According to a survey by Accenture, 90% of customers prefer brands that provide offers and recommendations that are relevant to them.
Sales intelligence offers your reps the opportunity to understand buyer motivation, empathize with them, and actually offer what they need.
For instance, let's say a lead attended a webinar hosted by Marketing. The lead also visited your website and downloaded an eBook. Sales intelligence tools can not only help Sales identify leads who are likely to buy but also let them know what specific things they are interested in.
Helps identify the right time and platform to reach out to leads
Once marketing passes on leads to sales, it is quite easy to send out generic emails, but only 20% of leads even open your emails across most industries.
How do you identify the right time to reach out to a lead? If you are going to call a lead or send them an email, the software can provide details like:
The time when the lead clicked on an email
The time when the lead downloaded your ebook or engaged with the website
The time when the lead clicked on a CTA in your website
The time when the lead respond to your email
The time when the lead reached out to your support team
With this crucial data, Sales can now know when a lead will most likely be active or in a favorable situation to receive sales calls or respond to emails.
Saves time and effort for marketers and salespeople
Sales intelligence helps marketing filter our cold leads, and pass on only qualified leads to sales. Sales intelligence tools help marketers analyze how customers engage with your marketing content on an individual level and optimize campaigns.
Marketers need to look beyond metrics and understand prospects at a human level and segment leads from different campaigns.
So how does a sales intelligence tool help in saving time?
Only highly qualified leads are shared by marketing, thereby saving time for salespeople who don't have to start pitching from scratch
When marketing passes on timely information to sales, deals move faster through the sales pipeline, without any hiccups
In addition, when marketing and sales have equal and complete visibility into the sales process, and both teams have transparency and accountability.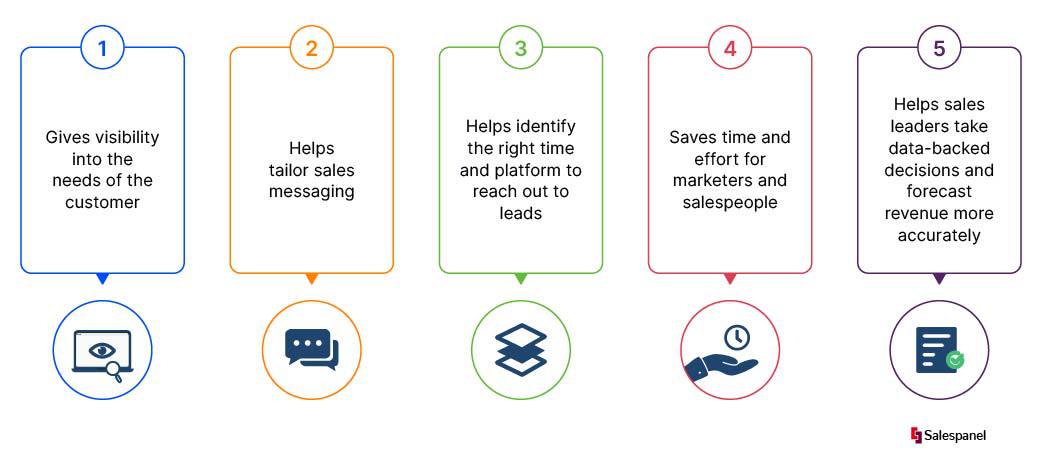 Helps sales leaders take data-backed decisions and forecast revenue more accurately
Marketing provides crucial real-time data about leads to sales in the form of sales intelligence, which ultimately helps sales leaders forecast sales more accurately. With exact information like buying intent, qualified accounts, and visibility into lead behavior, businesses can make better estimates about their customers.
9 Sales intelligence tools you should consider
There are a variety of sales intelligence tools in the industry. But before you choose one, you need to take a look at all the features that are available and decide what is right for you, based on:
Size of your business
The complexity of your marketing and sales teams
Their requirements.
Let's take a deep dive into some of the sales intelligence tools in the industry.
Salespanel
Salespanel is a sales intelligence tool that brings dynamic marketing data to sales reps in real-time, helping them close deals more efficiently. Every problem we have mentioned in this article can be solved with Salespanel. How does it help?
Marketers are more data-driven, thanks to the enriched lead information (individual, firmographic, and behavioral) that is collected once leads fill your webform. Lead scores are also assigned based on their intent and engagement levels. Marketing can segment leads and also qualify them with predictive and/or rule-lead scoring before passing them to Sales. Sales data is also sent back to marketing for lead nurturing.
Sales intelligence features that Salespanel offers include
Lead tracking and scoring
Segmentation
2 Way Real-time Data Sync between marketing and sales
Report creation and tracking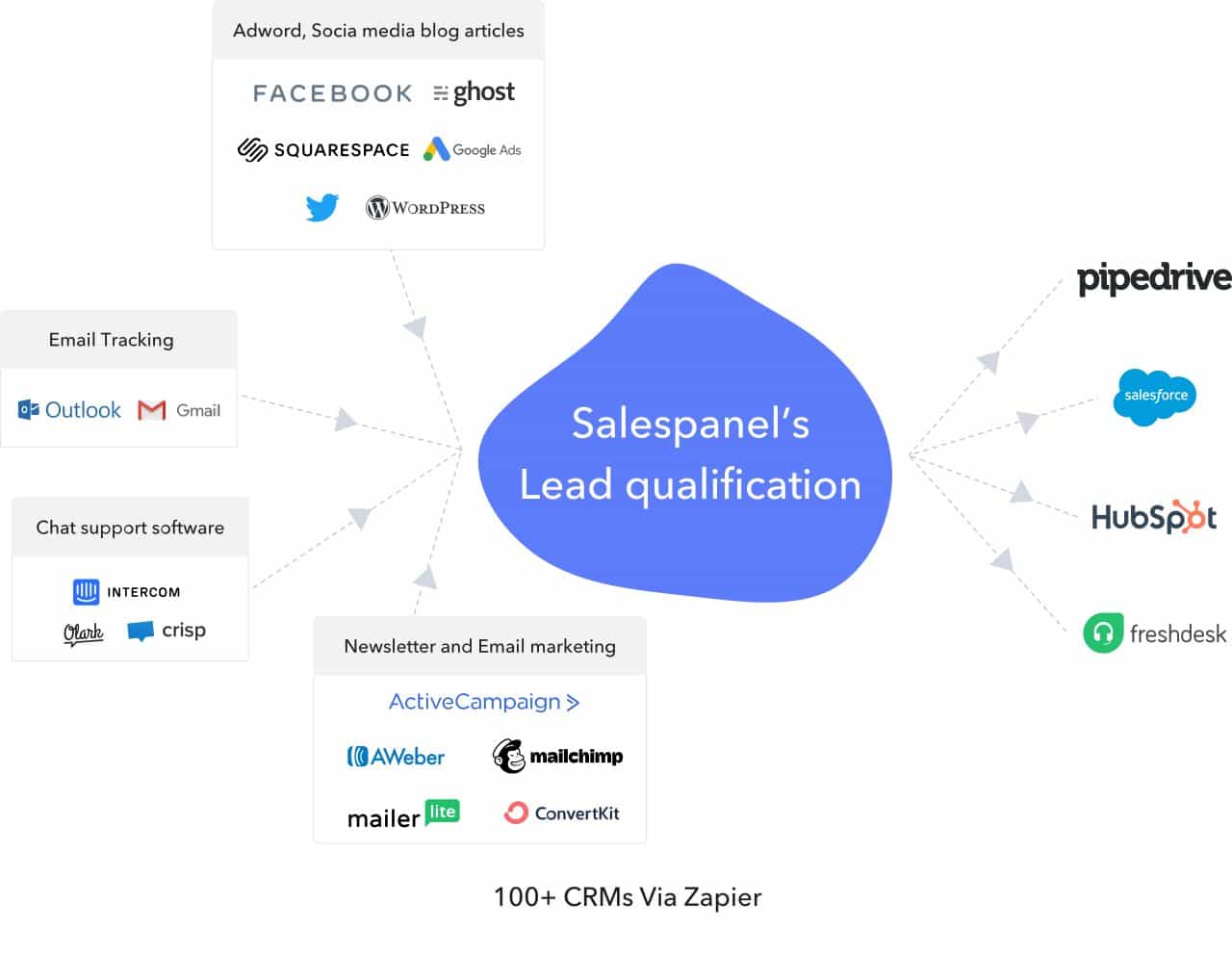 Zapier
Zapier is an online automation tool that connects your apps and services. Zapier acts as a bridge that helps connect marketing software and sales software that allows marketing to pass data to sales.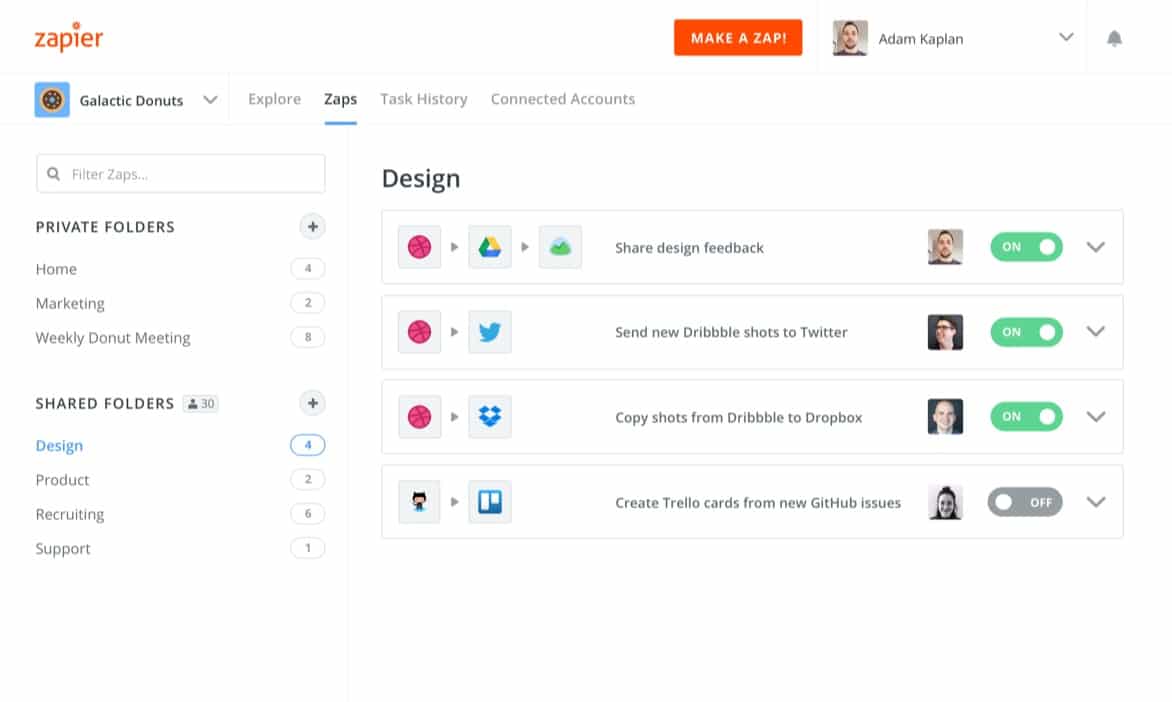 Zapier helps set up workflows that allow the different software you use to interact with each other and share data, thereby helping your marketing and sales team save time and effort.
Hunter
Hunter makes it incredibly easy for sales, recruiters, and marketers to reach out to other professionals with simple but powerful tools.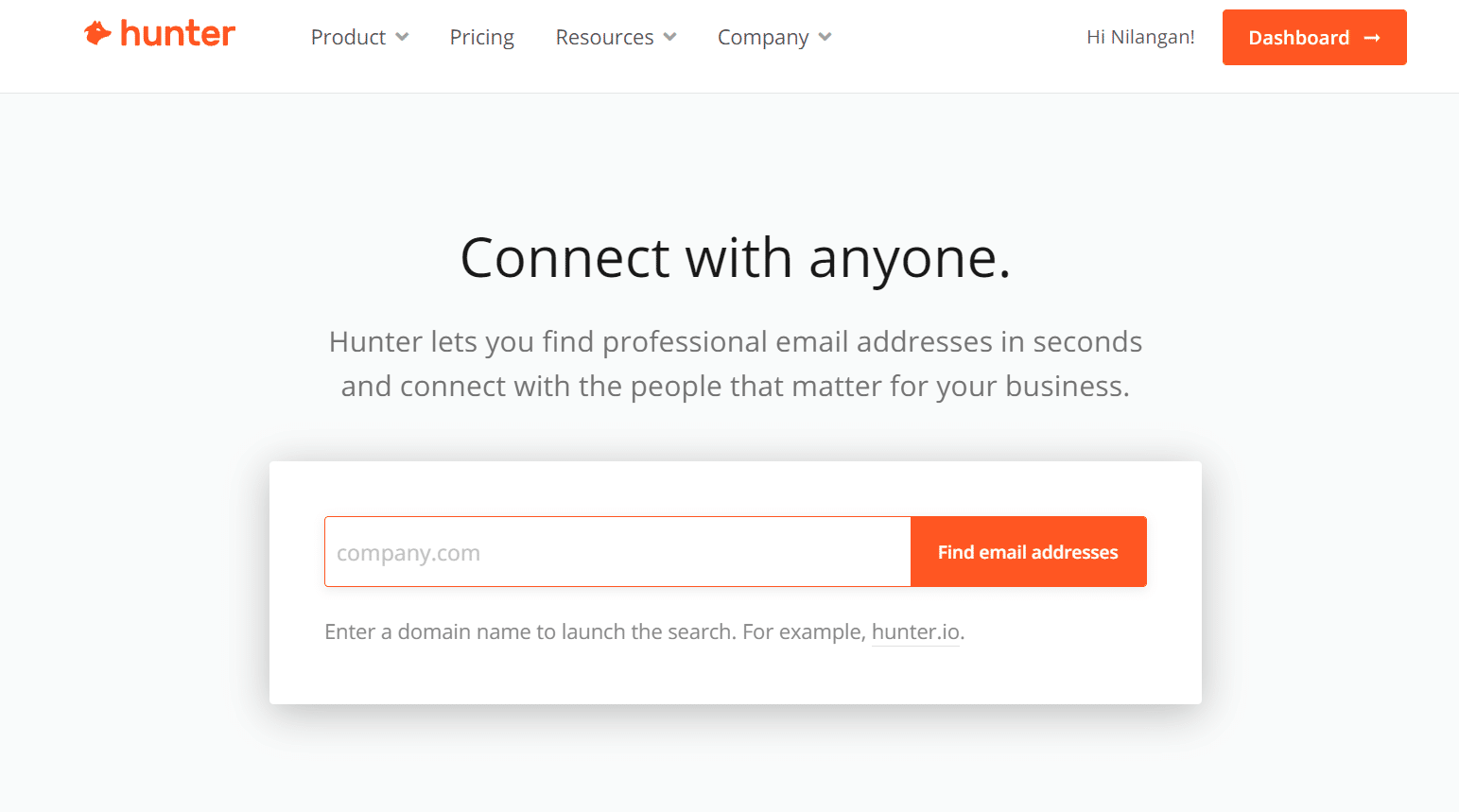 Hunter crawls the web and indexes publicly available professional email addresses. The data is easily accessible via a simple user interface to find the right person in a company or find how to contact already identified professionals.
Besides that, you can easily automate the whole outreach process with Hunter by verifying the emails you found in the app and setting up simple and powerful cold outreach campaigns.
Linkedin Sales Navigator is a powerful sales intelligence tool that helps marketing and salespeople track leads on Linkedin's social platform, along with understanding their intent and providing more information on leads.
With Linkedin Sales Navigator, you can
Reach out to leads via inMail
Keep track of people and companies
Find the right leads with advanced search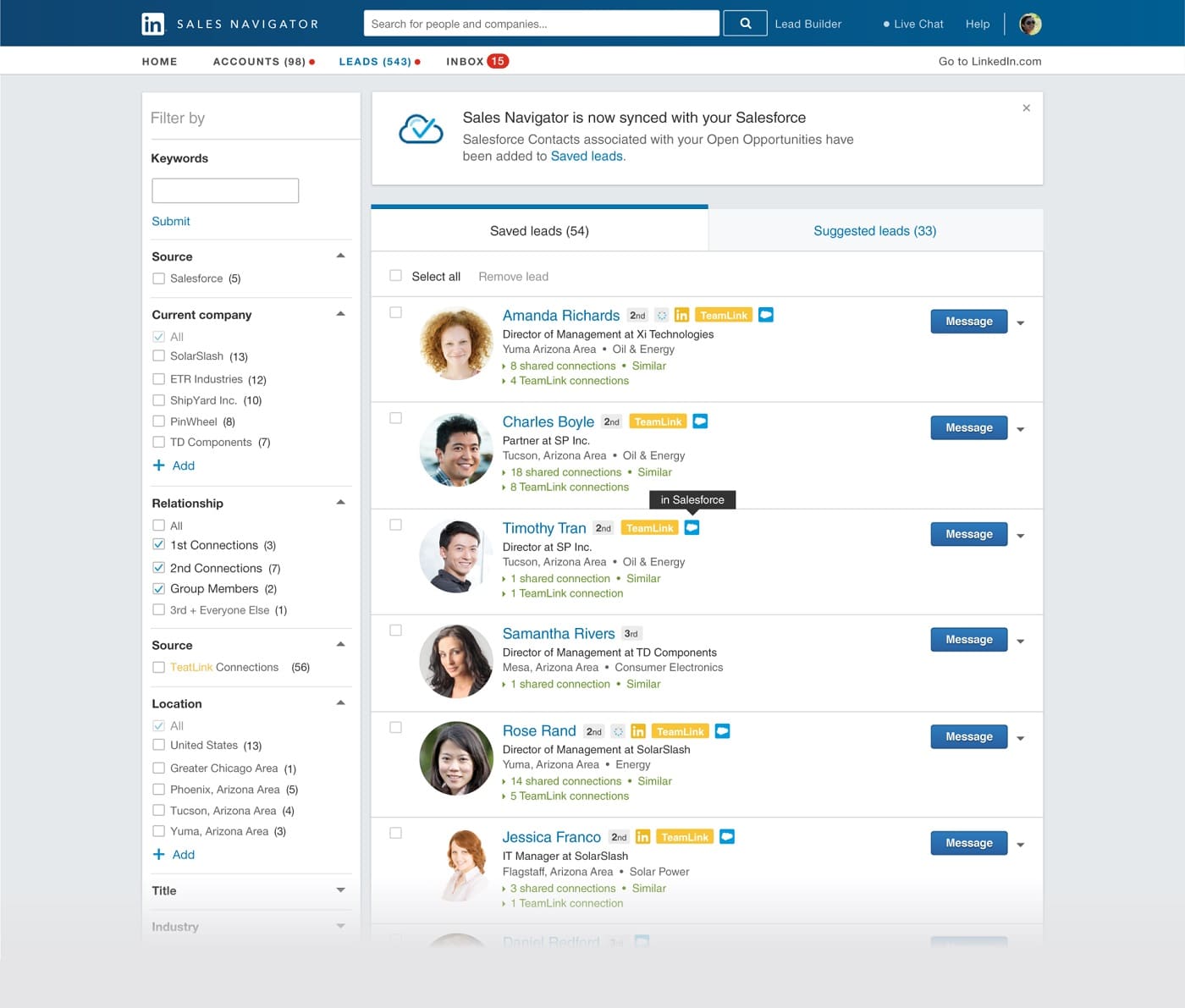 Zoominfo
Zoominfo is a B2B prospecting tool that marketers can use to understand ideal customers and target companies who visit their websites in real-time. Zoominfo can be used for sales intelligence in the following ways:
Search for contacts within the database
Download leads into your CRM
Enrich data
Competitor analysis
Market research and analysis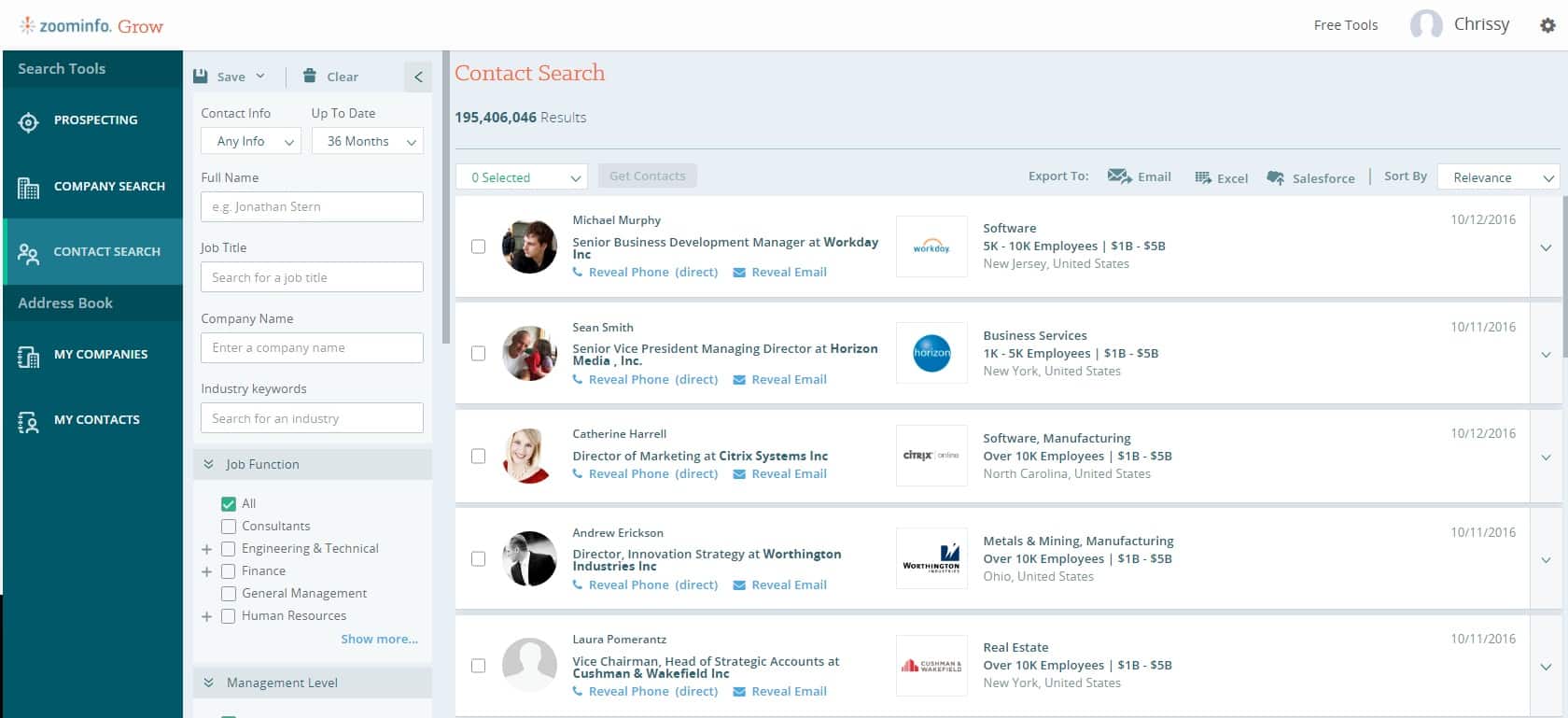 Adapt
Adapt is a contact database provider that is focused on B2B companies. With Adapt, marketers, and salespeople can track industry-specific information such as
Job title,
Direct dial
Email addresses
It enables salespeople and marketers to connect faster, engage seamlessly and start prospecting.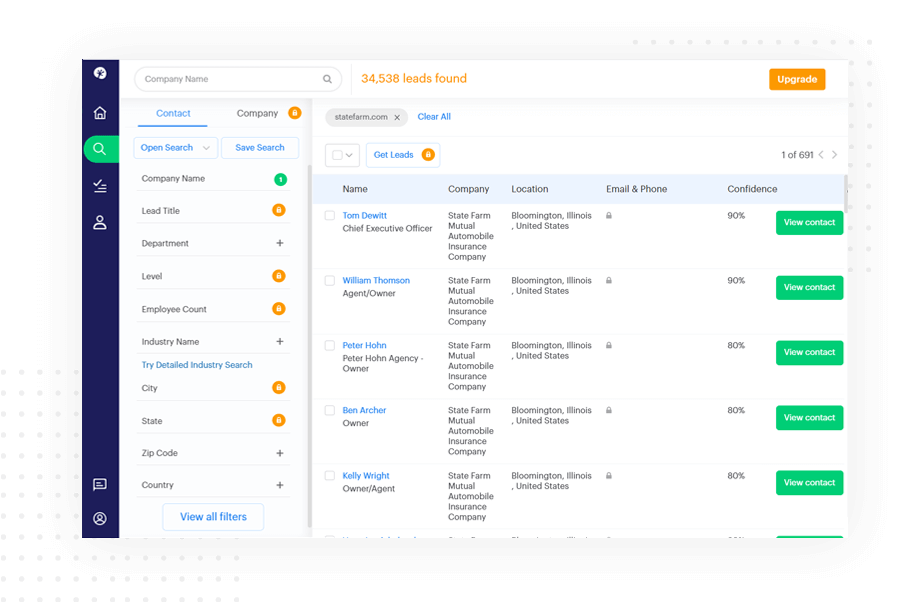 Clearbit
Clearbit is a data intelligence tool that boosts your records with crucial account data. Clearbit combines data from over 250 public and private data sources and is one of the most accurate data providers in the market. If you are ready to pay the premium price tag and if it ticks your data compliance boxes, this product is something that you can consider.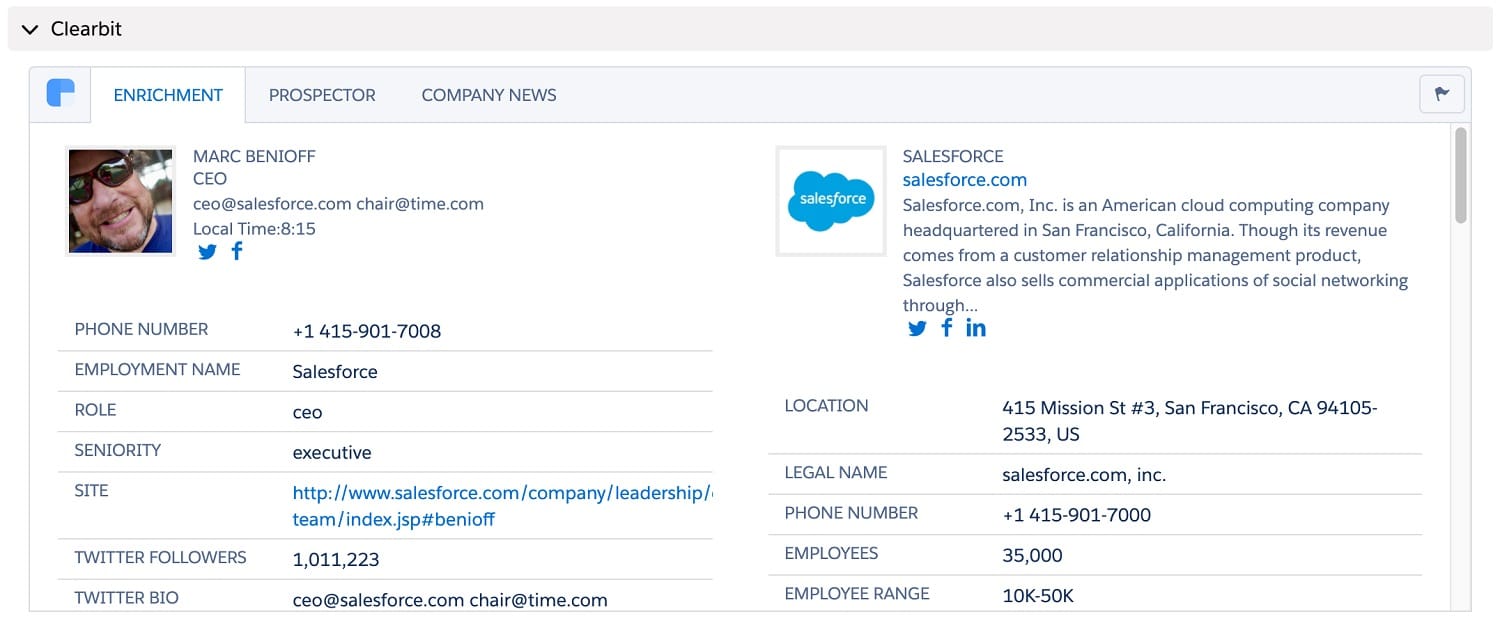 Clearbit helps you work on accounts, generate new leads through sales prospecting, and market better.
Datanyze
Datanyze is essentially a sales prospecting tool that helps marketers and salespeople understand more about leads.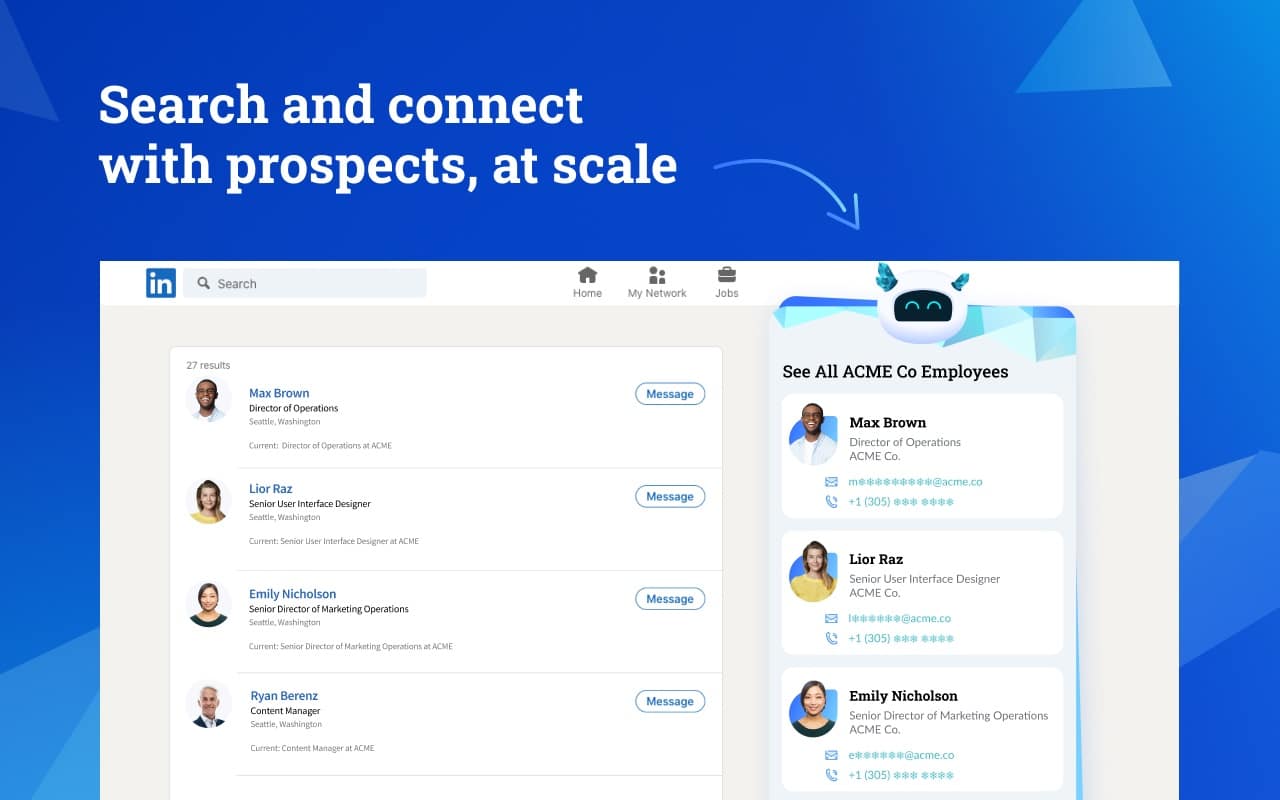 It helps professionals find and connect with B2B prospects, get their contact information, including email addresses, direct dial, and mobile numbers, directly from LinkedIn profiles without leaving your browser.
Bombora
Bombora is a sales intelligence tool that can be used by businesses that are more geared towards account-based marketing. For instance, Bombora measures the buying intent of prospect accounts and helps marketing teams gather good quality data around target accounts. They do that by tracking intent data on third-party platforms by monitoring keywords, data from ad exchanges, etc.
Using these data points, Bombora helps you build audiences who are likely to be interested in products and services you are selling.
BuiltWith
BuiltWith is a lead generation, and marketing analysis tool rolled into one software that indirectly tracks leads based on the software they deploy. It provides information on what tech tools are being used by leads, thereby giving salespeople an idea of approaching the leads and altering their sales pitches. It can also be used to find leads who use a particular software (like a competitor's product, for example. 😉 )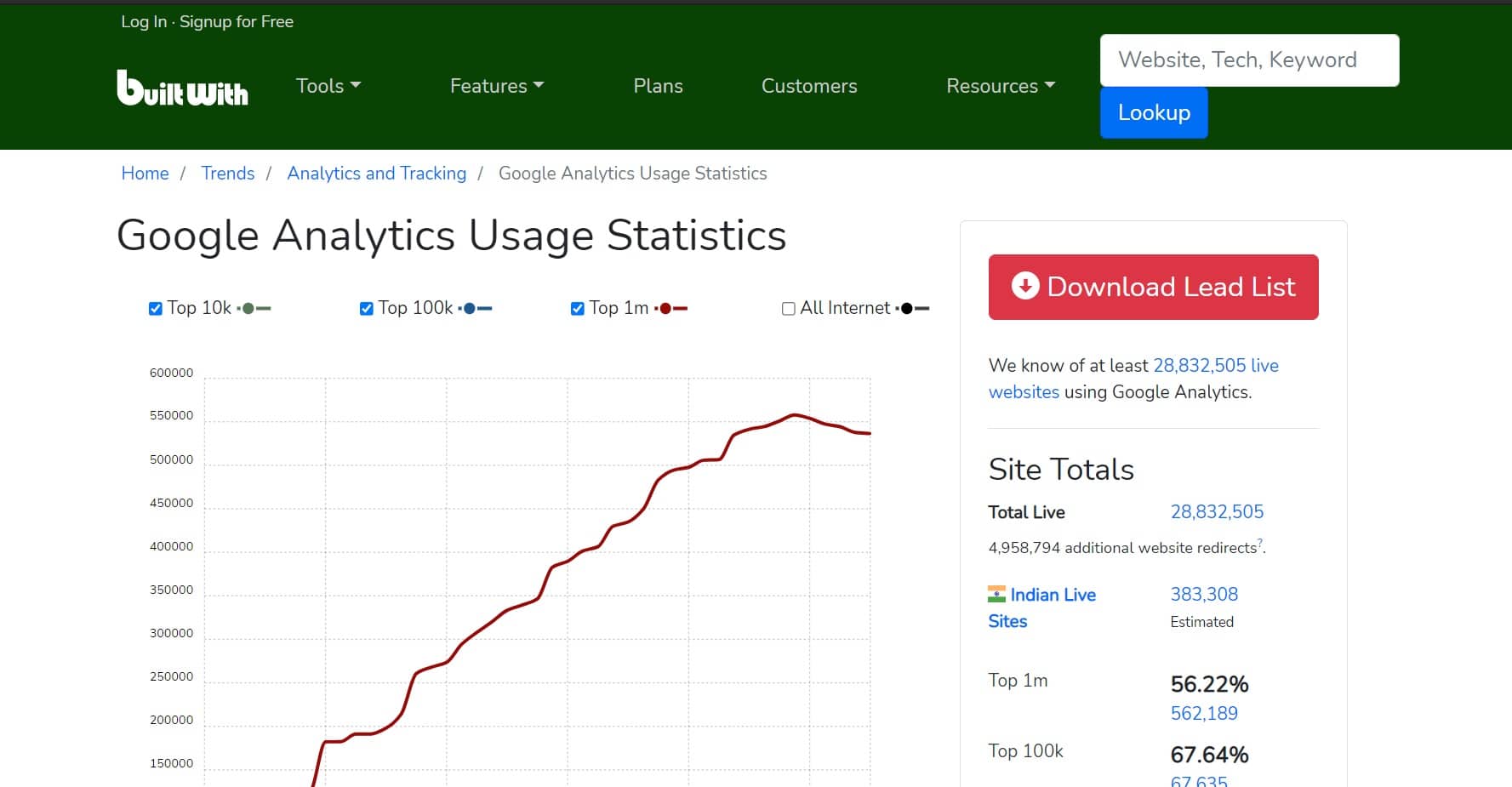 Summing Up
While various sales and lead intelligence tools can be used, consider software that works for your requirements and budget and helps your marketing and sales work in real-time.
If you want to know more, please get in touch with us.
Sell more, understand your customers' journey for free!
Sales and Marketing teams spend millions of dollars to bring visitors to your website. But do you track your customer's journey? Do you know who buys and why?
Around 8% of your website traffic will sign up on your lead forms. What happens to the other 92% of your traffic? Can you identify your visiting accounts? Can you engage and retarget your qualified visitors even if they are not identified?