Never Miss Out On Leads Again and Follow Up With Precision
One of the biggest worries of salespeople is missing out on hot leads. The timing of your follow up makes a huge difference and can make or break a deal. The Lead Response Management study found that businesses who follow up within an hour are seven times more likely to qualify the lead than those who follow up an hour later and 60 times more likely than those who follow up after 24 hours. That's a huge difference!
Another problem faced by salespeople is missed follow-ups. A research conducted by Harvard Business Review found that many companies tend to follow up late or never respond at all. Over 24% companies from their study took more than 24 hours to respond. 23% companies did not respond at all. The numbers are shocking!
It is crucial to remember that timing is everything in sales. The faster you respond, the better chances you have of selling. But, we also understand that you need to run errands before you can talk to leads. We also know that you can't stare at your computer screen all day and wait for a lead to appear. By the time you gather info about the lead, qualify them, add to your CRM or a spreadsheet, the lead might already start talking with your competitors. Engaging with unqualified leads or going all in without adequate information is ineffective. Also, leads generated by your marketing channels need to be routed to you. By the time your marketing teams pass on a lead to you, it can get too late.
Enter Salespanel…
Salespanel helps you solve all of these challenges and timely follow up with your leads. Let us start from the top.
Dependence on marketing team for lead transfer
Your marketing team runs campaigns on various channels which brings leads to your website. These leads need to be passed on to you. Salespanel brings these leads automatically to you without you needing to depend on your marketing team. Leads from different marketing channels are brought to you as soon as they are identified. Salespanel also transfers the captured leads to your CRM. Salespanel helps you in having a perfect alignment with your sales team.
Knowing when leads are hot
When a lead is captured, Salespanel sends you an alert in real-time. Salespanel brings your leads to you while you focus on other activities. Salespanel also sends you alerts when a lead is actively engaging with your website or when a lead comes back after going cold. Getting a real-time alert helps you follow up quickly to start a conversation. Like we have mentioned earlier, the quicker you follow up, the more chances you have of closing the deal.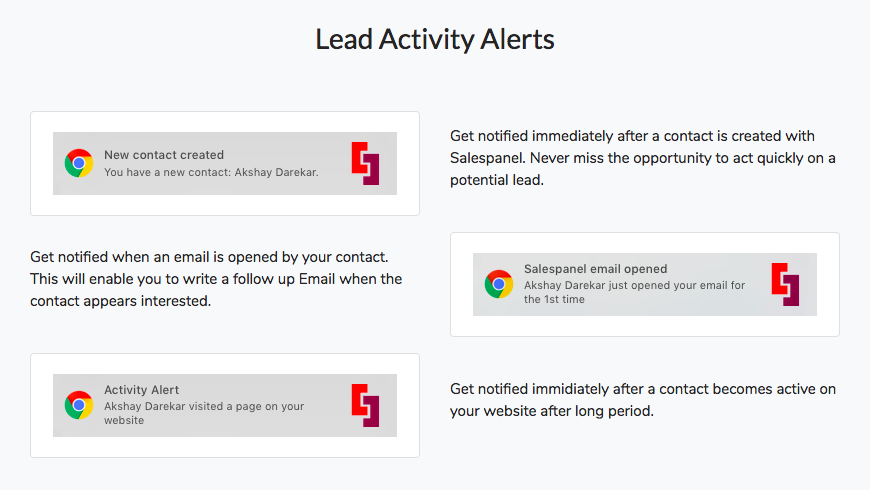 Having access to lead information
Salespanel enriches and tracks your leads. It also shows you the source of their visit. You will know which pages they have visited, which emails they read and how nurtured they are. Just by glancing quickly at a lead's contact details, you can immediately form a theory on his/her challenges and requirements. Salespanel also provides you their social media profiles which you can use to find more information. Salespanel cuts the time you spend on researching prospects.
Knowing which leads are qualified
You can only talk to a finite number of people every day. Spend time on leads that matter to your business. Salespanel helps qualify leads using methods like lead scoring and segmentation. For example, you can create a segment to filter out leads who have read your marketing newsletters, checked out your pricing page and has visited your website more than 10 times.
Follow up with precision as every information you need is made available to you.
Salespanel also notifies you when a lead opens your sales emails or clicks a link from your email. So, you will know which people are likely to respond before they respond. You will also know which people have not responded to you. A lot of leads don't respond to the first email you send. Studies have shown that it takes 5-7 follow-ups before a conversion can happen. When you find out that a lead has seen your message but not replied, it's time to rethink your next follow up.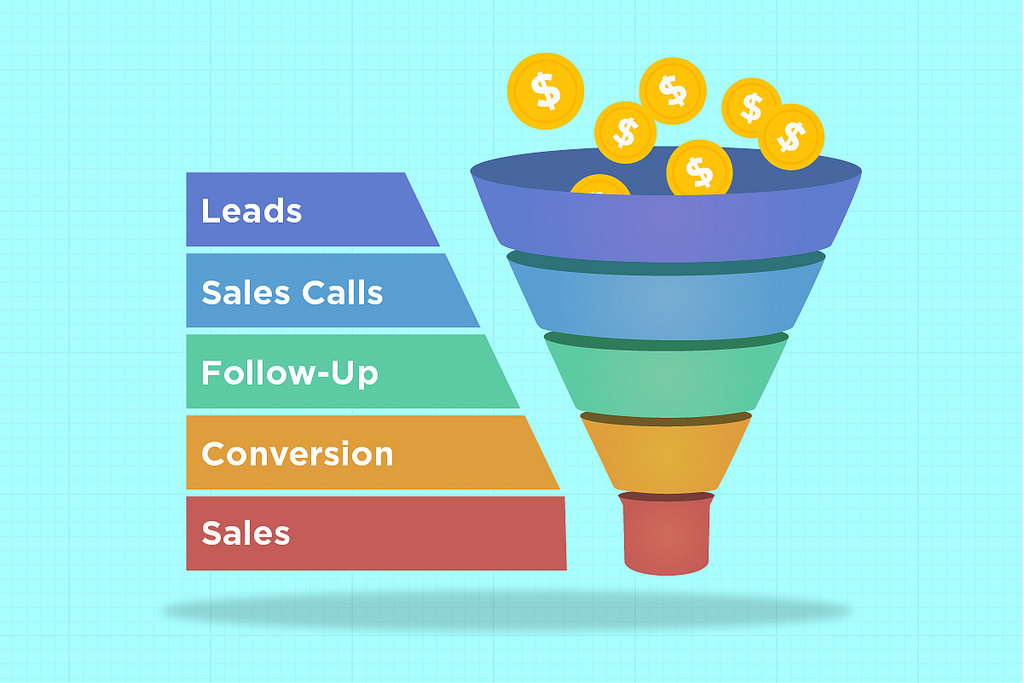 Not everything can be in your control. Even if you do everything correctly, a lead may still end up not buying from you. Salespanel helps you get better at things that are under your control. Create a proper sales framework and close more deals with Salespanel.
Sell more, understand your customers' journey for free!
Sales and Marketing teams spend millions of dollars to bring visitors to your website. But do you track your customer's journey? Do you know who buys and why?
Around 8% of your website traffic will sign up on your lead forms. What happens to the other 92% of your traffic? Can you identify your visiting accounts? Can you engage and retarget your qualified visitors even if they are not identified?