Best Sales Automation Tools for Sales Growth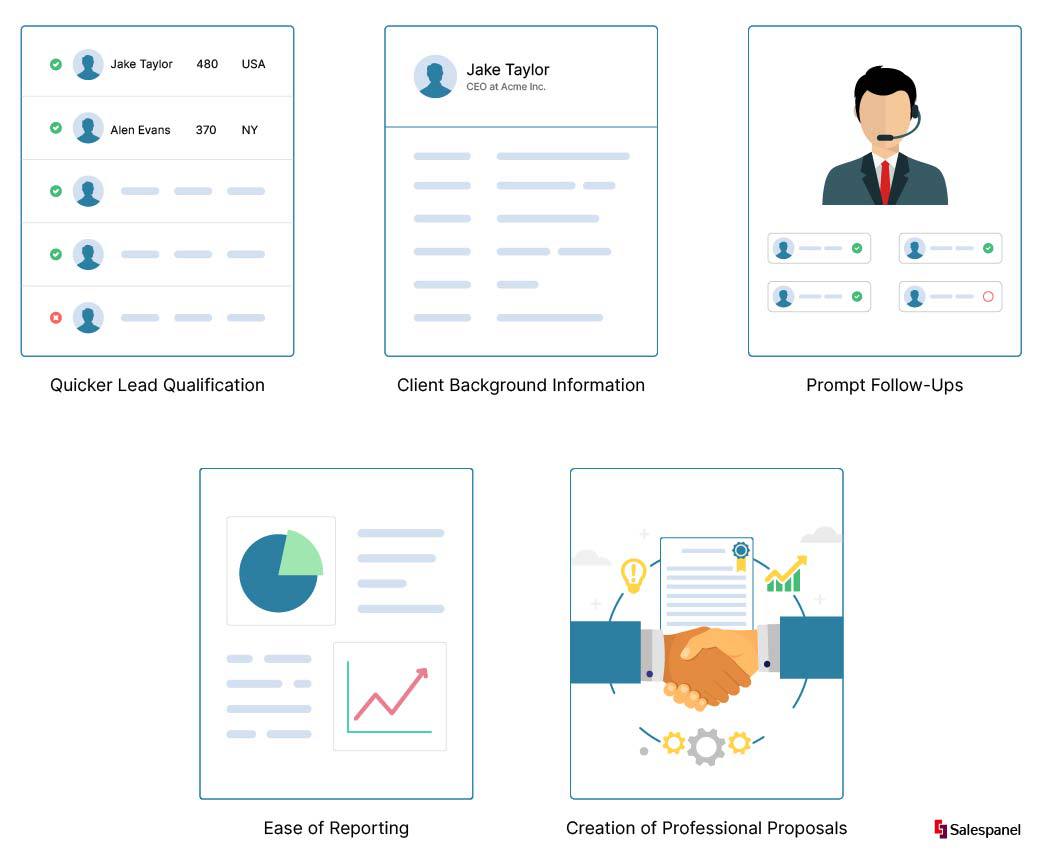 Technology has transformed the way business is done. Automation has graced every industry, from Auto Teller Machines (ATMs) to Production Lines and Aviation. Artificial Intelligence and Machine Learning have taken things to a whole new level with "Intelligent Automation".
This has completely changed how humans and machines interact. Machine Learning and Ais have made the work of a Personal Assistant obsolete. We have competent AI Assistants like Apple's Siri, Amazon's Alexa, Google Assistant, and Samsung's Bixby to name a few.
Advances in technology such as cloud computing have ensured that a business no longer needs to have an expensive mainframe system and staff to keep it running in order to avail and deploy automation. All firms, irrespective of size can avail of automation services.
Marketing, Accounting, Documentation, Record Keeping, Sales, Customer Services, etc are processes that benefit a lot when automated. Incorporating automation into your sales function grants you compounding benefits in terms of efficiency and profits. In this article, we would keep a focus on sales automation.
Why Has Automation Become Necessary?
It doesn't matter if your firm is big or small, automation is an excellent way to streamline and automate mundane tasks and limit manual labor. In principle, automation enables a business to replace human labor with machine labor. The freed-up human labor can be utilized for more productive and high-value activities.
Automation is pivotal for a rapidly changing world. The way business is being done changes every day with a new advancement in technology. Market leaders that drive innovation to raise the level of expectations from consumers and other players need to catch up to stay relevant in the market.
Applications of Automation and AI are seen in almost all business functions to some extent. The sales function is no exception and the benefits that automation has brought to other business functions are evident here too.
Automating repetitive tasks and those that do not require critical decision-making or human intervention frees up a lot of human resources. A Hubspot research shows that salespeople only spend 1/3rd of their days talking to clients.
Lead generation, scoring, qualification, and management are examples of such repetitive tasks that can benefit from automation as the process becomes fast and shortens your sales cycle.
Machines can work non-stop and operate with maximum accuracy which when combined with your sales team executives, can grant your business a significant competitive advantage. You will not only sell quicker but sell better and earn faster.
How Does Automation Benefit Sales Function?
Quicker Lead Qualification
Generated leads need to be qualified quickly in order to filter out those that do not match your Ideal Customer Profile. When done manually, this process takes hours. Automating this process enables you to score and qualify leads quickly which saves on time and resources for the business.
Client Background Information
You can create a workflow that presents all relevant client information to the sales executive who's tasked with making the call. That way the executive will be aware of the requirements and other information regarding the client and will be better equipped to close the deal while negotiating for the best outcomes for your business.
Follow-Ups
Follow-Ups are very important, being in touch with your existing and potential customers goes a long way in keeping engagement healthy and adding to your brand value. Emails are the best way to do this; manually sending emails to each of your audience is very resource-intensive. This can be automated to ensure you save time and resources.
Ease of Reporting
You can utilize CRM Software to automate the process of reporting to managers and top-level management. You can program your CRM to auto-generate reports at timely intervals and send them to designated people within the organization in the form of reports or emails. This makes the process of keeping everyone in the loop simple and easy.
Creating Professional Proposals
Automation software enables the sales team to create professional high-quality business proposals within seconds. All they have to do is enter the required client information into the software and the software uses the available set of pre-designed templates to create proposals quickly.
These are just a few examples of how Automation can streamline your entire sales function leading to quicker sales cycles. Quicker sales cycles in turn translate to the ability to execute more cycles in a fixed time. This in turn ensures growth for the business.
Top 10 Sales Automation Tools for 2021
This is not a ranked list.
Salespanel is a sales automation facilitating product that marketing teams bring sales intelligence to sales reps, reduce mundane tasks, and make life of sales reps easier. The product integrates with many leading CRMS including Pipedrive, Hubspot, and Salesforce.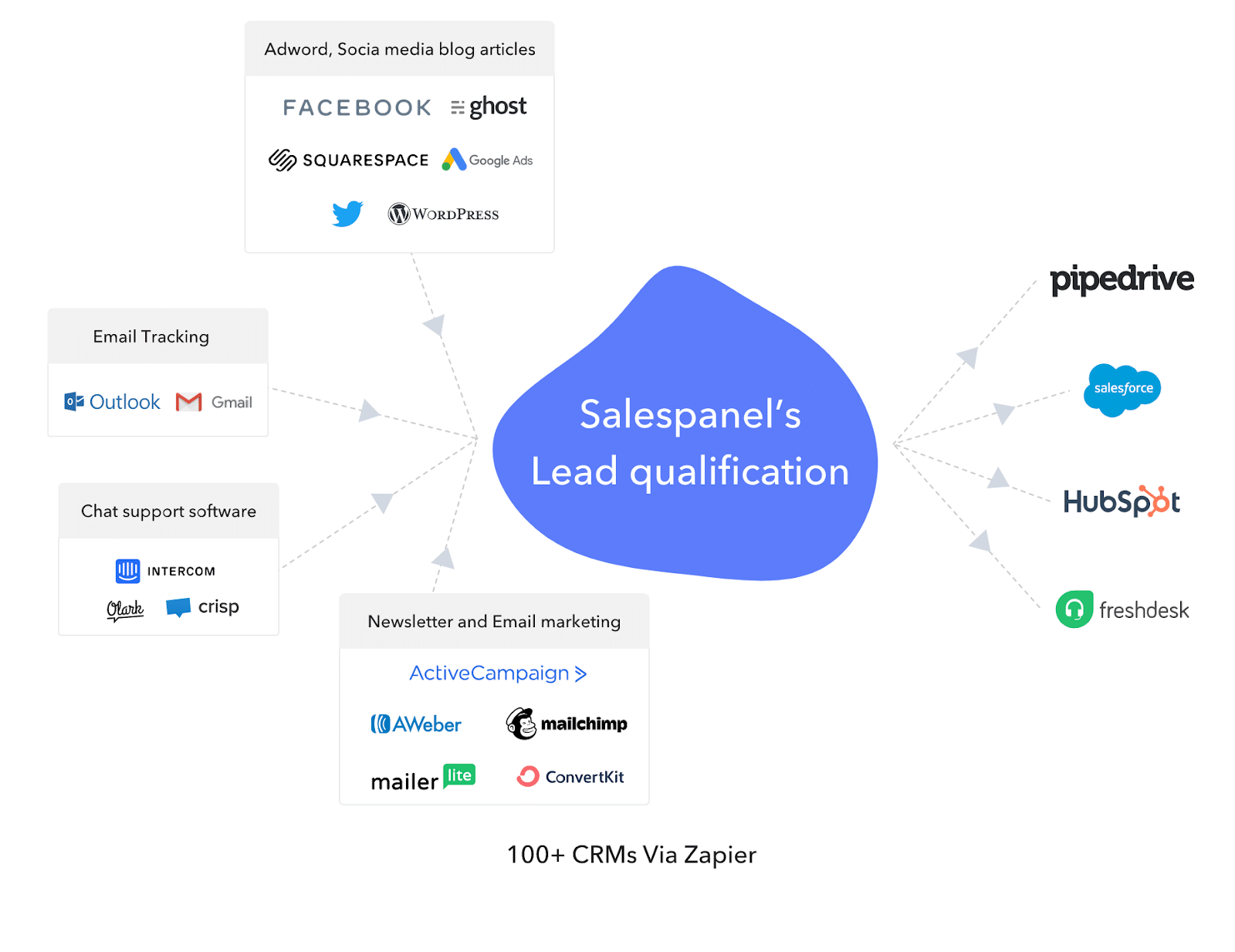 Lead generation, scoring, qualification, alerting, and tracking are its top features. It brings fresh leads to the CRM every day from where sales reps can keep track of all lead activities without leaving their comfort zone. Salespanel alerts reps when leads are qualified, when they perform key actions, or when they are at risk of churn. Salesanel is also compatible with Zapier and helps you automate tasks. For example, you can automatically create pipeline deals for leads who are marketing qualified. Basic visitor tracking is free while premium automation features are available from $49/mo and above plans..
Hubspot is a well-established and trusted business automation solutions provider. Being the top player in this industry, they provide you with a robust sales automation solution. You can create sales templates and track Key Performance Indicators in real-time throughout your entire sales pipeline.
Hubspot offers other business automation solutions as well, so it can be a one-stop solution for all your business requirements. All of its software suites integrate well with other business automation solutions too. The Pricing for sales automation software in the Hubspot software suite starts at $45 per month.
The USP of Dooly is that it lets your sales team do away with administrative tasks so they can focus more on selling. There are distinct advantages of the option with Dooly, first is that it allows you to take notes in meetings that are pushed directly into your CRM software inappropriate sub-sections.
Secondly, they offer live sales coaching to sales reps using battle cards, notes, and talking points on live sales calls. This is done using AI and their natural language processing engine. They offer a free starters plan but the full-fledged service plans start from $25 per month.
Outreach was designed with a single main objective of allowing businesses to run their sales teams at their best level of productivity. It offers all the mainstream features like email, scheduling, and reporting automation. On top of that, it also offers live call coaching for sales reps to have them ready to take on all opportunities.
Their best feature by far is their Team Performance Dashboard that allows monitoring of all sales representative activities and outcomes of their sales calls in real-time. Outreach does provide a free trial of their software solution but you will need to contact them for pricing.
They're aware of how boring sales lead prospecting is and that is what they aim to change with their offering. Their multichannel sales automation solution not only makes sales lead prospecting interesting but also effective.
They say that their sales automation solution focuses on two main things, the first is automating all the manual data entry processes and the second is to streamline your sales process and improve its performance. They offer a free trial and their Base Plan starts at $19 per month.
If your business is looking for a sales automation solution that can be deployed quickly and have you running then you should definitely consider Growbots. Apart from stand features, they offer easy prospecting solutions, self-updating databases, personalized emails, automated follow-ups, and multi-channel sequencing.
A/B Testing, Response Detection, and Actionable Insights are some advanced features that they provide. Growbots integrates well with your existing CRM Softwares ensuring you have no troubles adapting their sales automation solution. Their plan pricing starts at $49 per month.
Now, SharpSpring is technically a Marketing and CRM Automation solutions provider but the sales automation solution they include along with their other services is an excellent one. This makes them a good choice for businesses that are looking for an all-in-one solution and don't have existing automation services in place.
SharpSpring is very user-friendly and offers affordable plans that aim to attract medium to small-scale businesses. At present they do not offer advanced reporting features that are necessary for enterprise clients but they're working towards it. Their pricing starts at $550 for their entire software automation suite.
RollWorks is another multi-business automation solutions provider. They specialize and focus on the B2B space. They offer all the industry-standard features but what makes them stand out is their approach of automating. They enable you to track everything, from outreach to revenue, and create reports to better optimize your processes.
Along with Sales Automation, they even provide cross-channel campaign management, engagement automation with personalized content, better integration with marketing automation solutions to keep your marketing and sales teams in sync. Pricing starts at $975 for their entire Software Suite.
Freshsales is a product from Freshworks. Much like any other CRM add-on, Freshsales works best if you are in the Freshworks ecosystem.
Their AI-Powered features like lead scoring, effective chatbots, visitor tracking, contact scoring, deal insights, advanced forecasting, etc. make them a good value proposition if you're only searching for a robust sales automation solution. Their pricing starts at $18 per month.
A robust, value offering from Creatio who's well known for their Business Process Automation and CRM solutions. This enables them to offer you advanced features and customizations to fulfill all your business requirements, be it a small business or a global enterprise.
They offer everything as standard including automated scheduling, sales lead management, advanced automated custom reporting, Emailing automation and templates, and sales team management. They offer a free 14-day trial after which you will be charged anywhere between $30 to $60 per month depending upon the feature sets you opt for.
Sell more, understand your customers' journey for free!
Sales and Marketing teams spend millions of dollars to bring visitors to your website. But do you track your customer's journey? Do you know who buys and why?
Around 8% of your website traffic will sign up on your lead forms. What happens to the other 92% of your traffic? Can you identify your visiting accounts? Can you engage and retarget your qualified visitors even if they are not identified?