Why Does Your Business Need a Sales Monitoring System?
Statistics and its practical applications in the business world have proven to be a game-changer. Numbers, ratios, percentages, formulas, and graphs provide in-depth insight into the performance of the various business functions.
Data is an important resource in this day and age and it holds tremendous value due to what it enables you to accomplish as a business. Handling, managing, analyzing, and storing it for use in the future is important.
Access to historical and present sales data, advancements in computing power, machine learning, and analysis have enabled forecasting. Having access to such information provides you with a tactical business advantage as it lets you make better decisions that are data-driven.
There are systems that enable you to track the progress of every client as they travel through the sales pipeline; in real-time! This offers you more control over the sales process which can be used to increase the performance of your sales function.
When combined with real-time reporting, all this information can help a business perform better, function smoothly, conserve resources, sell quicker and ensure the demand is always fulfilled.
Perhaps the best part is that all of these features are available and come automated within a sales monitoring system.
Why is a Sales Monitoring System necessary?
Well, consider this, you have to drive to a destination as quickly and efficiently as possible, it's nighttime and you have no headlights. So, there's no way of seeing what's coming at you from the other end, that's how running sales without a sales monitoring system is like.
A sales monitoring system is like a vehicle's headlights for this example, it will help you see your sales performance parameters, forecast sales, understand the market and achieve your objectives as quickly as possible.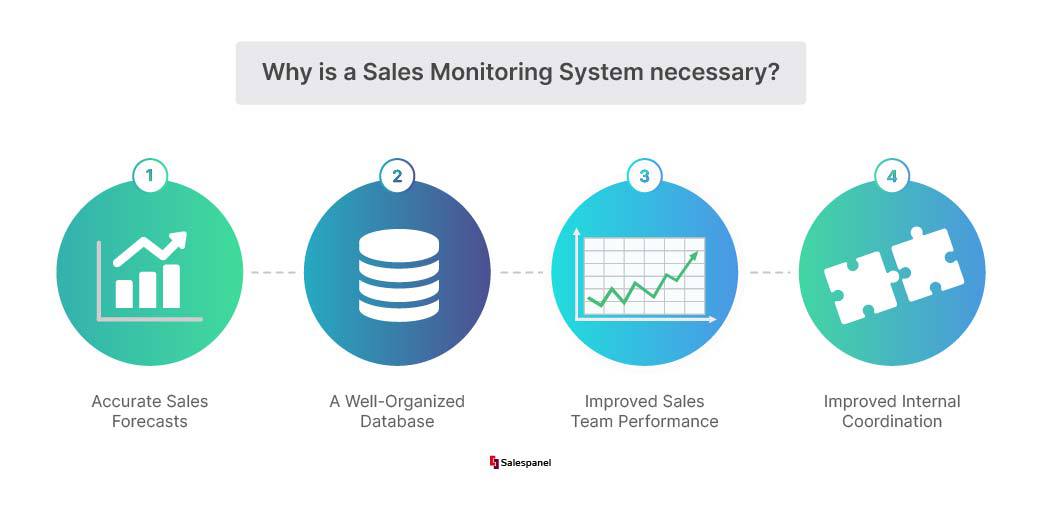 Now some might say that you can do without a sales monitoring system and we don't deny that. The catch, however, is that you'll move slower and might be left trailing in the market. There's also a definite possibility that your competition might charge at you with their high beams, leaving you blinded and off the track in an instant.
So, a Sales Monitoring System not only helps your business perform better in terms of sales but also helps you compete better in the market with other businesses.
Big gains can be made in terms of efficiency, productivity, and competitiveness by deploying a well-designed sales monitoring system.
But how are these benefits delivered? Let us explain.
Accurate Sales Forecasts
The world runs on data and its analysis. This has enabled better decision-making at all levels and this stands true for sales as well.
A sales forecast is a vital piece of information for a business as it helps in having predictable revenue numbers and work accordingly.
Having multiple information input points, both internal and external, good data analysis tools and reporting tools is what enables a business to get the forecasts right and act on those properly.
A Well-Organized Database
As mentioned before, data is an important resource and a business generates a lot of it while conducting business in the market. This valuable resource comes in handy in many ways as it aids decision-making in every business process.
Keeping this data stored and properly managed enables a business to access any bits of it when needed. A firm can make use of historical trends, better forecasting, managing market changes, adapting to technological changes using this database.
Improved Sales Team Performance
The majority of sales operational tasks can be automated thus freeing up human resources of a firm to be utilized for tasks that produce more value, i.e. selling. Updating databases, reporting sales figures, preparing reports, etc. can all be automated using a sales monitoring system.
Improved Internal Coordination
A Sales Monitoring System summarizes all the sales operations and performance parameters into easy-to-understand reports. These can be made available to other teams and departments functioning within the business that will enable them to understand how their work is being translated into sales numbers.
The biggest benefit comes to marketing as sales and marketing can pass data between each other to directly contribute to revenue.
So all in all, a sales monitoring system will help a business better its sales function through improvements made in various parameters of operations.
What are the components of a good Sales Monitoring System?
Lead Monitoring
A lot of leads are generated by a business via various streams. The process of lead management handles and filters out the best leads for your firm that match your Ideal Customer Profile.
A Sales Monitoring System will allow you to see this process in real-time and monitor leads as they're filtered, scored, qualified, and prioritized. This will enable a sales manager to assign leads to sales executives according to a lead's requirements.
Pipeline Monitoring
Having a clear view of where each lead is in your sales pipeline is important for a sales manager for various purposes. Monitoring leads as they traverse through your sales pipeline enables a sales manager to identify what each lead requires in order for it to convert.
Moreover, if a significant number of leads are slipping out of the sales pipeline at the same time, the cause of it can be identified and overhauled. This ensures all the holes in the sales pipeline are plugged.
Sales Analytics
When your business is generating a lot of data pertaining to sales, it is important to put all of it to use. Data Analytics translates this raw data into insights, trends, forecasts, historical market movements, and performance metrics that can be tracked and used to perform better and make decisions that benefit the business in the long run.
Real-Time Reporting
Raw data, information, and reports that are generated and handled by AI need to be made available to concerned executives within the organization to keep them in sync with the operations and performance of the sales function.
Real-Time reporting keeps every designated official in the loop to ensure the various functions of a business work in sync with each other which benefits the firm with gains in resource conservation and raised level of productivity.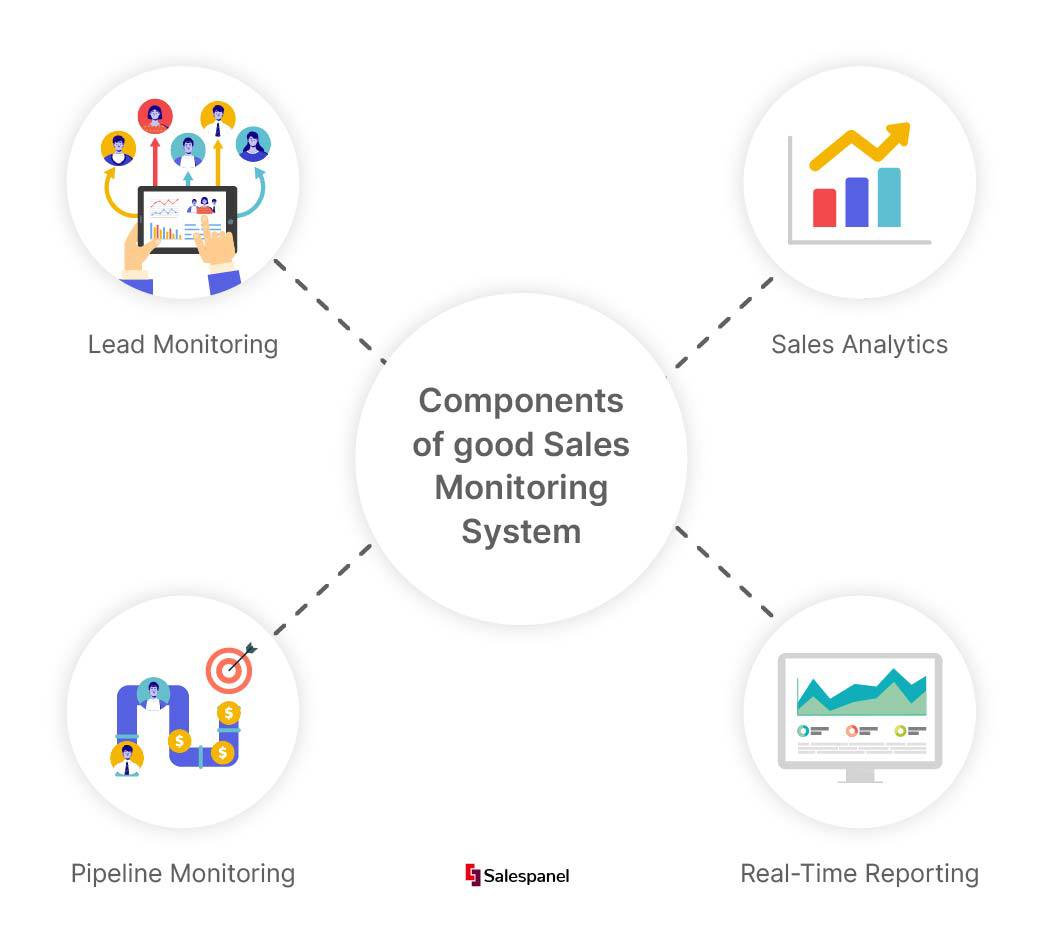 Creating a Sales Monitoring System
The market is full of sales monitoring solutions providers but the catch is that most of these sales monitoring tools are either one-trick ponies or jack of all trades and master of none. When building a sales monitoring system, you need to factor this in.
There are two approaches to building a sales monitoring system. You can either opt for a good enough all-in-one solutions provider or opt for various providers that specialize in a few of the core functions of sales monitoring.
If opting with the latter approach, a business must ensure that all the various systems have either native or some form of integration with each other.
Here are some of our suggestions –
#1 Salespanel
Salespanel helps businesses track customer journeys and connect touchpoints to revenue. This makes for a good sales monitoring and reporting solution to track progress and connect data with marketing campaigns.
For sales teams, Salespanel offers features like sales lead injection into CRM, data intelligence, activity tracking, etc. Besides, it integrates natively with tools like Pipedrive and Salesforce and with many more using Zapier.
#2 Pipedrive
Pipedrive is a pipeline-based CRM and is one of the most user-friendly sales-focused CRMs in the world. Their solution offers a unique sales reporting dashboard that breaks down and displays all key performance indicators that only allow managers to track deals but also track the performance of sales team executives.
They also provide an AI-powered "sales mentor" feature that helps your sales team improve at selling. Another important feature is the "deal rotting" feature that identifies and alerts about deals that have gone cold so that they can be engaged and the holes in the sales funnel can be plugged. Their reports go deep into the performance of your sales reps and alignment with goals to accurately monitor how you are doing.
#3 Insightly
Insightly is another top comprehensive sale monitoring solutions provider. What makes Insightly stand out compared to the competition is the ability to make a custom dashboard that they provide. You can mix and match the sales parameters and metrics you want to track and those will be reported in real-time to your dashboard.
Having this feature enables a business to customize the sales monitoring system as per their requirements. This can make their sales function more effective as it is tailor-made to suit their style and manner of working.
#4 Salesforce
They are the industry leaders for CRMs and this also means that they have best in class sales monitoring and management systems, offering their services to businesses of all sizes. They offer a strong data analysis function that helps in sales forecasts, real-time performance analysis, etc.
Their advanced features enable a business to track sales processes and predict outcomes based on the actions a client makes. AI is utilized to recommend sales executives about what steps can be taken to close the deal. These functionalities help make a business's sales function robust and productive.
#5 Vtiger
Vtiger is a sales monitoring solutions provider who specializes in two areas, Monitoring, and analytics. Their USP is the numerous dashboards they provide which can be used to track different aspects of the sales function in detail with real-time tracking and analysis.
This helps a sales manager keep track of everything and instruct changes to close more deals. They even offer automated lead assignments to make the sales function leaner and productive.
Sell more, understand your customers' journey for free!
Sales and Marketing teams spend millions of dollars to bring visitors to your website. But do you track your customer's journey? Do you know who buys and why?
Around 8% of your website traffic will sign up on your lead forms. What happens to the other 92% of your traffic? Can you identify your visiting accounts? Can you engage and retarget your qualified visitors even if they are not identified?