Improve Your Lead Conversion with Virtual Receptionists
It doesn't need to be said that having leads turn into customers is one of the most important aspects of any business. Lead conversions help pave the way for businesses to grow, creating opportunities for more potential sales, referrals, and positive reviews as well as more satisfied, loyal customers.
Unfortunately, many businesses use the same lead conversion strategies. From email to social media marketing campaigns, over time, your conversion strategies will become less effective and, with increased interest in emerging technology and automation (hello, Tesla?), your conversion process is guaranteed to get a little rusty. Businesses need to find new and exciting ways to capture and convert leads and we've got a secret for you: A 24/7 live-staffed virtual receptionist service can be the key to unlocking your business's true lead conversion potential.
An outsourced answering service may not be the first thing that comes to mind when thinking of lead conversion strategies, but that's exactly what makes it so ingenious – many other businesses, your competitors included, haven't thought to use an outsourced answering service as a lead conversion tool. A virtual receptionist service can be the key to setting your business apart from the competition and addressing your lead conversion needs in a matter that is on par with customer expectations and the ever-changing demands of the digital world.
What is a virtual receptionist service?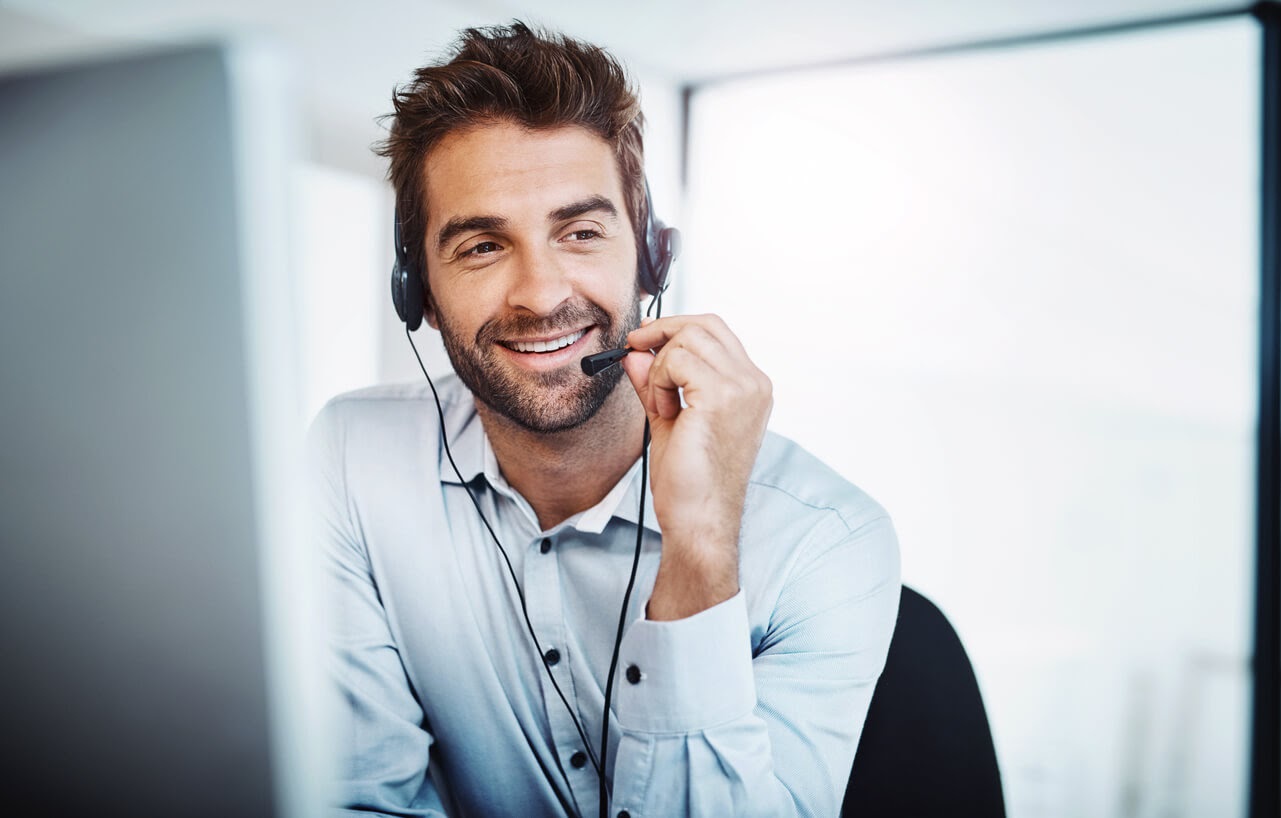 A virtual receptionist service enables professional receptionists from across the world to answer calls, schedule appointments, and perform other essential tasks on behalf of an individual or business. These professionals are often trained in customer service, intake, and sales, and can provide services that surpass the capabilities of your in-house staff, such as after-hours, overflow, and even bilingual answering. Whether you are a one-person show or have a large company, you can see the following benefits from using an outsourced answering service:
Boosted productivity, minimized distractions, and protected time
When admin tasks are being well taken care of, teams can finally focus on more important tasks and avoid constant interruptions, allowing for more productive work to occur and more sales to be made in less time.
Reduced call handling times and higher caller conversions
An outsourced receptionist service helps to guarantee phone calls will be picked up immediately so callers won't hang up, go unanswered, or be stuck waiting on hold. Your virtual receptionist will handle your calls with a sense of urgency and care, ensuring your callers feel valued, meaning callers will be more likely to convert.
Improved client satisfaction and a strengthened business reputation
Friendly customer service and instantaneous answering can help create the impression of a much larger, professional business. When your customers feel valued because their calls are always answered by a real person, your business will see a boost in your professional reputation.
In addition to improving your business' productivity and reputation, virtual receptionists can serve as a powerful lead conversion tool. Think of them like your own personal secret agents: they can generate, qualify, and help convert thousands of leads on your behalf all without ever being seen. Your clients will never suspect that your receptionists are outside of your office and will think your business is full of superhumans, capable of delivering outstanding customer service at any given time.
While answering phones and scheduling appointments, your receptionists can act as an extension of your sales team and send any ready-to-buy leads directly your way. For example, say you own a marketing agency and your sales team is busy on calls with other clients. Your receptionist can answer any questions a lead may have and encourage them to sign up for a consultation. That way, your leads will still be nurtured even if your sales team is unable to answer them.
Here are five ways a virtual receptionist service can improve your lead conversion:
1. Every new lead reaches a real person, 24/7
You might not think that answering calls has anything to do with your business' ability to convert leads, but it does – and in a big way. Two out of three potential customers base their decision to hire a business on their initial responsiveness. Having your business answer the phone quickly is of the utmost importance to your leads, so much so that it has the power to sway their decision to hire your business.
Answering the phone quickly isn't all that matters to your leads. Over 67% of customers who receive excellent customer service spend up to 14% more. Your business not only has to answer phone calls quickly but provide high-quality customer service as well if you want to have any success in converting your leads.
This can be a lot for businesses with limited in-house staff and budget. Your team can only answer so many calls a day, leaving any calls that come into your business when your staff is busy or unavailable, such as outside of your regular business hours, unanswered. This is guaranteed to result in numerous leads lost and unlikely to call back.
A virtual receptionist service can be the saving grace that you're looking for. With highly trained professionals available around-the-clock to provide friendly customer service, you can securely capture every lead that contacts your business, maintain your business' reputation, save your billing department from massive call center charges, and reserve your staff's energy for more important tasks. The high levels of responsiveness that a receptionist service can offer is proven to win you more customers than almost any other lead conversion strategy so take advantage of it.
2. Leads from forms or lead magnets are contacted immediately
Not every lead is going to call your business. You might have a social media lead that downloads a lead magnet or a website visitor who completes a form. Whichever channel leads choose to contact your business with, it's imperative that your team is able to quickly capture them and begin converting them. Unfortunately, if you struggle to answer calls to begin with, you're probably not going to be able to make outbound sales calls, meaning you are going to miss these leads. Thankfully, receptionists are not only equipped to answer incoming calls, they can also perform outbound calls as well.
Whether your lead filled out a form or requested a quote online, your virtual receptionists can perform an outbound call to quickly respond to your lead's inquiry and ensure they receive detailed answers to their questions as well as first-class customer service.
To drive more conversions from these outbound calls, your receptionists can perform sales pitches based on your specifications, giving you the added reassurance that your leads will be nurtured exactly as your in-house staff would nurture them. Your sales team will no longer be forced to dedicate a portion or all of their days to executing sales calls with support from virtual receptionists to back their sales efforts. Friendly interactions with receptionists trained in customer service and sales are guaranteed to capture your leads' interest and increase conversions.
3. Leads are qualified on the first call
What good is capturing a lead if you aren't sure whether or not they'll convert? You can answer phones and perform outbound calls all day long and capture hundreds of leads, but the only way they'll hold any value to your business is if they become customers. If you don't know whether a lead is interested in becoming a customer or not, you risk wasting your's and your sales team's time – time which could have been spent towards a lead that was more likely to convert and result in real value for your business.
Determining how likely a lead is to convert can be a major time commitment. If your sales team is too busy to make that time commitment to screen a lead, they may go into a sales pitch unprepared and uninformed, setting them up for failure. You shouldn't have to nurture leads blindly simply because your team is busy. Luckily, you can delegate lead qualification to an outsourced virtual receptionist service. Your receptionists can easily screen your callers, chatters, and any other leads that may contact your business based on your series of qualifying questions. If they align with your criteria and seem interested in purchasing your product or service, your receptionists can send them directly to your sales team.
With the pressure of qualifying leads off of their shoulders, your sales team will have all the time they need to focus on pushing these qualified leads down your sales funnel, ensuring your prospective clients receive your sales team's full attention. If your team is ready and available to do so, your virtual receptionist can perform a warm phone transfer, making sure your potential customers aren't stuck waiting on hold. If your team is busy or on calls with other leads, there are other ways your receptionists can queue up qualified leads for your team while still protecting both your team's and your lead's time: by scheduling consultations or call-backs.
4. Qualified leads are scheduled for consultations or call-backs
If your sales team is unavailable to accept a transfer or a call from a qualified lead on the spot, your receptionists can book a consultation with a member of your sales team based on the availability shown on their calendar. That way, your lead won't get bored waiting and hop along to the next available business. Instead, they'll feel that their time is valued and, with a time already booked with a team member, they have your business and yours alone in mind, making them much less likely to find another business.
Your receptionists can even confirm appointments and relay any details prior to the consultation to both your lead and the team member they are scheduled with so that both parties are informed and prepared for their meeting, setting the stage for a successful conversion.
If your lead isn't available for a consultation, your virtual receptionists can schedule a time with them to have a member of your sales team give them a call-back when it works for both parties. With an answering service, you will have the satisfaction of knowing your leads won't be stuck waiting and your sales team won't be forced to sacrifice their time to speak with them. You can rest assured knowing your team will speak with each and every qualified lead when they are ready and available to, giving your business every opportunity to connect with and convert leads.
5. Vital information about qualified leads is collected and logged in your CRM
Any answering service worth hiring will integrate with the systems you already have in place. This means calls your business receives from a lead will be logged directly into your CRM (Customer Relationship Management) software, making it that much easier for your team to manage contacts, accounts, business deals, invoices, and any additional information that helps your business operate. Vital lead information, such as name, contact information, call summaries, and notes, will be stored safely in the systems you prefer, ready to be retrieved at a moment's notice to ensure quick and successful sales.
Many CRMs also offer the ability to create intake forms, which can be embedded on your site or shared with leads and clients directly through a link. If your business has a new client intake form already developed, you can share it with your outsourced receptionists to complete live when they are on the call with a potential new client. That way, you have all of their basic information captured ahead of your first meeting so you can jump right in and focus on converting the pre-qualified lead.
By filling out a new client intake form for qualified leads and integrating with the systems you already have in place, a receptionist service guarantees quick and easy access to detailed lead information, setting your sales team up to make consistently successful sales, no matter whether your leads have spoken with your team directly yet or not.
Virtual receptionists can handle all the hard work of gathering your lead's information and preparing them for their consultation or call-back and all your sales team will have to do is show up. Your team will be better informed and more prepared to speak with your leads when all of the details they need to know about a lead are just a click away. With leads being nurtured by professionals who are well prepared, intelligible about their needs, and genuinely helpful, they'll feel better taken care of in your business's hands, meaning they'll be more likely to turn into customers. Those are qualified leads practically being handed over to your business with no effort needed from your team.
For instance, if a lead calls your business and reaches a receptionist who treats them to friendly customer service, quick, detailed answers to their questions, and a new client intake form to fill out, they'll see that your business is not only highly professional, but well-equipped to help them from the very start. Your sales team will have all of the lead's information right in the front of them, ready to be addressed, once they are available to speak with them. The lead won't have to sit through another one of those stammering and blundering sales pitches. Instead, they'll enjoy a personable conversation with a professional agent who has already respected their time and is prepared to address their specific needs, leaving them feeling confident in your ability to provide high-quality services and support and more likely to convert.