Lead Qualification and Lead Scoring: Everything You Need to Know
This blog post is a collective index of everything we have written about lead qualification (with an emphasis on lead scoring) throughout the years organized progressive as chapters. If you are trying to get started with lead qualification, scan the index and read the articles that you think can help you.
What is Lead Qualification?
Lead qualification is the process of filtering out leads who are actually likely to purchase from you. This is done by marketing teams using lead data. If marketing qualification is done perfectly, sales will get leads that are already qualified for sales. But, if the marketing qualification process is lenient, sales would get leads that match your customer profile but not all of them would be ready to purchase. In that case, sales would need to do discovery calls and 'sales qualify' the lead.
What is Lead Scoring?
Lead scoring is the most commonly used technique for qualifying leads. To quote Wikipedia directly, "Lead scoring is a methodology used to rank prospects against a scale that represents the perceived value each lead represents to the organization." Lead scoring is also used to determine sales readiness of leads and move them through stages of the sales process.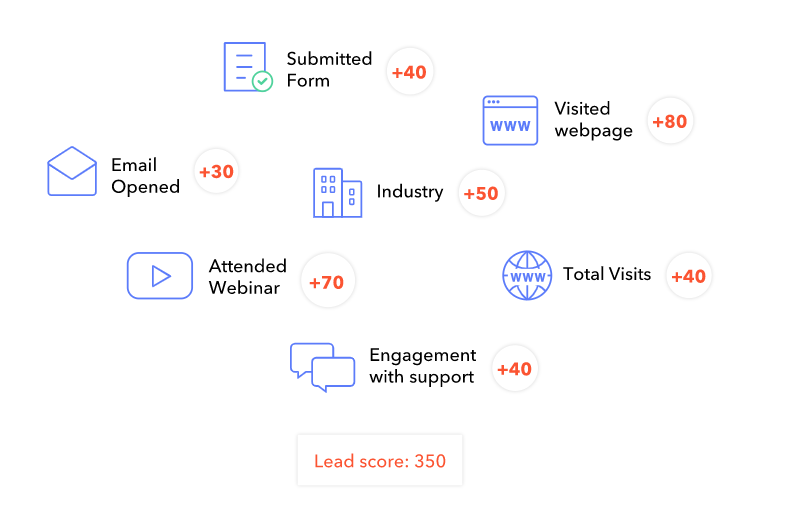 Phase 1
Article 1: Lead Scoring 101: Everything you need to know
Article 2: Creating an Ideal Customer Profile
Article 3: Why Behavioral Data Matters for Lead Qualification
Article 4: Rule-Based Lead Scoring Overview
Article 5: Quality Score – A Feature to Predict Lead Quality
Article 6: Setting up a Data-Driven Lead Scoring System in Less Than 20 Minutes
Article 7: Product Qualified Leads: Are they as important as MQLs and SQLs for SAAS businesses?
Article 8: Lead Qualification Checklist
Article 9: BANT Qualifying Leads
Phase 2
Article 10: How Lead Qualification Solves Most Common Problems Related to Lead Generation
Article 11: Using Firmographic and Behavioral Data to Prioritize High-value Visitors on Your Website for Sales and Marketing Development
Article 12: Using Quick Filters and Custom Feeds for Segmentation and Lead Qualification
Article 13: Use Page Visit Duration and Deep Referrer Tracking to Get the Extra Information Needed to Understand Buyer Intent and Qualify Leads
Article 14: Focused Retargeting: Qualify Your Anonymous Visitors and Show Targeted Content
Article 15: Automate the SaaS Buying Process in a Freemium Model and Push The Right Customers for Upgrades
Phase 3: Within Salespanel
Article 16: Drive Conversion on Scale by Creating an Automated Lead Qualification and Processing Engine
Article 17: Overview of Lead Scoring with Salespanel
Article 18: Lead Segmentation with Salespanel Segments
Article 19: Lead Scoring for Salesforce CRM
Article 20: Lead Scoring for Pipedrive CRM
Article 21: Lead Scoring for Mailchimp and Other Newsletter Software
Learn About Lead Qualification Features on Salespanel
Salespanel – Qualify
Salespanel – Lead Scoring
Salespanel – Lead Segmentation
Sell more, understand your customers' journey for free!
Sales and Marketing teams spend millions of dollars to bring visitors to your website. But do you track your customer's journey? Do you know who buys and why?
Around 8% of your website traffic will sign up on your lead forms. What happens to the other 92% of your traffic? Can you identify your visiting accounts? Can you engage and retarget your qualified visitors even if they are not identified?